What Is Partner With Anthony?
Thousands of people use affiliate marketing, one of the trendiest business models available today, to earn money online. It's also a business strategy that is being shaped into numerous unique and creative ways to make money, the Partner With Anthony program being the most recent example.
There is much buzz surrounding Anthony Morrison's return and his new program. The course known as Partner With Anthony is advertised as giving you the chance to receive mentoring from one of the most well-known marketers in the industry.
However, there are a number of reasons why this software just doesn't live up to its hype and why, as of this writing, its own founder's reputation is rather dubious.
If you'd like to find out, just keep on reading this review.
The fact that you've taken a moment to scrutinize this product before signing up should be applauded. You've done yourself a huge favor. Your due diligence will save you from potentially wasting your time and money.
A good bit of research always goes a long way in the fight against online scams. Creating a sustainable full-time online business is not difficult. You just need to know where to look.
Before we proceed I'd like to let you know that I'm not linked to Partner With Anthony in any sort of way and I'm not trying to sell you this product.
Instead, I'd like to show you why this program should be avoided…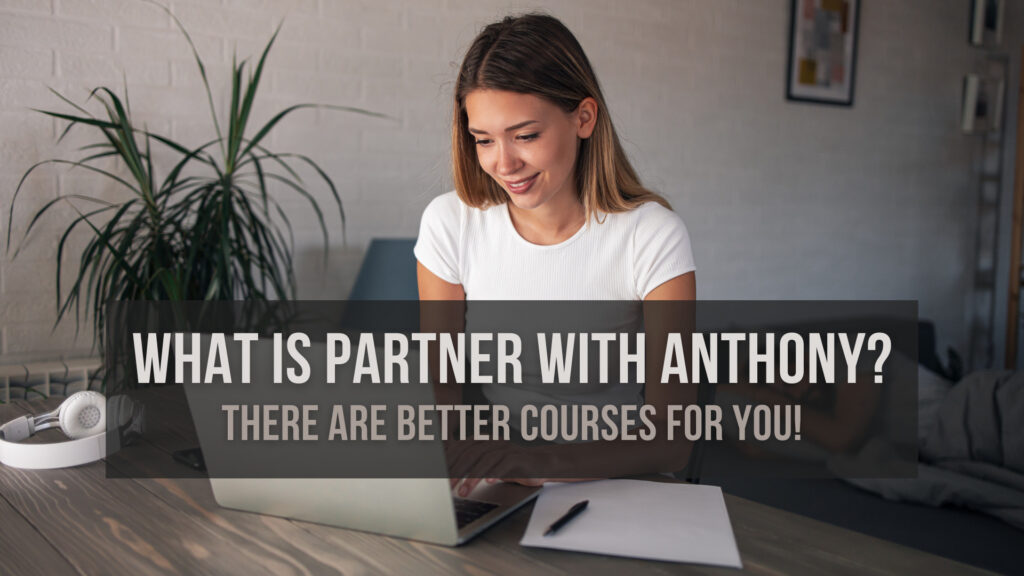 Partner With Anthony Product Review
Name of Product: Partner With Anthony
Owner: Anthony Morrison
Type of Product: Affiliate Marketing Training Program
Cost of Product: Either pay $7 per month or $97 one-time fee (plus some upsells)
Who Is This Product Best For? No one!
Partner With Anthony Product Summary
The well-known Internet marketer Anthony Morrison founded the affiliate marketing training course, Partner With Anthony. He is also recognized for other training programs, but unfortunately, all of them seem to have a negative image of his clients.
Partner With Anthony, his most recent scheme, is full of problems, from hidden fees to deceptive marketing techniques used to entice customers into paying more. Overall, I have to say that there are more effective solutions available that can help you develop your affiliate marketing business. This isn't one of them.
Product Rating: 10/100
Would I Recommend This Program: DEFINITELY NOT!
Partner With Anthony Background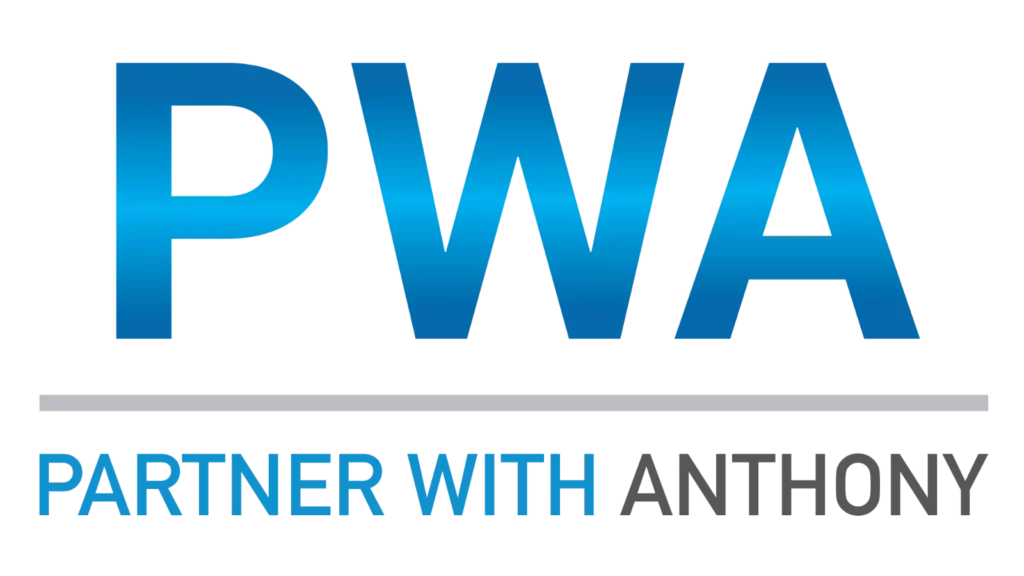 An affiliate marketing program called Partner With Anthony (PWA) asserts to educate people about this successful business model. It is Anthony Morrison's most recent endeavor. Success With Anthony and other similar projects about "earning quick money online" has been some of the things he has done in the past.
But now he's returned with an entirely new plan. You can collaborate with Anthony for success and get money when he does, according to the program's promotional video. It's the kind of spiel that would be appealing to beginners looking to make money online.
But we had our reservations, especially because the video claimed Anthony would handle most of it for us. Why would he want to make money off of other people and have them pay for access to it? Why doesn't he just work for himself and make the money?
In actuality, Partner With Anthony is more or less a training course. Members will learn about the affiliate marketing business strategy from it. The training would take around two weeks to complete, and during that time you would not only learn about PWA but also sell it.
Yep, you read that correctly. The Partner With Anthony program is basically about making referrals and trying to get people to purchase this program through affiliate marketing. It involves joining Partner With Anthony, learning how to market online, and then just spreading the word about the Partner With Anthony program.
Additionally, the sales video on the website makes a lengthy pitch about how working with renowned marketer Anthony Morrison is a "real partnership opportunity." Although you will have access to Anthony's books and training videos, you won't be able to speak with him directly if you have any questions or concerns. 
Instead, you can contact him by opening a support request, which is handled by his contracted support staff. Additionally, you may lead consumers to your affiliate items using his done-for-you sales funnels to earn commissions.
Inside Partner With Anthony
You can access the link to the training session by logging into the PWA member's area after paying the monthly membership cost.
Every one of these training videos has a time delay, so you can't watch them all at once. After finishing a lesson, you must wait 24 hours before beginning the following one. This is done to stop viewers from merely skipping and hurriedly watching the films.
I won't go into depth about each one because I believe the titles shown in the photo below speak for themselves about what to expect from each video.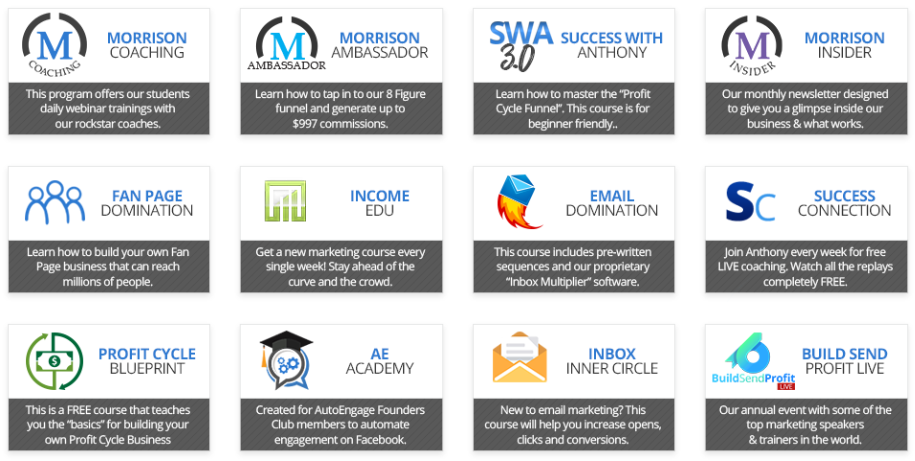 How Does Partner With Anthony Work?
PWA instructs you in affiliate marketing and will encourage you to use it to promote the Partner With Anthony program to other people. But exactly how does it operate? Well, joining this program just costs $7. After making payment and purchasing the program, you will be redirected to Anthony's education website, where the course is located.
There are roughly 12 modules in the course, each with numerous videos. These classes start out with the fundamentals before progressing to a more technical form of affiliate marketing. The catch is that after finishing one module, the following one can only be accessed after 24 hours.
Then, as part of your training, you will need to purchase a lot of items to make everything function. You will pay more for each software tool you use as well as additional training modules.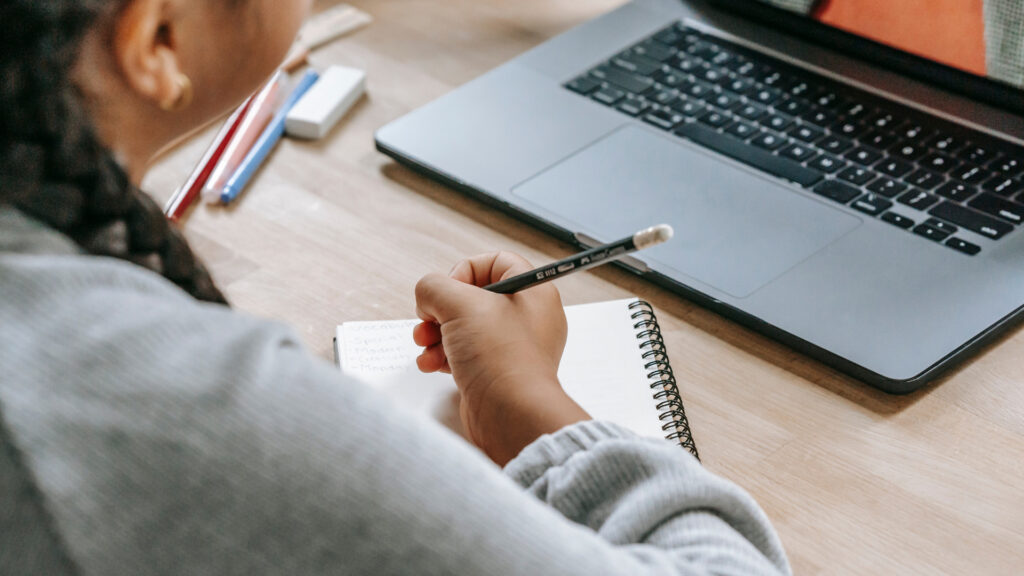 You get paid for each successful recommendation. If your referrals decide to buy software tools and other things, you will also get paid. Keep in mind that some of these tools require monthly payments to operate, so each time a referral renews their subscription, you can be paid a commission.
You will be strongly urged to "create a list" and gather email leads in order to promote Partner With Anthony. By using ClickFunnels to create a capture page, email leads are gathered.
You will receive some "done for you funnels" from PWA as help. Not only that but [eriodically, you would keep sending invitations to folks via email. To succeed in this, you must comprehend internet marketing first. Not only will it require a lot of time, but also a lot of effort.
The drawback is that Anthony isn't actually "doing the job for you" in this situation. In essence, he has only given you a few simple templates for you to use as a guideline. If you want to have any chance of producing money, you will still need to put in a lot of effort.
Getting Started with Partner With Anthony
You have two payment options: either pay the one-time price of $97 or the $7 monthly fee for life. Of course, I would recommend the one-time payment if this curriculum had any genuine value. However, these aren't the only expenses linked to the program. It also offers a number of upsells that can run you hundreds of dollars per month.
Partner With Anthony Ugly Truths Exposed!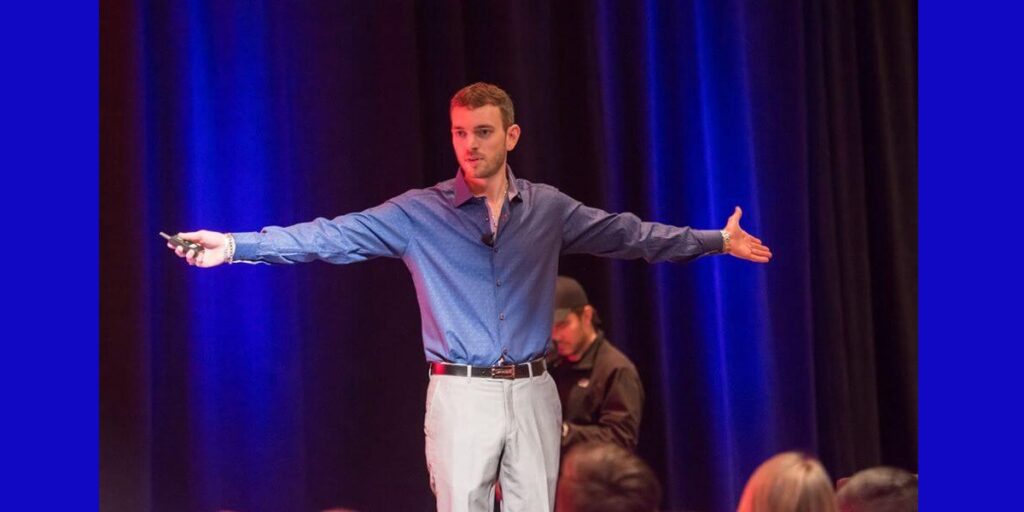 #1 Anthony Morrison Is Sketchy
The issue with Anthony Morrison in this situation is that he excels at what he does—and I don't just mean in the sense of assisting others in generating passive income. He does a fantastic job of marketing himself, which comes naturally to him.
But many of the people who read his books or go to his seminars are unfamiliar with and ignorant of the affiliate marketing industry. It follows that it is natural for people to desire to learn from him.
This is not meant to disparage Anthony Morrison or anything else, but in order to be successful in affiliate marketing, one needs to have at least a cursory understanding of computers and internet marketing. Not to mention, the caliber of mentoring you receive from Anthony does not match his reputation as a great marketer.
Overall, he doesn't have a good reputation, to be honest, and his sales tactics are annoying and deceptive. He just is so adept at self-promotion that he has managed to convince individuals to enroll in his programs and courses despite giving them nothing of a high caliber.
Advantages of Partner With Anthony
Simply put, I don't like anything about this program. You can find better mentors and training courses online.
Is Partner With Anthony a Scam or a Legit Program?
Although Anthony Morrison's Partner With Anthony is a legit affiliate marketing training course, I don't really recommend it. The program doesn't provide you with the actual mentoring from Anthony that it offers. You can only see his training videos with this access.
How Do I Use The Internet to Make a Full-Time Salary?
I'm not a big fan of get-rich-quick schemes, let's just say that I've been caught short a few times.
Instead, an Amazon FBA Business is my leading recommendation for people that want to build a thriving full-time online business working from home.
Here are my reasons why…
There's no pressure to recruit family and friends, or anyone else for that matter.
Learn a unique method to source incredible, high-profit, low-competition products that are virtually hidden from your competitors. 
You don't need to sell hundreds of different products to create lucrative profits with this fresh, exciting business model.
An Amazon FBA business can help you to…
Generate a 5-7 Figure Salary and become financially free from the limitations of a traditional day job. You can do this in less than 12 months!
If you want to find out how I did it, Click Here!
Similar Programs To Be Aware Of: