What Is OfferNation?
One of the many websites you may join for free to allegedly make some additional money online is OfferNation. It's a GPT site wherein you can earn some extra cash by answering surveys or completing activities within the website.
But is OfferNation a legit and worthwhile way to make money or will it just end up being a complete waste of time?
I'll say it right now: you can make some money there. However, before you sign up right away, I urge you to learn more about this GPT site before rushing in to sign up.
I will go through all there is to know about OfferNation in this review. By knowing what to anticipate, you can potentially save a lot of time before deciding whether or not to participate.
The fact that you've taken a moment to scrutinize this product before signing up should be applauded. You've done yourself a huge favor. Your due diligence will save you from potentially wasting your time and money.
A good bit of research always goes a long way in the fight against online scams. Creating a sustainable full-time online business is not difficult. You just need to know where to look.
Before we proceed I'd like to let you know that I'm not linked to OfferNation in any sort of way and I'm not trying to sell you this product.
Instead, I'd like to show you why this program should be avoided…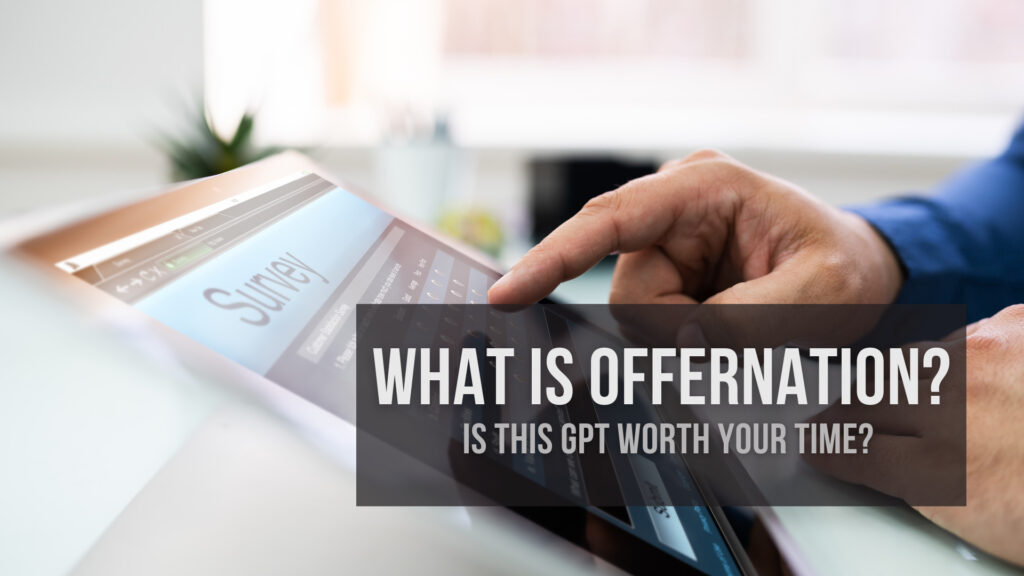 OfferNation Product Review
Name of Product: OfferNation
Owner: 99 Ventures
Type of Product: GPT Site
Cost of Product: Free to join
Who Is This Product Best For? Anyone who is looking to make some quick cash online
OfferNation Product Summary
OfferNation is a GPT program with a lot of potentials. However, due to the extremely low earning potential (which is a common thing within GPT sites), it cannot provide you with a full-time income. So no, you cannot leave your day job for answering surveys all day.
Despite that, it still has many positive customer ratings and because they offer some of the lowest withdrawal thresholds in the business, people are actually getting compensated.
Product Rating: 70/100
Would I Recommend This Program: NO!
OfferNation Background

One of the first GPT (get paid to) websites that are still in business today is OfferNation. It is one of the most well-known websites out there and has been active since 2013.
99 Ventures, a London-based provider of online advertising, is the business's owner. They also run Superpay.Me and RewardingWays, which are also both GPT websites. In general, I believe it is okay for a corporation to have many sites.
However, I wish 99 Ventures had used a little more imagination rather than creating three sites with essentially the same content. There are some, but not many, distinctions between the three sites.
They offer you a variety of ways to make money, just like any GPT site, from taking surveys to participating in their $1000 monthly contests.
Inside OfferNation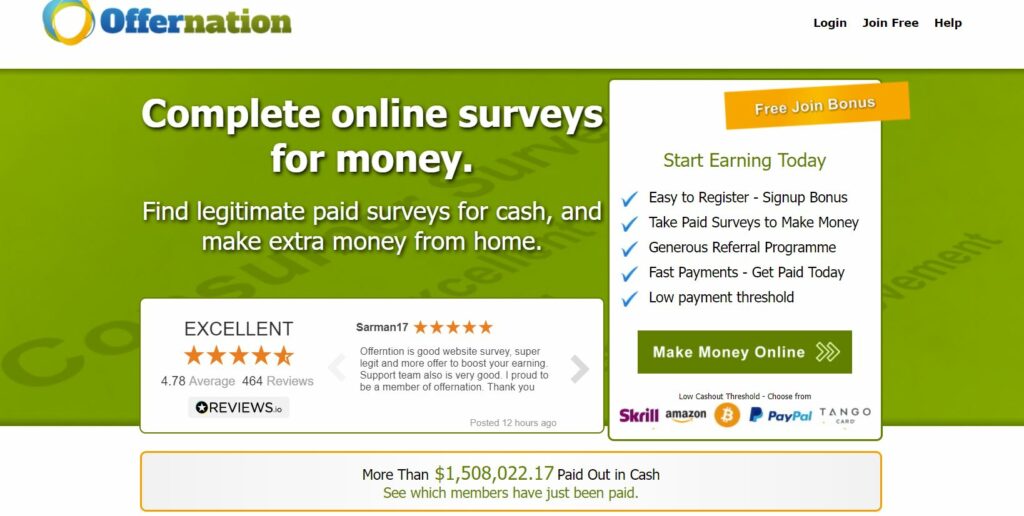 Here are some of the things you can do inside OfferNation:
Paid Surveys
You won't ever run out of surveys to complete because of OfferNation's connections with various survey panels. You can accomplish these and receive points as long as you are eligible to do so. Many of these polls provide payouts of less than $1, which is about normal for online surveys conducted around the Internet.
You may also be required to complete pre-screening questions for some surveys; if you respond negatively, you will be referred to a different survey. OfferNation ensures that your time is not wasted when using their site.
Offer Wall
OfferNation rewards you to join up for both paid and free offerings, just like the majority of GPT websites. As you complete the requirements for any offer you subscribe to, you are credited with points (i.e. sign up with your credit card information, subscribe to a monthly trial, etc.).
The majority of paid offers require you to maintain your subscriptions for at least a month before receiving payment for your revenue. It is advised to avoid these kinds of offers because some of them also have the intention of gathering your contact and personal information.
Installing Apps
You'll get paid to download and install programs on your phone, just like the Offer Wall. Some of them require you to download the app and sign in before you are awarded with the points, while others do it immediately after you download the app.
These only count for a few points here and there and don't require you to keep the app open in order to receive credit. You can remove the app as soon as you earn the points.
Clicking Ads
One of the best ways to gain quick points is by clicking on advertisements. You don't need to download anything or register for anything to use it. Simply click an ad, wait for it to load, and you will receive credit for the number of commercials you have seen. You won't receive credit if you close the advertisement too soon.
Referrals
One of the best referral networks for a GPT program is OfferNation's. For the rest of your life, you receive a 25% commission on what your referrals make. You can generate a consistent stream of passive revenue with OfferNation if you can get enough individuals to sign up and participate.
Contests
If you're a current member, you can participate in their monthly drawings for one of 20 cash prizes of $1,000. From that cash prize, $350 would go to the winner, and the remaining money would be divided among the 19 winners.
Many people are actually winning these contests, which is a terrific incentive to keep members engaged in the service.
Getting Started with OfferNation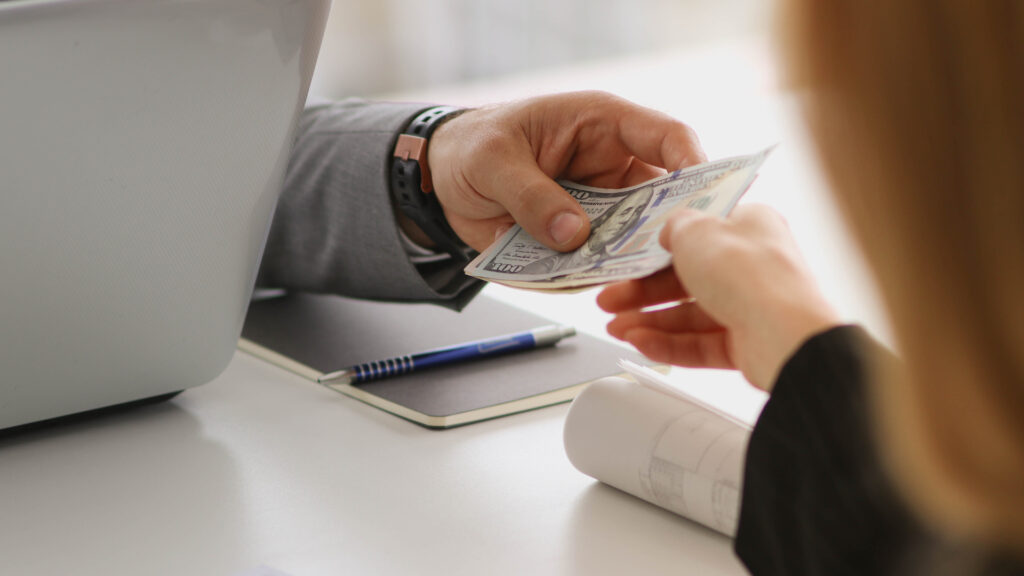 Signing up for OfferNation is completely free. But how do you get your payments?
The minimum withdrawal amount via PayPal, Skrill, Payza, and Amazon Gift Cards is only $1. However, you'll need at least $40 to withdraw Bitcoin. When compared to other GPT and survey sites, this organization has the lowest withdrawal threshold, making it simple to cash out your earnings.
A payment request is handled within 24 hours because you are permitted to make an unlimited number of withdrawals each day. They are faster than every other GPT website once more.
OfferNation Ugly Truths Exposed!
#1 Low Income Potential
In comparison to other sites, their top 20 global earners average between $300 and $400, which isn't too awful. But that's not enough for you to give up your day job, and you can't do it full-time either.
Personally, I wouldn't invest a lot of effort in this program due to the low earning potential and the fact that there are more effective online income opportunities.
Advantages of OfferNation
#1 Low Payment Withdrawal Threshold
To cash out, you only need a minimum of $1. They offer the lowest payment threshold out of all the GPT sites we tested, therefore I can't emphasize this feature enough. It will take some time to get paid because several of the GPT sites we investigated had withdrawal thresholds ranging from $3 to $50.
#2 It's Legit!
The fact that this program is receiving favorable user feedback on independent review sites like TrustPilot is one of its strongest features.
Additionally, as can be seen on their website, they offer a live broadcast of persons receiving payments and cash withdrawals. There is no evidence that the live feed is fake, and based on their customer ratings, it appears that people are getting compensated.
Is OfferNation a Scam or a Legit Program?
OfferNation is a legitimate GPT platform that offers you a mediocre earning possibility, but if you're seeking a full-time income source, I wouldn't suggest it.
With that said, if you're looking for genuine and legitimate opportunities to make money online and if you're not scared of putting in long hours, acquiring new skills, and changing your financial situation, you might want to get into affiliate marketing.
You can generate money online while also helping others by connecting people with the items and services they require or looking for.
The best thing about affiliate marketing is you can also use your knowledge of your hobbies, passions, and interests to establish your own profitable internet business.
If this is something that interests you, check out my recommendation below.
How Do I Use The Internet to Make a Full-Time Salary?
I'm not a big fan of get-rich-quick schemes, let's just say that I've been caught short a few times.
Instead, Affiliate Marketing is my leading recommendation for people that want to build a thriving full-time online business working from home.
Here are my reasons why…
You can get started for Free.
There's no pressure to recruit family and friends, or anyone else for that matter.
You can create a business from virtually any product including the ones that you already buy. You are not limited to low-income or inferior products.
Affiliate Marketing can help you to…
Generate a 4-Figure Monthly Salary and become financially free from the limitations of a traditional day job. You can do this in less than 12 months!
If you want to find out how I did it, Click Here!
Similar Programs To Be Aware Of: