Affiliate Marketing Training Tutorials. 
Straight to your screen LIVE every Friday

!
If you are a newbie to affiliate marketing or maybe you've been doing it for a while but feel stuck; the best thing you can do is to seek help and ask questions but who would you go to for this type of help?  It's possible to purchase many different types of video courses, but if you needed some help on a section ofthe tutorial, that you might not have understood, it can be difficult or impossible to get in touch with the tutor to get the help you need with your burning questions.
This is the reason why Live Webinar Tutorials are a personal favourite. They allow me to have instant access to the host in real time during the Live training session. Don't underestimate the power of LIVE!  

If I have the ability to ask direct questions during a Live video walkthrough it gives me the chance to understand what's being taught and apply the lessons to my own business thus increasing my chances of achieving success.
Another great benefit of a live session is that I can get a different perspective from other attendees (my classroom buddies) questions and responses. It becomes a knowledge sharing session where ideas are bounced around and it amplifies the learning experience.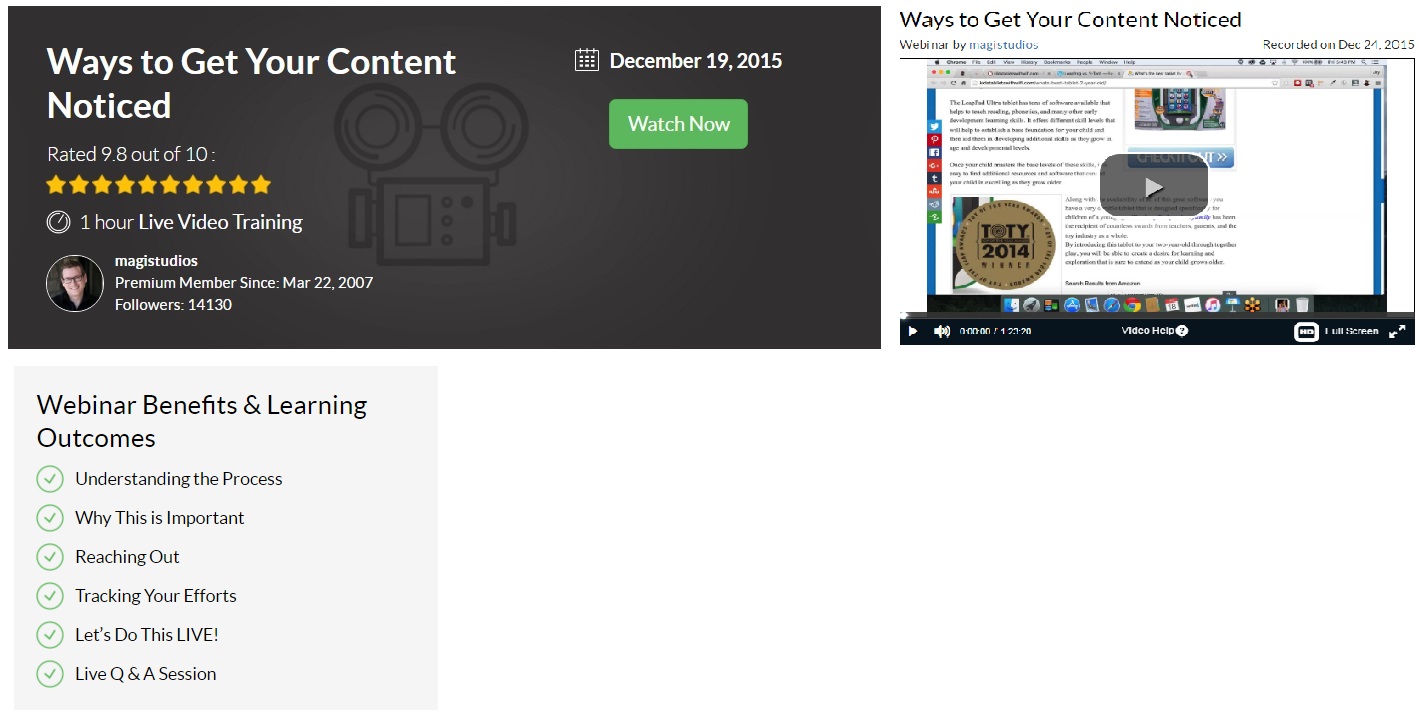 My chosen affiliate marketing tutorials are provided every Friday evening by a very friendly guy named Jay (he stole my name). I encourage you join in on these great sessions along with hundreds of online marketers with similar aspirations.
Who knows, you might even find your next great idea here.
Jay leaves no stone unturned when it comes to teaching topics related to starting your own online business. His lessons helped me create a small niche site (from scratch) that now generates me $2,000+ of passive income per month. You can see the site here. Thanks for your help Jay! 

Below are a few examples of the types of Subjects that Jay teaches:
How to Achieve Top Google Rankings.

Email Marketing Techniques.

High Traffic, Low Competition Keywords.

Writing Content that increases Conversions. 

Niche Brainstorming.

Researching and Finding Evergreen Niches.

Building a Successful Website that Generates Recurring Income.

Mobile Marketing Walkthrough.

Using Stand Out Relevant Images in Content.

Driving Traffic to your Website.

Sales Funnel Techniques.

Troubleshooting and Resolving Errors on your Website.

Making Money with Affiliate Programs.

Keyword Research Strategies.

Researching your next Article.

Scoping out Keyword Competition.

Ranking on Search Engines.

Creating Authority Sites.

Writing Awesome Articles that convert. 

Maximising the use of Landing Pages.

The basics of HTML

…and a lot more.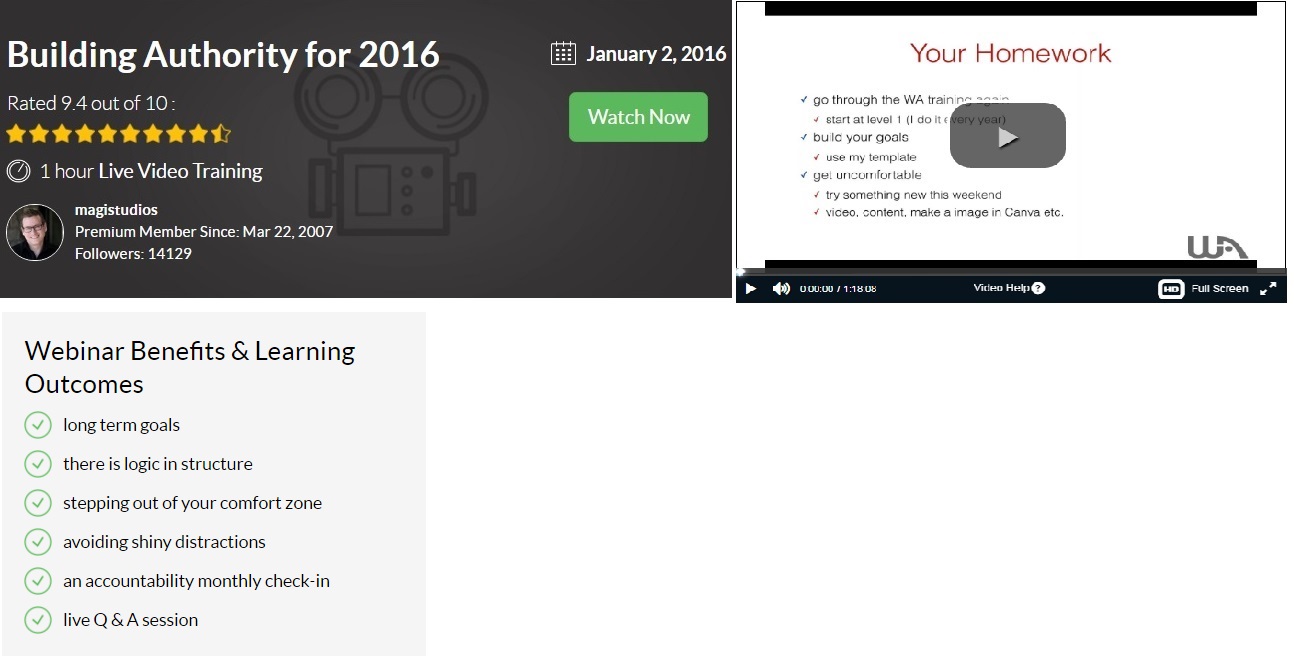 How Do You Get Involved With The Weekly Live Webinars? 
All you need to do is sign up to be a Wealthy Affiliate member and you will be invited to participate in 4 live webinar sessions per month- 1 every Friday.  
On top of the weekly live training, you are given access to plenty of previous webinar replays that you can watch whenever's convenient. It's a toolkit to help build a thriving site and I'm excited to have it at my disposal.  
Signing up, to get access to Jay's awesome training videos, is very simple and straightforward.
What other perks do you get from Wealthy Affiliate?
Well I'm glad you ask because Wealthy Affiliate provides much more than just live webinars. It's perks extent so far that you will never need another platform to grow your business. Period!    

Your membership would come with some the following benefits:
Structured lessons that are designed to make you learn – as – you – build – your – site.  

Insider knowledge, on affiliate marketing and blogging, from full-time marketers.

24/7 live chat with 1000's of other members already succeeding. 

Direct access to the owners of Wealthy Affiliate.

Access to premium training courses. 

Hosting of your Websites.

Hundreds of training lessons from successful members.

Feedback on your websites and stats to track your progress.

…the list goes on.
The most important point about becoming a member is the opportunity to network with other members with years of experience and success behind them. I remember when I was starting out, I was struggling to find an idea for what I wanted to do. One of the members took me under his wing and personally coached me via skype until I figured out the perfect niche. 

You are encouraged to ask questions, plenty questions. You can share your thoughts or maybe even help someone struggling with a topic that you are an expert in. This is what makes Wealthy Affiliate such a great place.  
It's a friendly community that has a common aspiration to "grow their online businesses" and you can be a part of it even if you don't already have a business. You are taught how to create your startup site via the free new starter training pack.
It's free to start and Wealthy Affiliate even provides you 2 free websites.
If you like the sound of this then get your Free Training Right Here
A Site Geared for Long Term Success
This article has provided you with the various benefits of video training, which is only effective if you take some action and start creating your site.
To be able to do this you will need certain marketing tools, all provided within your membership, such as a keyword researching tool, further premium training, private forums, support, simplification, interaction, premium webinars.   


The cost to access the Premium Features is only $47/month.
This cost is very small to run a business that has the potential of making you $1000's per month. Nonetheless you can still interact with the community and complete the new starter training for free. If you need to access the live webinars or the replays, you can upgrade to the premium membership. 
You can sign up for the free membership, complete the starter training and create your online business or participate in the webinars but either way your first move should be becoming a member of this awesome platform. 
Your next step depends on what you want to accomplish. 
If you only want to watch the webinars, you can sign up for premium within the first 7 days and receive a 59% discount, which means that your 1st month would be $19.

If you want to look around for a while and see what's happening within the community, you can keep your free membership and upgrade when you're are ready. The choice is yours.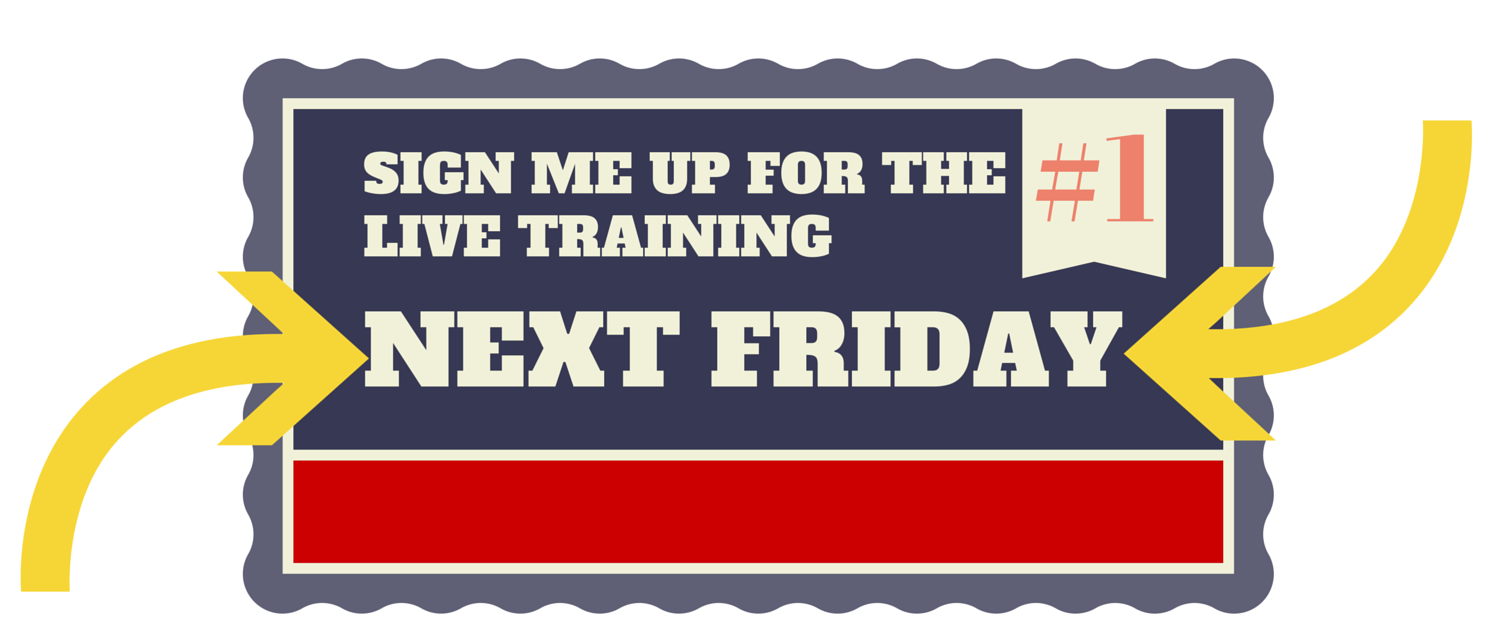 Thanks for reading my article on Affiliate Marketing Training Tutorials. If you have any questions or comments regarding the live webinar sessions just let me know in the comments sections below and I'll respond pronto.