What Is Parallel Profits?
Welcome to my review of Parallel Profits.
Today, I'll be talking about a course created by prominent businessmen Aidan Booth and Steve Clayton. They have made millions of dollars since beginning their business nearly two decades ago and are recognized for creating business concepts that convert.
But what precisely is Parallel Profits?
Simply said, it is a thorough course on a tried and true business strategy with nearly limitless demand, little to no rivalry, and the potential for enormous profits. Additionally, because of the way it is set up, there is a very low entry barrier, and no real knowledge or experience is required.
This raises my head a little bit, though, as it smells like a get-rich-quick scheme. Another point is that, typically, doing this business would require a lot of experience. Although they promise to be making things almost hands-free for you, you should already be aware that there is no such thing as fast money.
So is this program legit or just another scam? Let's find out in this review.
The fact that you've taken a moment to scrutinize this product before signing up should be applauded. You've done yourself a huge favor. Your due diligence will save you from potentially wasting your time and money.
A good bit of research always goes a long way in the fight against online scams. Creating a sustainable full-time online business is not difficult. You just need to know where to look.
Before we proceed I'd like to let you know that I'm not linked to Parallel Profits in any sort of way and I'm not trying to sell you this product.
Instead, I'd like to show you why this program should be avoided…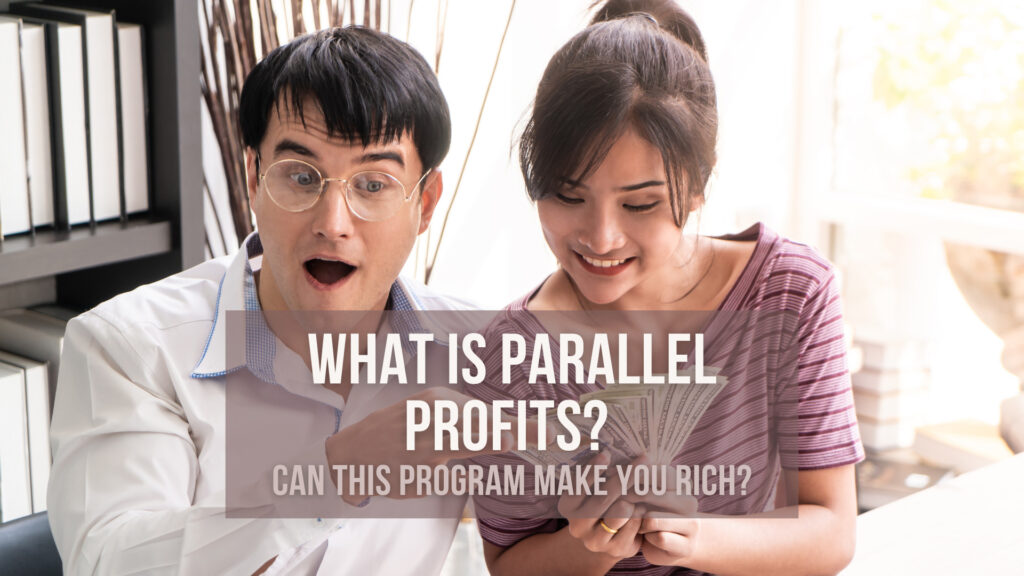 Parallel Profits Product Review
Name of Product: Parallel Profits
Owner: Aidan Booth & Steve Clayton
Type of Product: Online Training Course
Cost of Product: $2,497
Who Is This Product Best For? People who want to invest in their online business.
Parallel Profits Product Summary
As I previously indicated, Parallel Profits is a system created by businessmen Aidan and Steve that offers an online education that teaches you how to earn money online. They show you how to launch your own small-scale SEM business and grow it to make $100,000 annually.
The program was first introduced on January 29th, 2019, but it was again closed on February 2nd, 2019. As of the moment, it's uncertain if the system will be released once more. That said, this review will explain how it functions if it is.
Product Rating: 60/100
Would I Recommend This Program: NO!
Parallel Profits Background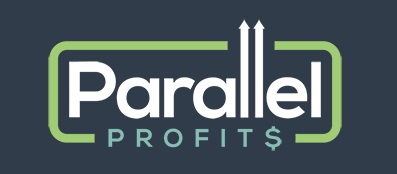 The Parallel Profits training program is a handbook that teaches you how to start a profitable online business and amass an enormous fortune while lounging at home. It is without a doubt the ideal business strategy because it enables you to easily earn a straight $100,000 per year by generating just 7 sales.
In essence, what they are selling is a thorough training course on a tried-and-true business model with supposedly limitless demand, little competition, and the potential for enormous profits.
Additionally, because of the way it is set up, it seems like you don't really need any actual industry knowledge. Meaning even beginners can learn their tactics. 
They claim that they will educate you on how to sell high-ticket goods and services to nearby companies, but there are "Three Big Twists" to this.
The Three Twists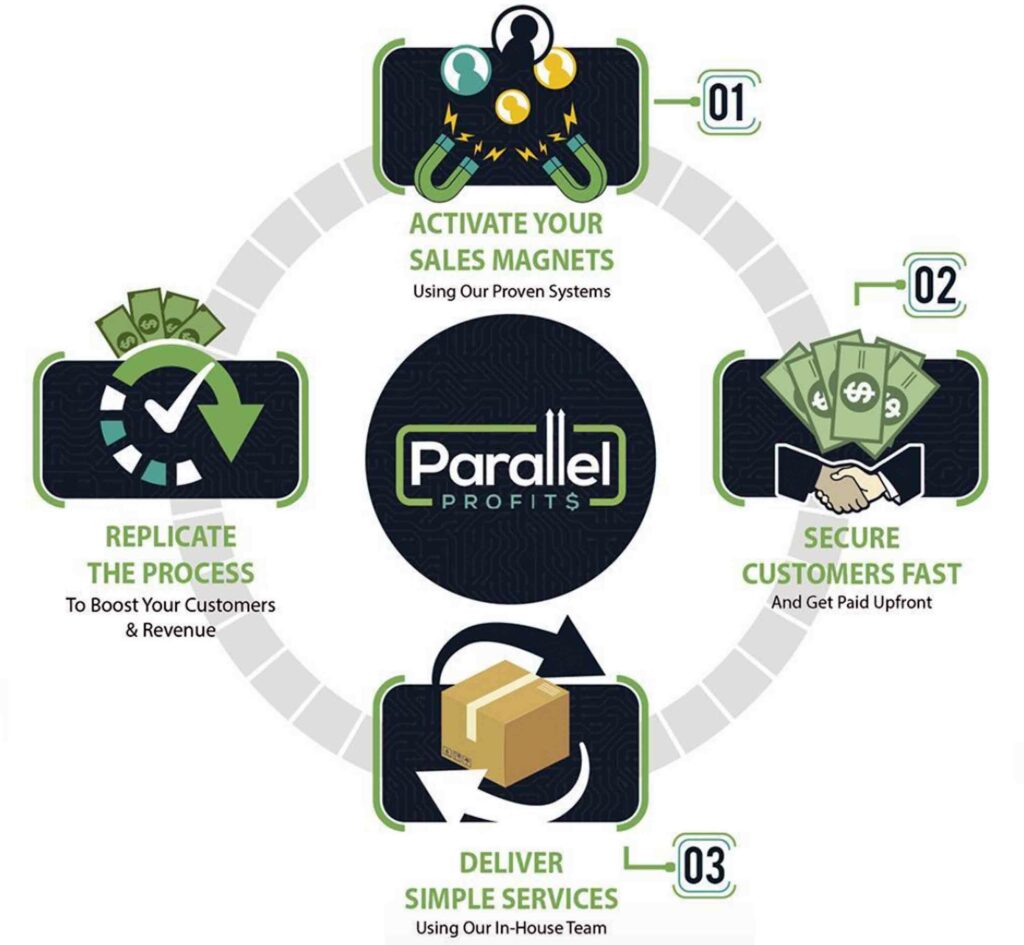 First Twist
Anyone who wants to participate in the training will have the chance to join Steve and Aidan's business as a franchisee.
The benefit of this twist is that we don't have to worry about the difficult tasks, like registering a domain, hosting the site, designing it, creating a logo and copy for it, promoting it, etc.
The company will handle all the difficulties of starting from scratch. As everything will be prepared and given to you, you may start selling right away and reserve your area while maintaining your position as the boss.
Second Twist
Local business owners that are in need of the straightforward services your team will be providing them will be your first clients when you begin the Parallel Profits training program.
You won't have to worry about performing or outsourcing the services you're selling or generating leads because the entire Parallel Profits system will already be in place to handle all the work. The franchise platform and the specific strategy will already be on the flow.
For this reason, Aidan and Steve keep stating that anybody and everyone can participate in the program. Thus, if you are a beginner and believe that this training will not be effective for you, reconsider.
Third Twist
Even for professionals, generating leads is a difficult effort, thus having a built-in lead production system available in the member's area is not only compelling, but it's also excellent. No more rushing to client meetings.
A large team and a ton of clever work were required to create such a system, which Steve and Aidan both possess and excel in. The Parallel Profits program is unique because of this. No wonder the program is in such high demand—the designers are strong, seasoned professionals who can be trusted.
Who Are The Men Behind Parallel Profits?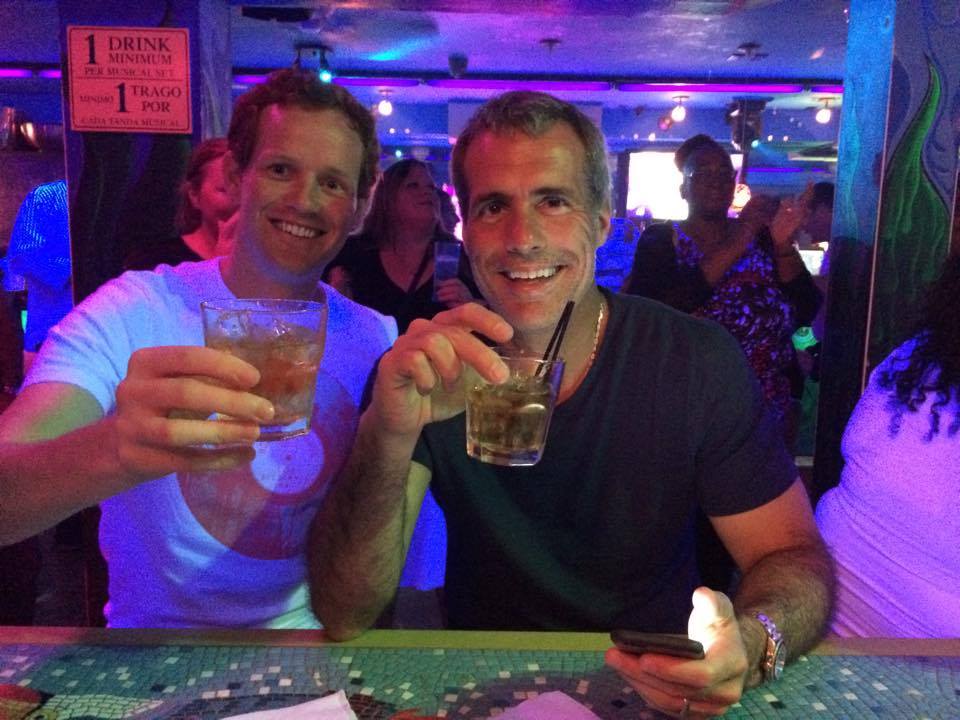 Within the online community, Aidan and Steve are well-known individuals who have built their reputations by being prosperous and managing a number of businesses.
They are the architects and brains behind some of the most lucrative online company initiatives in the history of internet marketing. These comprise the 100K Factory series, Online Marketing Classroom, the 7 Figure Cycle, and others.
They are unquestionably two of the most successful internet marketers in history, as is well documented. Their items have directly generated online revenues in the hundreds of thousands of dollars, and indirectly they have generated literally millions more!
Since quitting his work in 2003 to hunt for new sources of income, Steve Clayton has been producing money and is now a multi-millionaire like Aidan Booth. He got involved in a variety of business ventures, engaging in affiliate marketing and local SEO among them.
When he was still working a day job, Aidan Booth had a similar mindset and aspirations and searched online for potential ways to make money. After starting their company in 2010, they both now manage a flourishing enterprise that has expanded to numerous nations worldwide.
How Does Parallel Profits Work?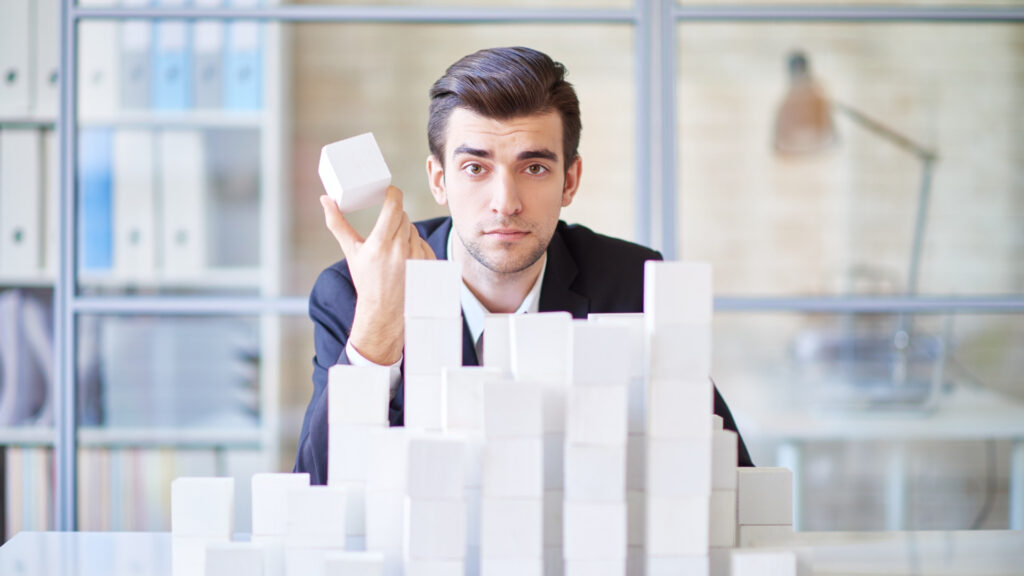 The owners of Parallel Profits have unveiled a product that, in their opinion, differs from other available types. I'll go over how it works, but they have certain twists that set this one apart from others.
After buying the program, you'll be able to operate a franchise with both of the owners and use it to generate income. Working with local companies will allow you to make money by selling them services.
You won't have to perform any of the work because everything will be handled for you. This is due to the fact that Steve and Aidan will handle it, which means you can earn passive revenue without doing anything.
Getting Started with Parallel Profits
Work from home training from Parallel Profits is unquestionably not cheap. You must pay a total of $2497 to join. However, there are options to pay in three installments of $997 each if you are unable to pay the full cost at once.
Parallel Profits Ugly Truths Exposed!
#1 Expensive
The price of the program is unquestionably not cheap because it teaches you how to sell high-ticket goods and services like their previous ones.
Advantages of Parallel Profits
#1 Aidan Booth & Steve Clayton Are Legit!
Whether or not you were familiar with Aidan and Steve before, they are experts in this area. This is demonstrated by the outcomes they've obtained and the volume of people they have assisted over time. Strong training and assistance will be offered. Moreover, there is a group of people who support one another during the process.
Is Parallel Profits a Scam or a Legit Program?
Parallel Profits is definitely not a scam but it's also a very pricey program to join.
According to the headline, you can earn seven figures per month if you take into account both the owners' credentials and the viability of the business plan. Although I don't see why you couldn't, it's definitely not as simple or effortless as they make it appear. It goes without saying that you will need to put in some time, energy, and effort.
How Do I Use The Internet to Make a Full-Time Salary?
I'm not a big fan of get-rich-quick schemes, let's just say that I've been caught short a few times.
Instead, an Amazon FBA Business is my leading recommendation for people that want to build a thriving full-time online business working from home.
Here are my reasons why…
There's no pressure to recruit family and friends, or anyone else for that matter.
Learn a unique method to source incredible, high-profit, low-competition products that are virtually hidden from your competitors. 
You don't need to sell hundreds of different products to create lucrative profits with this fresh, exciting business model.
An Amazon FBA business can help you to…
Generate a 5-7 Figure Salary and become financially free from the limitations of a traditional day job. You can do this in less than 12 months!
If you want to find out how I did it, Click Here!
Similar Programs To Be Aware Of: