What Is Savage Affiliates?
There's no denying that affiliate marketing has grown into a massive and popular industry on the internet.
If you're new to this type of online marketing and you're curious about how to get started, I'm sure you have definitely come across a number of different courses about affiliate marketing already.
One of these courses that you may or may have not discovered yet is Savage Affiliates. This course is designed to teach students about affiliate marketing and to assist them in becoming profitable affiliate marketers.
Additionally, they boast also promise that after you sign up and complete the training, you'll have all the affiliate marketing expertise you need to generate passive income and achieve financial freedom.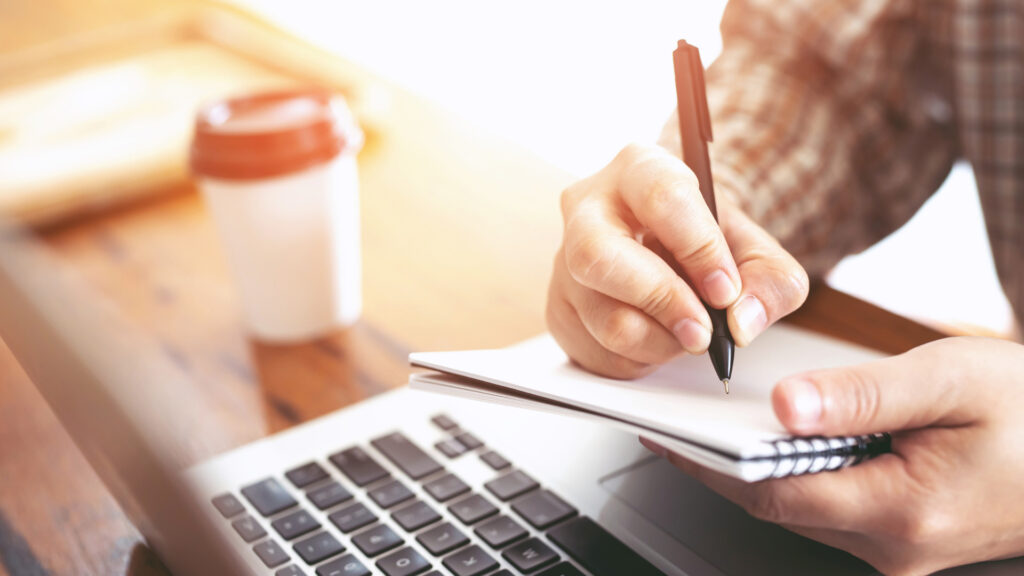 But what is the truth about this online course in particular?
I've been reviewing a lot of applications and tools, including online courses similar to Savage Affiliates, over the last several weeks. And I'm here to tell you everything you need to know about this course and whether this is something worth your time and money.
If you'd like to find out more, just keep scrolling.
The fact that you've taken a moment to scrutinize this product before signing up should be applauded. You've done yourself a huge favor. Your due diligence will save you from potentially wasting your time and money.
A good bit of research always goes a long way in the fight against online scams. Creating a sustainable full-time online business is not difficult. You just need to know where to look.
Before we proceed I'd like to let you know that I'm not linked to Savage Affiliates in any sort of way and I'm not trying to sell you this product.
Instead, I'd like to show you why there are better online opportunities you can take advantage of that will make your online business thrive…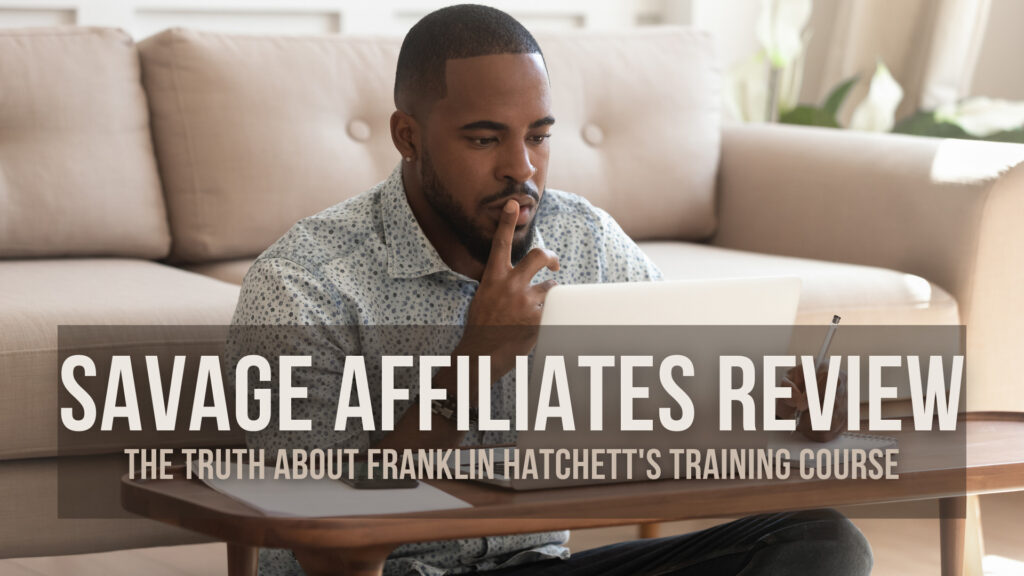 Savage Affiliates Product Review
Name of Product: Savage Affiliates
Owner: Franklin Hatchett
Type of Product:  Affiliate marketing course
Cost of Product: $197 for the standard version, $297 for the super version.
Who Is This Product Best For? Affiliate marketing beginners and anyone looking to make money online.
Savage Affiliates Product Summary
Savage Affiliates is an online course that teaches people how to make money by using affiliate marketing.
It offers beginners and people looking to make money online a solid summary of all the numerous methods to make money with affiliate marketing, this includes driving traffic into your affiliate sites, blogs, etc.
However, you should be aware that there is an underlying focus on persuading users to use ClickFunnels, which costs $97 per month and is not recommended for novices who do not have their own business or product to offer. This is how Franklin will make the most of his money from this course, and it's also why it's so cheap.
Product Rating: 50/100
Would I Recommend This Program: NO
Savage Affiliates Background

Franklin Hatchett's Savage Affiliates is a complete affiliate marketing training that aims to take you from earning zero dollars to achieving financial freedom as an affiliate marketing expert.
To be exact, this video-based 10-module course teaches you how to generate money online through affiliate marketing. It employs a variety of training methods and emphasizes various strategies for driving traffic to your affiliate marketing advertisements and sites.
In case you're still puzzled about the whole concept, affiliate marketing is a marketing approach wherein affiliates (you) will receive money or earn commissions for promoting the products of another business.
When visitors come to your site and click on your affiliate links, they will be purchasing the items of the business that you are promoting. Once the purchase has been successful, you will then get your commissions.
This means you could possibly earn passive revenue to supplement your current income or you could simply make this your full-time job.
With that in mind, Franklin Hatchett promises to cover every aspect of affiliate marketing that a good affiliate marketer should be aware of. In fact, here are the claims his course promises to teach you.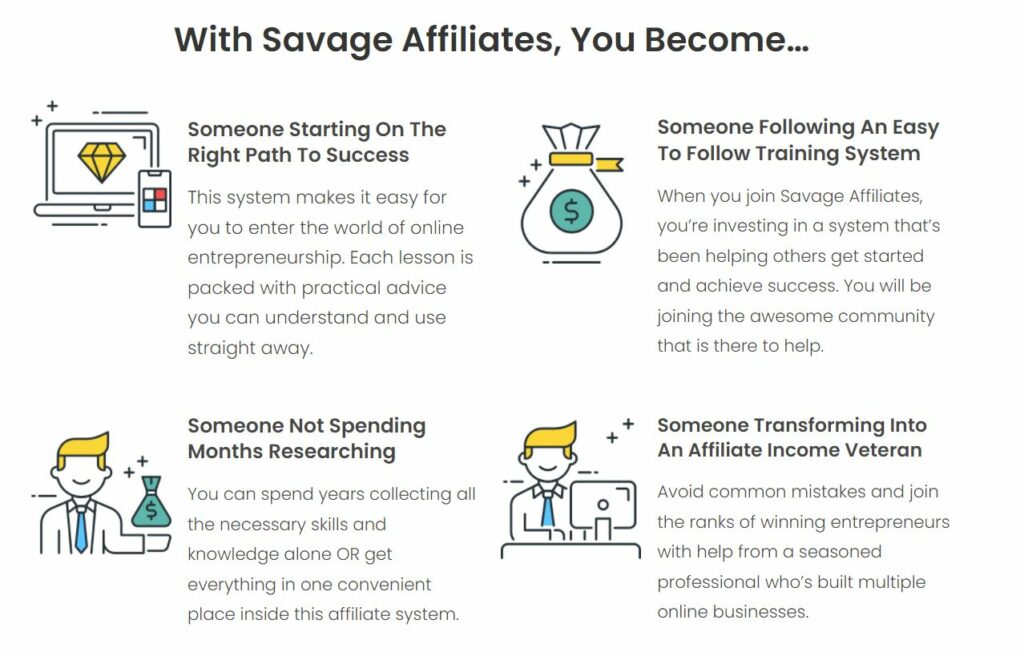 Moreover, Savage Affiliates has seen two significant upgrades since its original introduction in 2018. Its most recent version is called Savage Affiliates 2.0. In addition to that, the most recent update in the course includes the following features:
A 30-day curriculum that teaches students how to start a lucrative affiliate marketing business.
30 hours of hands-on training
Training on all sorts of affiliate marketing tactics and strategies.
A private Facebook group for members only.
It's also critical that you know the concept of creating a website centered on a specific topic or a niche. You can't just make a website that doesn't have anything to offer at all. This implies you'll have to produce your own content or get freelancers to do it for you.
But don't worry, this is why Savage Affiliates exist. You'll get comprehensive instructions and training from one of the finest affiliate marketers on the internet.
If you're concerned about not having zero knowledge of building a website, don't worry. Coding will not be required here. All you need is a desire to learn and to put in the effort. 
Who Is Franklin Hatchett?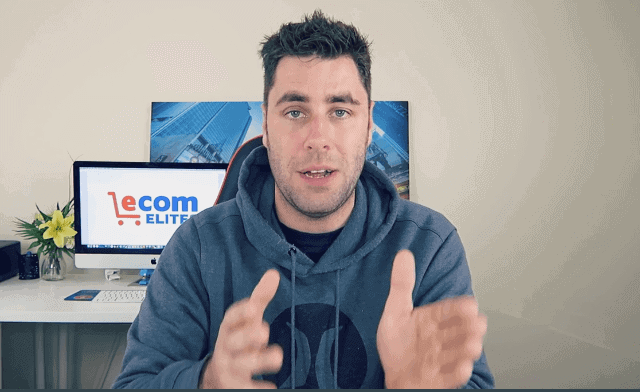 Franklin Hatchett, the creator of Savage Affiliates, is a well-known Affiliate Marketer in the industry and a popular Youtube creator. Originally, Savage Affiliates was just a training session that was supposed to be an informal course for his closest friends.
But somehow, he was able to turn this into one of the best affiliate marketing training courses on the internet.
Hatchett is also the founder of the eCom Elites program, which assists people in starting their dropshipping retail businesses. On his Youtube channel, which has amassed over 370,000 subscribers, he discusses and gives advice on alternative ways to make money online.
On the Savage Affiliates site, you can read about his story as to how he became a top market affiliate.

You can also check out Franklin Hatchett's video below on how to get started with an affiliate marketing business.
Inside Savage Affiliates
Once you sign up for the program, here's what you will get inside Savage Affiliates:
Module #1 – Affiliate Products
You'll learn about niches and goods you may advertise for large commissions in this first lesson. For newbies, starting at this stage is the best way to avoid wasting time and money on the wrong niche.
Franklin demonstrates how to use the greatest networks to identify successful items. He also instructs them on how to build up an affiliate site that will produce passive revenue for them so that they may correctly construct online assets.
Module #2 – Building Your Website
In Module 2, Franklin Hatchett digs deeper into the idea of laying a firm foundation. He addresses expanding your website assets, such as blog articles, landing pages, and web pages, in this part.
This component builds on the first module by offering advice to novice affiliate marketers. Franklin teaches how to set up a website, including how to get a domain name and install necessary plugins for creating web pages and landing pages.
Module #3 – Email Marketing & Sales Funnels
This module covers email marketing and funnels. This session will show you how to use email campaigns and newsletters, which is a common skill in internet marketing.
You will focus on affiliate funnels and email marketing until you construct your affiliate funnel for automated commissions. Franklin also shares how he captures leads with autoresponders.
Module #4 – ClickBank Training
This section has 31 videos that cover all you need to know about producing leads for your affiliate marketing company, from tax requirements to funnel creation.
This section also focuses on teaching you how to explore ClickBank in particular. Using this strategy, you may locate high-commission goods. It will teach you how to create a lucrative ClickBank affiliate marketing website as well as ClickBank funnels.
Franklin also covers the process of selecting the perfect product to start a successful internet business. He also sells premium traffic designs in addition to free traffic. He also includes funnels that have already been designed for you.
Module #5 – ClickFunnels Training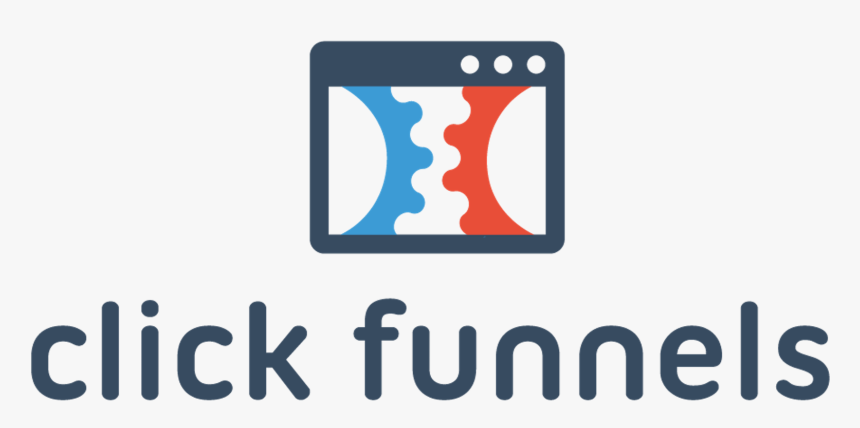 This two-part module is only included in the Super Pack edition of Savage Affiliates. It includes 48 videos that walk you through creating and implementing a sales funnel.
Essentially, this module will teach you how to understand ClickFunnels, a web-based tool for creating sales funnels. It is also one of the most popular affiliate networks today.
Franklin will show you how he used ClickFunnels to build a $100,000 affiliate funnel. He holds a Two Comma Club award to demonstrate his mastery of this affiliate scheme.
This honor is given to ClickFunnels members who have made at least $1 million dollars with a sales funnel.
Franklin presents a case study to show how real his method is. He leads you through the classes in a clear and straightforward manner so that you can learn how to build up your funnel properly.
You may also use this module to access Franklin's funnel, which won him the ClickFunnels prize. It describes how he generates visitors for commissions from both free and paid sources, effectively providing you with a plan to follow.
Module #6 – Amazon Affiliate Program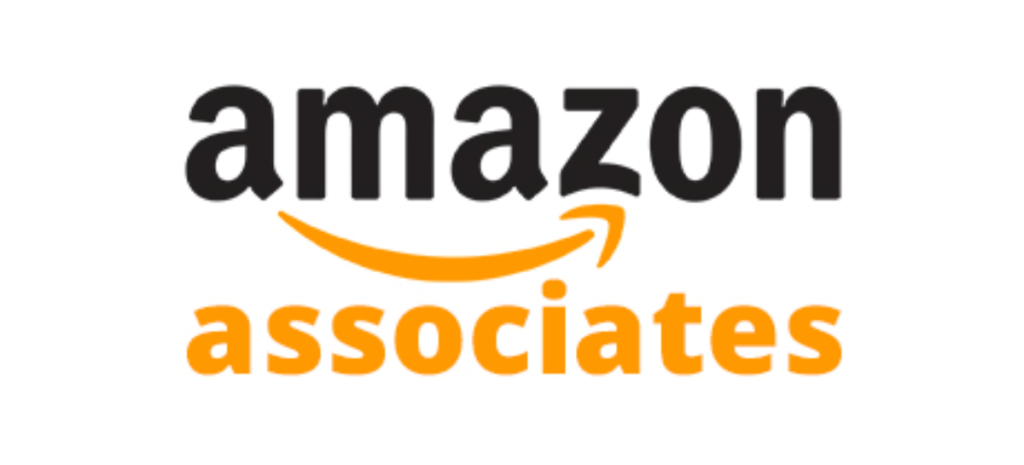 This lesson will introduce you to Amazon's affiliate program and show you how to explore its affiliate network. You'll learn how to establish and promote lucrative Amazon affiliate marketing websites in 15 videos.
You'll know how to arrange and style content on your specialty site while employing the proper keywords once you've finished.
Module #7 – SEO
In his book, Franklin covers both off-page and on-page SEO, both of which are critical in affiliate marketing. Off-page SEO concentrates on variables that affect your site, whereas on-page SEO concentrates on factors that affect your site.
This section also includes a discussion of backlinks. You'll discover how Franklin uses backlinks to link back to his website. This step-by-step guide will teach you how to create traffic.
Module #8 – Free Traffic
This section covers social networking, forums, and YouTube as sources of traffic. He demonstrates how to utilize his strategies to generate free traffic and how they may help you earn commissions in affiliate marketing if you use them to advertise your website.
Module #9 – Paid Traffic
This section covers three types of paid traffic: Facebook advertisements, Google ads, and solo ads.
The majority of this section is focused on Facebook advertisements. The course will teach you how to measure and manage your Facebook campaigns, as well as how to get Facebook pixels for your website.
Franklin then introduces you to Google AdWords advertising and subsequently solo ads, where you will find the finest prospects. Keyword targeting, monitoring, audience selection, and determining the greatest sellers are all covered by paying for advertisements for immediate results.
Module #10 – Launch Jacking & Web Hosting
You can monetize future traffic surges by using launch jacking. Franklin shows you how to get this kind of attention for your blog or website.
Web hosting entails promoting items and services through their website. You will discover how to earn commissions by hosting a website in Franklin's service.
Bonus Features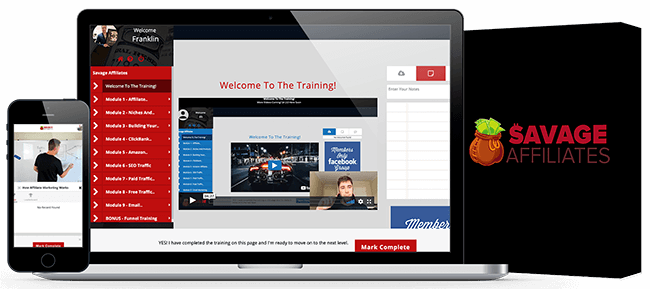 Full Step-By-Step ClickFunnels Affiliate Academy
Franklin Hatchett's Secret Done-For-You Affiliate Marketing Funnel
Several ClickFunnels Pre-Made Funnels
Launch Jacking Affiliate Method Blueprint
Web Hosting Affiliate Method Blueprint
Live Q&A Videos
Private Inner Circle With Other Members
Lifetime Of Updates
Getting Started with Savage Affiliates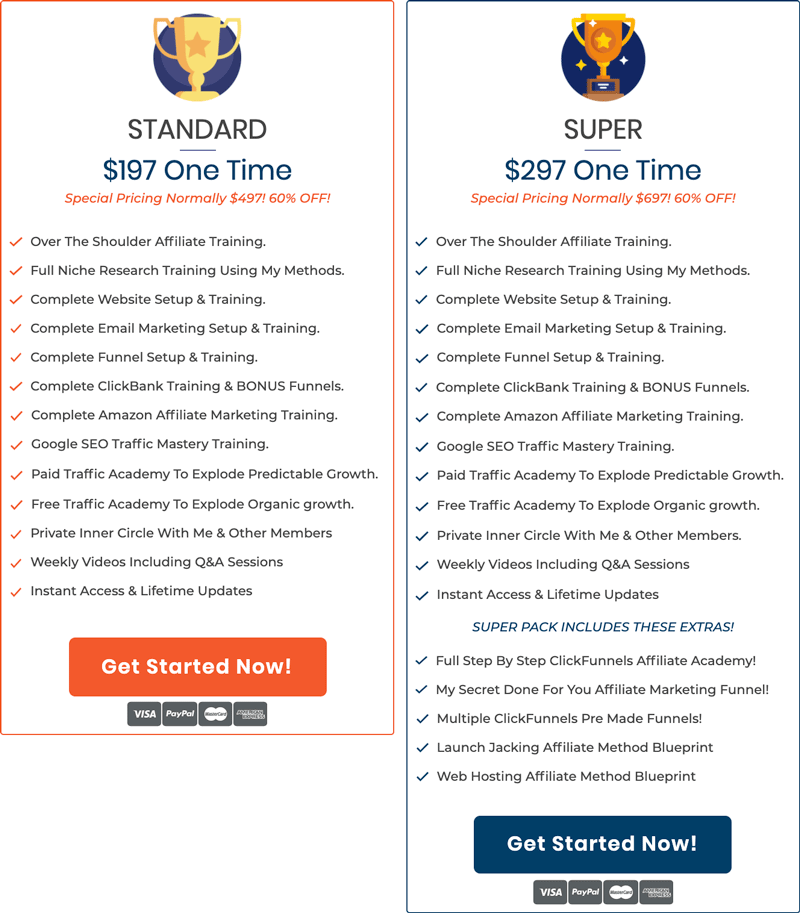 There are two versions of Savage Affiliates: Standard ($197) and Super ($297).
Standard, as you may have guessed, just gives the basic course, whereas Super includes certain extras and bonuses.
Savage Affiliates Ugly Truths Exposed!
#1 Expensive Upsells
The sales website for Savage Affiliates does not make it clear that students are encouraged to spend extra money on various products and services after purchasing the course.
Frank does explain how to perform affiliate marketing for free throughout the training, however, the ways are limited. This is when his extensive list of high-priced upsells comes into play. His upsells include a variety of services and tools, including ClickBank.
#2 Non-Existent Support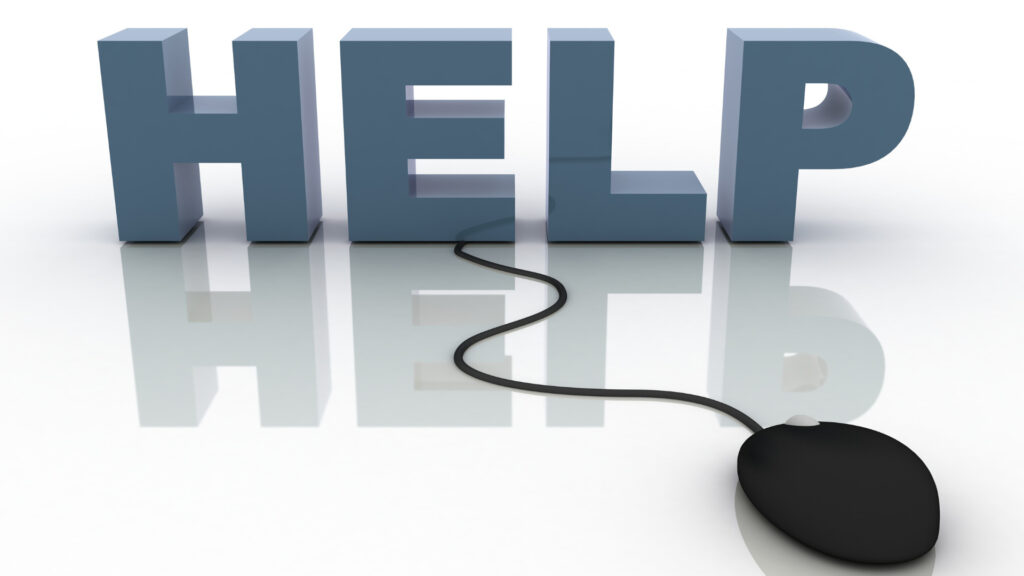 If you're new to internet marketing, you'll undoubtedly need some technical help from time to time. However, Savage Affiliates only provides training and not technical support. As a result, if you have technical issues with your website, you have no one to turn to.
You can also gain access to a private Facebook community if you join Savage Affiliates. However, the majority of the time, the members are unhelpful, and your queries will go unanswered. Sometimes you'll have a quick question that has to be resolved, and having a helpful community is a must.
Advantages of Savage Affiliates
#1 Comprehensive Training
With 10-modules to uncover from this course, you will surely learn a lot of things about affiliate marketing and how you can be successful with it. Although, it could be a little overwhelming at first due to the amount of information you will have to take in.
#2 30-Day Money-Back Guarantee
Like many other online courses, Savage Affiliates also offer a 30-day money-back guarantee in case you find that the course is not for you. However, keep in mind that there are also certain criteria in place you need to follow before you can get your refund.
Is Savage Affiliates a Scam or a Legit Program?
Savage Affiliates if unquestionably legitimate and offer a lot of value. But like with many other online courses, what you will get out of it is directly proportionate to the effort you put into it.
Aside from that, because of the lack of technical and community support as well as the crazy expensive upsells, I do not recommend this product at all. Especially if you're a beginner. Instead, let me give you a much better recommendation.
How Do I Use The Internet to Make a Full-Time Salary?
I'm not a big fan of get-rich-quick schemes, let's just say that I've been caught short a few times.
Instead, an Amazon FBA Business is my leading recommendation for people that want to build a thriving full-time online business working from home.
Here are my reasons why…
There's no pressure to recruit family and friends, or anyone else for that matter.
Learn a unique method to source incredible, high profit, low-competition products that are virtually hidden from your competitors. 
You don't need to sell hundreds of different products to create lucrative profits with this fresh, exciting business model.
An Amazon FBA business can help you to…
Generate a 5-7 Figure Salary and become financially free from the limitations of a traditional day job. You can do this in less than 12 months!
If you want to find out how I did it, Click Here!
Similar Programs To Be Aware Of: