What Is Duplicate Dave?
Due to its claims of making you wealthy fast and the fact that its inventor, Dave Sharpe (aka Legendary Marketer), was formerly one of the CEOs of a large firm called Empower Network, Duplicate Dave has made ripples across the whole internet marketing and network marketing sectors.
There's no arguing that Dave Sharpe is a successful businessman with a sizable following, which is why this product has taken off so quickly.
However, many people are apprehensive about stepping into a new opportunity with him because of the troubles he had with his prior firm, so I've chosen to write this review to find out once and for all whether his new method truly works.
If you're interested in finding out more, just keep on reading.
The fact that you've taken a moment to scrutinize this product before signing up should be applauded. You've done yourself a huge favor. Your due diligence will save you from potentially wasting your time and money.
A good bit of research always goes a long way in the fight against online scams. Creating a sustainable full-time online business is not difficult. You just need to know where to look.
Before we proceed I'd like to let you know that I'm not linked to Duplicate Dave in any sort of way and I'm not trying to sell you this product.
Instead, I'd like to show you why this program should be avoided…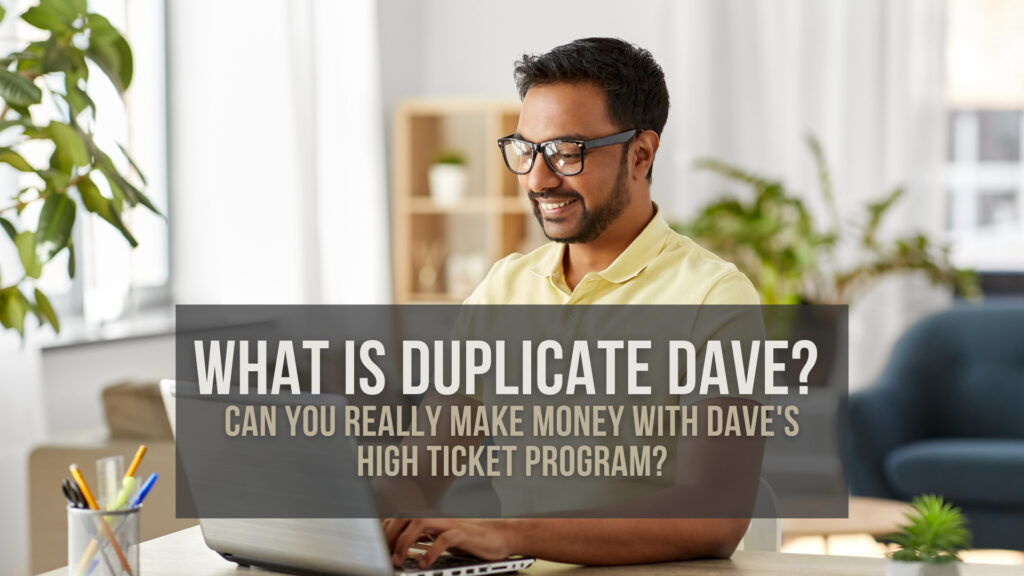 Duplicate Dave Product Review
Name of Product: Duplicate Dave
Owner: David Sharpe
Type of Product: High-ticket Affiliate Marketing Program
Cost of Product: $30 a month, plus upsells up to $30,000.
Who Is This Product Best For? People with lots of money.
Duplicate Dave Product Summary
As the name suggests, Duplicate Dave is an online marketing training platform that enables you to "Duplicate Dave" and study and earn at the same time. What this implies is that you may follow in Dave's footsteps by mimicking what he does and making money from it.
It claims to provide you with everything you need to start benefiting from your internet company on the first day.
Duplicate Dave is, in general, a legitimate product that enables you to earn real money online. However, you must have a minimum of a couple of thousand dollars to invest in their items in the first place. You're also limited to promoting just their High-Ticket affiliate items.
Product Rating: 50/100
Would I Recommend This Program: NO!
Duplicate Dave Background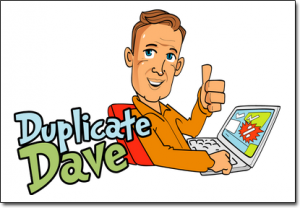 The Duplicate Dave methodology is pretty much what the title implies. It's a training program created by David Sharpe himself, teaching you the strategies he claims to utilize in his own internet marketing firm.
Essentially, if you follow and practice all of the tactics he teaches you, you will be able to copy his business model, and the emphasis is on replicating his revenue as well.
The primary issue I have with this is that it's evident that Dave makes his money by inventing and selling goods, which is precisely what he's doing with the Duplicate Dave concept. So, if you actually want to Duplicate Dave, I suppose you'll have to produce and sell your own items, just as he has.
While this product does not seem to completely teach you how to Duplicate Dave (since it does not address product development and creation), it does provide you with the opportunity to make money online by reselling the Duplicate Dave technique to others as an affiliate.
You'll be given ready-made adverts and then instructed on how to conduct ad campaigns that will drive visitors to Dave's system. When someone makes a purchase, the phone sales staff will contact them and attempt to persuade them to buy in at higher levels, allowing you to earn larger commissions.
This may seem appealing at first, but you must understand that if you join the Duplicate Dave system, you will be subjected to the same method.
As soon as you make a $30 purchase, the phone sales staff will pound your phone in an attempt to get you to spend even more money in exchange for the prospect of generating even more money.
As you can see, although this approach has the potential to bring you money, it will be rather costly before you can even get started.
You'll need to put aside not just an advertising budget, but also be willing to purchase into multiple upsells in order to unlock the higher commissions and have a shot at a reasonable return on your paid advertising expenditure.
Who Is David Sharpe?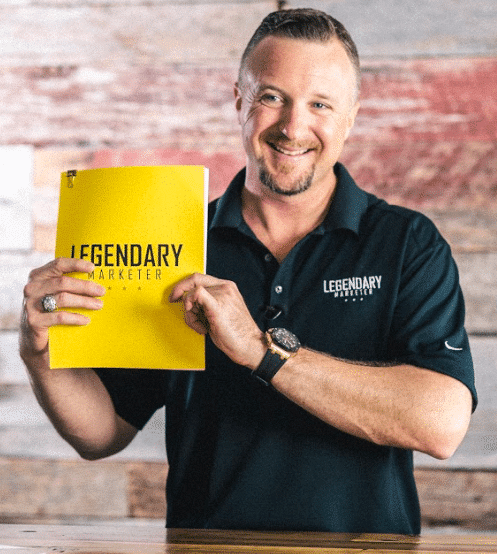 Dave Sharpe is an experienced online and network marketer with a lengthy history in the field. However, it was with his partner, David Wood, that he achieved genuine "popularity" when they founded Empower Network.
Empower Network was one of the first network marketing organizations to target the internet marketing area, and it shook up the industry. They were essentially selling high-priced educational items via an MLM compensation model, which proved to be quite successful for those who got in early.
However, when the buzz faded and more individuals "joined late," many found it difficult to earn any money, much alone return their early commitments. As a consequence, the firm was hammered and was often referred to as a pyramid scheme.
How Does Duplicate Dave Work?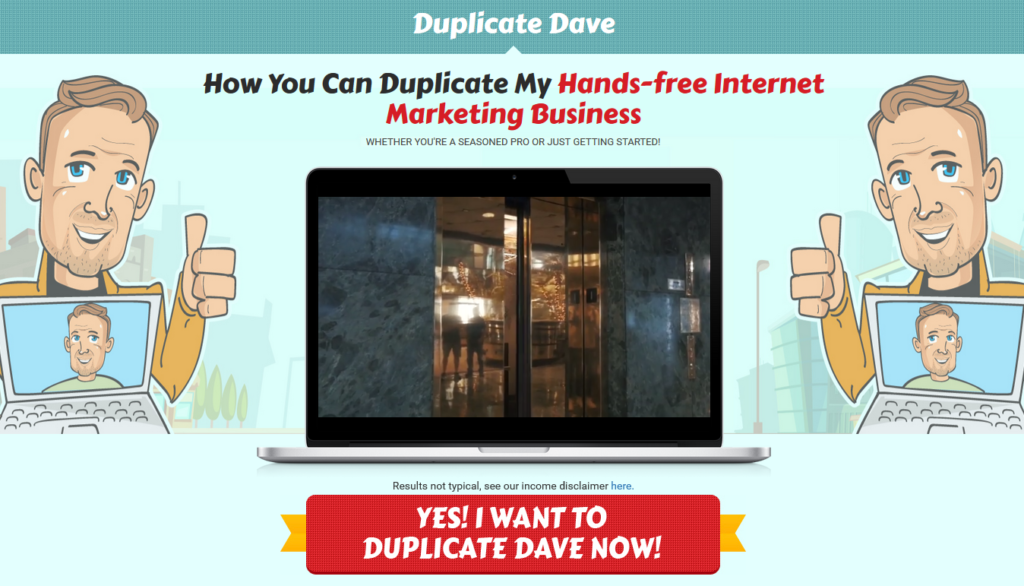 Establishing an internet company, according to Dave, is just as difficult as starting a regular firm. Only one out of ten firms will survive due to the low success rate. However, he claims that the success percentage of a franchised firm is substantially greater. Nine franchises will survive out of ten.
I'm not sure where he got those figures, but this is what he states in his sales video.
As a result, his recommendation is as follows. In his Legendary Marketer brand, he has built a plethora of online marketing materials. He's also created a high-converting sales funnel to market his items.
Now he wants to give you the chance to "duplicate" all of his resources and profit from Legendary Marketer by advertising it like a franchise in the internet world.
These resources include ready-to-use items such as:
Landing page
Video Ads
Banner Ads
Ad Copy Email Copy (45-day Email sequence)
The whole Sales Funnel
All you have to do now is send them to their landing page. All of the selling will be done for you by Dave and his team of coaches. So, in essence, Dave is allowing you to physically reproduce his sales funnel and profit from it. That's also how "Duplicate Dave" got his moniker.
Getting Started with Duplicate Dave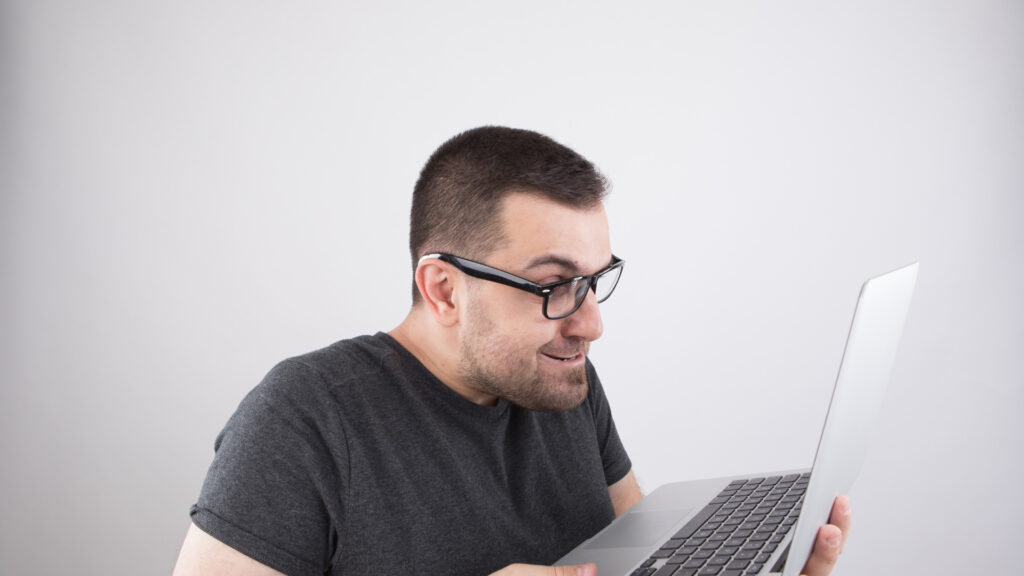 In order to join Duplicate Dave, you'll have to pay $30 a month similar to a subscription. However, if you add the upsells and the high-ticket items you will need to purchase and sell, it all adds up to more than $58K!
Duplicate Dave Ugly Truths Exposed!
#1 Expensive!
Because the training is largely targeted toward paid Facebook advertising, you can expect to invest a lot of money upfront to properly generate money with this program.
Furthermore, you may only make an $18 commission if you only pay the $30 monthly charge. You can't make $1000, $2000, or more in commission without first paying a few thousand dollars. This is a serious issue in this high-ticket affiliate scheme.
This is also why, despite the fact that it may work for some individuals, I do not advise you to invest.
#2 Lack Of Sufficient Training
Duplicate Dave believes that you can utilize what you've learned from their training to start your own company. However, the issue is that they did not supply you with many materials to help you start your own firm.
You'll be urged to resale their items to other individuals during the course. That's why it's dubbed "Duplicate Dave" once again. They want you to copy the business model so they can increase their profits.
Advantages of Duplicate Dave
#1 It's Legit
Inside the program, you will find that there are many hours of educational videos available to educate you about different facets of internet marketing, including:
Facebook Ads
Facebook Fan Page Marketing
Lead Generation
Traffic Generation
Instagram & YouTube Advertising, etc.
There is a lot of stuff for you to absorb in the form of step-by-step instructions. As a result, I feel the Legendary Marketer Club Membership is worth at least $30 each month. The majority of the upsells, on the other hand, are just too pricey. They're overcharging you because they want to profit from you, in my opinion.
Is Duplicate Dave a Scam or a Legit Program?
No, Duplicate Dave isn't a rip-off since it provides legitimate instruction and Dave pays his affiliates. However, I believe that this program is overpriced and that you have other alternatives that do not need you to spend thousands of dollars on upsells.
With that said, if you're looking for genuine and legitimate opportunities to make money online and if you're not scared of putting in long hours, acquiring new skills, and changing your financial situation, you might want to get into affiliate marketing.
You can generate money online while also helping others by connecting people with the items and services they require or looking for.
The best thing about affiliate marketing is you can also use your knowledge of your hobbies, passions, and interests to establish your own profitable internet business.
If this is something that interests you, check out my recommendation below.
How Do I Use The Internet to Make a Full-Time Salary?
I'm not a big fan of get-rich-quick schemes, let's just say that I've been caught short a few times.
Instead, Affiliate Marketing is my leading recommendation for people that want to build a thriving full-time online business working from home.
Here are my reasons why…
You can get started for Free.
There's no pressure to recruit family and friends, or anyone else for that matter.
You can create a business from virtually any product including the ones that you already buy. You are not limited to low-income or inferior products.
Affiliate Marketing can help you to…
Generate a 4-Figure Monthly Salary and become financially free from the limitations of a traditional day job. You can do this in less than 12 months!
If you want to find out how I did it, Click Here!
Similar Programs To Be Aware Of: