What Is Greedy Mentor?
The Greedy Mentor system is said to have been put up by a woman called Meaghan Harper, and the video on the system's website leads you to believe that you may earn as much as $447 per day on total autopilot.
The Greedy Mentor System website says that all you have to do is "claim your profit account" and that revenues will begin to flow into your account right away. Is it, however, actually legitimate, and can you make money with it, or is the Greedy Mentor method a scam that will rob you of your money instead?
If you want to find out more about this program, just keep scrolling.
The fact that you've taken a moment to scrutinize this product before signing up should be applauded. You've done yourself a huge favor. Your due diligence will save you from potentially wasting your time and money.
A good bit of research always goes a long way in the fight against online scams. Creating a sustainable full-time online business is not difficult. You just need to know where to look.
Before we proceed I'd like to let you know that I'm not linked to Greedy Mentor in any sort of way and I'm not trying to sell you this product.
Instead, I'd like to show you why this program should be avoided…
Greedy Mentor Product Review
Name of Product: Greedy Mentor
Owner: Meaghan Harper
Type of Product: Get-Rich-Quick Scheme
Cost of Product: $67
Who Is This Product Best For? No one!
Greedy Mentor Product Summary
Greedy Mentor is an awful get-rich-quick scam since it offers nothing of value to anybody. The persons in charge of the scheme are the only ones who profit.
Furthermore, there are multiple red flags on their landing page and sales video that lead me to believe that this product is a scam. The fact that it's a recycled fraud with the same sales video, bogus testimonials, and marketing strategy is the biggest warning sign.
Would I Recommend This Program: DEFINITELY NOT!
Greedy Mentor Background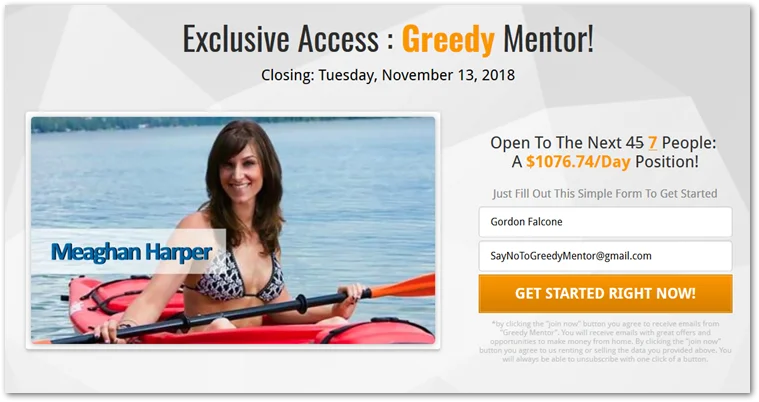 Essentially, the Greedy Mentor system presents itself as a "done-for-you" online system, with Meaghan Harper, the system's creator, promising that it would allow you to earn a lot of money rapidly, even if you have no prior experience working online.
But I can tell you straight away that those types of claims seem a lot like a get-rich-quick scheme. The reason I say this is because, while there are genuine ways to make decent money online, none of them will generate a lot of money overnight.
Unfortunately, there are no shortcuts to earning money online. Instead, if you want to earn a lot of money, you must be willing to put in some time and work.
After working full-time online for quite some time, I can confidently state that if there were any "easy" ways to generate income online, I would have known about them by now. Plus, if there were any simple solutions, everyone would take advantage of them and no one will be stuck with minimum wage jobs by now.
Greedy Mentor is also nothing more than a repackaged version of another comparable product with the same business model. The system's owner most likely has just changed the name in an attempt to avoid bad feedback so that he or she may continue defrauding people of their hard-earned money.
However, there are references to Meaghan Harper as the creator of both. But I have a feeling that is most likely a fictitious alias created to conceal the identity of the real persons behind it.
How Does Greedy Mentor Work?
Essentially, the Greedy Mentor method is one of those money-making schemes that makes a slew of exaggerated claims in order to dupe you into spending your money.
That's why the video on the sales page doesn't reveal anything about how everything works. Because if it did, you'd quickly discover that it doesn't function at all. Instead, it just continues saying how much money you're going to make over and again.
You're offered the "opportunity" to obtain access for $67 after seeing the Greedy Mentor system promotional video. However, as I previously stated, if you purchase it (which I do not encourage), you will be disappointed to discover that there is no actual done-for-you method.
Instead, the entire scheme is centered on a concept known as affiliate marketing. I'd want to point out that affiliate marketing is a respectable business model in and of itself. It's when you link individuals with the things they're seeking on the internet in exchange for commissions.
However, rather than having an actual "product" to advertise (like with legitimate affiliate marketing), the Greedy Mentor method is really just about joining up, paying the money, and then recommending the Greedy Mentor system to others.
To be honest, even if you could make money by advertising the Greedy Mentor method to others, I wouldn't recommend it because the individuals you recruit are unlikely to make any money and you'll also be scamming others in a way.
Getting Started with Greedy Mentor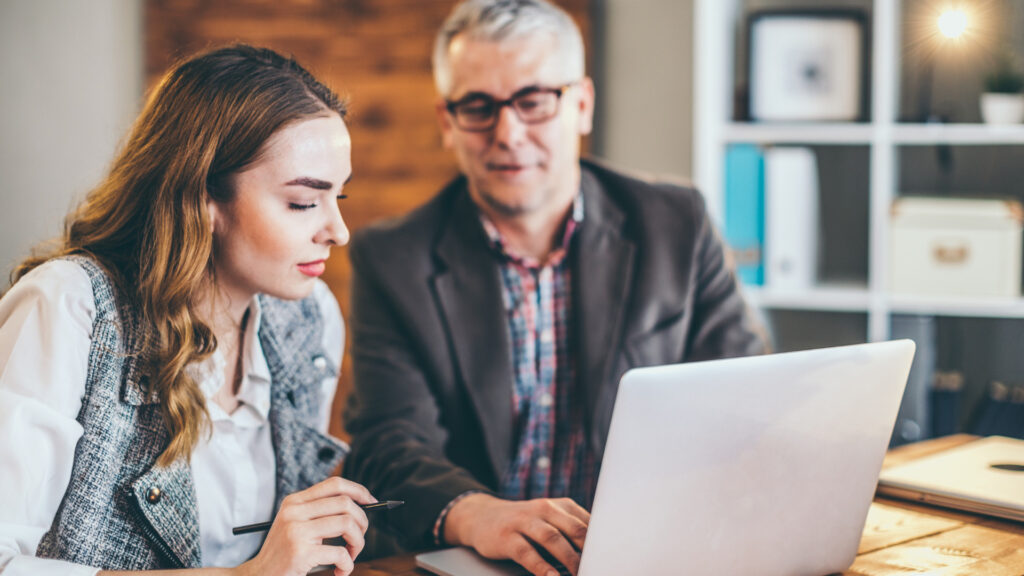 At the time of writing, the program costs $67.  This is due to the fact that it depends on which sales page you've visited and whether or not a discount has been applied. This is only the beginning because when you hand them the payment, you'll be offered further Greedy Mentor upsells to purchase.
These upsells have nothing to do with Greedy Mentor and are most likely affiliate items of the company's owners. You'll pay hundreds of dollars for the upsells, and you'll get little to nothing in return.
Greedy Mentor Ugly Truths Exposed!
#1 Sells Your Personal Information
Because it states so in their consent form after you join up for their program, Greedy Mentor will be able to sell personal data, such as your name and email address.
If you provide them your email address, it will be added to a list and sold or rented to mainly spammers who will try to entice you with various get-rich-quick scams and phony make-money-online programs. This is something that you may call phishing.
You can unsubscribe from Greedy Mentor at any time, but your email address may already be in the possession of serial spammers, and it may be too late. If you sign up for this service, be aware that your inbox will be flooded with spam.
#2 Owner Does Not Exist!
Meaghan Harper is the only person we see speaking for Greedy Mentor. There's no other information on the firm that's conducting the program or where it's based. But who is Meaghan Harper, exactly? The truth is she's just a made-up person with a phony name and a stock photo of a lady paddling in a kayak.
#3 Recycled Program
Greedy Mentor is only a recycled and rebranded version of the same fraud. Their sales video may also be seen on other comparable websites.
Advantages of Greedy Mentor
None. There is not one good thing about using or signing up for this website.
Is Greedy Mentor a Scam or a Legit Program?
Greedy Mentor is definitely a scam. It includes multiple warning signs that should alert you to the fact that it is a complete scam designed to defraud you of your money while providing you with absolutely nothing in return.
Check out my recommendation below if you want to generate money online legitimately.
How Do I Use The Internet to Make a Full-Time Salary?
I'm not a big fan of get-rich-quick schemes, let's just say that I've been caught short a few times.
Instead, an Amazon FBA Business is my leading recommendation for people that want to build a thriving full-time online business working from home.
Here are my reasons why…
There's no pressure to recruit family and friends, or anyone else for that matter.
Learn a unique method to source incredible, high-profit, low-competition products that are virtually hidden from your competitors. 
You don't need to sell hundreds of different products to create lucrative profits with this fresh, exciting business model.
An Amazon FBA business can help you to…
Generate a 5-7 Figure Salary and become financially free from the limitations of a traditional day job. You can do this in less than 12 months!
If you want to find out how I did it, Click Here!
Similar Programs To Be Aware Of: