What is Crowd1 About?
There's a lot of hype around this program right now, but one thing we're trying to figure out is whether it's an investment scheme or a gambling site.
Yes, you read that right. This program offers gambling services, and we'll be revealing exactly how it works in the next few sections.
Today, we're reviewing a popular program called Crowd1 which looks like it could be a pyramid scheme trying to disguise itself as a few things.
The fact that you've taken a moment to scrutinize this product before signing up should be applauded. You've done yourself a huge favour. Your due diligence will save you from potentially wasting your time and money.
A good bit of research always goes a long way in the fight against online scams. Creating a sustainable full-time online business is not difficult. You just need to know where to look.
Before we proceed I'd like to let you know that I'm not linked to Crowd1 in any sort of way and I'm not trying to sell you this product.
Instead, I'd like to unravel the secrets behind this program…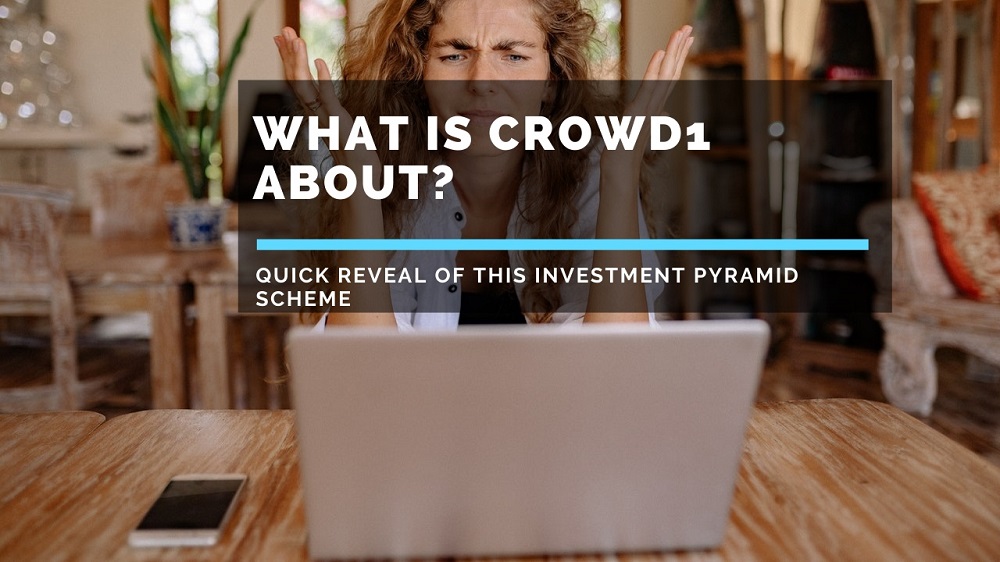 Crowd1 Product Review
Name of Product:  Crowd1
Owner:  Jonas Erik Werner and Stelios Piskopianos
Type of Product: Investment Scheme / Gambling Platform 
Cost of Product: Invest between €99 EUR to €2499 EUR
Who Is This Product Best For?  NOBODY!
Crowd1 Product Summary
Crowd1 is trying to be a lot of things and we don't know whether it's an attempt to deliberately confuse members or if it's actually trying to offer something unique. For starters, it claims to be a pay-to-win system which also offers online gambling.
Member's "investments" build profit via the gambling program as well as recruiting more members. Unfortunately, it's a pyramid scheme, and it has too many things going on all at once.
Product Rating: 1/100
Would I Recommend This Product? Definitely Not!
Recommended: Discover How You Can Build a Full-Time 4-Figure Monthly Income With The Help Of Leading Experts. Everything Needed Can Be Found Here
Crowd1 Background
Crowd1 is a multi-level marketing program which funnels members to invest in something they call 'Owner Right Shares'. In other words, you are supposedly purchasing shares that can make you passive earnings.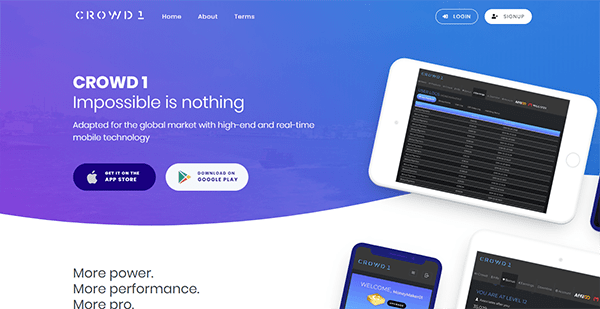 The difference between Crowd1 and other pyramid schemes we've reviewed is that they don't hide details about the company's owners or where they operate from. This is an attempt to appear genuine.
The program is headed up by Stelios Piskopianos, through the Crowd1 Network Europe Ltd. Stelios is also the owner of the company, and he's based in Cyprus.
Bear in mind that Cyprus is a country with favourable conditions for scams as it has no regulations for multi-level marketing companies!
According to Stelios' LinkedIn account, he has work experience in Finance, IT and is an expert at information systems. Stelios works for a business process outsourcing company called AOS Fluency Limited and a private equity investment company called Northern Petroleum Limited where he holds the position of finance director.
Funnily enough, Stelios does not list Crowd1 on his LinkedIn account.
A further investigation reveals that Stelios is just a front for the business. Crowd1's shell records from Spain shows that the owner is a person named Jonas Erik Werner. The program's Facebook profile shows a video with Jonas getting interviewed about Crowd1. The video states that he is the CEO.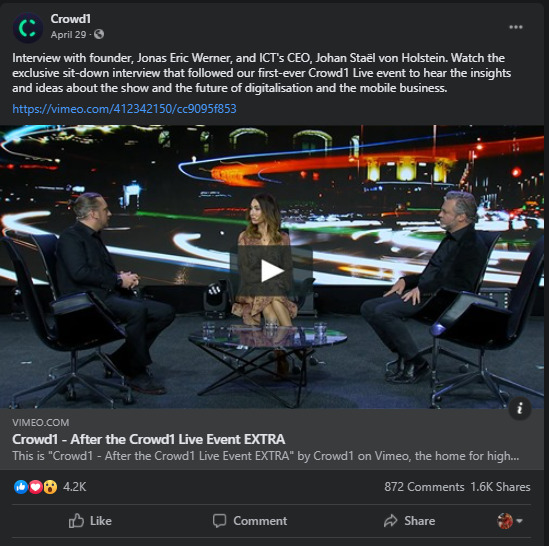 An online search of Jonas Erik Werner comes up with multiple results revealing that he is one of the company's owners and shows details of his association with Crowd1. However, we still think that Stelios helped to build Crowd1, and/or is involved to some extent.
Crowd1 Product Range
I'm not shocked to find out that Crowd1 does not have any retail products or services. Your money will be pumped directly into the program's compensation plan.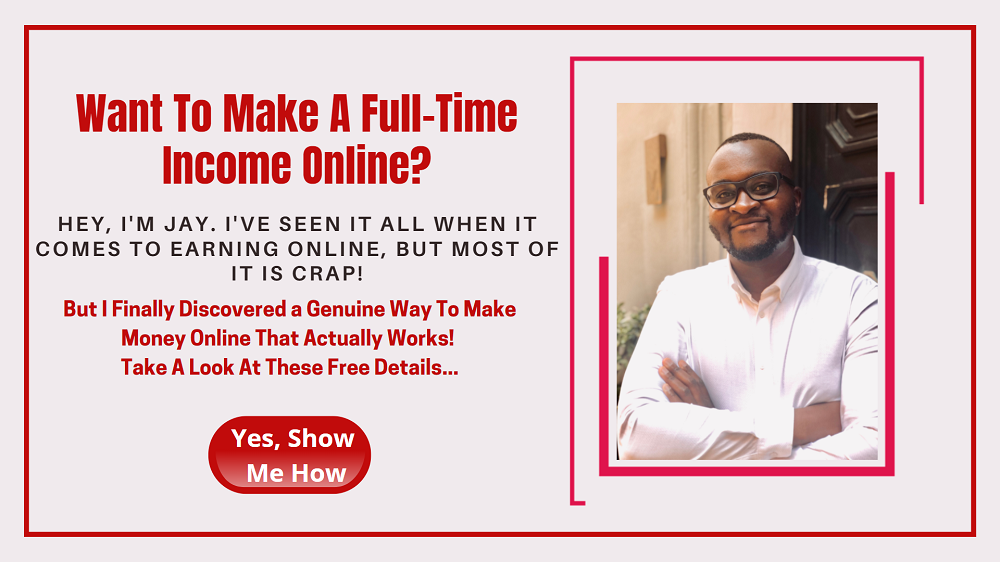 Does Crowd1 Work?
Crowd1 does not have a defined ROI structure, and as such it's an investment scheme that's open-ended. It attracts new investments from members using the compensation plan's pyramid structure.
The program supposedly creates revenue via online gambling. Their website states that their customers are introduced in a way that lets them build a sizeable recurring ROI without being a gaming business, whilst also avoiding the need to arrange a deal with a gaming business.
Essentially, Crowd1 is building revenue using external gambling, but they refuse to be called a gaming or gambling business. At this stage, I don't know what to call them.
The money from gambling is generated via various 3rd-party services, which are powered by the Affilgo program.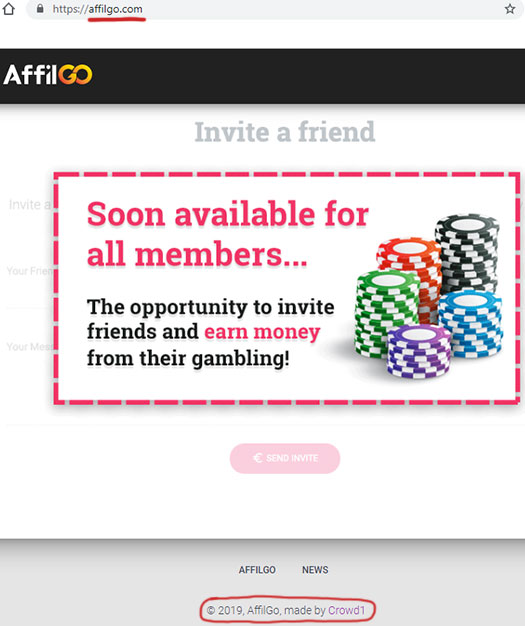 Based on what we found, Crowd1's customers are funnelled to several external services through Affilgo using licensed gaming businesses. These businesses have arranged to share profits with Crowd1.
The above screenshot shows that Affilgo is actually made and operated by Crowd1. We are not told who the external gamings businesses are. Furthermore, they claim to be generating profits of up to 450%. Do you believe them?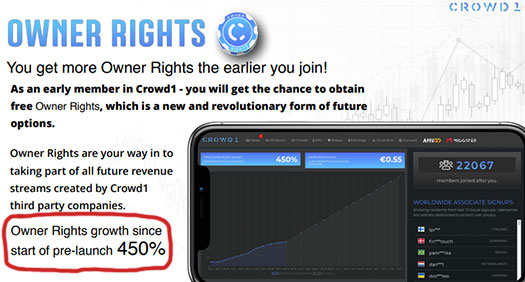 Gambling is an industry that's tightly regulated wherever you go in the world. It's not possible to run a gambling company if you don't have the proper licenses. Crowd1 is using underhanded tactics and is not forthcoming about its partners.
Therefore, it's safe to assume that their gambling activities are nothing more than a sales gimmick to appear as though there are huge profits to be made.
The truth is Crowd1 relies on funds from new members to keep money flowing through their program.
How To Profit with Crowd1
There's just one way to profit with Crowd1, and that's via recruitment. You will need to recruit more members.
Getting Started with Crowd1
To access the Crowd1 membership you will need to invest between €99 to €2499 EUR.
White membership: €99 EUR
Black membership: €299 EUR
Gold membership: €799 EUR
Titanium membership: €2499 EUR
Your profits will be based on the above investment levels.
Recommended: Everything Needed To Create Your Full-Time Online Business From Scratch Can Be Found Right Here
Compensation Plan
The key attraction of Crowd1's compensation plan is the assurance of the returns advertised below-
White membership: Earn €100 EUR worth of owner rights shares when you invest €99 EUR
Black membership: Earn €300 EUR worth of owner rights shares when you invest €299 EUR
Gold membership: Earn €1000 EUR worth of owner rights shares when you invest €799 EUR
Titanium membership: Earn €3500 EUR worth of owner rights shares when you invest €2499 EUR
Residual Commissions
They also offer commissions through a binary compensation system. You will be positioned at the top of the structure and 2 positions are created beneath you, which will be your team's 1st level. The 1st level positions are divided into 2 additional positions each, which gives you an extra 4 positions and creates your 2nd level. The structure will continue to build out this way.
The investment amount is tracked using points which will tie in with the various investment levels as shown below-
White: 90 points
Black: 270 points
Gold: 720 points
Titanium: 2250 points
Matching Bonus
A matching bonus is also offered and is calculated according to the residual commissions made by your team's downline. Payments are based on a uni-level compensation structure. 
Again, you are positioned at the top of this structure and one position is created beneath you. That position can hold a position beneath it, and it carries on in this manner.
The maximum bonus goes down to 5 levels.
Streamline Bonus
You can potentially generate bigger returns on your owner rights share. Members do this by monitoring recruitment across the company. Once you've signed up, anyone that signs up after you is part of your Streamline Bonus.
The number of streamline levels you get will depend on your membership-
You'll receive 3 Streamline levels on the White tier membership
You'll receive 8 Streamline levels on the Black tier membership
You'll receive 12 Streamline levels on the Gold tier membership
You'll receive 15 Streamline levels on the Titanium tier membership
Crowd1 does not mention how this reward is paid to members.
Fear of Loss Bonus
This bonus is based on recruitment and is only valid for the initial 14 days that a new Crowd1 member has joined the program.
The bonus rewards you as follows:
Earn €125 EUR if you recruit 4 White investment level members
Earn €375 EUR if you recruit 4 Black investment level members
Earn €1000 EUR if you recruit 4 Gold investment level members
Earn €3000 EUR if you recruit 4 Titanium investment level members
Crowd1 Gambling Residual
This bonus allows you to generate bigger revenues for your share of gambling across the company. The Team Leader level gives you 5% and this goes up to 10% for the Director level.
Crowd1 Exposed!
1). Pyramid Scheme
The reality is that this is a pyramid scheme. The program uses a pay-to-win system which can be seen in the various incentives on their compensation plan.
For starters, you need to recruit more members to earn your funds back. Furthermore, you are not guaranteed to get any of the money you make. The system is designed so that you have to pump more money into it to "increase" your profits.
2). Gambling Not Regulated
Crowd1's gambling activities are not licensed, which leaves a wide-open door for lawsuits and arrests. I would stay away from unlawful gambling and I strongly advise that you do the same.
The company supposedly creates revenue from its partners and gambling program, but we are never given details about these so-called partners.
Recommended: Tired Of Working In A Dead-End Job? Let's Get Your Passion Project Off The Ground
Advantages of Crowd1?
There's absolutely no advantages about Crowd1. 
Is Crowd1 a Scam or a Legit Business?
Crowd1 is a pyramid scheme. It uses a series of elaborate tactics to appear genuine, but there are so many things wrong with this program.
The company's compensation plan primarily incentivizes members to recruit more members. You will not earn a single dollar if you don't recruit.
Their business model is based on pay-to-win, therefore, it's luring more people to invest more money on the premise that they will make more profit.
Finally, Crowd1 is carrying out unlawful gambling since its not licensed to be a gambling business. We are not told anything about Crowd1's external partners, which means that they don't exist or are part of the scam.
I strongly advise steering clear of Crowd1.
How Do I Use The Internet to Make a Full-Time Salary?
I'm not a big fan of get-rich-quick schemes, let's just say that I've been caught short a few times.
Instead, an Amazon FBA Business is my leading recommendation for people that want to build a thriving full-time online business working from home.
Here are my reasons why…
There's no pressure to recruit family and friends, or anyone else for that matter.
Learn a unique method to source incredible, high profit, low-competition products that are virtually hidden from your competitors. 
You don't need to sell hundreds of different products to create lucrative profits with this fresh, exciting business model.
An Amazon FBA business can help you to…
Generate a 5-7 Figure Salary and become financially free from the limitations of a traditional day job. You can do this in less than 12 months!
If you want to find out how I did it, Click Here!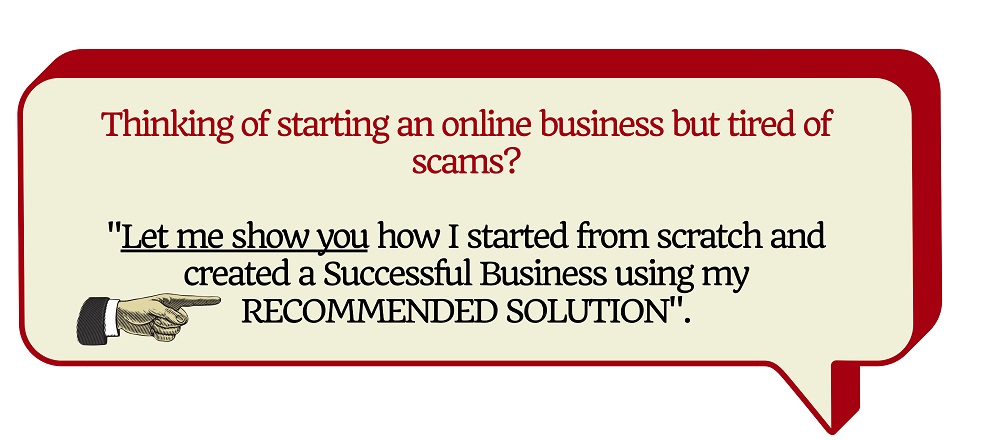 Similar Programs To Be Aware Of: