What Is CoinJob About?
This Bitcoin investment opportunity claims that it can give you daily returns of 4%, which is a lucrative profit. Imagine what you could do with all that money? Before you get your hopes up, there are a few things you should know about this program.
In today's review, we'll be looking at a program called CoinJob and revealing why it's most likely a Ponzi scheme.
The fact that you've taken a moment to scrutinize this product before signing up should be applauded. You've done yourself a huge favour. Your due diligence will save you from potentially wasting your time and money.
A good bit of research always goes a long way in the fight against online scams. Creating a sustainable full-time online business is not difficult. You just need to know where to look.
Before we proceed I'd like to let you know that I'm not linked to CoinJob in any sort of way and I'm not trying to sell you this product.
Instead, I'd like to unravel this program's shortcomings and show you why it won't make you any money…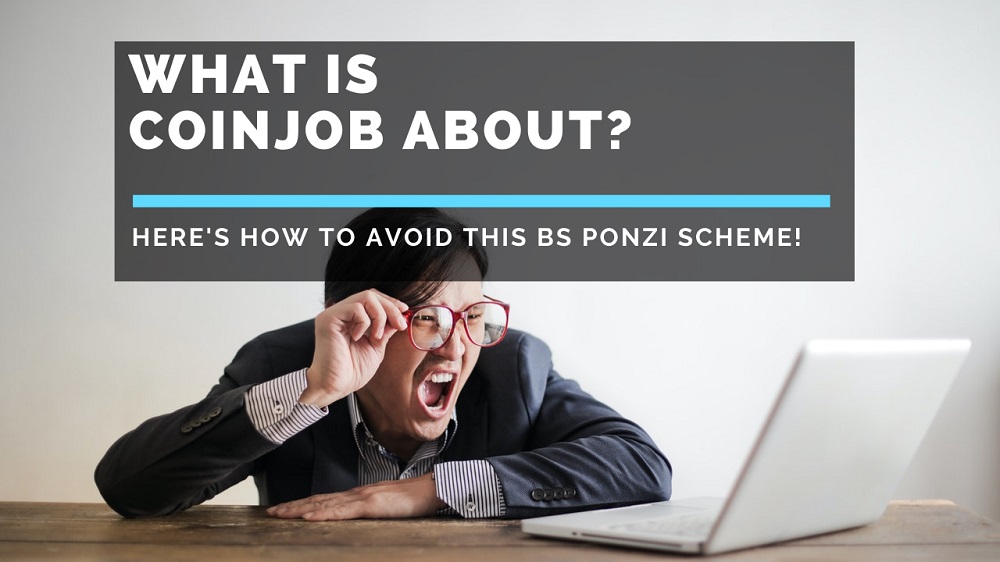 CoinJob Product Review
Name of Product:  CoinJob
Owner:  Not Known
Type of Product:  Cryptocurrency MLM Opportunity
Cost of Product:  Invest At Least 0.02 BTC
Who Is This Product Best For? NOBODY!
CoinJob Product Summary
CoinJob claims to be an MLM opportunity that centres around cryptocurrency, but it's actually a wolf in sheep's clothing i.e. a Ponzi scheme. The program works on false pretences and there's no evidence that it's investing or trading (your money) to build revenue. The only source of income is through recruiting more members!
Product Rating: 1/100
Would I Recommend This Product? Hell No!
Recommended: Discover How You Can Build a Full-Time 4-Figure Monthly Income With The Help Of Leading Experts. Everything Needed Can Be Found Here
CoinJob Explained
CoinJob is a multi-level marketing program that focuses on cryptocurrency investments. Their currency of choice is Bitcoin.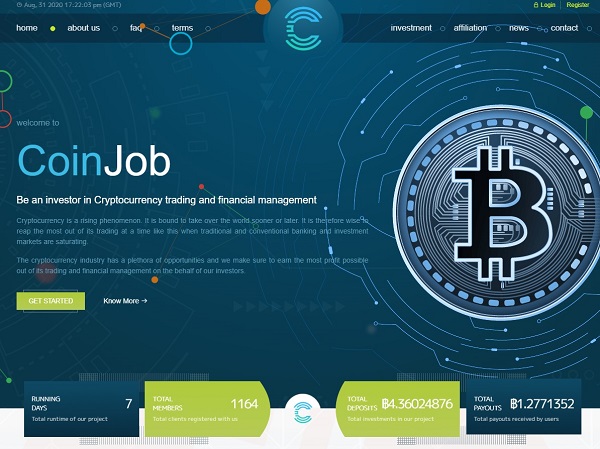 The website does not divulge the details of the leadership team or the founders of the company. We were able to find a UK incorporation certificate, but this does not prove that the business is authentic. The company was incorporated on 30th June 2020, which is consistent with Coin Job LTD.
A UK incorporation certificate is easy to obtain and inexpensive. As such, it's very popular with scammers who want to set up fake businesses.
A UK certificate of incorporation doesn't hold any weight when it comes to MLM compliance.
The website's domain was registered on the 4th June 2020 but was done privately which means that the people behind this program want to remain anonymous and don't want to be held accountable when the scheme eventually collapses.
A quick search of the website's data shows that the traffic is mainly from Vietnam, Bangladesh and Turkey. Therefore, we'll also assume that the program's creator is located in one of the mentioned countries.
CoinJob Product Range
CoinJob is an MLM scheme and as such, they are required by the regulators to provide a retail product or service to support their compensation plan.
It's not surprising that CoinJob doesn't offer any of the above. What does that mean for you? Your only option to make money is to recruit more members.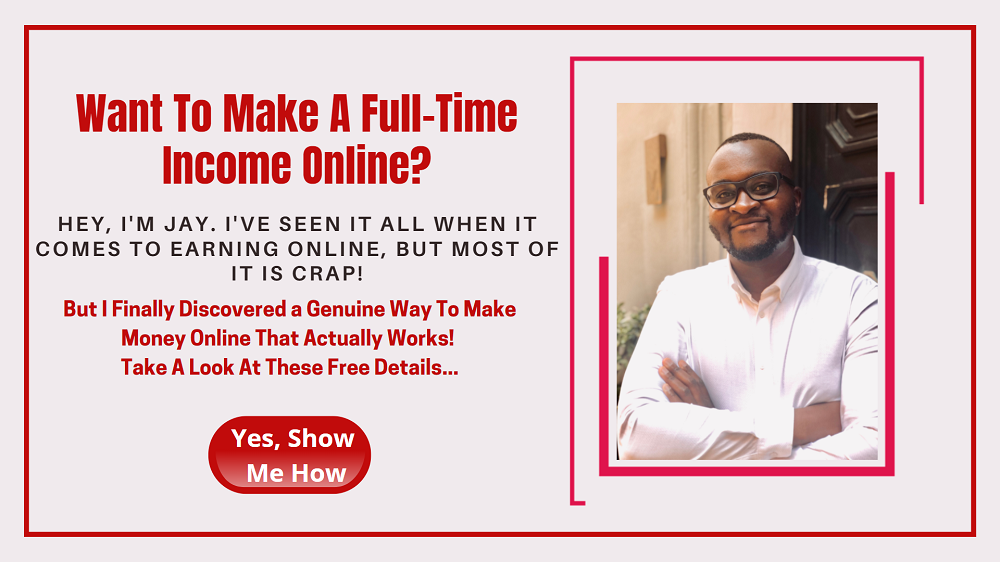 Does CoinJob Work?
Apparently CoinJob generates revenue through cryptocurrency trading. Members invest Bitcoin, then CoinJob trades this on their behalf, the resulting profits are shared between the company and members.
CoinJob claims that they trade the investments in cryptocurrency exchanges i.e. they buy and sell based on market trends to optimize their profits and mitigate risk.
But there's no proof that they are actually doing this. Furthermore, There's no proof that any profits, made by the company, are used to pay the promoted returns.
CoinJob's business model doesn't stack up and I'll show you why. Let's take a moment to run through a scenario.
Let's say that you're the founder of this program and designed it to consistently bring back daily returns of 4%, why would you require members if it's making this level of profit?
4% might not sound like much but you could easily transform this into a wealthy business model, therefore, they'd be no need to bring more people onboard. It would be a profitable venture in its own right without additional investments.
But that's not the case with CoinJob. The program is nothing more than a recruitment scheme that only makes money through new membership fees. The company will continue to make profits if more members sign up and invest.
What do you think will happen when the recruitment slows down and grinds to a halt? The company will fail, members will lose their money and the owners will pocket the profits and probably rebrand the same product.
How To Profit with CoinJob
The only strategy used to earn money with CoinJob is via recruitment.
Getting Started with CoinJob
Signing up with CoinJob is free, however, you will have to invest at least 0.002 BTC (about $46.30 as of this writing) if you want to access the income opportunity.
Compensation Plan
You will need to invest at least 0.002 BTC to be rewarded with the unlimited 4% ROI per day.
Furthermore, there's a referral commission that's paid based on a uni-level compensation system.
The uni-level system positions you at the head of the team, and each member that you recruit directly is positioned beneath you on the first level.
If your first level members recruit more members, these will be positioned on the second level and will subsequently become you member's first level.
If your second level members recruit more members, these will be positioned on the third level.
This structure is unlimited and continues with an uncapped number of levels.
Note that you're also another member's first, second, third level and so on.
Referral Commissions
CoinJob offers a maximum of 5 uni-level teams for their referral commissions. This is rewarded as a percentage of the Bitcoin that you decide to invest according to the levels shown below:
5%- 1st level 1 (your direct recruits)
2%- 2nd level
1%- 3rd-5th level
Your referral commissions can be extended to 6 levels if you acquire the status of Representative.
Representatives are rewarded the following commissions:
8%- 1st level
2%- 2nd & 3rd levels
1%- 3rd – 6th levels
But the problem with the above commissions is that we're never told how to qualify to be a Representative.
Recommended: Everything Needed To Create Your Full-Time Online Business From Scratch Can Be Found Right Here
CoinJob Ugly Exposed!
1). False Contact Details
According to their registration details, the company's address is 67 Great Peter St, Westminster, London, United Kingdom, SW1P 2BU.
But a google street view search of the street reveals a bunch of residential buildings and no offices.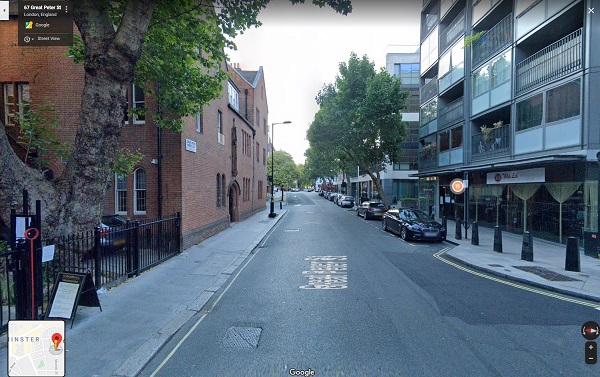 Chances are, the people behind this program used a fake address and ensured that it couldn't be used to pinned down their exact location.
The fact that company is deliberately being vague means that they are hiding something.
2). No Evidence of Trading
There's zero proof that CoinJob is trading to build revenue. We couldn't find any details of a trading system or software to help them achieve the supposed 4% ROI.
If the business was actually trading, they would have to be authorised to do so by the financial regulators to handle member's investments.
3). It's Blatantly a Ponzi Scheme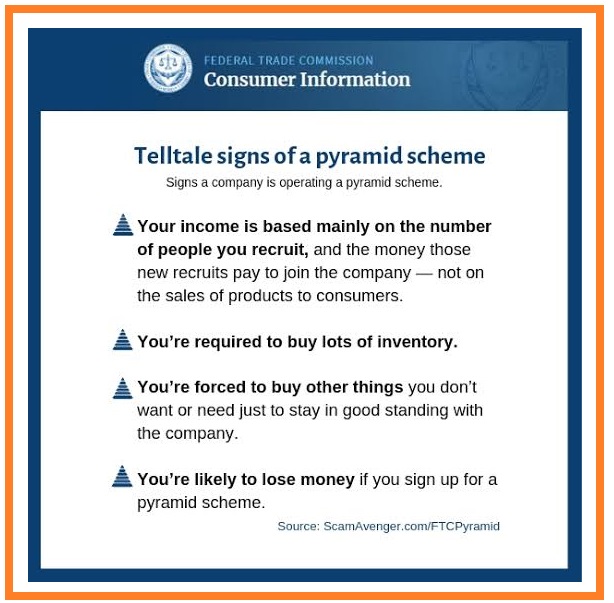 At the end of the day, this program is all about recruiting more members. Therefore, CoinJob is a Ponzi scheme because the sole income stream is recruitment. The FTC advises people to stay away from such programs as per the above illustration.
Recommended: Tired Of Working In A Dead-End Job? Let's Get Your Passion Project Off The Ground
Advantages of CoinJob
This program is clearly a Ponzi scheme with no advantages whatsoever!
Is CoinJob a Scam or a Legit Business?
CoinJob is a worthless program hiding under the guise of an MLM income opportunity. It will not help you to build an online business or generate an income working from home.
We couldn't verify that the company is based where they are registered. Their address came up with a bunch of residential properties.
We couldn't verify that the program is actually placing trades or investing member's funds to build profits.
There's no evidence that the company is authorised by the financial regulators to carry out the advertised activities.
CoinJob is nothing more than a Ponzi scheme, not worth your time and money.
How Do I Use The Internet to Make a Full-Time Salary?
I'm not a big fan of get-rich-quick schemes or Cryptocurrency MLM programs, let's just say that I've been caught short a few times.
Instead, Affiliate Marketing is my leading recommendation for people that want to build a thriving full-time online business working from home.
Here are my reasons why…
You can get started for Free.
There's no pressure to recruit family and friends, or anyone else for that matter.
You can create a business from virtually any product including the ones that you already buy. You are not limited to low-income or inferior products.
Affiliate marketing can help you to…
Generate a 4-Figure Monthly Salary and become financially free from the limitations of a traditional day job. You can do this in less than 12 months!
If you want to find out how I did it, Click Here!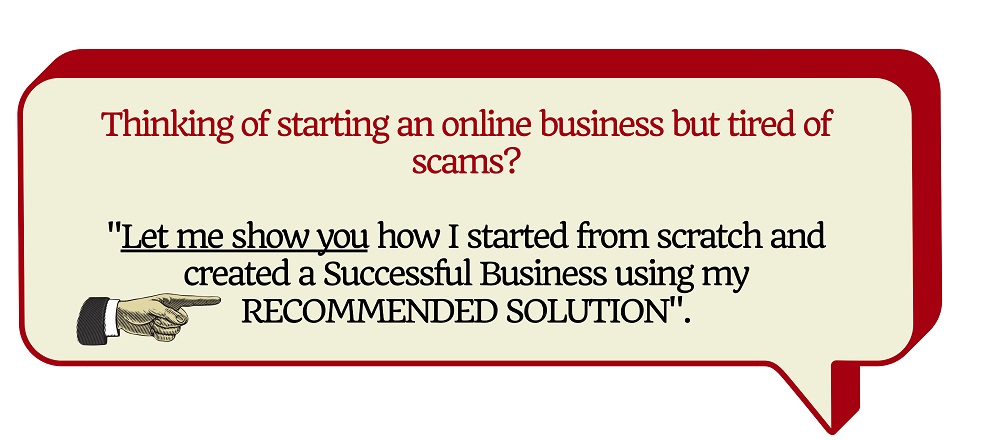 Similar Programs To Be Aware Of: