What Is BizzTrade?
I recently came across an MLM opportunity offering an online training package that can supposedly change your life. The program claims that it can show you how to trade Cryptocurrency, but the truth is, it's nothing more than a worthless product.
Today, we'll be reviewing a program called BizzTrade which is the latest rebranded version of an older Ponzi scheme.
The fact that you've taken a moment to scrutinize this product before signing up should be applauded. You've done yourself a huge favour. Your due diligence will save you from potentially wasting your time and money.
A good bit of research always goes a long way in the fight against online scams. Creating a sustainable full-time online business is not difficult. You just need to know where to look.
Before we proceed I'd like to let you know that I'm not linked to BizzTrade in any sort of way and I'm not trying to sell you this product.
Instead, I'd like to unravel the secrets behind this product and show you whether it can help you set up a profitable trading business…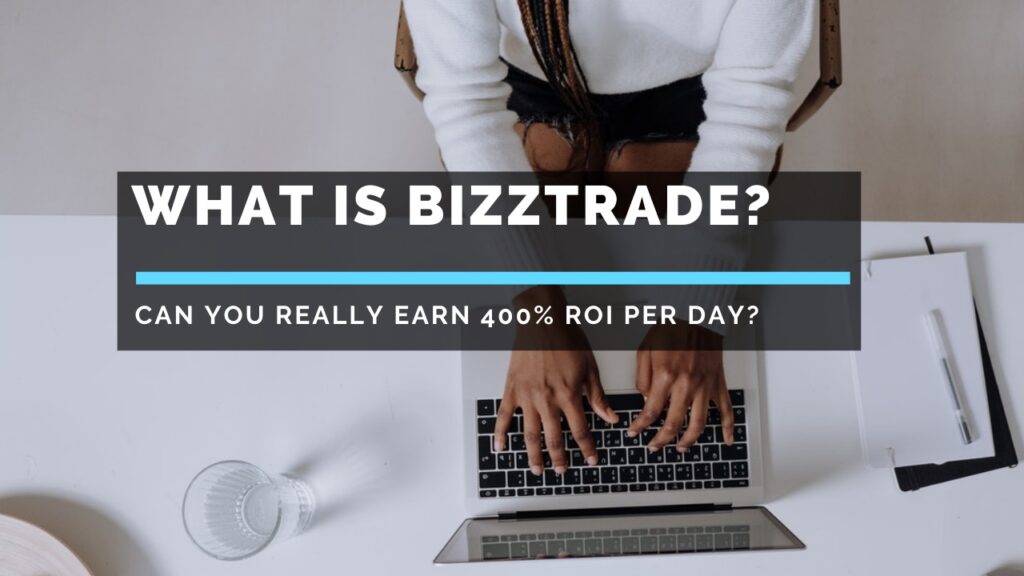 BizzTrade Product Review
Name of Product:  BizzTrade
Owners:  Gupreet Dhaliwal, Rizhar & Rehan Gohar
Type of Product:  Cryptocurrency MLM Ponzi scheme
Cost of Product:  Membership is €10 EUR per month plus an investment of at least €50 and a maximum of €10,000 EUR
Who Is This Product Best For?  NOBODY!
BizzTrade Product Summary 
BizzTrade is a multi-level marketing business that centres around cryptocurrency, promoting passive earnings. However, it's actually an elaborate Ponzi scheme. The program is heavily focused on recruitment which is a bad sign.
Product Rating: 1/100
Would I Recommend This Product? Definitely Not!
Recommended: Discover How You Can Build a Full-Time 4-Figure Monthly Income With The Help Of Leading Experts. Everything Needed Can Be Found Here
BizzTrade Explained
BizzTrade is an MLM program offering an online training package for anyone wanting to advance their expertise in Forex trading, at least that's what we're told. However, this program is a wolf in sheep's clothing. Today, I'll show you what BizzTrade is hiding from you.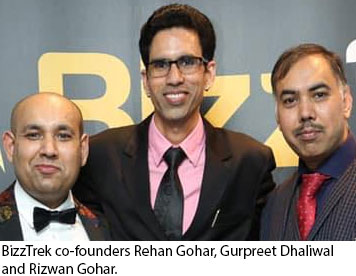 The program used to be called BizzTrek and was created by Gurpreet Dhaliwal, Rizhan and Rehan Gohar. The companies are (were) located in the UK. BizzTrek was founded in 2019, but it didn't make much profit and eventually collapsed.
After that, the founders rebranded the product to BizzTrade and from May 2020 onwards they set their sights on cryptocurrency.
BizzTrade Product Range
Similar to other Ponzi schemes that I've reviewed, BizzTrade does not offer any retail products or services. Your membership gives you access to their income opportunity and their forex training package.
Below is a list of modules available:
BizzEd – Forex Mastery tutorial designed for entrepreneurs. This interactive series comes in various levels catering to newcomers right up to advanced level traders.
BizzLive – A tutorial that teaches you how the markets work through live sessions.
BizzTube – A library of videos where you can watch videos on demand. We're not told what videos are included in the library but we'll assume that these are replays of previous tutorials. 
BizzCareer – Tutorials designed for recent graduates and businessmen, developing them to be expert traders. Support is offered to members as well as various resources and webinars every day.
According to the program, they'll be launching BizzCareer and BizzTube soon although a definite release date has not been provided.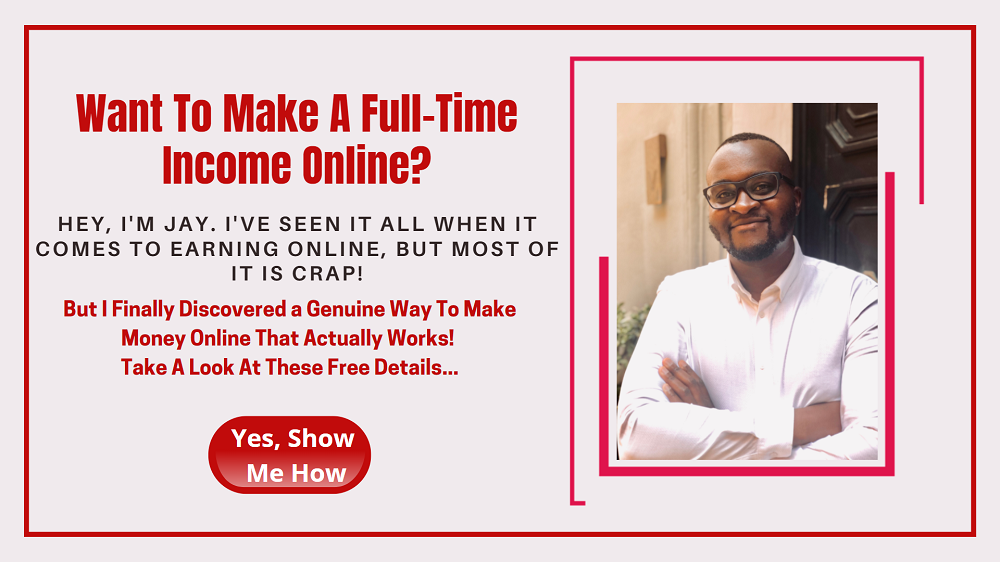 Does BizzTrade Work?
It's worth noting that the Forex trading course is not the focal point of this program. It's just an extra perk offered as part of the membership.
There's no indication who the course teachers are or the credibility of the tutorials. Judging by the looks of the course material, it wouldn't be too difficult to find this information online for free.
Apparently, members can earn a passive investment of 400% ROI from this opportunity, which would be considered a securities offering. According to BizzTrade, their profits are derived from Forex trading.
BizzTrade does provide an FCA registration number, which is linked to a company called Infinox Capital Limited, but this bears no relation to BizzTrade's passive income program.

BizzTrade is not authorised to provide securities in any country including the UK. Therefore, the company is liable for securities fraud.
Members are not being paid with profits from trading as we are led to believe. Instead, they are paid with the money from new memberships. Furthermore, the program offers virtual shares which are of no value.
Similar to the other Ponzi schemes, the business model is reliant on recruitment. Therefore, the money will dry up when new recruits stop signing up. This will inevitably lead to the company's failure.
How To Profit with BizzTrade
The only way to profit with BizzTrade is by recruiting more members. Unfortunately, you do not have the option to profit from retail sales and as such, this is not a sustainable business model.
Getting Started with BizzTrade
The membership fee is €10 EUR, however, if you want to access the income opportunity you'll need to invest at least €50 and a maximum of €10,000 EUR.
Obviously BizzTrade will make you believe that you can earn more profit with a larger investment.
BizzTrade Compensation Plan
The compensation plan is focused on recruitment and ROI. Below is a summary of everything you need to know:
Daily ROI
Members can make an investment of €50 to €10,000 EUR to receive the returns promoted below (supposedly)-
Starter – €50 EUR investment to earn a daily ROI of up to 0.4%
Pro Starter – €100 EUR investment to earn a daily ROI of up to 0.4%
Business – €500 EUR investment to earn a daily ROI of up to 0.6%
Pro Business – €1000 EUR investment to earn a daily ROI of up to 0.6%
Trader – €5000 EUR investment to earn a daily ROI of up to 0.8%
Pro Trader – €10,000 EUR investment to earn a daily ROI of up to 0.8%
The maximum returns are 400%. If you want to keep investing into the scheme after this point then you'll need to reinvestment.
Team Bonus
You will be awarded commissions of up to 9% based on the investment package listed above, according to the amount of sales from your team. You will have to recruit a minimum of 2 members to be eligible for this bonus.
Matching Bonus
You'll receive 2% commission of the team bonus which stretches all the way down to the 5th level of your team. To be eligible, you need to invest in the 3rd or 4th costliest packages, which are Trader or Pro Trader.
Renewal Bonus
If one of your team members renews their package or reinvests, you'll be awarded a commission from the sale.
Recommended: Everything Needed To Create Your Full-Time Online Business From Scratch Can Be Found Right Here
BizzTrade Exposed!
1). Questionable Owners' Reputation
The creators of BizzTrade were previously operating BizzTrek, which is one in the same company. The programs both offer similar Forex tutorials.
The initial program (BizzTrek) was a pyramid scheme which survived for just a few months before collapsing.
Rather than giving up, the owners rebranded to BizzTrade in May 2020 and focused on cryptocurrency.
They also created a custom token named BIZZ, which they claim is worth $2, but holds no value on the open market outside of the program. The owners control the value and supply of their tokens and can create more of them whenever they wish.
2). Zero Retail Products!
Don't be fooled into thinking that their courses are the primary selling point. These are just an added bonus that comes with the membership. The information can be sourced for free online. The regulators that govern MLM businesses require them to offer a retail product or service at the very least.
BizzTrade offers none of the above and as such would be branded a Ponzi scheme.
3). Negative Feedback on TrustPilot
I'm not surprised to see that BizzTrade has several complaints on TrustPilot. The company's rating is appalling and members have left feedback like the one shown below-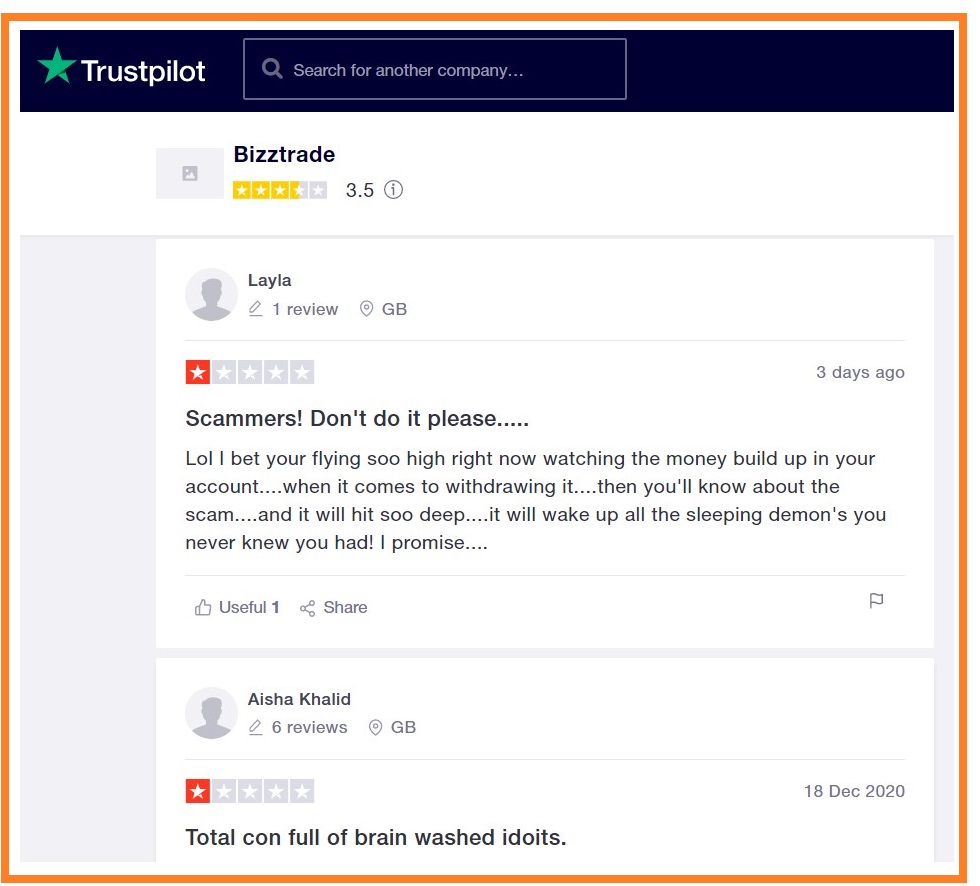 This doesn't come as a shock since the program never intended to reward members the advertised returns.
Recommended: Tired Of Working In A Dead-End Job? Let's Get Your Passion Project Off The Ground
Advantages of BizzTrade
The program is an elaborate Ponzi scheme and as such, there are no advantages of investing with them.
Is BizzTrade a Scam or Legit Business?
BizzTrade does NOT appear to be a legitimate business. It's blatantly a Ponzi scheme based on their compensation plan alone.
You will need to recruit more members into the program to recoup your investment. But it's still not a sure thing that you'll profit even after all this.
BizzTrade is a rebranded program of an earlier Ponzi scheme operated by the same owners. 
This program is not a profitable investment. Stay away from BizzTrade as you'll probably lose your money if you invest with them!
How Do I Use The Internet to Make a Full-Time Salary?
I'm not a big fan of get-rich-quick schemes or Cryptocurrency MLM programs, let's just say that I've been caught short a few times.
Instead, an Amazon FBA Business is my leading recommendation for people that want to build a thriving full-time online business working from home.
Here are my reasons why…
There's no pressure to recruit family and friends, or anyone else for that matter.
Learn a unique method to source incredible, high profit, low-competition products that are virtually hidden from your competitors. 
You don't need to sell hundreds of different products to create lucrative profits with this fresh, exciting business model.
An Amazon FBA business can help you to…
Generate a 5-7 Figure Salary and become financially free from the limitations of a traditional day job. You can do this in less than 12 months!
If you want to find out how I did it, Click Here!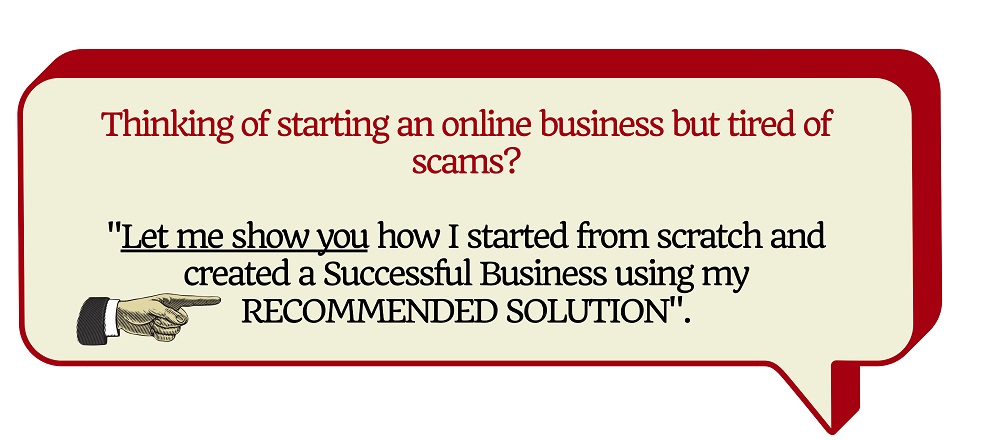 Similar Programs To Be Aware Of: