What Is Allbit Trade About?
Cryptocurrencies have enjoyed huge success over the past few years and they are not showing any signs of slowing down this year. The value of Bitcoin has continued to climb, and people keep buying and selling it at a staggering rate.
People that don't know much about cryptocurrency have to rely on companies that can trade or invest on their behalf. Sadly, the industry is riddled with countless Ponzi schemes waiting to exploit people with little knowledge about Crypto.
Today we are reviewing one such company named Allbit Trade.
The fact that you've taken a moment to scrutinize this product before signing up should be applauded. You've done yourself a huge favour. Your due diligence will save you from potentially wasting your time and money.
A good bit of research always goes a long way in the fight against online scams. Creating a sustainable full-time online business is not difficult. You just need to know where to look.
Before we proceed I'd like to let you know that I'm not linked to Allbit Trade in any sort of way and I'm not trying to sell you this product.
Instead, I'd like to unravel the secrets behind this program…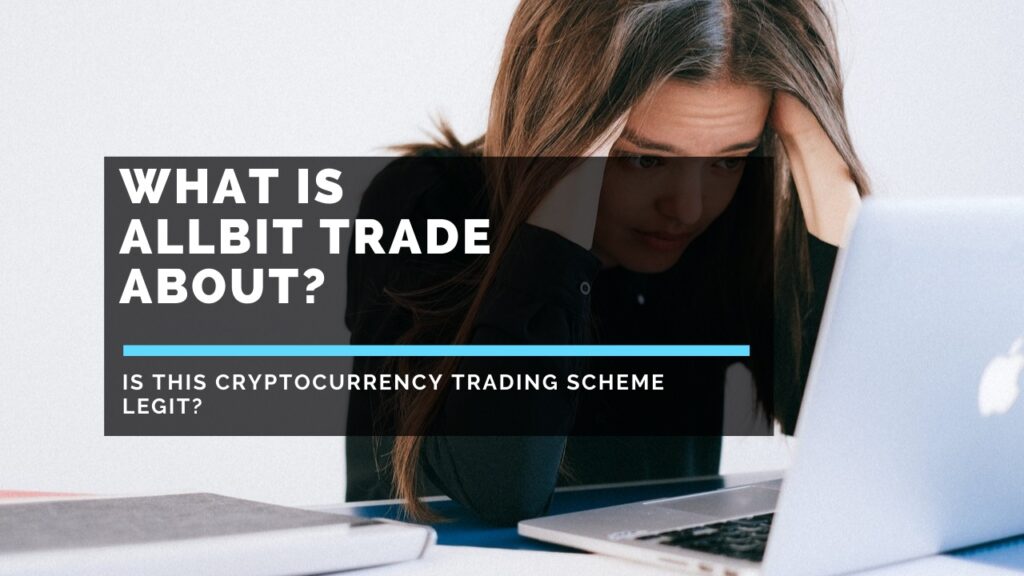 Allbit Trade Product Review
Name of Product: Allbit Trade
Owner: Not Known
Type of Product: Cryptocurrency Trading Scheme
Cost of Product: Minimum investment depends on currency invested.
Who Is This Product Best For? NOBODY!
Allbit Trade Product Summary
Allbit Trade claims to be a Cryptocurrency trading scheme, but it's more like a Ponzi scheme based in Russia. The program does not appear to be genuine and it has all the classic warning signs. It looks like it belongs to a group of unscrupulous schemes currently circulating online.
Product Rating: 1/100
Would I Recommend This Program: Definitely Not!
Allbit Trade Background
Allbit Trade is a multi-level marketing program that specializes in cryptocurrency investments. The problem is, it's not an authentic program and will not benefit you in any way whatsoever.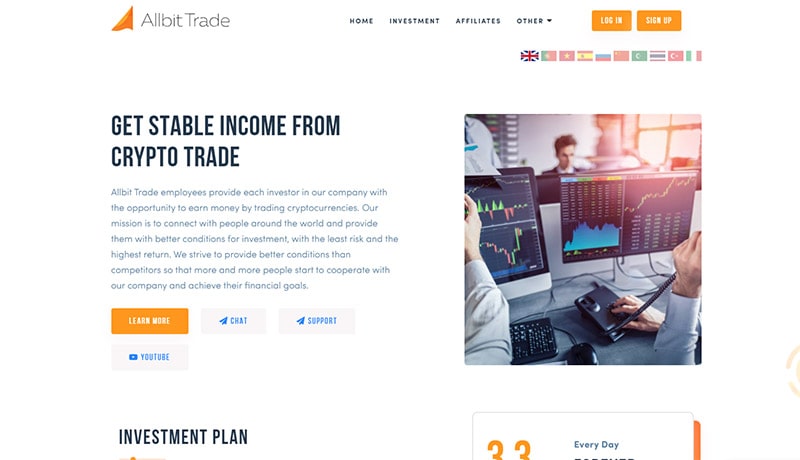 I wasn't surprised that the details of the owners were deliberately kept private so that we could not find out who's behind this program.
Allbit Trade's domain name was registered on the 12th of April 2020, and the registration was done privately.
The company also incorporated itself in the UK to appear genuine. This is a common practice used by scammers. The business was incorporated in July 2020.
This doesn't mean anything as far as the multi-level marketing industry is concerned. UK incorporations are inexpensive and not regulated.
The investment pay out section on their website displays the Russian Ruble currency for VISA/ Mastercard payments.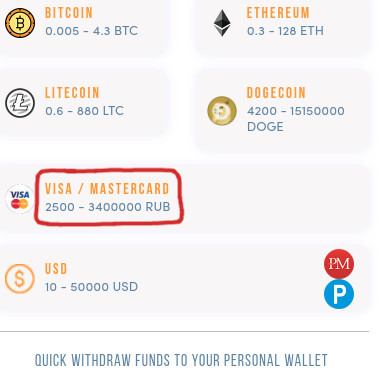 I think it's safe to say that we are dealing with a Russian company. Furthermore, I think the company is linked to another Ponzi scheme we recently reviewed that goes by the name Sincere Systems.
This leads us to believe that they are operating from Russia. We also believe that they might be related to another investment scheme called Sincere Systems. This is a Russian program as well i.e. we uncovered Russian documents and a Russian YouTube channel. Sincere Systems follows the same business model and uses a UK incorporation too!
Is this the beginning of a new Russian pyramid scheme network? It just might be!
The main sources of website traffic for Allbit Trade are coming from Venezuela, Peru and Vietnam.
Allbit Trade Product Range
As usual, we could not find any retail products or services inside the program. Your only option to participate in the income opportunity is to invest your money. This is not enough to be classed as a product or service and we'll give you more details about that further down.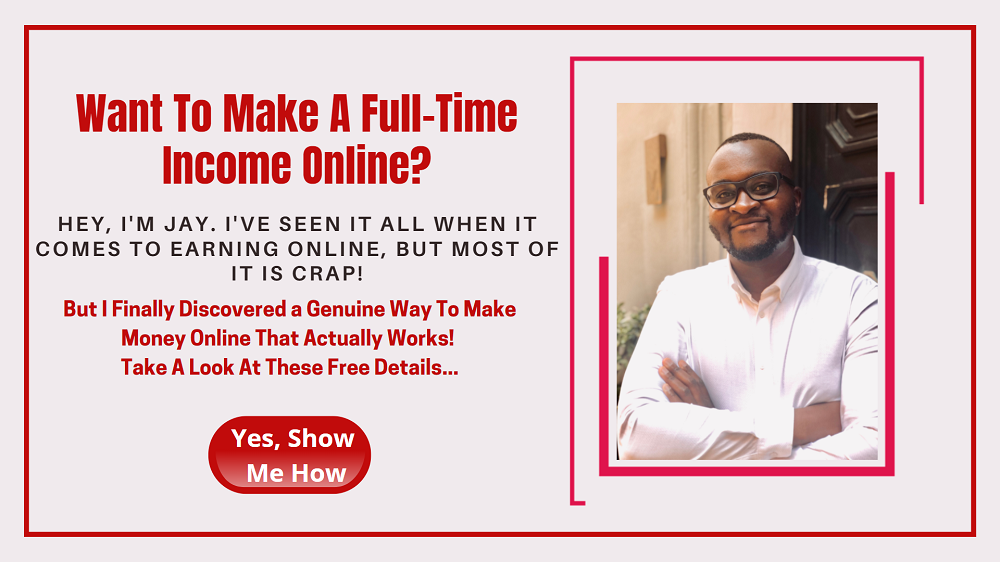 Does Allbit Trade Work?
Here are the reasons why Allbit Trade is likely to be a pyramid scheme. The first thing is their business model, which doesn't seem to stack up. The multi-level marketing side of things is not where the problem lies. I've looked at many MLM programs that turned out to be genuine.
The issue here is the program's investment scheme. The company states that it's creating revenue from other sources through Cryptocurrency trading. This revenue would be the funds used to keep the cash flow coming in rather than relying solely on investments from recruits.
We could not find any evidence that the program was trading to create revenue. Therefore, the only provable income stream is the money from new members.
This in itself is a major warning sign that we are dealing with a pyramid scheme.
If a business is funded solely by the income from recruitment, it will be flagged by MLM regulators such as the FTC or its equivalent, depending on the country the company is based. The Federal Trade Commission oversees companies, including multi-level marketing programs. Below is a guideline created by the FTC to help you gauge whether the company is a pyramid scheme.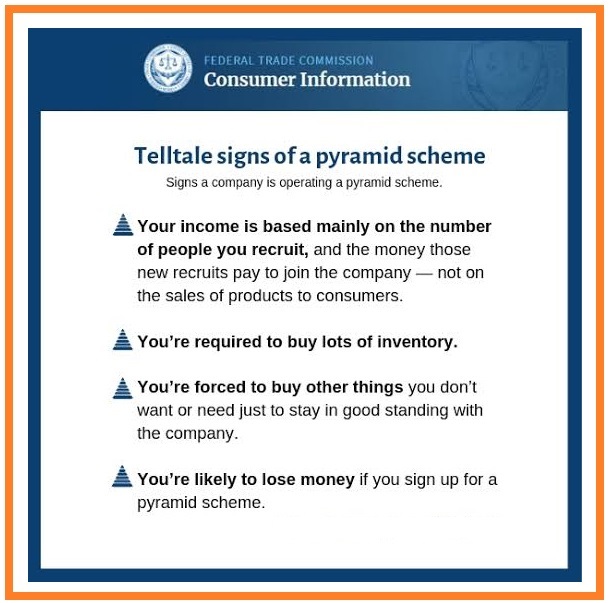 If you refer to the above guideline you will see that Allbit Trade pretty much ticks all the boxes.
According to the program, it can generate a return on investment of 3.3% per day. My question is, why would they need members to invest if they are already doing so well by themselves? The company has enough funds to use this "formula" to make themselves millionaires.
As far as we're concerned, the revenue will cease when the recruitment stops. As a result of this, the owners will tap-out of the business and move away from it. At this stage, they'll stop members from withdrawing funds and they'll take the money created by the program.
The members (you) will be left with zero returns and the owners will enjoy the funds. Once the owners have gotten away with it, they'll keep a low profile and rebrand further down the line.
How To Profit with Allbit Trade
Allbit Trade offers 2 ways to earn an income through their program:
The advertised return on investment (ROI)
Commissions from recruiting more members
Getting Started with Allbit Trade
If you join Allbit Trade (which I'd advise against), you'll need to invest in one of the cryptocurrencies offered below:
If you invest in Bitcoin you'll require at least 0.005 up to a maximum of 4.3 BTC
If you invest in Ethereum you'll require at least 0.003 up to a maximum of 128 ETH
If you invest in Litecoin you'll require at least 0.6 to 880 LTC
If you invest in Dogecoin you'll require at least 4,200 to 1,515,000 DOGE
If you invest using cash you can do this with your credit card and you'll require at least 2,500 RUB ($30+) to 3,400,000 RUB ($46,000+)
Direct USD investments can be made using Payoneer or Perfect Money and require an investment of at least $10 to $50,000
Allbit Trade Compensation Plan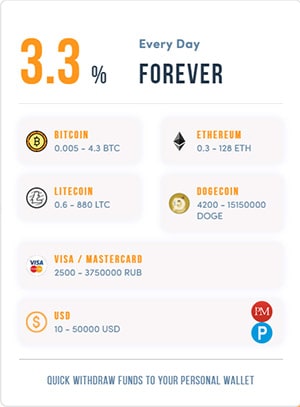 Supposedly, you can enjoy a regular ROI of 3.3% per day on the investments detailed earlier. In addition to this, the company uses an MLM structure to calculate referral commissions.
Referral Commissions
When it comes to referral commissions, Allbit Trade uses a uni-level compensation system. If you've never heard of this we'll give you a breakdown.
You will be positioned at the top of the structure, but you can't create a standalone pyramid. Any members that you recruit are positioned beneath you on the first level.

If your first level recruits sign up new members onto the program, these members will be positioned beneath them and will be the recruit's first level and your second level.
The maximum amount of levels is capped off at 4 levels.
The residual commissions are calculated as a percentage of the money invested by these levels as summarised below-
1st level (your direct recruits): 7%
2nd level 2: 3%
3rd level 3: 2%
4th level: 1%
Allbit Trade Exposed!
1). An Obvious Pyramid Scheme!
This company is blatantly making money solely from recruitment. This can only mean one thing- it's a pyramid scheme!
An MLM program that focuses purely on recruitment is a telltale sign that you're about to be part of a Ponzi scheme.
2). Where's The External Revenue?
If we look past the program's recruitment incentives, it's evident that Allbit Trade is not generating revenue from any other means other than money from new members.
The company has not demonstrated that it's placing trades or making investments to create the so-called return on investments for its members.
3). Who Are The Owners?
The final straw with this shady program is the fact that we don't know who we are dealing with. We know nothing whatsoever about the owners. Therefore, it's easy for them to avoid any accountability when things go wrong. They won't be so easy to track down.
Advantages of Allbit Trade
This program is a pyramid scheme and as such, there's nothing good about it.
Is Allbit Trade a Scam or a Legit Program?
I'm 100% sure that Allbit Trade is a pyramid scheme. We've revealed a lot of shady tactics used by this program.
They might be a multi-level marketing, but their business model doesn't stack up. They claim that members can enjoy a recurrent ROI, however, there's no evidence that any money is being generated for the advertised ROI.
The program heavily incentivizes members to recruit more members, and we've already figured out that this is not the way to create a sustainable business.
My advice is to steer clear of Allbit Trade.
How Do I Use The Internet to Make a Full-Time Salary?
I'm not a big fan of get-rich-quick schemes or Cryptocurrency MLM programs, let's just say that I've been caught short a few times.
Instead, an Amazon FBA Business is my leading recommendation for people that want to build a thriving full-time online business working from home.
Here are my reasons why…
There's no pressure to recruit family and friends, or anyone else for that matter.
Learn a unique method to source incredible, high profit, low-competition products that are virtually hidden from your competitors.
You don't need to sell hundreds of different products to create lucrative profits with this fresh, exciting business model.
An Amazon FBA business can help you to…
Generate a 5-7 Figure Salary and become financially free from the limitations of a traditional day job. You can do this in less than 12 months!
If you want to find out how I did it, Click Here!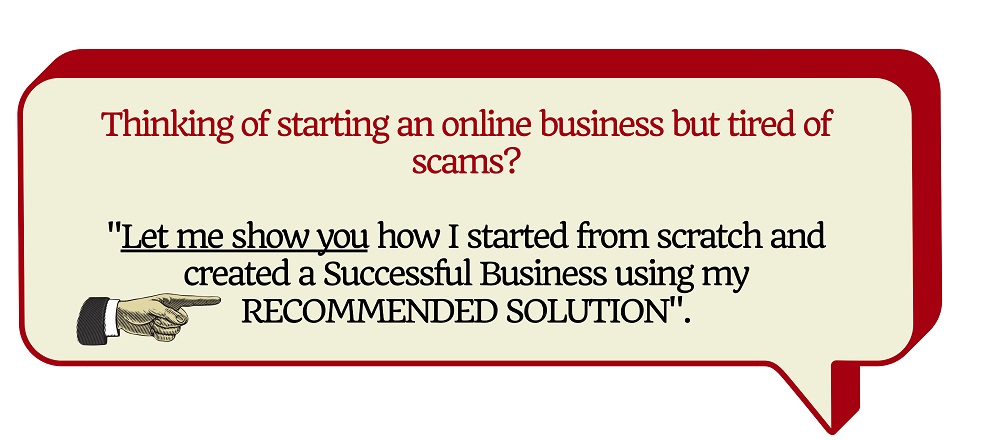 Similar Programs To Be Aware Of: