Is Real Profits Online Legit?
I recently came across Real Profit Online whilst talking to a close relative. Thankfully I managed to stop them dead in their tracks when I discovered that they were considering investing into the program.
Real Profits Online claims to be system that leverages a brand new "work at home" program launched by Amazon.
According to my relative, the system comes with ready-made websites that can go live straight away so that you can start profiting from the get-go.
Obviously, this sounded too good to be true which prompted me to investigate. All of my findings are in this review and if you're considering buying Real Profits Online, please read this before going ahead.
The fact that you've taken a moment to scrutinize this product before buying it should be applauded. You've done yourself a massive favour. Your due diligence will save you from wasting money and time.
A good bit of research always goes a long way in the fight against online scams. The good thing to know is that creating a sustainable full-time online business is not difficult. You just need to know where to look.
Before we proceed I'd like to let you know that I'm not linked to Real Profits Online in any sort of way and I'm not trying to sell you this product.
Instead, I'd like to show you what Real Profits Online is offering you and why you should keep away from this supposedly good opportunity.
Real Profits Online Review
Name of Product: Real Profits Online
Creator: Mark (a made-up name used by a hired actor)
Type Of Product: Affiliate Marketing platform
Cost: $47 joining fee + $700 Upsells
Who Is This Product Best For: Nobody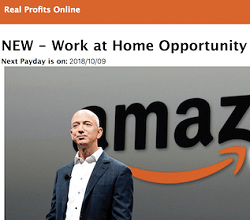 Real Profits Online Summary
Real Profits Online is a recycled variation of a previous scam that spread through the internet a while ago. The sites goes to great lengths to lure people into buying a program with no real value or use. Actors are employed to stage false testimonials and I'll show you evidence of this!
Product Rating: 1/100
Would I Recommend This Product: Absolutely Not!
Recommended: Discover how you can build a Full-Time 4-Figure Monthly Income with No Previous Experience
How Was Real Profits Online Created?
Real Profits Online claims to be a platform that focuses on Affiliate Marketing and assures its customers that their program is reliable enough to earn money online.
The website's homepage is where the fun begins. A spokesperson called Mark introduces himself. Apparently, he made this program and wants to show you a 'weird trick' to generate huge profits on Amazon.
Supposedly, Mark discovered this trick through his friend Tim. One day, Tim was casually working on his computer sipping a beer and he showed Mark how to earn a full-time salary from ready-made websites.
Apparently, Tim created a website from scratch whilst Mark observed and showed him the secret to bring in cash. As a result of this, Mark decided to take things further and show these secrets to the world, therefore, Real Profits Online was started.
If you've read my previous reviews you might find that this backstory sounds a bit familiar to other systems like Five Minute Profit Sites, Profit With Alex, and Home Income System.
Essentially, you're being sold a system that's designed purely to take your money and give you nothing back.
The reality is that 'Mark' is selling you a pipe dream with the sole purpose of tempting you into signing up. The hype is targeted towards unsuspecting victims to blindly pay for a low-quality system.
I've written extensively about these 'profit-making programs' that make big promises and deliver very little. Programs such as-
I'll breakdown everything that you need to know and show you the similarities between Real Profits Online and the products listed above.
Recommended: Discover how you can build a Full-Time 4-Figure Monthly Income with No Previous Experience
Exploring Real Profits Online
Real Profits Online begins by exploiting a false news article in an attempt to win your business. The article details a "work-at-home" opportunity from Amazon that doesn't actually exist.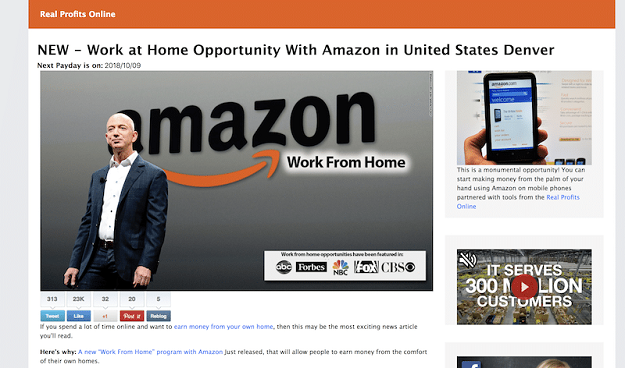 The bogus article can be found on Real Profits Online's homepage.
Once they've got your attention, you'll be taken to a landing page that prompts you to provide your contact details, therefore, if you decide not to buy Real Profits Online immediately they can pester you later on and/or sell your information to a third party.
The landing page serves no other purpose but to harvest your information.
If you decide to hand over your details you'll then be redirected to their sales funnel containing a sales pitch that attempts to sell the product to you.
What Is the Cost of Real Profits Online?
Mark's profit-making product can be accessed by paying a one-off cost of $47. You are not told what you get for the $47.
Immediately after paying $47, you're presented with an optional Upsell for $197. Apparently with this Upsell you can profit 20 times more compared to the $47 product.
There are 2 further Upsells which bring the combined amount to $700. That is a lot of money to pay for a product that doesn't make it clear what exactly is on offer. Below is a screenshot of their YouTube sales video-

What Exactly Are You Paying For?
Let's pretend that the Amazon story is in fact genuine, this would mean that you'd be investing in a product that improves your prospects of earning money online.
But the reality is that the program is fake! So, what are you actually getting for your money?
You're investing in a bogus platform that paints a bad picture for affiliate marketing. Supposedly, you can earn $500 per day with very little effort if you use this product.
Although the startup cost is relatively low, you will get caught out by their expensive Upsells which are worthless. Another thing to be wary of is the people promoting this product claiming that it's genuine.
These "members" give video testimonials claiming that they've made $300-$500 per day from the first day of using Real Profits Online.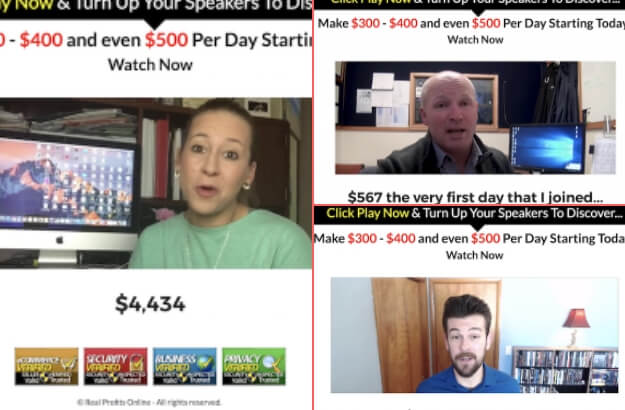 The customer testimonials purport that they're earning heaps of profits through the program but I can see right through them. I'll expose these "members" for who they actually are further down this post.
Is Real Profits The Right Product For You?
Definitely not. I would NOT recommend this product to anyone.
Real Profits Online is a scam that works tirelessly to snatch your money and give you nothing back for it. A lot of people have been caught out by this product because they did not research the product thoroughly before handing over up to $800 of their hard-earned cash.
Recommended: Discover how you can build a Full-Time 4-Figure Monthly Income with No Previous Experience
Real Profits Online Exposed!
(1) Are The Testimonials Genuine?
Customers testimonials are very persuasive and one of the big reasons why unsuspecting newbies get drawn into scam programs such as Real Profits Online.
If you see the average Joe supposedly achieving huge successes through a profit-making program then it's tempting to follow suit in the hopes that you'll enjoy the same success.
Sadly this isn't the case with Real Profits Online.
The customer testimonials found on Real Profits Online's site are false. The proof is below.
Do you remember the screenshot that I showed you earlier? Here it is again…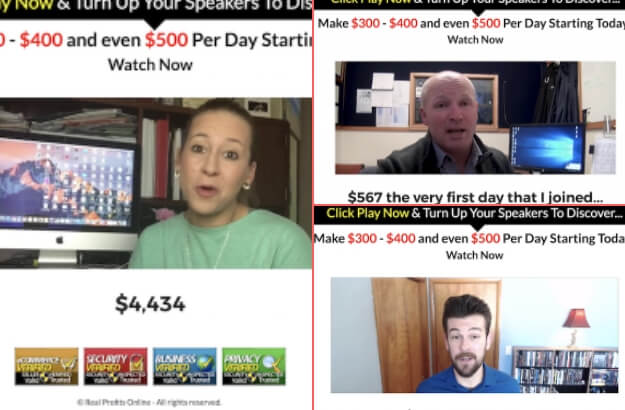 The 3 faces shown here look like I've seen them before (I might be bad at remembering names but I never forget a face).
These people are NOT members. Instead, they're actors pretending to be customers. Scammers source these actors from outsourcing sites such as Fiverr and pay them to stage fake testimonials.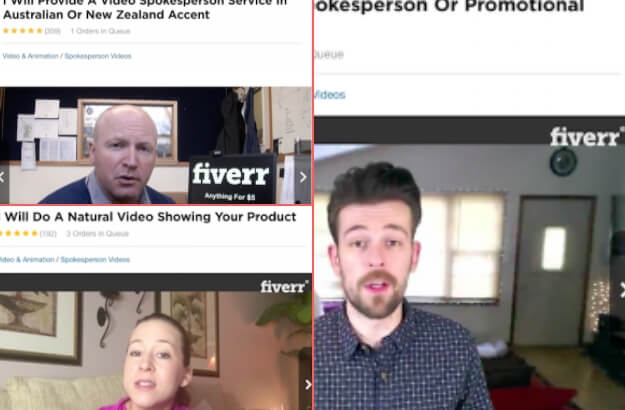 These are their actual profiles on Fiverr advertising their services. They claim to be making a lot of money through online marketing but this couldn't be any further from the truth.
Tired of Scams? Find Out How To Build a Full-Time 4-Figure Monthly Income with No Previous Experience
(2) A Recycled Scam In Different Packaging
Real Profits Online reminds me of another scam product that caught out a lot of people a while ago.
It appears to be based on an older scam named Amazon Cash Websites which was designed to lure users into a worthless platform.
Both products use the same blueprint and guarantee immediate profits if you use their pre-built websites. In addition to this, both programs have used the same false article to convince people that they're the real deal.
(3) These Systems Give Affiliate Marketing A Bad Reputation
Sadly, these type of programs give people false hope and once someone has been scammed they are less likely to take up a genuine opportunity when it comes along.
Real Profits Online makes the entire process of earning money online, through affiliate marketing, look so easy and fast.
Affiliate marketing is a lot more involved than simply buying a bunch of ready-made websites and making money from day 1. If you want to build a reliable income online then you need to start off with the right resources and be ready to work hard if you want to earn thousands of dollars working from home.
Learn how to create a Full-Time 4-Figure Monthly Income From Scratch with No Previous Experience
Advantages Of Real Profits Online
Here's my honest opinion. There's nothing to gain from Real Profits Online if you decide to sign up with them. If there was even a small possibility of making a profit I would have mentioned it but, unfortunately, there are zilch profits here.
Real Profits Online is an outright scam and it would be irresponsible of me to convince you otherwise. If you come across anyone trying to sell you this system then they're probably affiliated to it and are getting paid a commission to sign you up.
Is Real Profits Online A Scam?
I'll say it again. Real Profits Online is certainly a scam. It works hard to grab your money and delivers nothing in return. It's a recycled scam that has been repackaged to appeal to newbies.
The system is riddled with fake customer testimonials which are nothing more than actors paid to pretend as though they're successful members. I would urge you to keep away from this system, it will not help you to achieve online financial success.
Naturally, this leads me to my next question…
How Do I Use The Internet to Make a Full-Time Salary?
Like with anything else, making money online is a skill that can be learnt, it only requires a bit of dedication and consistency but it's totally worth it when you can one day walk into your boss's office and fire him/her.
I've personally learnt how to generate a monthly income stream, with no previous knowledge. I can work where I want and when I want. You can do the same too. Find out more here.