In this review, I'll walk you through Five Minute Profit Sites and reveal whether you can actually make profits of $519 per day. Could this be your ticket to finally give up your day job and work from home?
The fact that you've taken a moment to scrutinize this product before buying it should be applauded. You've done yourself a massive favour. Your due diligence will save you from wasting money and time.
A good bit of research always goes a long way in the fight against online scams. The good thing to know is that creating a sustainable full-time online business is not difficult. You just need to know where to look.
Five Minute Profit Sites is another dubious product that supposedly makes you $519 per day. According to the hype, you can start earning this type of money in just 5 minutes and 17 clicks.

$519 per day is a lot of money. If you don't include weekends, it equates to an annual salary of $124,560.
I'm highly sceptical that Five Minute Profit Sites can offer this type of return. It's easy to see how an innocent beginner would be tempted to take up this offer.
Thankfully, you've found this review before deciding to buy Five Minute Profit Sites. I'll reveal everything that you need to know about this product to make an informed decision as to whether it's worth your money and time.
Five Minute Profit Sites Review
Name of Product: Five Minute Profit Sites.
Owner: Sam Smith Anonymous.
Type of Product: Website Builder? dubious sales funnel to promote ClickBank products.
Cost: $37 + several upsells.
Who Is This Product Best For? The Creator & affiliates promoting this product.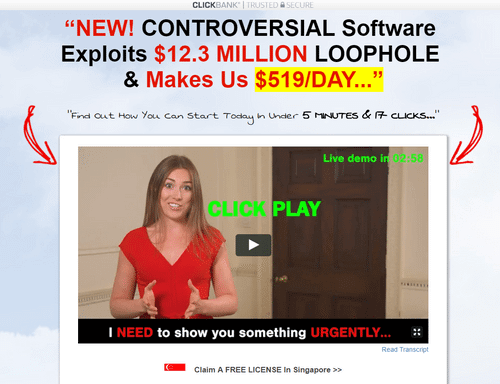 Five Minute Profit Sites Summary
If it's the hype that you're after you'll find heaps of it with Five Minute Profit Sites, however, this product doesn't deliver on its claims. Even the pricing for this program is misleading. I'll show you everything in the following sections. Stay tuned.
Product Rating: 5/100
Would I Recommend It? Never!
Highly Recommended: Discover how you can build a Full-Time 4-Figure Monthly Income with No Previous Experience
Five Minute Profit Sites Explained
I'll cut to the chase…
Five Minute Profit Sites purports to be a proprietary system that assists its members to build profitable websites which automatically generate a ton of cash.
The reality is that their profit promises are totally unrealistic. The software merely creates a pre-built web page rather than a full-blown website.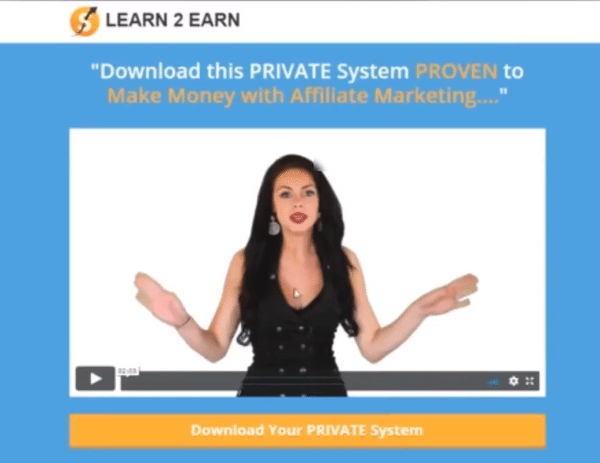 According to the sales video, your only task is to direct traffic to your page so that your audience can be taken to your sales funnels.
The funnel is customised by the anonymous creator using a strategy called Affiliate Marketing. If a customer buys a product through one of your affiliate links you earn a commission of the sale.
The problem is that the sales funnel is riddled with several drawbacks which I will reveal just now.
Before doing that, let me show you the step-by-step instructions inside Five Minute Profit Sites membership section.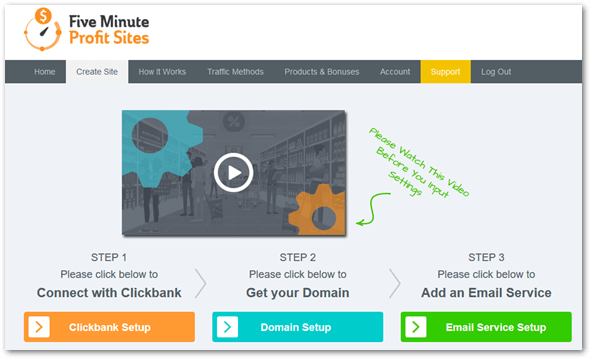 The above image shows the process to get started once you are in the membership section.
However, the process is a bit more detailed than that-
Create a Clickbank account (if you don't already have one) and link it to FMPS.
Brainstorm a domain name for the 'website'.
Join an Email Service Provider (ESP) called AWeber.
Link FMPS to your new AWeber account.
Drive traffic to your web page. This strategy needs to be optimised for it to work properly.
Fingers crossed, you might earn money.
The above steps are a high-level overview to earn money with Five Minute Profit Sites.
Sounds easy enough right?
The major flaw with FMPS is that it doesn't show you how to build an Affiliate Marketing business correctly.
After reviewing countless online products I've noticed that most, if not all, of these automated systems use the same blueprint.
Check out some of the other ClickBank products such as:
These low-quality products simply copy and paste the same ineffective strategies to dupe newbies into thinking that they can profit big.
I'll show you the evidence why Five Minute Profit Sites is a lousy system.
My Top Recommendation: Access Market Leading Affiliate Marketing Training to Make a Full-Time Income.
Five Minute Profit Sites Exposed!
(1) Anonymous Owner
Similar to the hundreds of questionable products available on Clickbank, the real details of the owner are never revealed.
Five Minute Profit Sites has paid someone to narrate the sales pitch and use a fake name, Sam Smith, to hide their true identity. This strategy allows the owner to continue making low-grade versions of the same product and not deal with the backlash of unhappy customers.
It's more common than you think.
(2) FMPS is NOT Free
During the sales videos, "Sam Smith" reiterates that you can download the FMPS software at no cost. You just need to input your email address.
In fact, that's absolutely not true. The image below proves that there's a cost.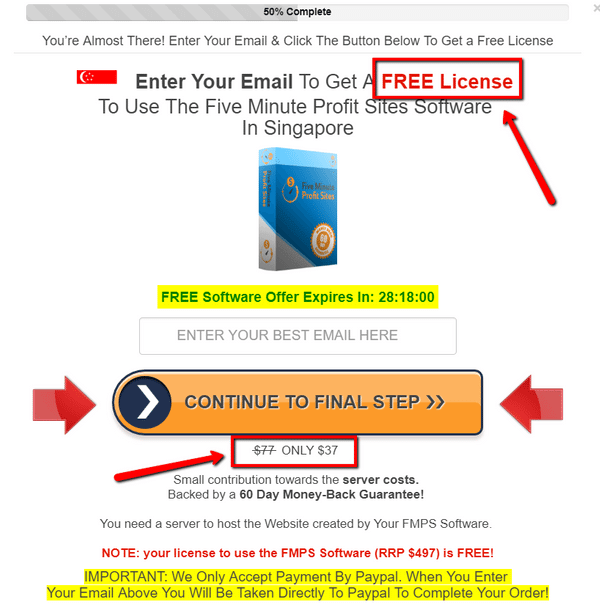 The software claims that it's free of charge, however, if you look beneath the button, it states that there's a $37 fee. What the heck?
This totally conflicts with the initial claim that the software is free. Guess what? It gets worse…
(3) Additional Charges & Upsells
If you think that paying $37 is where it ends then you're in for a surprise. Check out the sales funnel below: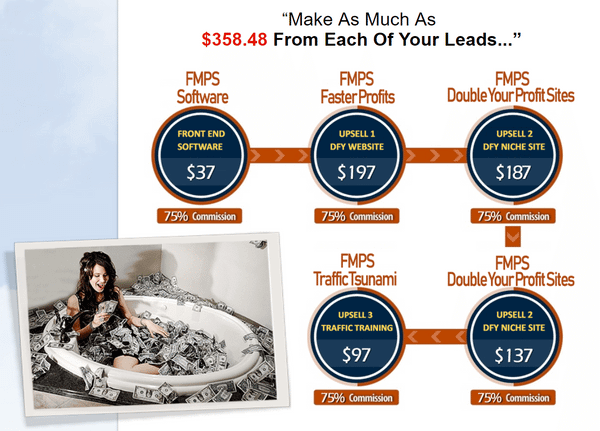 In addition to the $37 for the core product, there are a further 3 more Upsells:
FMPS Faster Profits at a cost of $197.
FMPS Double Your Profit Sites at a cost of $187/$137.
FMPS FMPS Traffic Tsunami at a cost of $97.
The truth is that the Upsells are as worthless as the core product. Buying the Upsells will not improve your chances of success.
As if that wasn't enough there's more that you need to pay for…
The Aweber email service that I mentioned earlier is required before you can go ahead with Five Minute Profit Sites.
It will cost you $19 per month for the email autoresponder service.
FMPS is far from free and the costs will continue to mount up. We've not even discussed the cost of driving traffic to your webpage…
My Top Recommendation: Access Market Leading Affiliate Marketing Training to Make a Full-Time Income.
(4) You Need Traffic To Make Sales
Within the member's area, FMPS offers several video lessons that teach you how to acquire traffic.
The issue is that the lessons are out outdated and generic.
The lessons are as follows:
4 videos on Article marketing
3 videos on Guest posting
2 videos on Forum marketing
2 videos on Blog commenting
4 videos on Press releases
6 videos on Solo Ads
Personally, I think that the only beneficial traffic strategy from the above list is Solo Ads
Solo Ads are often a costly campaign, therefore, you'll need deep pockets.
The rest of the techniques such as article marketing, press release or forum marketing are old school methods that don't work in today's modern online landscape.
Blog commenting is a huge waste of effort. It's time-consuming and involves flooding other websites with spam comments containing your website's URL in the hopes that someone will click on your links. Most websites will blacklist you.
A huge gripe with Five Minute Profit Sites is that their websites simply don't rank in search engines, therefore, there is a huge missed opportunity to obtain free traffic from Google through Search Engine Optimization (SEO).
If your website doesn't get traffic then your business will not make money.
(5) It's Not Really "Your" Website
FMPS states that it creates high-converting websites for you, however, it's not an actual website that you're given.
What you're getting is a subdomain which essentially sits within the owner's website.
If it was a fully functional website, you would be given the option to buy your own domain name from a hosting service such as NameCheap or GoDaddy.
The drawback of not owning your own domain is that you are restricted to a subdomain with limited control. You don't own it, therefore, you can't control the direction of your online business.
The worst thing is that if Five Minute Profit Sites closes down (which is highly possible) then your subdomain will disappear along with it.
How can you ensure that your hard work is protected if a program that you're signed up to, such as FMPS, shuts down?
By setting up your own independent website right from the start, however, you need to learn how to do this correctly.
If you want to learn how to build a thriving online business using the same techniques as the industry experts, I'd recommend taking a look at Wealthy Affiliate.
This is where I learnt everything that I needed to set up my own full-time internet business from home including a 5 phase lesson plan, website support, hosting, back ups, LIVE video tutorials, 24/7 chat support, WordPress integration, a website builder and much more.
(6) Tons of ClickBank Scammers
Sadly, ClickBank is allowing tons of worthless products to be marketed through its platform.
A while back, ClickBank stated that they'd be introducing tighter controls over the approval of products that are distributed on their network.
They even introduced a ClickBank University for anyone that wanted to learn how to profit with ClickBank.
The truth is that ClickBank has gone downhill over the years. It's now inundated with lousy products.
How does this relate to Five Minute Profit Sites?
The FMPS subdomains are all focused on MMO (Make Money Online) products, therefore, if you observe their sales funnel closely you'll see that their promotions are all centered around Clickbank products.
One of the products, which I've reviewed previously, is The AZ Code. I suspect that these products are all created by the same set of people.
(7) A Repackaged Scam Product
Let me introduce to you Five Minute Profit Sites' twin…
Not so long ago I wrote about a low-quality ClickBank program named "Profit With Alex".
Check out the packaging for both products: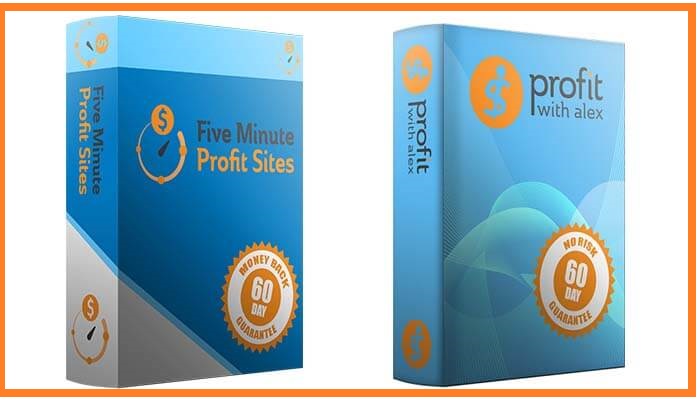 The resemblance is striking! It looks like both programs are created by the same owner and my suspicions are correct.
Can I let you in on a little secret? Profit With Alex has been closed.

Don't be fooled by the above banner. Profit With Alex wasn't sold out. They were closed down.
The owner has simply rebranded the initial product and called it Five Minute Profit Sites so that he/she can continue to snatch unknowing people's money.
Very soon, Five Minute Profit Sites will be shut down and the owner will rebrand it to something else.
The cycle will keep repeating itself.
My Top Recommendation: Access Market Leading Affiliate Marketing Training to Make a Full-Time Income.
Advantages of Five Minute Profit Sites
​(1) 60-Day Refund Policy
The only thing in your favour about buying Five Minute Profit Sites through Clickbank is the 60-Day money back guarantee.
If you're not happy with the product you can ask the Clickbank team for a refund, however, the process of getting your money back is rigorous.
Is Five Minute Profit Sites a Scam?
Personally, I would say that Five Minute Profit Sites is a scam as none of their claims are valid.
Firstly, we're led to believe that the product is free but the cost starts at $37 and gets a lot more expensive with the various Upsells and hidden costs.
FMPS is very misleading.
On top of that, the website that you're meant to receive is nothing more than a sub-domain which can disappear at any moment if the owner decides to pull the plug on the system, therefore, all of your hard work can vanish in an instant.
Eventually, you'll realise that the subdomain doesn't make any money at all let alone the $519 per day initially promised.
In fact, your FPMS domain is a drain of funds as you still need to pay for the Aweber email service and for traffic as well. You would need to take all of these costs into account before you can start making a profit.
Do you still think this is a legit program?
I would recommend steering clear of FPMS and other similar programs that it might attempt to sell to you.
Who's Profiting From Five Minute Profit Sites?
If we put the anonymous owner to one side, there's another group that are profiting from Five Minute Profit Sites.
Earlier on, I showed you the image below…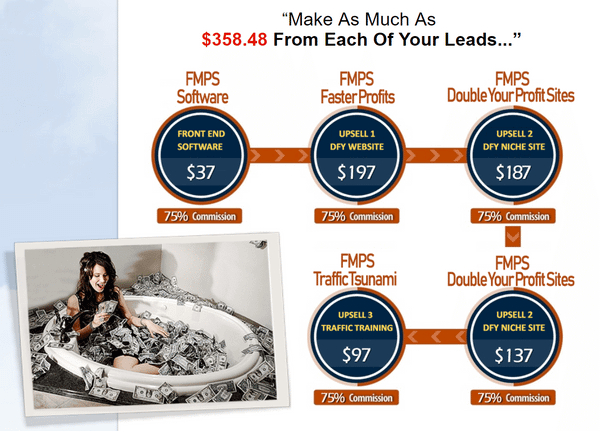 This image is the end-to-end sales funnel used for attracting affiliates to promote FMPS.
The affiliate marketers touting this program are the ones making the most money i.e. 75% commission for each sale and Upsell.
Check out the heading at the top of the screenshot "Make as much as $358.48 from each of your leads…"
The sales funnel is designed solely for the purpose of making money for the program's creator and its affiliates instead of focusing on providing value to its customers (YOU).
I'll say it again, please steer clear of Five Minute Profit Sites. This program is a scam.
How Do I Use The Internet to Make a Full-Time Salary?
Like with anything else, making money online is a skill that can be learnt, it only requires a bit of dedication and consistency but it's totally worth it when you can one day walk into your boss's office and fire him/her.
I've personally learn't how to generate a monthly income stream, with no previous knowledge. I can work where I want and when I want. You can do the same too. Find out more here.