Home Income System is part of a long list of programs that promise to help you earn between $3,000 – $6,000 per month. It's easy to get sucked into a seemingly good product promising to make you a fortune while sat at home.
If you're one of my regular readers, you'll already know that I've reviewed countless questionable programs, however, when I came across Home Income System I was taken aback by some of their claims.
The fact that you've taken a moment to scrutinize this product before buying it should be applauded. You've done yourself a massive favour. Your due diligence will save you from wasting money and time.
A good bit of research always goes a long way in the fight against online scams. The good thing to know is that creating a sustainable full-time online business is not difficult. You just need to know where to look.
Let me make one thing clear, I'm not linked to Home Income System and I'm NOT trying to sell you this product.
I'd rather give you an honest review of Home Income System and provide you with everything you need to know to make an informed decision whether this program is a scam or not.
Home Income System Review
Name of Product: Home Income System.
Creator: A guy named 'Jason' (Probably a Fake Person).
Type of Product: Affiliate Marketing Platform.
Cost: $99 (One-off fee) + Upsells.
Who Is This Product Best For? Absolutely Nobody.

Home Income System Summary
Home Income System claims to be an affiliate marketing middleman that connects you to ad link posting business and helps you to make money. Unfortunately, this system comes with some major flaws (more on this later).
In fact, it's a re-packaged version of another worthless program selling the same service. The biggest red flag with Home Income System is that it's connected to one of biggest get-rich-quick scams ever found online (I'll go through this later).
Product Rating: 1/100
Would I Recommend This Product? Not a chance
Highly Recommended: Discover how you can build a Full-Time 4-Figure Monthly Income with No Previous Experience
Home Income System Explained
The program was created by someone called Jason. Home Income System is apparently designed for anyone that wants to build a successful online business while sat at home.
With the help of this system, you are meant to earn anything from $3,000 to $6,000 per month very easily.
According to the sales video, there is very little work involved and a small financial investment needed to get this business going.
Jason is an elusive guy and there isn't much information about him online to figure out whether he's a reliable person or not. Quite frankly, I'm not sure how this stranger will help you to make big profits.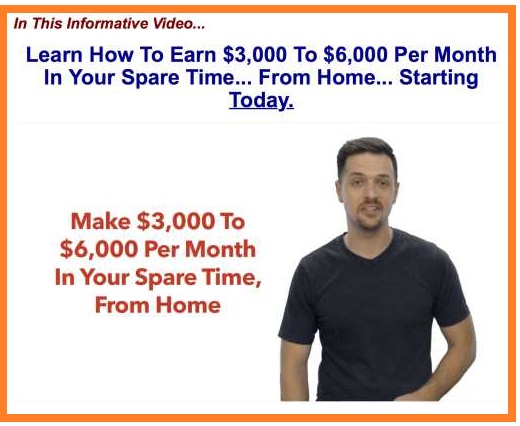 The screenshot shown above is Home Income System's landing page. Jason appears to be a reasonable guy and he comes across as a friendly person, however, Jason's character is completely made up (I'll explain later).
If Home Income System is using fictional characters then why should we trust them to deliver a profitable work-from-home business?
In the next few sections, I'm going to look deeper inside this program to find out what's really going on.
Exploring Home Income System
Home Income System attracts you to their program with earning claims of $400 per day through posting ad links.
What the heck is an ad link? This is the first time I'm hearing about it and unsurprisingly, it's not real.
However, the website is promoting ad links as if it's an actual thing.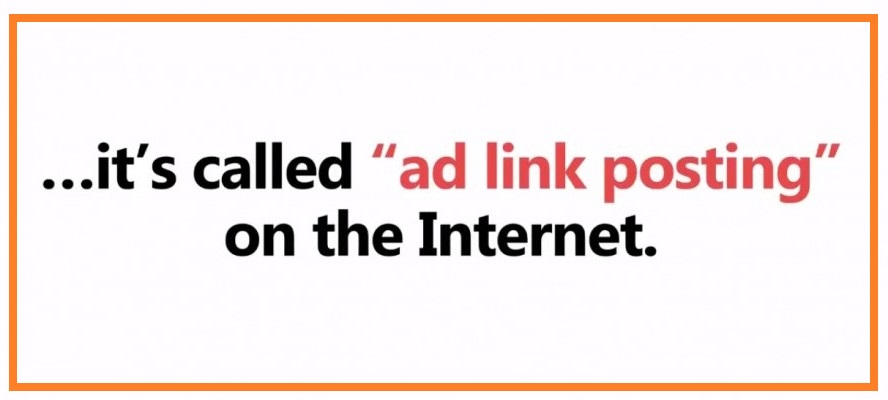 The truth is, "Jason" is trying to give a new name to an old marketing strategy called link posting.
Although link posting is genuine, it also comes with its drawbacks. Link posting involves posting links for a service or product to another website, therefore, you will make money each time a reader uses the link.
It looks very similar to another legitimate business model that you might have heard about named Affiliate Marketing.

The problem with Home Income System is that it tries to be an offshoot of Affiliate Marketing and exaggerates everything about that business model to make it look easy.
Personally, I've worked in the affiliate marketing industry for 5 years and I can tell you now that you will not make $150 from simply listing 10 links in an hour.
I've reviewed countless programs with the same blueprint as Home Income System, for example, 60 Minute Profit Plan and Five Minute Profit Sites. They all work in the same way and will have you chasing your tail!
Highly Recommended: Discover how you can build a Full-Time 4-Figure Monthly Income with No Previous Experience
Uncovering Home Income System
Home Income System targets unsuspecting newbies searching for an online opportunity that will allow them to make a full-time salary working from home.
Although affiliate marketing is a legit way to make money you need to learn how to build this business the correct way. It requires up-to-date training, resources and a consistent work ethic.
However, what these shady programs do is make you believe that there's a shortcut to succeeding. They'll throw words at you such as "hidden system", "secret discovery", "loophole".
The Home Income System sales pitch entices newcomers and makes them think that they can be fast tracked to a profitable business.
The website will try to add some urgency by telling you that the membership is running out of spaces, therefore, you need to act quickly before it's too late.
They want you to buy Home Income System without giving it too much thought.
Jason claims that his 3-step process will start generating cash quickly:
Complete the training course
Find an ad link posting company that you're happy to do business with.
The profits will start coming in.
Wow, is it really that easy? Sadly, it's not. Although you can earn revenue through posting ads on the internet, what you are being sold by Jason is actually the Affiliate Marketing business model which is a lot more involved than the 3-step process describe above.
However, Jason stands by his incredible cash-spewing program which removes the effort from running an online business.
Apparently, all you need to do is pay the membership fee, create your business and the system will do the rest.
In reality, if you want to make a lot of money via affiliate marketing the process is much more involved than that. It isn't difficult, it just requires consistency and the right resources.
How Do You Make Money With Home Income System?
The sales video states that you can make thousands of dollars in revenue every month.
The problem is that Jason doesn't explain how this is done. He goes as far as stating that you don't require a website to run your online business. Really!?
The home page is riddled with glaring warning signs that spell out the word SCAM!
How Much Does Home Income System Charge You To Sign Up?
Jason tells you that the program is priced at $99, however, he misses out the part about the numerous expensive Upsells that will cost you hundreds.
Is Home Income System The Right Program For You?
Seriously, Home Income System is worthless to anybody that buys it. Buy it at your own peril.
If you're serious about starting a reliable profitable online business from home then you should check out the link below.
Here's My Top Recommendation: Access The Best Training & Resources to Create Your Own Full-Time Online Business From Home.
Home Income System Exposed!
(1) Fake Owner Fronted By a Paid Actor
As mentioned earlier, Jason is a pleasant guy and he comes across as if he wants to help you succeed online . But wait a Minute!
I'm sure I've seen Jason's face somewhere else?
He's also the face of another system called My Dream Biz.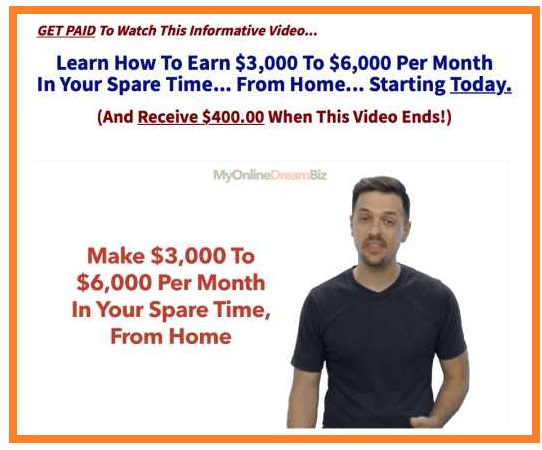 The above screenshot is the homepage for My Dream Biz. It looks virtually identical to Home Income System.
The layout and hype for both websites are the indistinguishable. Both websites are fronted by the same actor that's pretending to be the business owner.
Don't believe me? Check out the proof below.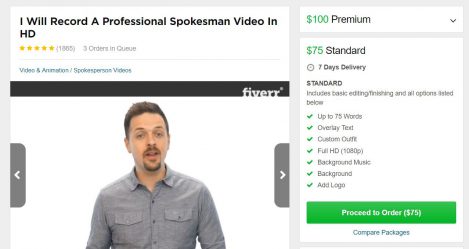 Yep! That's "Jason". Unfortunately, the spokesperson marketplace is thriving because of scams that need to hire actors to tout their products. You will find hundreds of actors on a freelance service website named Fiverr.
These actors will film fake customer testimonials and say pretty much anything for a quick buck.
Always be on your guard when considering a potential product offering you hundreds or thousands of dollars worth of profit. Their video testimonials are most likely fake.
(2) Reliance on Black Hat SEO
Many years ago, it was the norm for small and big businesses to post backlinks that directed people back to their websites. Companies would pay a lot of money to agencies or individuals who provided this service.
At the time, it was extremely profitable for both the business and the backlink service provider. Google ranked these sites higher in the SERPs as it was deemed as a content sharing strategy.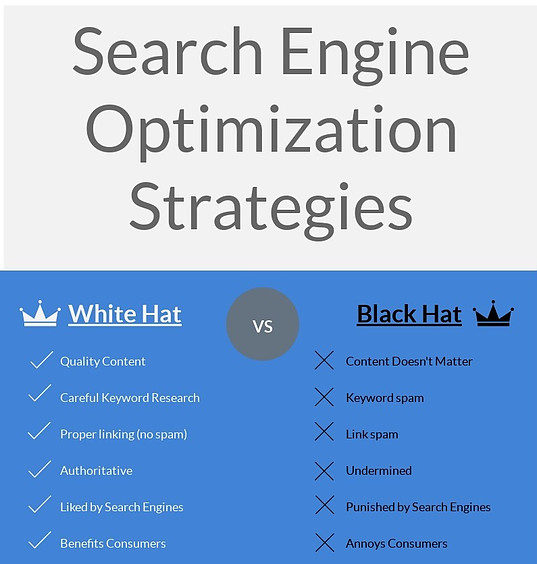 For a while, backlinking was a genuine strategy which people took advantage of to jump the ranking queue.
However, Google saw how this was affecting the user experience (poor search results) and they brought out plenty of updates to diminish the importance of link posting and backlinks, therefore, making these strategies worthless.
Home Income System is still trying to use this old method of link posting, however, the majority of businesses and marketers have learnt their lesson and have moved on.
It's practically impossible to come across a savvy business that still uses link posting. It's a total waste of time.
What's the point of paying for a program that tries to use strategies from a bygone era? Please don't waste your money.
(3) Who Is Home Income System Associated To?
After becoming a member, you're mean't to undertake the training course and after that, your mean't to select an ad link posting company to work with.
Unfortunately, there's bad news ahead!
Home Income System uses an ad link posting company named MOBE or My Online Business Education! This is a very worrying discovery.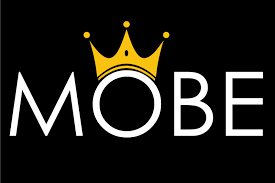 If you've never heard about this company then you're one of the lucky ones.
MOBE was an educational digital marketing company that was taken down after being exposed by the FTC.
The company's sole purpose was to persistently sell products to its members instead of providing educational value.
The products were mean't to assist members to make more profits.
How so?
The company would convince you that these products contained resell rights that help you to earn big profits when other people purchase them and share your links within their networks, in other words, ad links.
MOBE was linked to numerous companies including one named Digital Altitude, which also got taken down by the FTC.
Any company that's associated with MOBE should not be trusted!
Are You Tired of Scams? Join My Top Recommended Product Here!
Advantages of Home Income System
I keep all my reviews honest and transparent. If a program is trying to pull the wool over your eyes, I'll expose them. If a program is genuine, I'll commend it.
If there is something to praise about a system, no matter how small, I'll let you know about it. Unfortunately, Home Income System does not provide a single benefit whatsoever.
The reason for this it that the program sells you Affiliate Marketing under false pretenses and gives a bad name to a genuine way of making money.
Is Home Income System A Scam?
Home Income System is definitely a scam.
Sorry folks! This program will NOT help you to profit online. Instead, it's a re-branded system of another scam with the same blueprint.
This scam tries to sell the idea that affiliate marketing can be completely automated. The truth is, it starts you off on the wrong footing.
The biggest red flag is that Home Income System is associated with a business that got taken down by the FTC.
Naturally, this leads me to my next question…
How Do I Use The Internet to Make a Full-Time Salary?
Like with anything else, making money online is a skill that can be learnt, it only requires a bit of dedication and consistency but it's totally worth it when you can one day walk into your boss's office and fire him/her.
I've personally learn't how to generate a monthly income stream, with no previous knowledge. I can work where I want and when I want. You can do the same too. Find out more here.