In this review, I'll walk you through 60 Minute Profit Plan and reveal whether you can actually make profits of $500 per day. Is this the automated online business solution that we've been waiting for?
Can you finally quit your day job with the help of 60 Minute Profit Plan or is it another scam?
The fact that you've taken a moment to scrutinize this product before buying it should be applauded. You've done yourself a massive favour. Your due diligence will save you from wasting money and time.
A good bit of research always goes a long way in the fight against online scams. The good thing to know is that creating a sustainable full-time online business is not difficult. You just need to know where to look.
According to 60 Minute Profit Plan, the system is able to take advantage of a loophole that generates its members a life-changing sum of $500 per day.

Can you really make that sort of money with virtually no effort?
You know what they say about things that sound too good to be true. Nonetheless, I'll take a look inside this program and find out if there's any profit to be made from this seemingly "amazing" product.
60 Minute Profit Plan Review
Name of Product: 60 Minute Profit Plan.
Owner: Brittany Francis (She's a fake person).
Type of Product: Mini Email Marketing Course.
Cost: $37 + Downsell & Upsells up to $97.
Who Is This Product Designed For? The owner.

60 Minute Profit Plan Summary
60 Minute Profit Plan is a shoddy system that comes with very basic training resources. The system attempts to teach multiple strategies to profit from the internet, however, all of the information included in the program can easily be sourced online free of charge. The course even tries to sell you videos obtained from YouTube that can be watched for free.
Product Rating: 1/100
Would I Recommend It? Never!
Highly Recommended: Discover how you can build a Full-Time 4-Figure Monthly Income with No Previous Experience
What is 60 Minute Profit Plan?
60 Minute Profit Plan is a set of training lessons designed to assist you in making profits online.
The sales video showcases the type of hype that is commonly associated with "get rich quick" schemes. A typical newbie would jump at the opportunity to make loads of cash with virtually zero effort. 60 Minute Profit Plan makes a lot of promises along these lines.
Below is an example of the type of money it claims that you can make: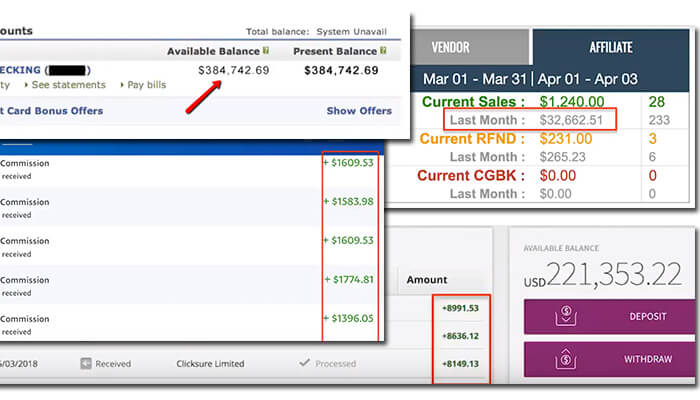 At the start of the sales pitch, the owner, Brittany Francis, shows her income statements and states that you can enjoy the same type of results with her step by step blueprint found within 60 Minute Profit Plan. This is a textbook trick used by scammers.
Brittany gives a sob story about her previous misfortunes until she found a technique to make tons of money from the internet every day. Apparently, it totally changed her life and she wants to show you how it can be done.
The sales video is quite vague about how you actually make money with 60 Minute Profit Plan and by the end of it, I was left scratching my head wondering how the system really works.
The owner, Brittany, doesn't mention what's involved when you purchase the system, the actual process of generating money isn't explained.
The whole sales pitch is nothing more than a 20-minute video of various "success" stories with a heap of hype.
You'll only discover the actual workings of 60 Minute Profit Plan either after buying it or finding helpful reviews such as this one.
I'll spend the rest of my time here revealing whether you can gain anything from this "secretive" program or if it's just a plain waste of time.
The reason the program is named 60 Minute Profit Plan is that the owner assures you everything can be up and running in an hour and you can start to see the first few hundreds appearing into your account within 60 minutes.

I'm trying hard to believe what Brittany is telling me, but it sounds too far fetched.
60 Minute Profit Plan Money-Making Techniques
To achieve your Daily $500 target you will utilize four different techniques to make money-
Capitalizing from online surveys.
Leveraging email marketing.
Freelancing services.
Website testing.
This is the basis of the whole 60 Minute Profit Plan strategy. The illustration below shows you how the lesson is set out-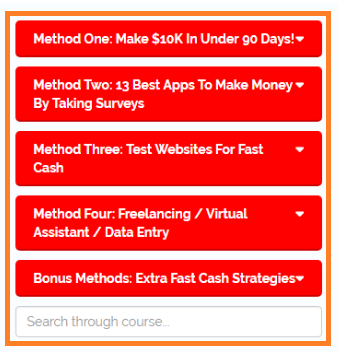 The training modules are as follows:
First Method– Make $10K Within 90 Days! (through Email Marketing).
Second Method– 13 Leading Apps to Make Money by Completing Surveys.
Third Method– Test Websites for Fast Cash.
Fourth Method– Freelancing, Virtual Assistant, Data Entry.
Let's analyse each strategy one at a time…
(1) Email Marketing
Email Marketing involves gathering email addresses and sending a series of promotions to your email list with the goal of profiting from your offers.
The image below shows the email marketing cycle-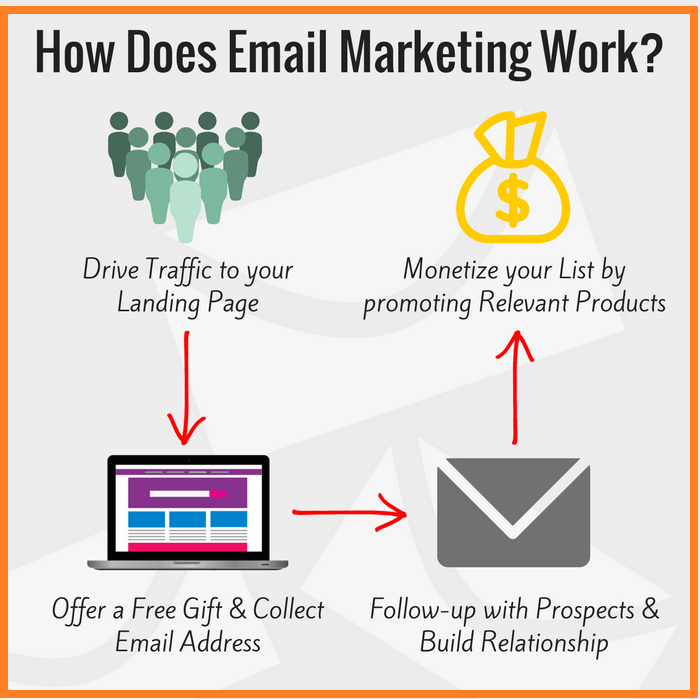 60 Minute Profit Plan provides 12 videos with a combined running time of just 1 hour.
Although the videos introduce you to email marketing, they only explore the basic principles which can be found online at zero cost. You can find a wealth of resources on YouTube to learn email marketing.
I find it difficult to believe that you can become an expert within an hour and start earning daily amounts of $500. Brittany claims that you can do this easily just from watching 60 minutes of video tutorials.
The reality is that email marketing requires a lot of patience and consistent effort. You will need to create and optimize a squeeze page to collect email addresses, set up an autoresponder and learn how to direct traffic to the page.
At this stage, I can say that Brittany's claims are misleading. Her goal is to make you feel that if you buy 60 Minute Profit Plan, the hard work can be done for you.
It's impossible to make money from email marketing in just 60 minutes, however, it might be doable with online surveys.
(2) Completing Online Surveys
Do you like the idea of getting paid to complete online surveys. It's true that you can start earning money within the hour from surveys, however, the amount is peanuts compared to the hundreds that Brittany says you can make.
Online surveys are time-consuming and in return you are rewarded with very little money. You might be lucky to find the odd-few surveys that pay out a few dollars to complete, but it will depend on the length of the questionnaire and topic.
The issue with online surveys is that they simply don't pay enough to make them worthwhile.
Don't expect to earn hundreds per day from filling out surveys.
(3) What is a Website Tester?
A website tester is paid to browse specific websites and provide their recommendations about areas of the website that can be improved. It is a genuine method to earn money.
However, there's an issue…
Just like with paid surveys, it's practically impossible for a website tester to earn $500 per day as promised by the owner of 60 Minute Profit Plan.
4. Freelancing
​The final money-making technique is freelancing. As a freelancer, you can supplement your current income by providing various services such as designing or writing, on a platform called Fiverr.
It's within your grasp to make daily profits of $500 through freelancing, however, it's by no means easy. For starters, you will need to work quite hard to create a portfolio of your work. Then you will need to rank well so that you can stand out from the crowd and get regular work.
You will not start making hundreds from freelancing in just 1 day let alone an hour.
60 Minute Profit Plan doesn't explore these strategies in great detail. The cheek is that the videos can be found on YouTube and cost nothing. In addition to that, the video that covers freelancing has since been removed by its owner.
My Top Recommendation: Access Market Leading Affiliate Marketing Training to Make a Full-Time Income.
60 Minute Profit Plan Exposed!
Now that we know how 60 Minute Profit Plan is supposed to work it's quite apparent that we won't be making the type of money that the product guarantees.
However, there are more alarming revelations that I'd like to point out about this system.
(1) Questionable Success Stories
As part of her pitch, Brittany has included 2 inspirational stories of members that succeeded with her system.
The images below are pictures of the members, however, a quick online search reveals that both images are merely stock images that have also been used on various websites. If the 60 Minute Profit Plan is such an amazing product why does Brittany need to create fake success stories?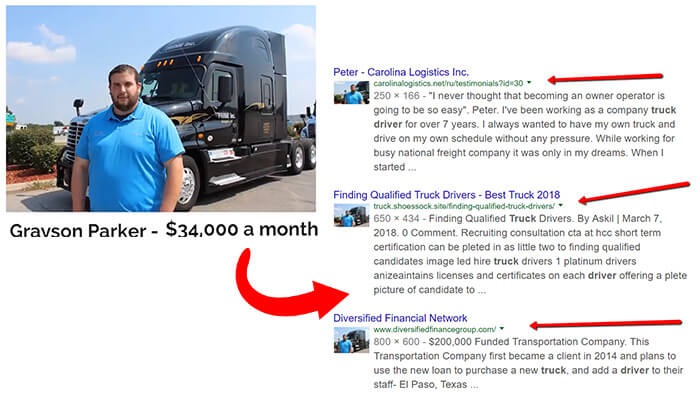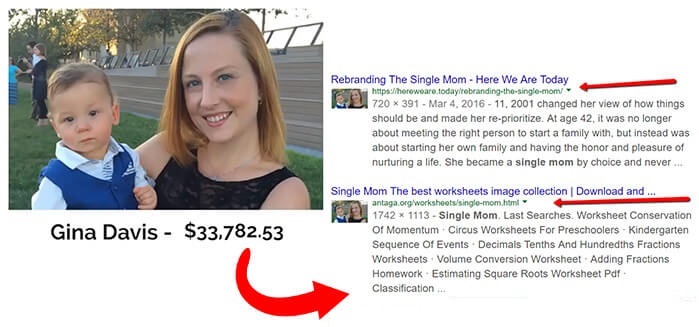 (2) False Testimonials
In addition to the fake success stories, the customer testimonials are fabricated as well.
As you can see below, the "members" that are claiming to have made so much money with 60 Minute Profit Plan are nothing more than actors paid to pretend to be successful customers. These actors are sourced from Fiverr, the freelancing site which I wrote about earlier.
The images below are all hired actors: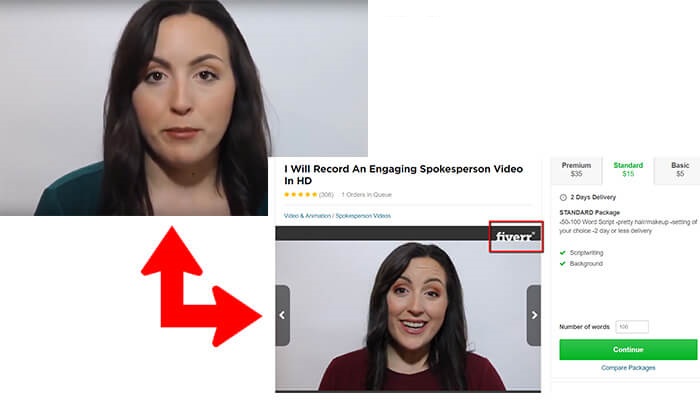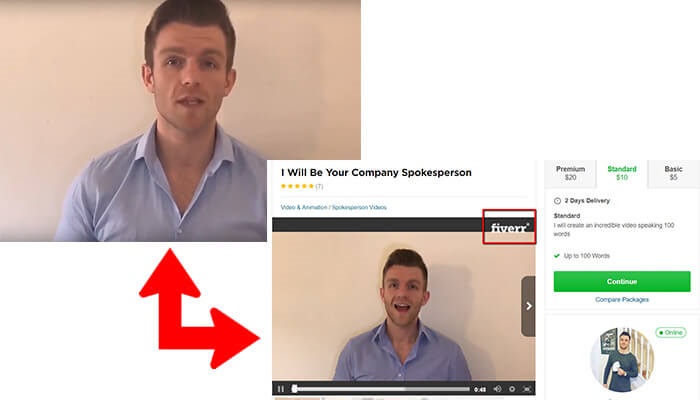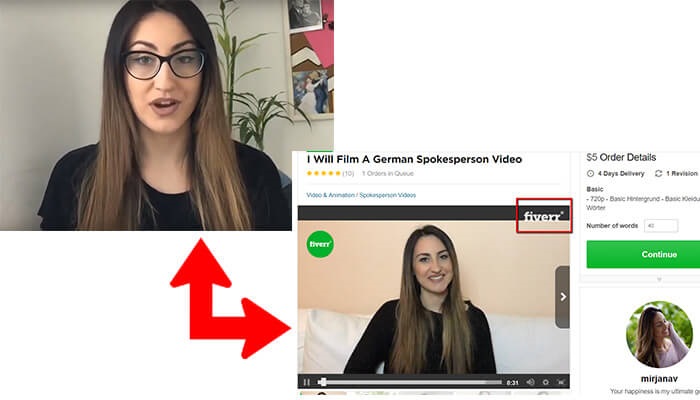 I'd like to point out that scammers use hired actors all the time to increase the hype of their products. It's an effective ploy to make you feel like your onto a winning system. A very common scam tactic.
I recognise some of the actors from previous scam reviews, therefore, I wouldn't let these fake testimonials influence my purchasing decision.
I would advise to always question an online video testimonial especially if it appears too good to be true, chances are that it's a falsehood.
(3) False Social Feeds
Yep, there's still more to reveal…
The image below shows what appears to be live social proof of comments from members, however, these social feeds are fake too.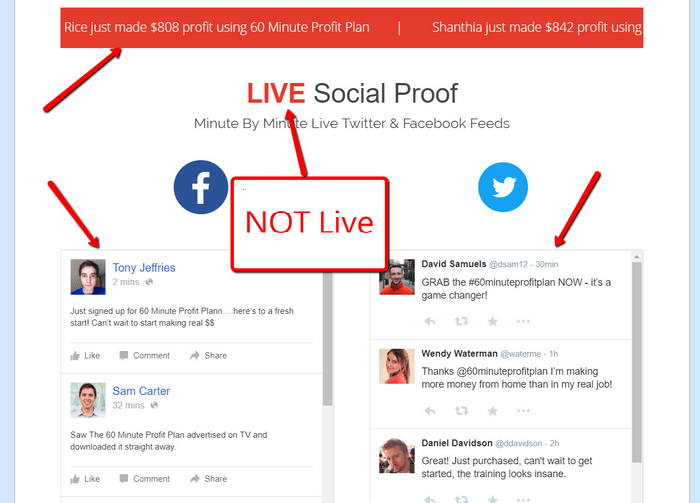 How do I know that the feeds are bogus?
To begin with, the picture of "Tony Jeffries" on the top left appears on other sites under different names-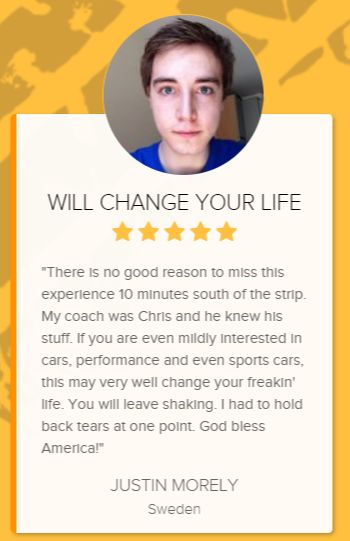 The above customer testimonial for "Justin Morely" was found on SpeedVegas.com and shares the same picture as "Tony Jeffries". It looks like the image is a stock photo used by several websites.
You can't even comment or like any of the social feeds.
(4) The Owner is Not Real
After exposing all of the lies surrounding 60 Minute Profit Plan would you be surprised if I told you that the owner is not real?
Another quick online search of "Brittany Francis's" profile picture reveals that the image is yet again a stock photo used on numerous websites.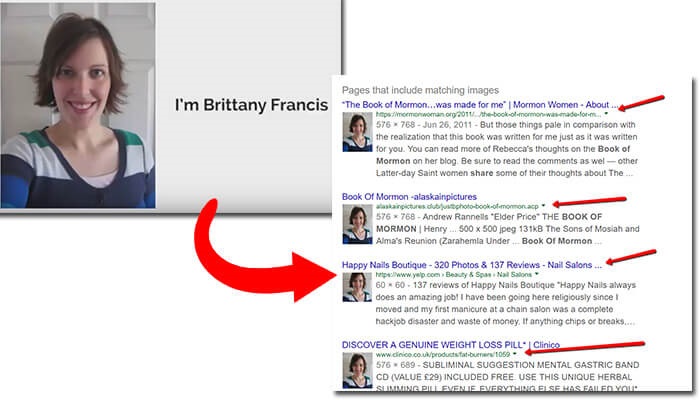 Sorry folks, Brittany is not real.
Since making this discovery, the sales video has been edited to remove Brittany's name and picture. The people behind this program would like to remain anonymous in case the truth comes out.
My Top Recommendation: Access Market Leading Affiliate Marketing Training to Make a Full-Time Income.
60 Minute Profit Plan Upsells & Downsales
How much does 60 Minute Profit Plan cost? A one-off $37 fee, however, if you try to close the page, you are presented with the pop-up below: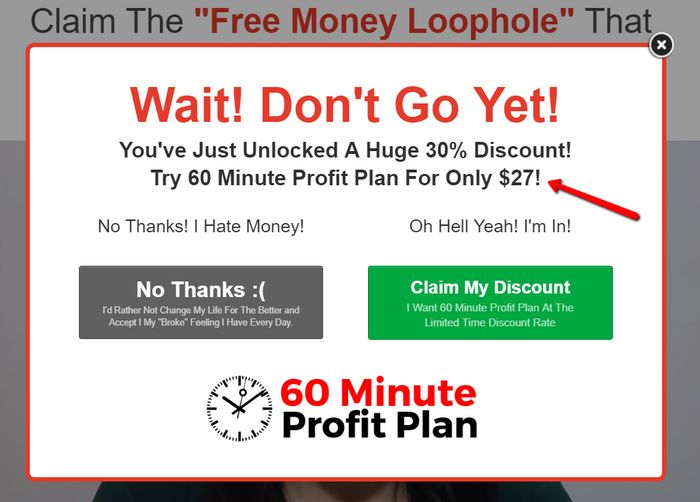 You are offered a 30% reduction and the price goes down to $27.
The Downsell is calculated wrong. 30% of $37 is $25.90 instead of $27.
Anyway, once you've bought the core product, you are offered the "Premium Edition" Upsell which claims to earn you even more cash.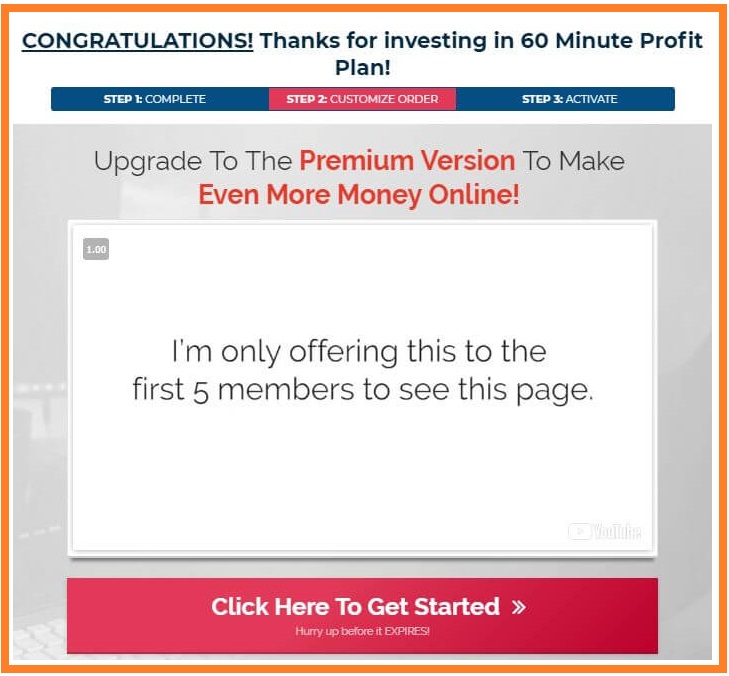 The first Upsell is priced at $97 but guess what? As soon as you buy it another upsell for $97 is shoved in your face.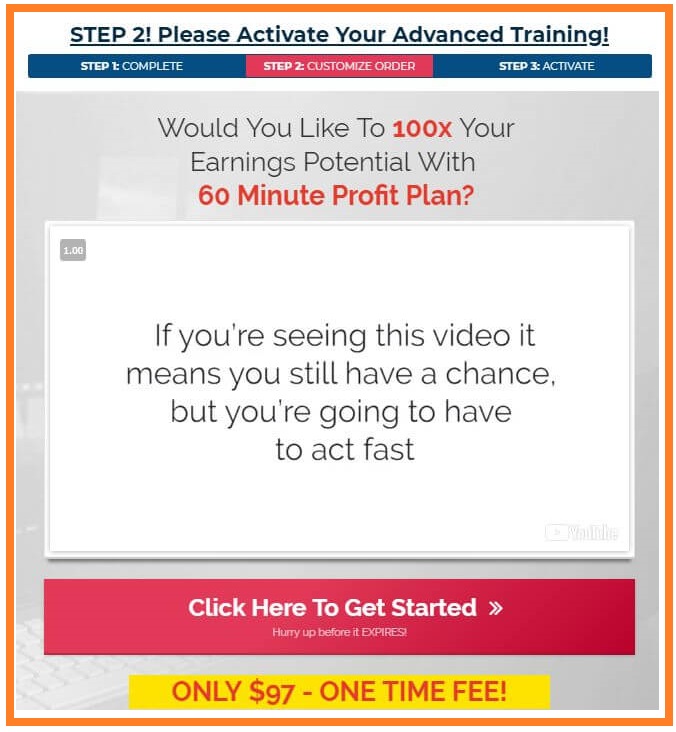 The second Upsell 2 claims to increase your income by 100X. To be honest, why doesn't 60 Minute Profit Plan first prove that it can make $500 per day before it tries to sell me more crap?
Be wary of these Upsells! If you click on 'get started' your credit card will be charged immediately. Yikes!
Remember that you would have already entered your card details while paying for the initial core product, therefore, Clickbank already holds your payment details. You'll be charged as soon as you click 'get started'.
Benefits & Drawback of 60 Minute Profit Plan
Benefits
(1) 60-Day Refund Policy
There are no real benefits in terms of the actual product itself and its ability to make you money.
The only advantage of buying through ClickBank is that all their products come with a 60-Day money-back guarantee, therefore, when you find out that 60 Minute Profit Plan can't make a single dime you can ask for a refund as long as it's within the 60-Day window.
Drawbacks
Okay, so where do I start?…
60 Minute Profit Plan is a low-quality product and if you've made it this far into the article then you'll already know that this product is built on several lies. I'll summarize my concerns:
(1) Too much hype
We are never told the exact inner workings of this product.
"Brittany" focuses on telling us that we can make a lot of money without the hard work. But it's never made clear how the system does this.
It's hard to believe that 60 Minute Profit Plan can start generating $100's of dollars within an hour.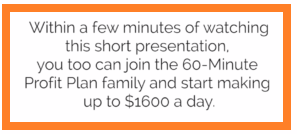 (2) The Training is Merely an Introduction
The whole training course is just 1 hour.
The training only covers the foundation of email marketing. It doesn't teach the expert techniques that are required to succeed.
Some of the videos are taken straight from YouTube.
The training contains several dead links and a videos that has since been taken down.
(3) It's all Smoke and Mirrors!
There's more than enough proof to show that 60 Minute Profit Plan is a worthless product which claims it can make you rich. Here are some of the lies:
False customer testimonials.
Fake social feeds
The owner, "Brittany Francis" is not real.
Fake success stories.
(4) Does 60 Minute Profit Plan come with Customer Support?
Absolutely not!
In addition to poor training, there is no product support except for the money-back guarantee from ClickBank.
Is 60 Minute Profit Plan a Scam?
60 Minute Profit Plan is 100% a Scam! It falls short on all of its promises. You will not make any money from this product whether you pay the lowest fee of $27 or the highest fee $231.
Nonetheless, if you decide to try it out at least you are protected with ClickBank's 60-Day refund policy. But why waste your time when you already know that this product is a scam.
This leads me to my next question…
How Do I Use The Internet to Make a Full-Time Salary?
Like with anything else, making money online is a skill that can be learnt, it only requires a bit of dedication and consistency but it's totally worth it when you can one day walk into your boss's office and fire him/her.
I've personally learn't how to generate a monthly income stream, with no previous knowledge. I can work where I want and when I want. You can do the same too. Find out more here.