Can the Fast Earners Club system give you a six-figure income as claimed or is it just another scam?
In this review, I'll walk you through everything you to know about this seemingly awesome product and reveal the true facts behind it. Let's see if Fast Earners Club can fast track you to early retirement.
The fact that you've taken a moment to scrutinize this product before buying it should be applauded. You've done yourself a massive favour. Your due diligence will spare you from wasting money.
A good bit of research always goes a long way in the fight against online scams. The good thing to know is that creating a sustainable full-time online business is not difficult. You just need to know where to look.
The elusive creator of Fast Earners Club boasts that upon signing up to his system you can start earning daily profits of up to $1,000 in the next half an hour.

The above earning claim is pure propaganda. Don't fall for it!
It simply isn't possible to make that sort of money in just 30 minutes with virtually no effort whatsoever.
Nonetheless, I'll give this product the benefit of the doubt and see if it's really the gold nugget of a work-from-home internet business.
Fast Earners Club Product Review
Name of Product: Fast Earners Club.
Product Owner: Not known.
Type of Product: Short generic PDF documents.
Cost: $39 + $149 Upsell.
Who Does It Work For? The elusive owner and any affiliates selling this product.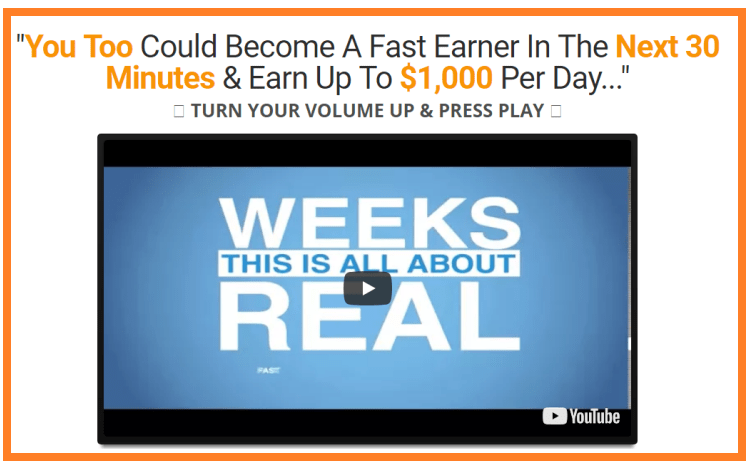 Fast Earners Club Product Summary
Fast Earners Club is yet another shady product circulating online. The sales pitch is full of exaggerated money promises. The reality is that the training material supplied within the membership area can be sourced online at $0.00 cost.
The gang running this program have one purpose, which is to snatch as much cash from unsuspecting customers before the product is exposed.
Product Rating: 5/100 (It Looks Like a Scam)
Would I Recommend This Product? Not a chance.
Highly Recommended: Discover how you can build a Full-Time 4-Figure Monthly Income with no Previous Experience
How Does the Fast Earners Club Work?
The metaphor below should give you a clearer idea of how the Fast Earners Club actually works.
Let's say a stranger comes up to you and offers you a boxed gift. You are told that the contents within the box will solve all of your financial troubles.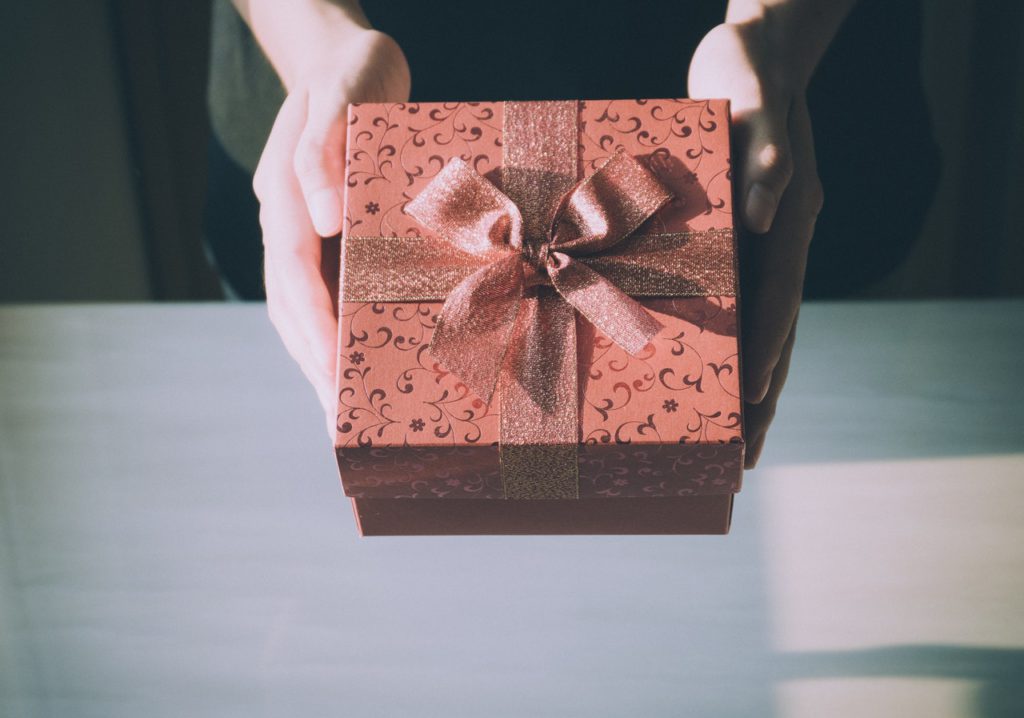 The catch is that you can't open the box before paying an upfront cost of $39.
Would you hand over $39 of your hard-earned money to a complete stranger?
In the real world you wouldn't, therefore, why should it be any different online?
This scenario describes exactly what you'll be faced with if you're considering joining Fast Earners Club.
During the sales pitch, the narrator talks about a secret system that can solve your money issues and turn your life around.
The narrator attempts to create a false sense of financial security and claims that you can churn out money on autopilot with Fast Earners Club.
You are even asked questions that play on your emotions. Questions like…
"How badly do you want to quit your job?"
"What is Freedom worth to you?"
Scammers use these strategies to exploit your urge to earn cash quickly.
It doesn't end there…
At one point the narrator states that if you can add 1+1 then you meet the requirements to use the program. Seriously?
A Deeper Look at the Fast Earners Club
The details of this product are vague until you access the membership section.
So I'll do the favour of telling you what to expect inside so that you don't need to waste your money.
The training that comes with this product is sparse at best. You get 4 old PDFs with basic information and that's all there is.
39 bucks for 4 generic PDFs!
This is what you get-
Core: An Introduction to eCommerce- Fast Earners eCommerce.
1st Strategy – eBay Selling Method (Selling on eBay)
2nd Strategy – Amazon Selling Method (Amazon FBA)
3rd Strategy- Shopify Selling Method (Dropshipping)
If you follow each of the above links you will see that these are merely introductory guides created by the above businesses, not Fast Earners Club. They contain basic details about profiting through the use of e-commerce.
Fast Earners Club does not show you any advantages of using their system to increase your success with the above strategies.
The reality is, each of these techniques needs a great deal of training before you can start profiting from them at the level that Fast Earners Club claims.
As a starter, learning to make profits is a steep learning curve, therefore, you will not earn thousands of dollars within half an hour or even the first day. It simply doesn't add up.
Fast Earners Club Xtreme Edition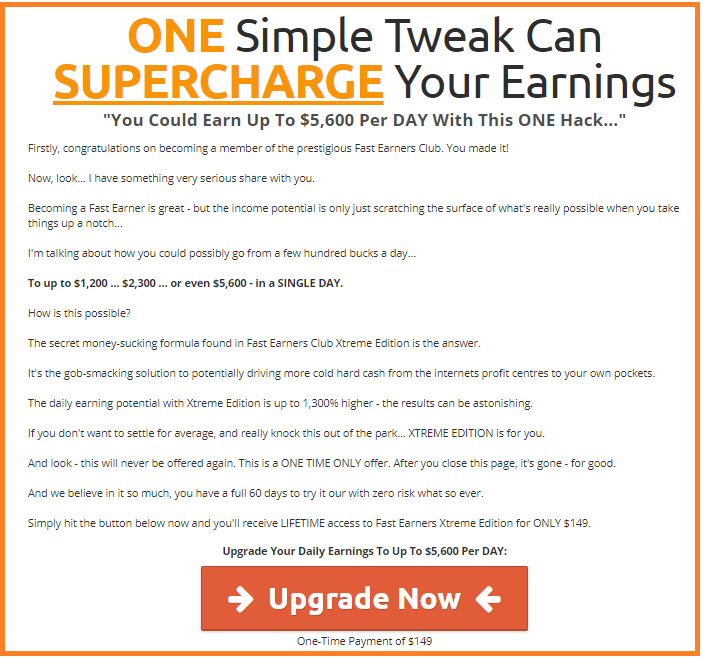 Within the membership section, you will find the Fast Earners Club "Xtreme Edition". It contains nine videos which explore the following topics-
Leveraging Reddit.
Profiting from Blogging.
Marketing with Social Media platforms such as Instagram, Facebook, Pinterest.
What is SEO (Search Engine Optimization)?
Taking advantage of Video Marketing.
Learning the Affiliate Marketing business model.
The videos included with each of the above topics are nothing special and can't really be considered as training. The content is generic and can easily be found online at no extra cost.
FREE Resources
There's no need to pay for training that you can get for free, therefore, I've created my own list of better resources that you can access online to learn different e-commerce techniques.
From the above list, it's clear that you can find plenty of online guidance on how to get started creating your own online business. The resources are free and better than what Fast Earners Club is offering.
The drawbacks don't end there. I'd like to walk you through some of the discoveries I made that prove this system is a scam.
Highly Recommended: Discover how you can build a Full-Time 4-Figure Monthly Income with No Previous Experience
Fast Earners Club Exposed!
(1) False Testimonials
The sales video starts off with 3 video testimonials of members purporting to have earned tons of cash inside the Fast Earner Club in a short space of time. I'm sceptical!
The testimonials are false. The people behind Fast Earner Club have simply hired actors from an outsourcing site called Fiverr to do the dirty work of pretending to be successful members.
Scammers do this all the time, they hire actors to create false testimonials as a way of convincing potential customers to sign up.
I've reviewed countless scams such as Insiders Cash Club, 22 Minutes To Profit, Point 2 Click Profits that all do the same thing.
I've included the Fast Earners Club sales video below so that you can see the extent these scammers are willing to go to perceive success:
(2) Elaborate Sales Pitch
The sales video is far fetched. The narrator is trying to sell a lavish lifestyle and convince you that Fast Earners Club will give this to you.
The sales video is misguiding and it takes you through lies upon lies. At this point, it's hard to believe anything we are told.
If you look past the hyped up earnings and you will soon start to see that the money promises simply don't add up.
(3) The Program Contradicts Itself
The sales pitch becomes a bit confusing. We are told the Fast Earners Club is not-
a worthless push-button program.
a false MLM (network marketing) course.
an affiliate marketing system.
a program that needs to create website traffic.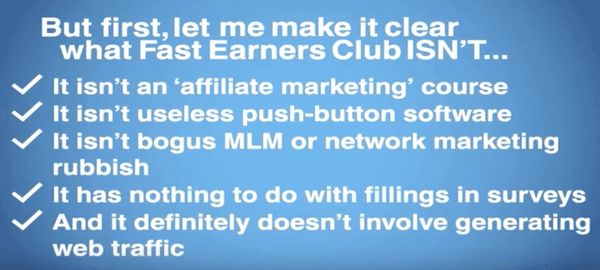 So if it isn't a worthless push-button program, then how come we are told to simply log in to the system, relax and see the money roll in? I've heard this all before.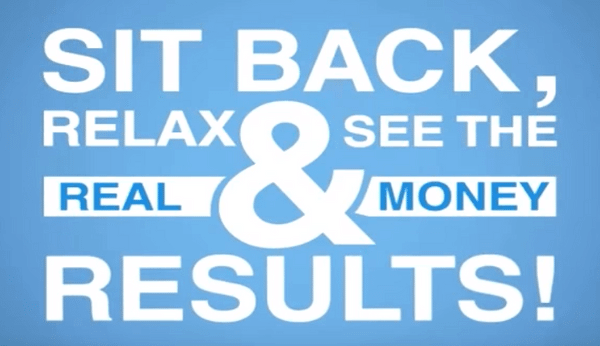 The information is contradicting. We are sent on a wild goose chase!
The narrator claims that Fast Earners Club is not based on affiliate marketing, however, the membership section discusses affiliate programs.
Finally, the narrator, suggests that you simply need to download an application, follow the pre-made signals and that's all there is to it.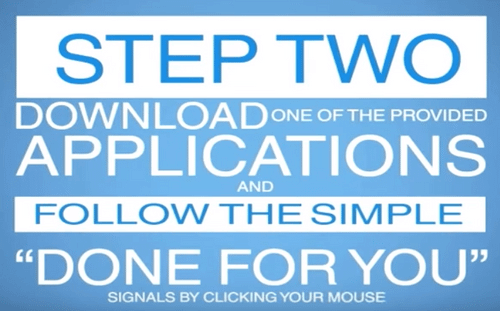 The thing is when you visit the membership section you'll notice that the App is nowhere to be found.
Where the heck is this app?
There isn't one, therefore, I think that this video was taken from a different scam and reused by Fast Earners Club.
(4) No Traffic?
One of the drawbacks with Fast Earners Club is that it doesn't teach you how to drive traffic to your leads.
The narrator claims that this program doesn't need traffic.
This couldn't be any further from the truth. The lifeblood of an online business is traffic. Without it, you don't have an audience to sell your products to, therefore, you are not going to make a profit.
Don't be fooled into thinking that traffic is not important.
My Top Recommendation: Access Market Leading Affiliate Marketing Training to Make a Full-Time Income
What I Like About Fast Earners Club
A 60-Day Guarantee
The only advantage of Fast Earners Club is that it comes with a 60-day money-back guarantee if it's purchased through ClickBank.
Therefore, when you realise that the product is a scam you can ask for your money back.
Beyond that, there really isn't any other advantage of using Fast Earners Club. It will not generate any sort of income.
Is Fast Earners Club a Scam?
Sadly, Fast Earners Club is another online scam currently doing the rounds.
The whole sales page and video is a lie. The details are contradicting and misguided. The membership area contains limited information that is completely different from the guarantees made in the sales video.
I'd recommend steering clear of Fast Earners Club at all costs! You'd be wasting time and money.
Who is Really Profiting from Fast Earners Club?
The reality is, you will not earn any sort of cash by becoming a member of Fast Earners Club.
The elusive owner is profiting off innocent people's naivety, however, there's another set of people that are making money from this scam…

The affiliates that promote Fast Earners Club are given a percentage of each sale as commission.
Affiliates are making up to $180 in profit for a program that initially charges a $39 fee, therefore, the Upsells inside this product will cost considerably more.
This is an unethical way to make money by promoting a worthless product. It also taints affiliate marketing which is a legitimate business model that I've personally used to create an online business.
Naturally, this leads to my next question…
How Do I Use The Internet to Make a Full-Time Salary?
Like with anything else, making money online is a skill that can be learnt, however, it only requires a bit of dedication and consistency but it's totally worth it when you can one day walk into your boss's office and fire him/her.
I've personally learn't how to generate a monthly income stream, with no previous knowledge. I can work where I want and when I want. You can do the same too. Find out more here.