What is Test.IO?
It's not every day you come across a program that pays you to just test stuff. These programs are classed as GPT sites because you are 'getting paid to' test things. Sounds good right?
The nature of testing will depend on the program. Some of them will send stuff out to you to test and others will get you to test websites and apps online. Today, we'll be reviewing Test.IO, a program that uses the latter method of testing.
The fact that you've taken a moment to scrutinize this product before signing up should be applauded. You've done yourself a huge favour. Your due diligence will save you from potentially wasting your time and money.
A good bit of research always goes a long way in the fight against online scams. Creating a sustainable full-time online business is not difficult. You just need to know where to look.
Before we proceed, I'd like to let you know that I'm not linked to Test.IO in any sort of way and I'm not trying to sell you this product.
Instead, I'd like to show you what this program is all about and whether you can make decent money from it…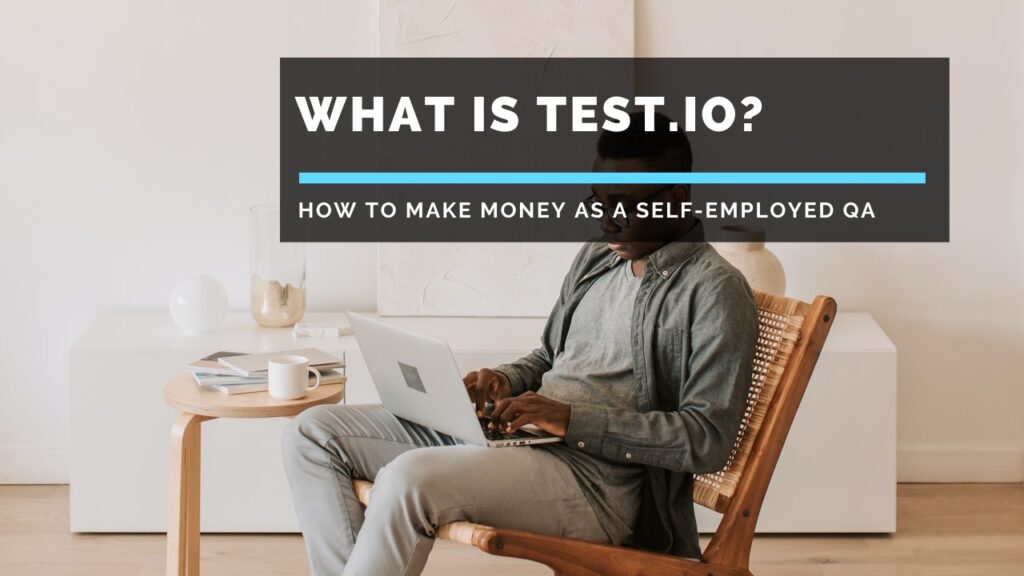 Test.IO Product Review
Name of Product: Test.IO
Owner: Test.IO
Type of Product: Get Paid To Test Stuff
Cost of Product: Free to Sign Up
Who Is This Product Best For? NOBODY
Test.IO Product Summary
Test.IO is a "Get Paid To" program that gives you money to test apps, websites and software. You'll work for them as a QA to look for bugs and receive money for this. The pay is not great due to numerous negative feedback regarding the system. A major problem is that you may not be compensated for the work that you do. Where's the fun in that?
Product Rating: 50/100
Would I Recommend This Product? Not Really!
Test.IO Explained
Test.IO will employ you to carry out quality assurance (QA) work. Their clients include standalone developers, startup companies and various firms that want you to find bugs and other glitches in their software, apps and websites prior to launching them to the public.
As a QA, you will be testing the software development process. You'll be responsible for finding these bugs and highlighting them to Test.IO, who will feed this back to clients.
Bear in mind that Test.IO is not an actual quality assurance company. Instead, it offers a quality assurance service to small companies and developers who don't have the budget for a full-blown QA company.
Exploring Test.IO
Test.IO can be accessed by self-employed workers from most countries. However, they are certain requirements if you want to use the program.
At the very least, you need to have the following-
A laptop or desktop computer, tablet and smartphone
Minimum age of 18 years old
You can join the program if you tick the above boxes. Once you've finished registering you'll be redirected to your profile's dashboard.
Here, you will continue your application.
Test.IO Tutorial
You will be taken through a tutorial on the tester's dashboard. It will show you the process of looking for bugs and how to report them properly.
There's also a test that contains a drop-down menu of possible bugs to be reported. This simplifies the process of testing because it eliminates guesswork.
If you find a bug that is not shown on the menu options, then it's not within your remit to report it.
During the tutorial, you will be given helpful ways to describe issues effectively and pitfalls to avoid. The final part of the tutorial shows you how to give a detailed description of the bug.
During the tutorial, Test.IO gives you a method to follow to smoke out possible bugs. This will save you time and increase your productivity.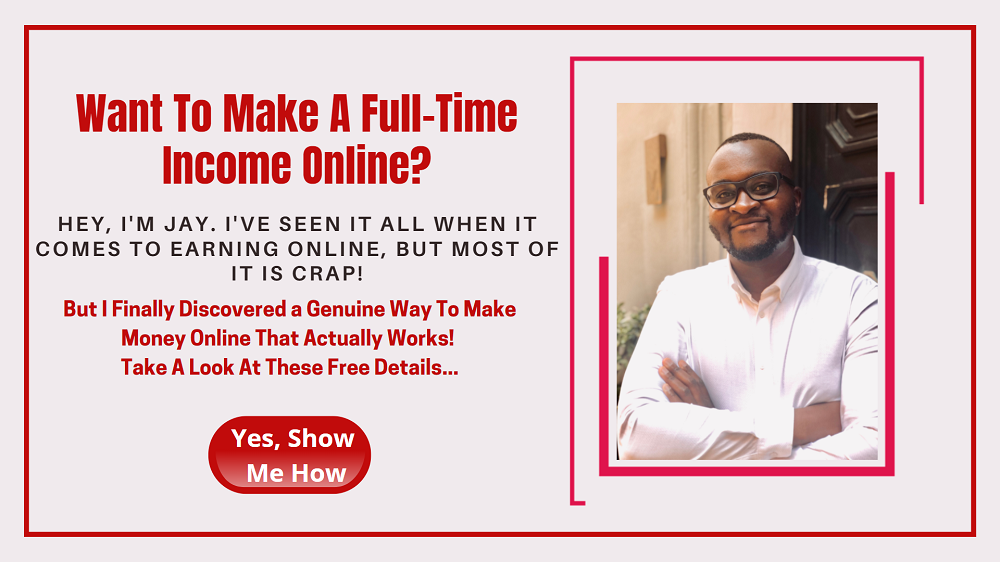 Post Tutorial Quiz
Once you've finished the initial tutorial, you'll be taken through a quiz to demonstrate what you've learnt and show Test.IO that you've grasped the concepts. The questions and answers are multiple-choice and are fairly standard.
If you succeed with the test, you will continue to the onboarding part of the process.
You don't have to continue immediately and can pick up where you left off at anytime.
The Onboarding Test
At this stage, things get challenging.
You will be put through a series of onboarding tests. The practice tests will decide if you will become a tester or not.
It's not a big deal because you'll get access to different resources and information inside the Test.IO Academy. This will help you to succeed with the various tests.
These tests will take you through numerous scenarios where you will need to find specific bugs or identify different bugs and report them.
Some applicants have stated that the onboarding tests tend to be arduous and have given up partway through the process.
How To Profit with Test.IO
Your earning potential will depend on the hardware that you have access to as stated on your application. You'll be invited to work on projects for the specific devices that you listed during your application process and if you succeed with the onboarding tests.
Test.IO does not specify any payment rates. At best, you will make $50 for identifying major bugs. However, these lucrative opportunities are few and far between.
Realistically, you'll be making between $2-$3 for each bug that you find and report.
Getting Paid by Test.IO
Test.IO does not impose a specific payout threshold. Instead, the company pays members monthly via direct bank transfer, Skrill, PayPal and Payoneer.
Payments are quick and take a maximum of 2 days.
Test.IO Referral Program
You can make more money if you participate in the referral program. You're compensated for each application that gets accepted. The new member will need to pass the onboarding tests and find 5 bugs before you get paid.
Is Test.IO The Right Product For You?
Test.IO is designed for people that are familiar with the quality assurance process and how websites, software and apps are meant to function.
You will also need to have some knowledge about I.T. and the terminology used in the industry.
Test.IO Exposed!
1). Payments Are Once A Month
It's a bit frustrating that Test.IO sends out payment once per month. But the reasons for this are probably because of all the tests happening at any given time and it's more efficient for the company to pay out once a month to minimize transactional fees.
Test.IO might not be the program for you if you need money urgently.
But another way of looking at this is that you can build up your income and get a large payment once a month.
2). Not Paid For Bugs!
One of the biggest drawbacks of Test.IO is that you are NOT paid when you find some of the bugs. What!? Therefore, testers are not getting paid properly for the work they've carried out.
Check out the complaints below left on GlassDoor by testers: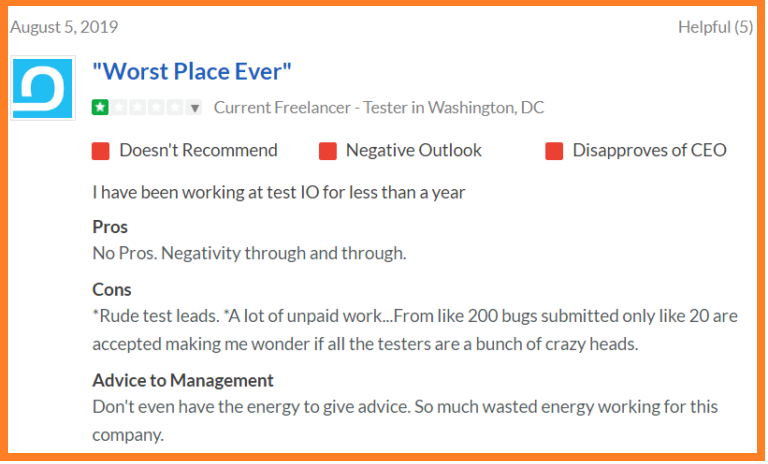 Here's another complaint from a tester about non-payment for real production tests.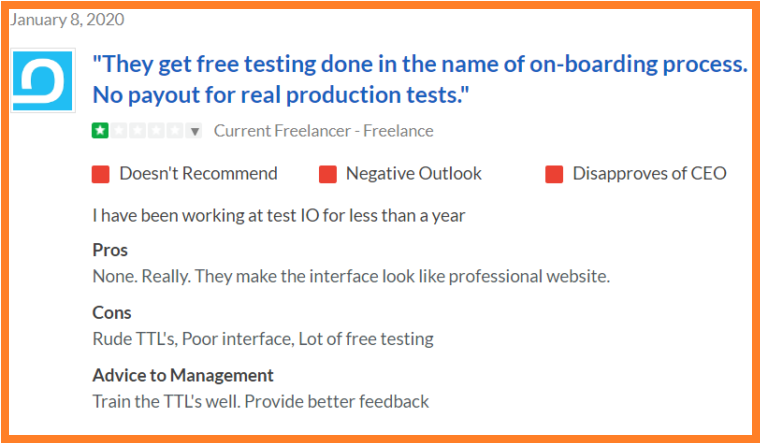 Naturally, this has a direct impact on your earning potential. The majority of their testers (over 85%) have complained about not getting paid and would not recommend Test.IO as a company to work for.
Advantages of Test.IO
1). Good Earning Potential
At best, you'll make a bit of money every now and again, but the earning potential is higher than a lot of the generic paid survey sites and Get-Paid-To sites we've reviewed previously.
This is the only redeeming quality about the program, but that's only if you actually get paid.
Is Test.IO a Scam or a Legit Business?
Test.IO is a genuine quality assurance service that employs you to test software, apps and websites on behalf of their clients. You get paid to find glitches and bugs.
There's potential to make decent money, but's it's not a program that I'd recommend if you're looking for a full-time gig.
The company has received lots of negative feedback from testers relating to non-payment of work that they've done. This is disappointing to say the least.
The company makes payments once per month and as such, it's not ideal if you're looking for a program that pays out regularly i.e. weekly.
Personally, I'd avoid Test.IO because of the risk of not getting paid. Maybe the company will sort itself out and improve its processes soon enough.
How Do I Use The Internet to Make a Full-Time Salary?
I'm not a big fan of get-rich-quick schemes or Get-Paid-To sites, let's just say that I've been caught short a few times.
Instead, an Amazon FBA Business is my leading recommendation for people that want to build a thriving full-time online business working from home.
Here are my reasons why…
There's no pressure to recruit family and friends, or anyone else for that matter.
Learn a unique method to source incredible, high profit, low-competition products that are virtually hidden from your competitors.
You don't need to sell hundreds of different products to create lucrative profits with this fresh, exciting business model.
An Amazon FBA business can help you to…
Generate a 5-7 Figure Salary and become financially free from the limitations of a traditional day job. You can do this in less than 12 months!
If you want to find out how I did it, Click Here!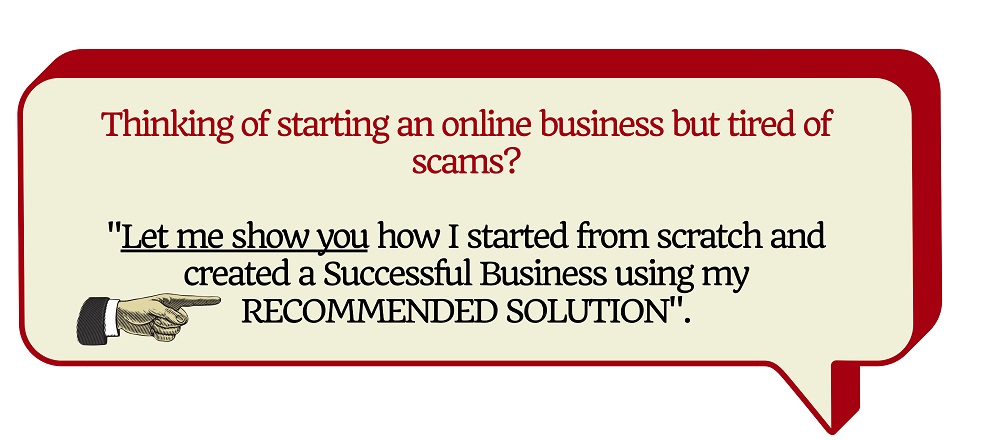 Similar Programs To Be Aware Of: