What Is SurveyPronto About?
Most paid survey platforms are operated by market research firms. These companies will have a portfolio of clients that require data from specific demographics.
In turn, the clients will analyze the data, provided by market research firms, to make better products, improve their services and pick out areas that need development.
Therefore, surveys play a big part in the advancement of products and services, but that doesn't mean that the participants get paid much money in return. I've looked at many survey sites and most of them are low payers.
In today's review, we'll be checking out SurveyPronto to see if their income opportunity offers more money than the rest.
The fact that you've taken a moment to scrutinize this product before signing up should be applauded. You've done yourself a huge favour. Your due diligence will save you from potentially wasting your time and money.
A good bit of research always goes a long way in the fight against online scams. Creating a sustainable full-time online business is not difficult. You just need to know where to look.
Before we proceed, I'd like to let you know that I'm not linked to SurveyPronto in any sort of way and I'm not trying to sell you this product.
Instead, I'd like to show you whether this survey site offers a decent income for your time…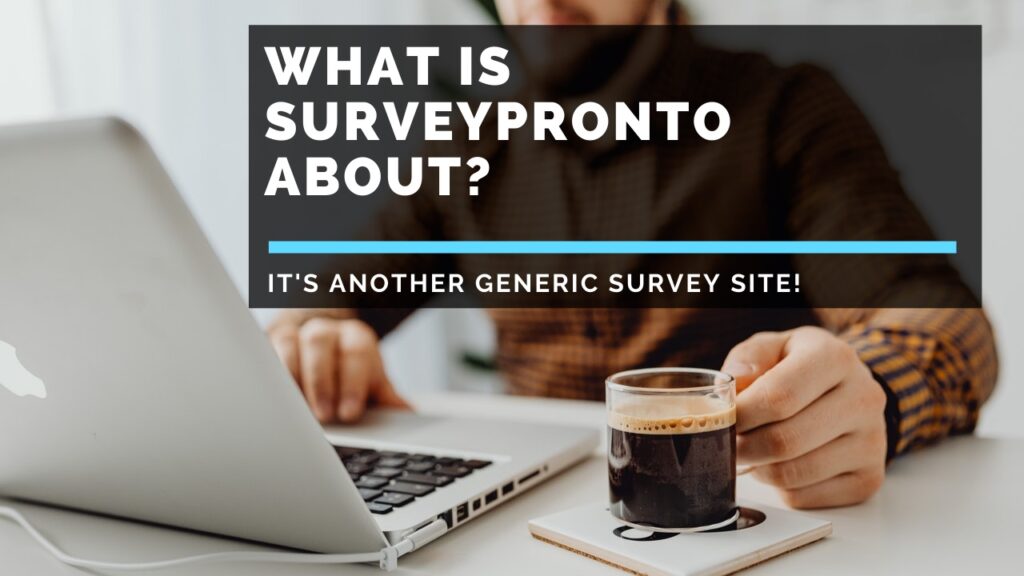 SurveyPronto Product Review
Name of Product: SurveyPronto
Owner: A&K International
Type of Product: Paid Survey Panel
Cost of Product: Free to Sign Up
Who Is This Product Best For? NOBODY!
SurveyPronto Product Summary
SurveyPronto is an online paid survey site which doesn't really offer anything distinct over the long list of survey panels crowding the internet. The earnings are minimal and withdrawal threshold is much higher than some of the alternative products out there, therefore, it's harder to cash out your money.
Product Rating: 50/100
Would I Recommend This Product? Not Really!
Recommended: Discover How You Can Build a Full-Time 4-Figure Monthly Income With The Help Of Leading Experts. Everything Needed Can Be Found Here
SurveyPronto Explained
SurveyPronto is a survey site run by a market research firm named A & K International Inc. The company is based in New York and manages various websites in different countries around the world. SurveyPronto is the English version of the various survey programs run by the company.
The platform was launched 3 years ago and is still considered to be a newish survey site compared to the long-running alternatives.
I'd like to take a moment to dive into the program and find out the amount of money you can potentially make from their surveys.
Exploring SurveyPronto
Signing Up With SurveyPronto
Signing up is relatively straight forward. You have to be a minimum age of 18 year old to register.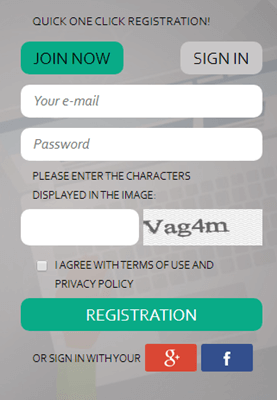 To join, you'll need to provide your email address and choose a password. You can also join using your Google or Facebook profile.
From here, you'll be redirected to another page where you'll need to fill in your personal details like you date of birth, address, gender, age, etc.
After that, you can access your profile's dashboard and receive a $5 bonus for joining, this is credited to your profile.
Making Money With SurveyPronto
SurveyPronto offers 3 different ways to earn money through their program.
Paid Survey
The primary method to earn cash is obviously through taking paid surveys.

Your list of available surveys will be update every day, but don't count on them hanging around for long because you're competing for a spot with other members on the program. The survey is closed once all spots are taken.
You could also be potentially kicked out part way through taking a survey if it goes over the maximum number of available spots. How frustrating is that?
But this problem usually happens across most survey sites, and is not specific to SurveyPronto.
Can you earn much cash through SurveyPronto?
Not really. Based on the member feedback and information that we found from other sources, the maximum you can earn from each survey is $0.75 which will take you 25 minutes or more to get through. Therefore, you're making around $1.50 per hour on a good day.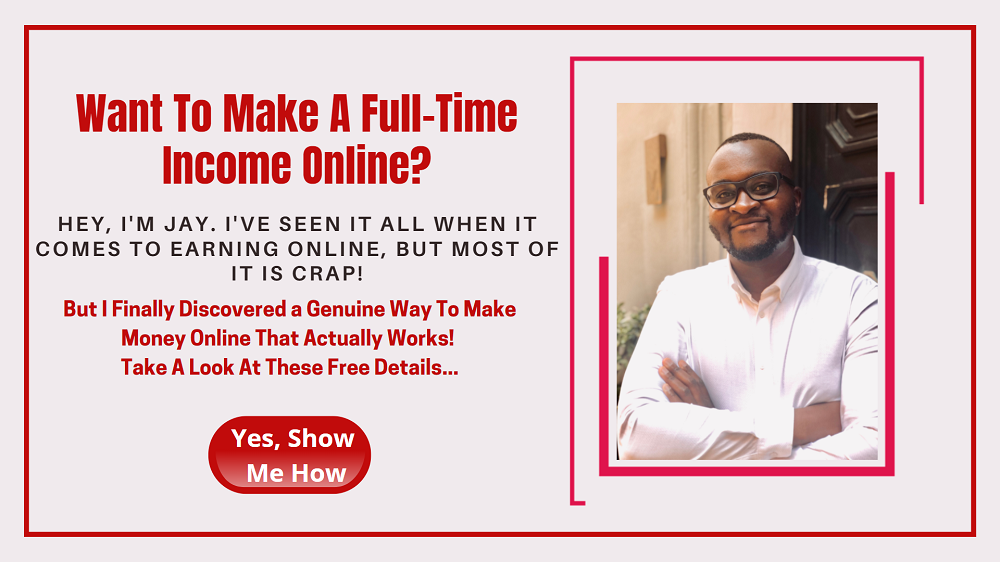 SurveyPronto Offer Wall
You can potentially make more money through the offer wall, however, these tasks are arduous. You will be required to sign up to different websites and perform various tasks like viewing videos, downloading apps or maybe playing games.
These offers don't seem to be accessible if you join with a dummy account. I tried setting one up and routinely checked it to see if I'd receive anything but nothing ever appeared after a week of checking.
It could be that I was just unlucky and they weren't any available offers at the time that I signed up.
But the same goes for these offers, you'll make around $1 per offer if luck is on your side.
SurveyPronto Referral Program
You'll be given a special referral link that you can share online and on social media to invite more members to sign up.
In return, if new members join using your link, you'll be rewarded with 10% commission from all their tasks.
But don't get your hopes up because you won't get much money from their referral program.
Getting Paid
The minimum threshold to cash out is $30, which is one of the highest that we've come across. Thankfully, this is reduced to $25 for your initial withdrawal because it takes into account your $5 signup bonus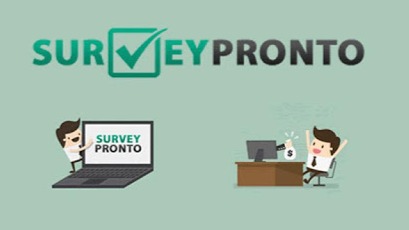 SurveyPronto offers just one method of payment, which is via PayPal. Payments can be requested through the site's withdrawal page.
This isn't a big issue since most people already use PayPal. The program does not offer payment through prepaid Debit Visa Cards or digital gift cards. I can live with that.
Recommended: Everything Needed To Create Your Full-Time Online Business From Scratch Can Be Found Right Here
Is SurveyPronto The Right Product For You?
SurveyPronto is designed for people that don't mind taking online surveys or signing up for offers to make a bit of spare cash. To be honest, this gig wouldn't earn you enough cash to qualify as a side hustle or part-time job.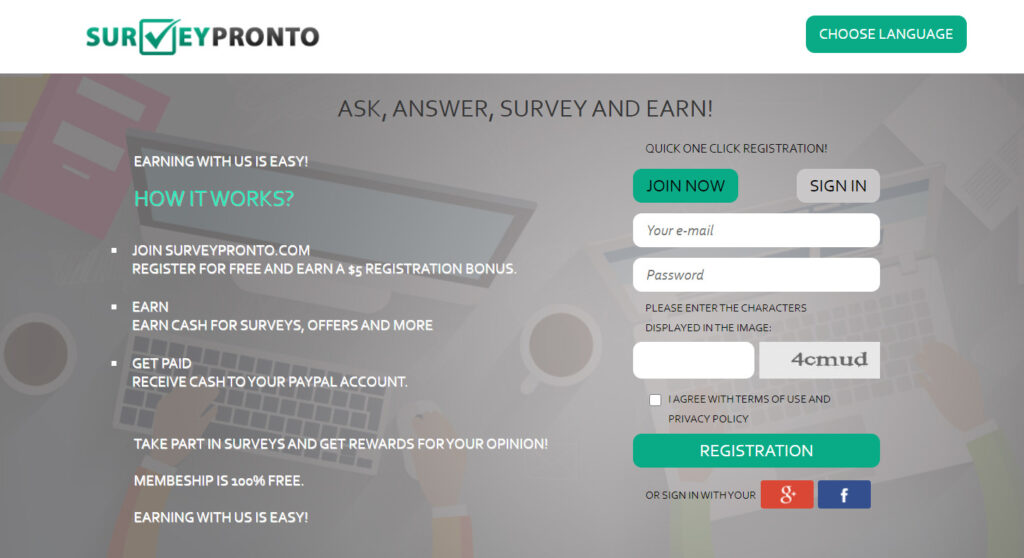 If you want to build a thriving online business that generates a consistent part-time or full-time income, I'd recommend this product instead.
SurveyPronto Exposed!
1). The Earnings Are Too Low
We've compared the earning potential to the minimum wage to see if it matches up.
You're probably wondering if SurveyPronto can make you anywhere near your current salary or maybe the minimum wage?
Unfortunately, it can't.
If it takes at least 25 minutes to finish a survey for $0.75, you would be getting through a maximum of 2 per hour. As such, your earnings would be $1.50 per hour, which is considerably lower than the American minimum wage
2). Low Availability of Surveys
After joining the program, I only noticed 5 available surveys through SurveyPronto. Therefore, I either didn't meet the demographic requirements for the rest of the surveys or there's not that many available surveys to start with.
It could be mix of the 2 but either way, this will have a massive impact on the amount of money that you can make.
On average, you'll earn a few cents per hour every now and again.
3). Payment Threshold Is Too High
The threshold to withdraw your money has been set at $30, which is far too high in my opinion. The average threshold for alternative survey sites is between $10 – $15. Therefore, it will be a long time before you can enjoy your earnings.
SurveyPronto's threshold should be between $5 – $10 based on their current payment rates. This would make the program much more attractive and worthy of a recommendation.
Recommended: Tired Of Working In A Dead-End Job? Let's Get Your Passion Project Off The Ground
Advantages of SurveyPronto?
SurveyPronto is a standard survey site which offers nothing unique or special from the rest of the survey programs that we've come across.
Is SurveyPronto a Scam or Legit Business?
SurveyPronto is a genuine survey site. There's nothing suspicious about the program and the member reviews have been generally positive.
But if you're looking for a sustainable way to earn a decent amount of money online then I would not recommended this program.
The earnings are some of the lowest that we've seen. At best you'll make around $1 per hour.
Furthermore, the income is heavily affected by the low availability of surveys.
SurveyPronto needs to reduce their payment threshold to make their program more competitive. But if you don't mind making a bit of spare cash every now and again from taking surveys, this might be worth a try. You might be luckier than me!
How Do I Use The Internet to Make a Full-Time Salary?
I'm not a big fan of get-rich-quick schemes or paid survey sites, let's just say that I've been caught short a few times.
Instead, an Amazon FBA Business is my leading recommendation for people that want to build a thriving full-time online business working from home.
Here are my reasons why…
There's no pressure to recruit family and friends, or anyone else for that matter.
Learn a unique method to source incredible, high profit, low-competition products that are virtually hidden from your competitors.
You don't need to sell hundreds of different products to create lucrative profits with this fresh, exciting business model.
An Amazon FBA business can help you to…
Generate a 5-7 Figure Salary and become financially free from the limitations of a traditional day job. You can do this in less than 12 months!
If you want to find out how I did it, Click Here!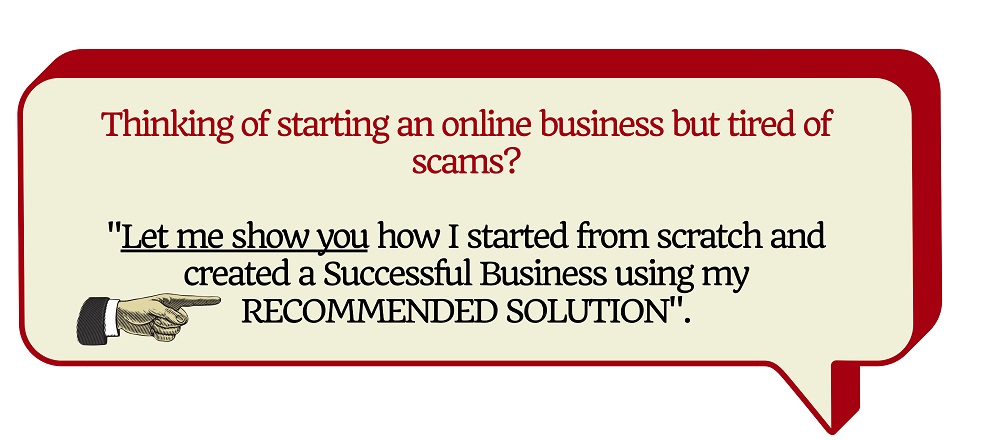 Similar Programs To Be Aware Of: