What is Paid Surveys at Home? Filling out online surveys as a source of income has been publicised widely for a few years. I have touched on the subject in previous articles and concluded that online surveys could never give you anything close to a part- time or full- time income. When I came across 'Paid Surveys at Home' suggesting that you can substitute your 9-5 job with paid surveys it grabbed my
attention. Could this be the holy grail of Work- From- Home opportunities? Lets find out…   
---
Product Review of Paid Surveys at Home
Product Name: Paid Surveys at Home
Cost: $68→ $34→ $17
Owner/s: Patricia Johnson
Rating: 3/10 ★★★☆☆☆☆☆☆☆
If you want to learn how to make real money online, read my top recommendation right here
---
Fortunately, you don't have to sit through lengthy sales video like the ones found on other survey sites and there are no overstated promises of FFFF (Fortunes From Filling Forms).
However, I spotted a few niggles that didn't sit well with me.
The Income Calculator
If you've ever visited a survey site you might be familiar with the income calculator which shows you a hypothetical figure of money that you could make for filling out a certain amount of surveys.
The calculator is cleverly placed on the site to entice you into completing a certain number of surveys- I wouldn't trust the cash figure it calculates because it is misleading. The disclaimer even states that the potential earnings are not guaranteed.  

There's no such thing as Easy Money
Paid Surveys at Home makes the earning potential sound so easy. Here's one of their statements:
I'm yet to come across someone earning a substantial amount of cash by taking a few minutes to complete surveys online. To put things into context, the membership survey by itself takes several minutes to fill out and that's just to get you signed up.
So how long does it take to complete a survey? Top end surveys, are regarded as those that pay just over $2 and will take you between fifteen-thirty minutes to complete. That means on your best day you would make $8 per hour and that's assuming you do the surveys back to back.  
If you want to learn how to make real money online, read my top recommendation right here.
Paid Surveys at Home state that a click of the mouse will transfer funds into your chosen bank account. This isn't necessarily the case because survey sites usually place a minimum amount before you can transfer your money. The time it takes to receive your money will depend on how fast you complete your surveys and meet the minimum criteria.
During the sales video, a person named Kevin claims that he's earning $100's every month through Paid Surveys at Home. Once you complete the sign up process you are given an example of earning $1,000 per month completing online surveys, which seems unrealistic given the huge time commitment and low pay out.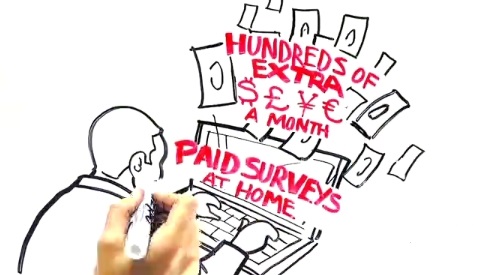 Cost of Membership
At the end of the sales page, you are required to pay $68 to become a member of the Paid Surveys at Home program. Your payment entitles you to access more than 300 survey businesses, you also receive 2 bonuses 'Get Paid to Drive!' and 300+ potential work-from-home ventures.
Thankfully, you will find a voucher on the website that halves the fee from $68 to $34. If you try to exit the website your membership cost is halved again to $17. It's a small price to pay but why should you have to shell out $17 for a service that you can receive for free?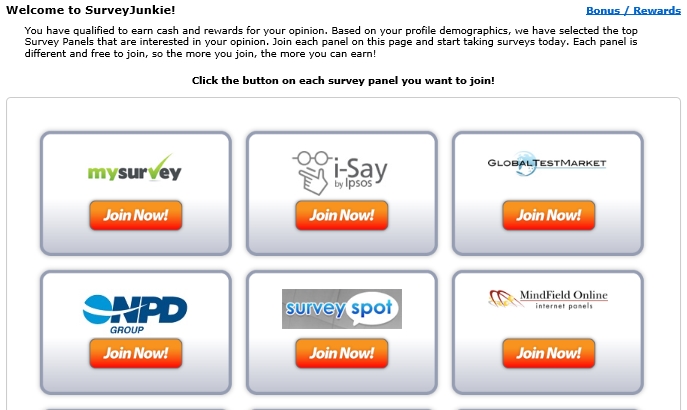 How do you get free access? By clicking away from the sales page again you are provided free entrance to the site albeit it's not the full version of the site but it's enough to get by.
Questionable Work- From- Home prospects
Suppose you pay the $17 to get your hands on the 2 bonuses, are you getting any kind of value for the small fee? Not really because even when you use the scaled down version of the site you are given access to the bonus features anyway, including the Work- From- Home prospects.
Is the Work- From- Home bonus worth your time, even if provided for free? Again I'd have to say No not really. For example, if you click on the Dwayne Brightman system or Project Payday you are taken to another external survey website. You get the same "FFFF" claims and are promised a tonne of cash for your efforts. Disappointingly, both systems just take you to more survey sites no different to the initial one.     
If you want to learn how to make real money online, read my top recommendation right here.

The opportunity about 'Paul making over $1 million' takes you to a gaming website. How does online gaming qualify as a Work- From- Home prospect?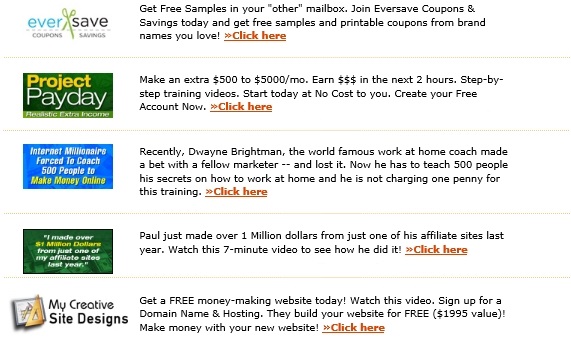 As you can see, the bonus provides no value whatsoever. You're better off sending me your $17 so that I can buy myself bags of gourmet popcorn ☺
Limited contact details
Paid Surveys at Home is difficult to contact. The site provides a ticket system for questions or queries. There's no email address or contact number, which leads me to think that I would have difficulty making contact with the site if for example, I bought the system and needed some assistance or a refund.
---
Pros:
You can use the scaled down version of the system for free, allowing visibility of what's on offer without financially committing.
Cons:
The site makes overstated money making claims of $100's per month.

Questionable work- from- home prospects.

Paid Surveys at Home is difficult to contact if you have a query or need assistance.
Although there's no problem using the system for free, I don't think it would be wise to pay for the full version and/or bonuses as there's no value in doing so.
Conclusion
I wouldn't give up my day job just yet if completing surveys was my main business. Survey sites will not earn you $100's every month even though they make hyped up claims to suggest otherwise. It's possible to earn a bit of money i.e. a few dollars, but it's not a feasible income stream for a person with bills, rent or a mortgage.
Most of these survey sites will require some sort of fee to use services that provide little or no value. Don't waste you time or money, If you want to learn how to make real money online, read my top recommendation right here.