What is OPM Wealth?
This program claims that it allows members to make money by lending money. Can this lend and earn system give you a reliable source of income? From the looks of it, the business model doesn't stack up and for that reason alone, I don't trust what they're selling!
Today, we'll be reviewing a program called OPM Wealth to uncover what's really going behind this supposedly profitable scheme.
The fact that you've taken a moment to scrutinize this product before signing up should be applauded. You've done yourself a huge favour. Your due diligence will save you from potentially wasting your time and money.
A good bit of research always goes a long way in the fight against online scams. Creating a sustainable full-time online business is not difficult. You just need to know where to look.
Before we proceed I'd like to let you know that I'm not linked to OPM Wealth in any sort of way and I'm not trying to sell you this product.
Instead, I'd like to show you why this program doesn't work…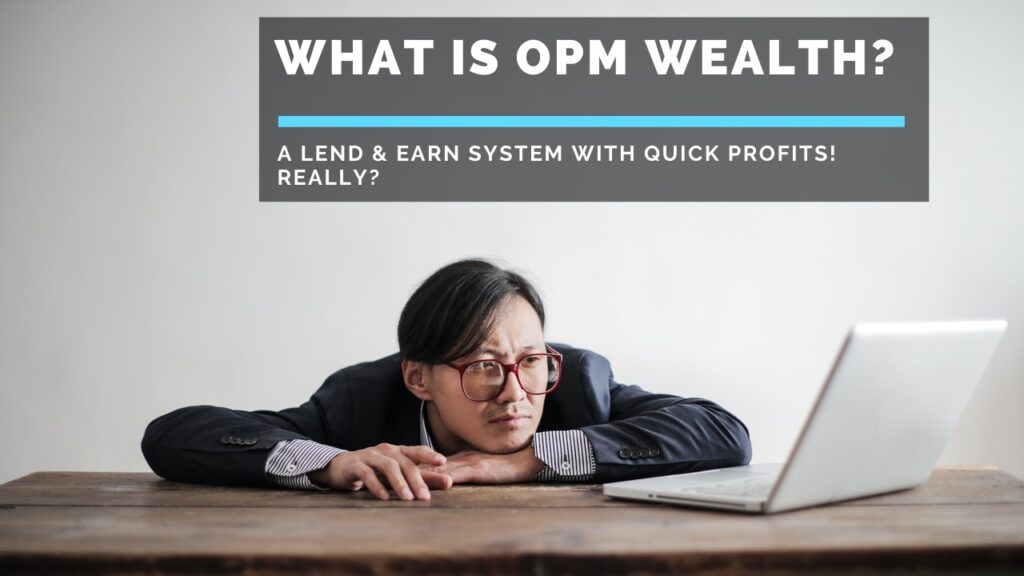 OPM Wealth Product Review
Name of Product:  OPM Wealth
Owner: Stefan Dessalines
Type of Product:  Lending Pyramid Scheme
Cost of Product:  Membership fee costs $2000 to $27,500
Who Is This Product Best For?  NOBODY!
OPM Wealth Product Summary
OPM Wealth claims to be a highly-profitable lend and earn system but the truth is, it's nothing more than a pyramid scheme. OPM is an acronym for Other People's Money, which in itself is a warning signal. I don't trust this company and in today's review, I'll be showing you why you should avoid it.
Product Rating: 1/100
Would I Recommend This Product: Definitely Not!
Recommended: Discover How You Can Build a Full-Time 4-Figure Monthly Income With The Help Of Leading Experts. Everything Needed Can Be Found Here
OPM Wealth Background
OPM Wealth claims that it gives members the opportunity to profit from lending their cash to other people that don't have enough money to pay for the membership fee! What???
Right off the bat, that just sounds absurd. OPM is short for Other People's Money, therefore, your money will be used by another person.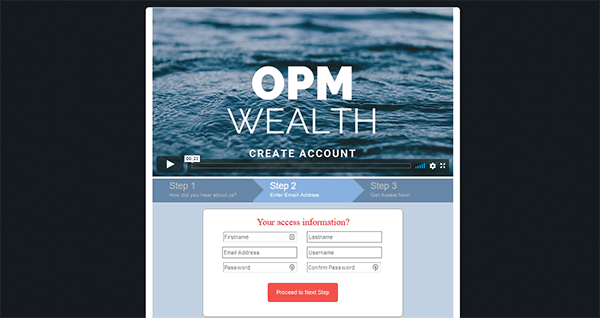 The membership fee to get into the program is not cheap and is the only way to access the compensation plan.
The program uses a multi-level marketing compensation system, however, OPM Wealth is not a genuine MLM program.
How the business operates is never made very clear, and there's nothing here which gives me the sense that I'm dealing with a legitimate company.
What Do We Know About Stefan Dessalines?
The person running the program is a guy named Stefan Dessalines. We're not sure if he's the owner of the company or just a hired actor using a fake name. I'm more inclined to assume that it's the latter. Why? Because we couldn't any other information about his previous MLM work experience when we searched online.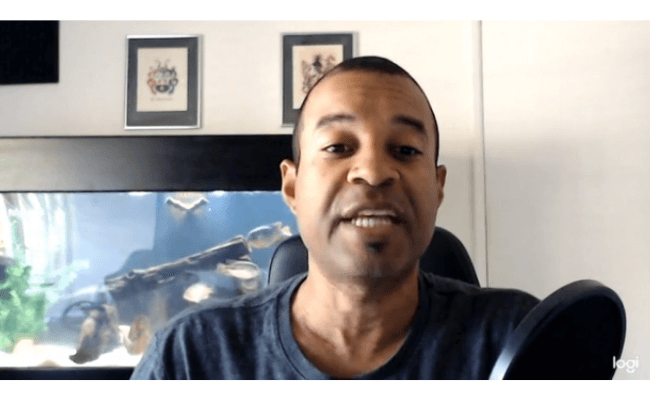 Before OPM Wealth, Stefan worked as an actor, but we couldn't find any details of his acting work or material. What we're certain about is that he's the spokesperson for OPM Wealth and he features in most of their promotional videos.
There's not much activity on his social media account. His Facebook group has just 231 members on it and has been inactive since 2017. This seems unusual for a business that claims to be making huge profits.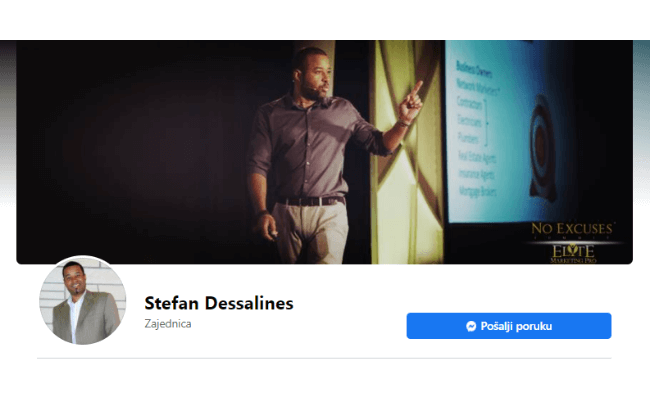 So here's the big question, is Stefan Dessalines a real person or is this just a pseudonym? At this point, we are not sure. There's not much information to prove any of the above.
Exploring OPM Wealth
OPM Wealth is the promotional funnel for Plutus Plan, which we'll discuss in more detail further down. When you visit the website you'll be prompted to input your email information to capture your details and finish registering.
You are then redirected to the program's back office. Here, you will find 4 unlocked sections with training material.
Below is the list of training videos: 
Introductory video
A video explaining OPM Wealth and the company's background
A video about how the program works
A video about getting started
The final video contains a button that you can click to arrange a call with a sales reps from OPM Wealth. 
OMP Wealth Packages
The above free videos can only be watched once you've finished signing up. To continue watching the rest of the videos, you need to pay the membership fee.
Below is a breakdown of OMP Wealth's package costs:
Hermes: The membership fee is $2,000
Apollo:  The membership fee is $5,000
Athena: The membership fee is $8,500
Poseidon: The membership fee is $14,500
Zeus: The membership fee is $27,500
The company has used the names of gods from Greek Mythology to brand their packages. The cost increases considerably as you go up the membership levels, but this supposedly helps you make bigger profits.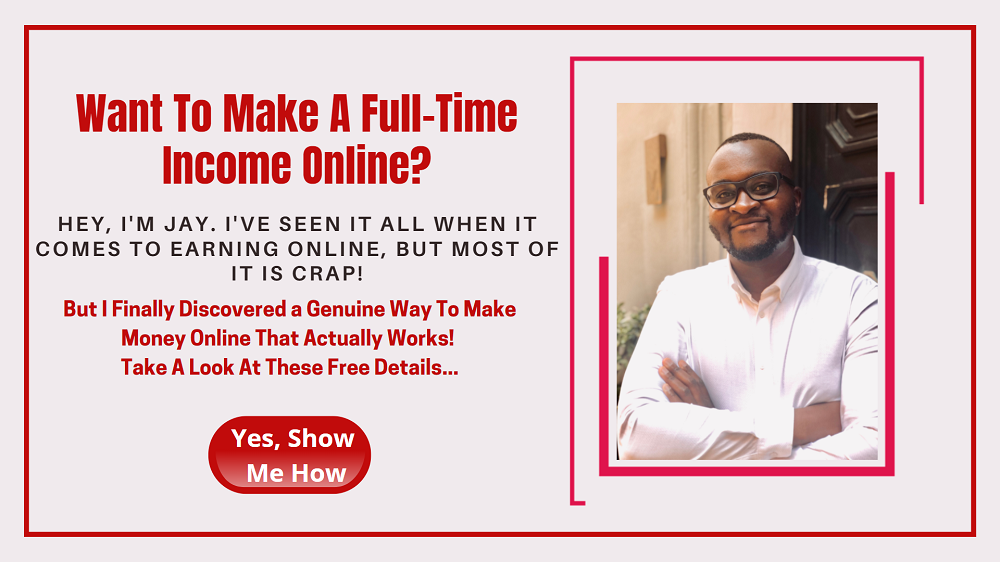 How Does OPM Wealth Work?
The program is all about borrowing cash from members and banks to fund the platform and recruit more people.
It's a straightforward process. To begin, you'll view the introductory videos where the opportunity is discussed by Stefan. From there, you'll be encouraged to purchase the entry-level package to continue with the training.
Coaching sessions are provided by the sales reps but these will need to be arranged beforehand. These coaches are nothing more than people hired to persuade you to sign up if you've not already done so.
When you've gone through the training, you'll need to recruit more members onto the OPM Wealth program. This will let you generate commissions when those new members pay for the program.
Can You Profit With OPM Wealth?
You'll make money if you manage to recruit someone and they pay for the membership. The amount of commission you'll receive depends on the membership level they buy.
Let's say that you buy the Hermes membership but your referral buys into a higher level. This means that your commissions will be capped at your membership level. As such, you will need to upgrade and match up to your referral's level to increase your commission.
Below is a summary of OPM Wealth's compensation plan-
Compensation Plan
The program's compensation plan is based on a 2-tier structure that lets you make money from your referrals.
Tier 1 commissions are 60% for referrals that you recruit directly.
Tier 2 commissions are 10% for your referral's recruits.
Below are some quick calculations to give you a clearer picture of how the plan works. Let's use the Hermes membership level for this example:
You will earn $1,200 for your 1st level referrals. You will earn $200 every time 2nd level (indirect) referrals buy the Hermes membership.
You then earn $2,000 for 1st level referrals and $500 for 2nd level referrals when they buy the Apollo membership.
This will continue up until you're commissions are capped based on your current membership tier.
Naturally, you will earn more cash if you recruit more people.
In theory, your profits will increase if members buy the more expensive packages.
Recommended: Everything Needed To Create Your Full-Time Online Business From Scratch Can Be Found Right Here
Is OPM Wealth The Right Product For You?
OPM Wealth won't really benefit you financially and we'll reveal the reasons for this further down.
OPM Wealth Exposed!
1). Pyramid Scheme
If you don't know what a pyramid scheme is it's a program that relies solely on recruitment. The only way to make money is if you recruit more members and those members will have to do the same.
OPM Wealth follows this system down to the letter and as a result, it's a pyramid scheme. It incentivizes you to keep recruiting.
Pyramid schemes are unethical and outlawed in a lot of countries.
2). Borrowing Money!
Members are borrowing cash so that they can pay for the program, which means that they are at a loss before they even get started.
The concept is that if you don't have money to pay for the membership, OPM Wealth will give you a loan which will be used to pay for the program.
It's a very bad idea to take out a loan to pay for an online program, let alone a pyramid scheme!
3). OPM Wealth Will Eventually Collapse!
OPM Wealth is dependent on recruitment. The only source of income is from the money paid by new members. We've not been given any evidence that the company is making money through other avenues.
Therefore, the program will fail and get shut down once the recruitment dries up as it will no longer be sustainable.
Recommended: Tired Of Working In A Dead-End Job? Let's Get Your Passion Project Off The Ground
Advantages of OPM Wealth
OPM Wealth should be avoided because it's a scam trying to disguise as a lending service that you can profit from.
Is OPM Wealth a Scam or a Legit Business?
OPM Wealth is definitely a pyramid scheme and today, we've uncovered several reasons why this program will not benefit you.
There's zero evidence that members are generating profits. The only winner is the owner.
The program is structured on a pyramid scheme which incentivizes you to recruit more members as your primary income stream. The company's only revenue source is recruitment.
You'll be borrowing funds on the basis that you might earn enough to pay off the loan as quick as possible. If you have enough money to pay for the membership outright, other members will borrow that money and there's no guarantee that you will profit from this program.
My advice is to steer clear of OPM Wealth.
How Do I Use The Internet to Make a Full-Time Salary?
I'm not a big fan of get-rich-quick schemes or Cryptocurrency MLM programs, let's just say that I've been caught short a few times.
Instead, an Amazon FBA Business is my leading recommendation for people that want to build a thriving full-time online business working from home.
Here are my reasons why…
There's no pressure to recruit family and friends, or anyone else for that matter.
Learn a unique method to source incredible, high profit, low-competition products that are virtually hidden from your competitors. 
You don't need to sell hundreds of different products to create lucrative profits with this fresh, exciting business model.
An Amazon FBA business can help you to…
Generate a 5-7 Figure Salary and become financially free from the limitations of a traditional day job. You can do this in less than 12 months!
If you want to find out how I did it, Click Here!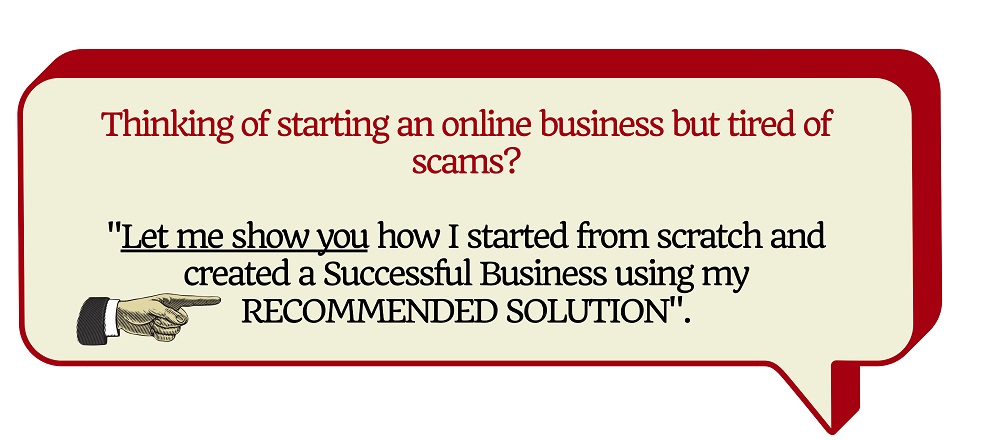 Similar Programs To Be Aware Of: