What Is Elepreneurs?
This health and wellness opportunity is a bit of a strange one because it's an MLM within another MLM company.
It sounds confusing and looks like a complicated setup. When I first came across Elepreneurs I was convinced that the program was a Pyramid scheme, but it turns out that the company is genuine.
Today, we'll be reviewing whether their income opportunity is sustainable and if it can help you to work from home.
The fact that you've taken a moment to scrutinize this product before signing up should be applauded. You've done yourself a huge favour. Your due diligence will save you from potentially wasting your time and money.
A good bit of research always goes a long way in the fight against online scams. Creating a sustainable full-time online business is not difficult. You just need to know where to look.
Before we proceed I'd like to let you know that I'm not linked to Elepreneurs in any sort of way and I'm not trying to sell you this product.
Instead, I'd like to show you whether this MLM opportunity is worth pursuing…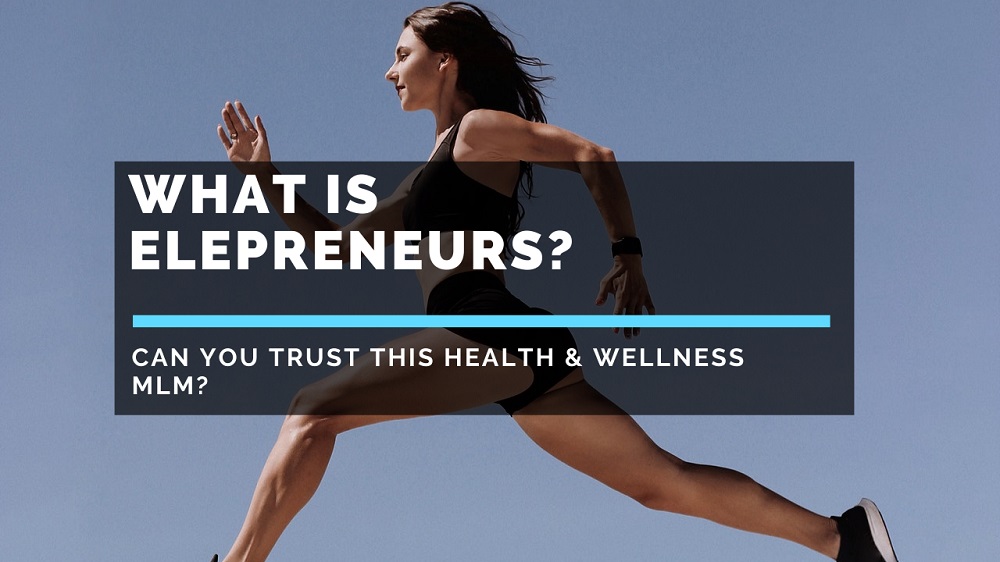 Elepreneurs Product Review
Name of Product:  Elepreneurs
Owner:  Robert Oblon
Type of Product:  Health and Wellness MLM Opportunity
Cost of Product:  $49 Yearly Fee + $40 Auto-ship + Numerous Starter Packs
Who Is This Product Best For?  NOBODY
Elepreneurs Product Summary
Elepreneurs is an MLM opportunity in the health and wellness sector which promotes another MLM program's range of products. I noticed a few areas of concern about this program, which I will be discussing in this review.
The products are not FDA approved, therefore, their claims are unfounded. Furthermore, there's zero evidence that members are profiting from this opportunity.
Product Rating: 50/100
Would I Recommend This Product? Definitely Not!
Recommended: Discover How You Can Build a Full-Time 4-Figure Monthly Income With The Help Of Leading Experts. Everything Needed Can Be Found Here
Elepreneurs Explained
Elepreneurs is a multi-level marketing program that focuses on health and wellness. Robert Oblon created the business in 2017. The offices are located in Texas and the program was designed to market Elevacity products.
What do we know about Elevacity? It's a separate MLM program created by the same guy in 2016. But why did Robert create 2 businesses instead of just 1?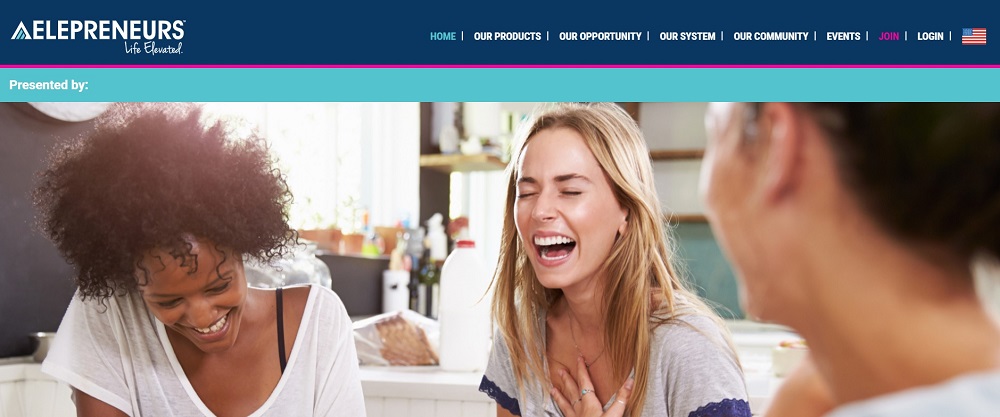 Elepreneurs was developed to promote Elevacity products. It's got its own compensation plan that is separate to Elevacity. Therefore, you can be part of both MLM programs independently and take advantage of their unique features.
What Do We Know About Robert Oblon?
Robert Oblon is renowned in the multi-level marketing arena. He began his stint with a travel MLM business named World Ventures where he worked as President. The company went through legal proceedings for breaking a non-compete clause in 2011.
In 2014 Robert created a domain for Elevacity to help market Travopoly, his latest MLM program at the time. The program subsequently went live in 2015. Elevacity was originally intended to be a gateway to Travopoly, but it was swiftly adapted to cater for Elepreneurs, a program that Robert claims to be revolutionary.
Elepreneurs Product Range
Elepreneurs does not provide its own product range. As an alternative, it promotes Elevacity products.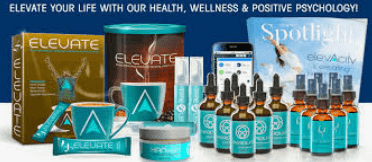 There's nothing questionable with how the business is set up. All this means is that Elevacity is a distributor that delivers products to Elepreneurs and different businesses.
Below is a summary of products that they provide-
DOSE: A mixture of beverages including chocolate shake mixes and coffees infused with their proprietary nutritional blend named Xanothomax. The retail price is around $100 for the range of blends.
Wellness Functional Beverages: The range includes Elevate Nitro, Choclevate and Elevate Smart Coffee. The first one costs $65 and the last two cost $55.
Wellness Supplements: There are antioxidant supplements such as XanthoMax and Elevate Pure 2.0. XanthoMax and Elevate Pure 2.0 removes toxins. 
The brand also offers additional products for skincare and vitamin skin patches.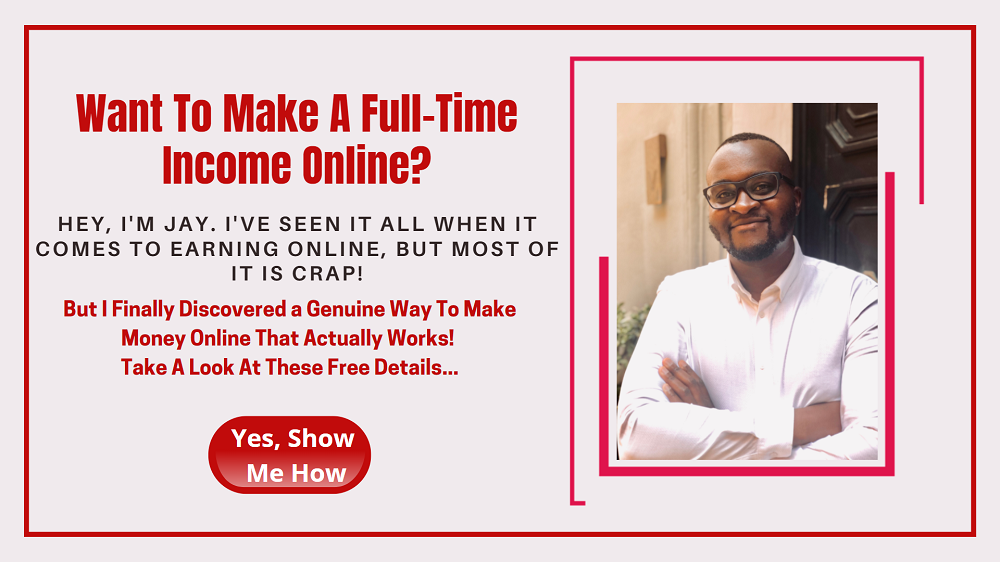 Does Elepreneurs Work?
I couldn't help but notice that Elevacity is on the brink of breaking compliance regulations with regards to their marketing material.
If we take their DOSE beverages, the wording seems to suggest that the product contains medicinal advantages.
I'm not saying that it actually states this because if it did, the Food and Drug Administration would be on their case. Nonetheless, their marketing can be misleading.
The feedback for Elevacity products on Amazon is mostly positive, however, I wouldn't completely rely on this because product reviews can be falsified.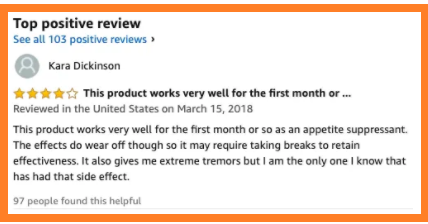 Worryingly, I found some complaints from members about the side effects of using Elevacity products even though the company states that their product range does not have side effects. They are several people complaining as shown by the example below-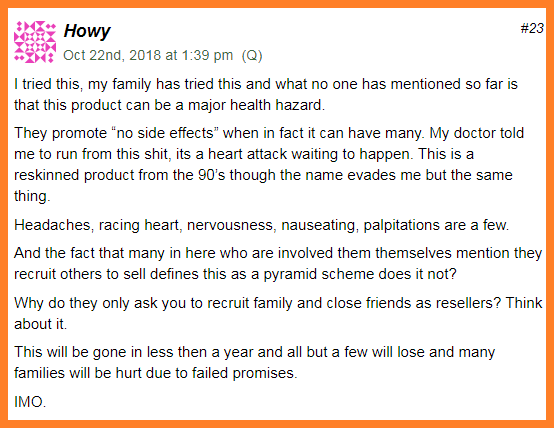 This member and her family had side effects, and the culprit was likely to be Xanthohumol, an ingredient extracted from a crop used to brew beer.
To be sure, the FDA would need to investigate, single out the ingredient and conclude what could be causing the side effects.
Recommended: Everything Needed To Create Your Full-Time Online Business From Scratch Can Be Found Right Here
How To Profit with Elepreneurs
Elepreneurs offers 2 methods to profit through their opportunity:
Commissions from retail sales
Bonuses and commissions if you create and grow your own team
Getting Started with Elepreneurs
You will need to pay an annual fee of $49 to sign up with Elepreneurs. Additionally, you will need to choose and purchase an enrollment pack as shown below-
Happy– this costs $249
Happier– this costs $499
Happiest– this costs $999
You will receive a bigger range of products inside the packs that are more expensive.
Furthermore, you have to pay a monthly fee of $40 to subscribe to auto-shipment. Each month, you will receive $40 worth of products from Elepreneurs that you need to sell.
Elepreneurs Compensation Plan
I'm not going to spend too much time on Elepreneur's compensation plan, and I don't think that you should either. I've summarized everything you need to know and also included a YouTube walkthrough below:
​Elepreneurs Affiliate Ranks
You can work your way up 12 ranks by achieving various sales and recruitment targets. Your ranking will be influenced by your volume of sales as well as your team's sales. In all my time of reviewing MLM products, I've never come across a member that's managed to climb from the lowest to the highest rank.
Retail Sales
You can earn commissions according to your retails sales. Therefore, your profits are the difference between the retail and wholesale price which is around 10 to 30%.
Infinity Bonus
This is based on a uni-level compensation system. You will make a 20% match bonus based on the volume of sales from your team. For example, if your team recruits 3 new members, you will make 20% of the recruits' members.
The compensation plan also comprises of the following:
Fast start pack bonus– you will earn a 5% commission from a starter pack chosen by your downline
Customer acquisition bonus– customers with an order of $80 or more- sign up 3 = $25, 5 = $50, 7 = $100 bonus
Uni-level bonus– Earn 1%-7% for a maximum of 10 levels down, based on your rank
Leadership bonus– $400- $1,000 per month for Platinum rank or higher
Diamond pool– Earn 0.5% of the entire global CV split among diamond ranks
Ambassador pool- Earn 1.5% of the entire global CV split among ambassador ranks
Recommended: Discover How You Can Build a Full-Time 4-Figure Monthly Income With The Help Of Leading Experts. Everything Needed Can Be Found Here
Elepreneurs Exposed!
1). Monthly Auto-shipment Not Great
Subscribing to auto-shipments comes with more drawbacks than advantages. You are obliged to pay for stock and very soon, your money will be tied up in stock that you might not be able to shift. There's pressure to sell every month before the next batch arrives to avoid accumulating products.
It will be harder to recoup your money if you struggle to sell these products and are stuck with a batch of unsellable items.
2). Costly To Set Up
Your original cost to get started comes up to around a few hundred dollars. The auto-ship requirements will cost you $480 per year.
Overall, the financial cost of Elepreneurs is similar to your standard MLM program and comes with the usual financial burden.
3). Where Are The Proof Of Earnings?
Similar to Elevacity, Elepreneurs does not provide evidence that its members are profiting from their venture. They even published the statement shown below regarding the earning potential for both Elepreneurs and Elevacity.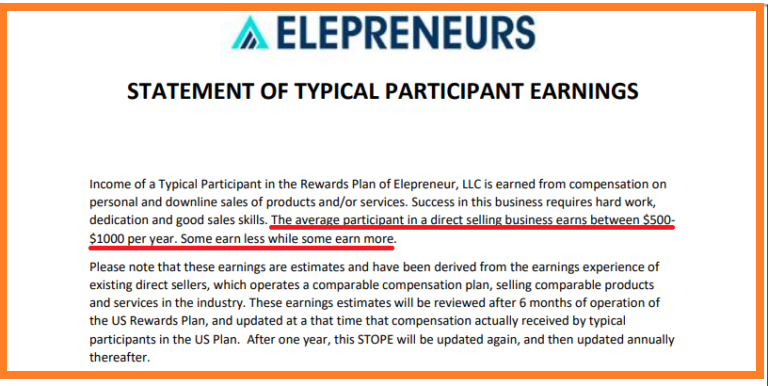 According to the above statement, members make an estimated amount of $500- $1,000 profit per year. That means the best-case scenario is $84 per month which hardly seems worth the effort.
4). Products Are Not FDA-Approved
If a health and wellness business makes claims of medicinal and therapeutic benefits, their products need to be assessed and approved by the FDA. They'll also need to pay thousands for these tests to be done.
An FDA approval carries huge advantages and can be proudly showcased on the company's marketing because their claims are tested and approved.
Unfortunately, Elepreneurs claims are not approved and their claims are not backed up.
Recommended: Tired Of Working In A Dead-End Job? Let's Get Your Passion Project Off The Ground
Advantages of Elepreneurs
Elepreneurs is your typical MLM program with nothing unique about it. Furthermore, their products have side effects- do you really want to be marketing these type of products?
Is Elepreneurs a Scam or a Legitimate Business?
Elepreneurs is a genuine multi-level marketing business. However, it's not one that I would recommend.
As of this writing, I've not seen proof that members are profiting enough money to justify this as a part-time or full-time venture.
I would be careful about promoting a product range with potential side effects.
You will have the financial pressure of the auto-ship requirements. You will be sent a batch of products every month at your cost. You might be in a situation where you need to reduce prices just to shift surplus stock.
Avoid Elepreneurs! You can find better programs elsewhere.
How Do I Use The Internet to Make a Full-Time Salary?
I'm not a big fan of get-rich-quick schemes or MLM programs, let's just say that I've been caught short a few times.
Instead, Affiliate Marketing is my leading recommendation for people that want to build a thriving full-time online business working from home.
Here are my reasons why…
You can get started for Free.
There's no pressure to recruit family and friends, or anyone else for that matter.
You can create a business from virtually any product including the ones that you already buy. You are not limited to low-income programs or inferior products.
Affiliate marketing can help you to…
Generate a 4-Figure Monthly Salary and become financially free from the limitations of a traditional day job. You can do this in less than 12 months!
If you want to find out how I did it, Click Here!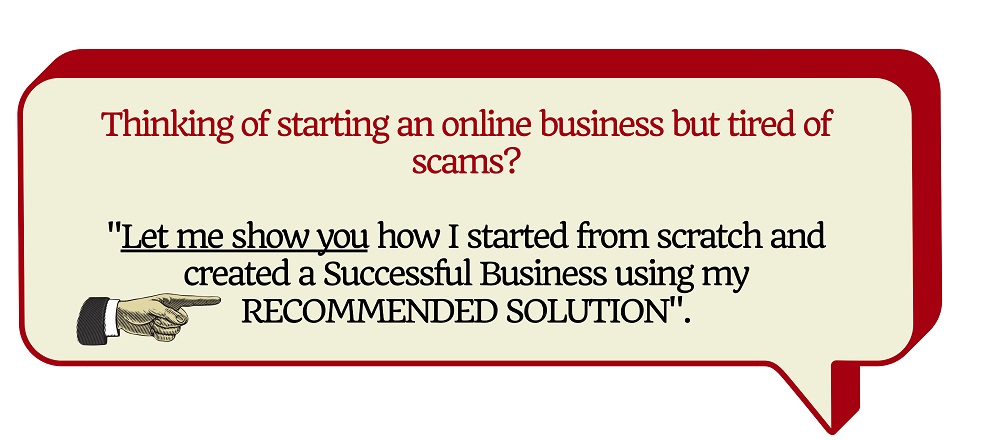 Similar Programs To Be Aware Of: