Immunotec is a business that's been running for over 20 years and has existed for longer than the majority of other MLM businesses.
The company assures its customers that it can make them healthier if they use Immunotec products which supposedly strengthen the immune system. Is Immunotec the real deal or is it a company full of hype? Let's find out…
The fact that you've taken a moment to scrutinize this product before buying it should be applauded. You've done yourself a massive favour. Your due diligence will save you from wasting money and time.
A good bit of research always goes a long way in the fight against online scams. The good thing to know is that creating a sustainable full-time online business is not difficult. You just need to know where to look.
Before we proceed I'd like to let you know that I'm not linked to Immunotec in any sort of way and I'm not trying to sell you this product.
Instead, I'd like to show you what Immunotec is all about and why it's not worth your time to pursue this supposedly good MLM opportunity.
Immunotec Review
Name of Product: Immunotec
Creator: Unknown
Type of Product: Health and wellness MLM
Cost: $45 membership cost + buying a starter kit that costs between $265 – $1,130
Who Is This Product Best For: Absolutely Nobody.
Immunotec Summary
Immunotec is an MLM company that specialises in wellness and health. It's similar to Trivita and promotes health products that boost the immune system. The product range is distinctive, however, the actually money-making opportunity is not great. There's not a great deal of money to gain with this offering and I'll bare all in this review.
Product Rating: 50/100
Would I Recommend This Product: Not a chance!
Recommended: Discover how you can build a Full-Time 4-Figure Monthly Income with No Previous Experience
What is Immunotec?
Immunotec is a specialist of health products that strengthen the immune system. The business is setup using a multi-level marketing (MLM) structure and has it's own team of Research & Development experts for their products.
The organisation's products have been researched by Dr Patricia Kongshavn and Dr Gustavo Bounous for more than fifteen years and as a result, have produced leading bioactive products called Immunocal. The company also achieved a milestone of $101 million back in 2017.
What Do We Know About Dr. Gustavo Bounous?
Dr Gustavo Bounous is from Italy and attended the Universities of Genoa and The University of Turin. Gustavo was a researcher focused on surgery at the Indiana Medical Center.
In 1963 Gustavo migrated to Canada to be a professor of surgery at the Université de Sherbrooke followed by McGill University.
His work was awarded with the highly-acclaimed medal of the Canadian Royal College of Physicians and Surgeons.
Immunotec Product Range
The company has been established for over 20 years, therefore, their immune-strengthening product range is extensive.
The most popular products from the Immunocal products are as follows:
Immunocal costs $106
Immunocal Platinum costs $151
Immunocal Booster costs $76.95

Further to this, they're some extra products on offer as listed below:
Xtra Sharp – Fruit Flavor costs $39
Multi + Resveratrol costs $35.50
Calcium-D from Milk costs $18.95
Omega Gen V costs $36.50
Probio 3+ with Cranberry costs $35.25
Seren-T200 costs $28.25
Magistral costs $37.25
K-21 1L Bottle costs $38.25
Cherry Concentrate 2-Pack costs $112
On The Go Shake (Chocolate & Vanilla) costs $49.95
Cogniva with Syna-PS50 costs $61
Daily Essentials Pack costs $81.50
K-21 1L – Pack of 6 costs $190
Xtra Sharp – Original Formula costs $32
Contralenta costs $42.75
Are Immunotec Products Any Good?
Unfortunately, they are no reviews about Immunotec products and there's no scientific evidence that the products provide a positive effect on the immune system.
If a product is designed to restore health, give treatment or make you fell better it needs to be FDA-approved. To get this type of approval the products need to pass a range of strict tests and demonstrate on a scientific level that the product does what it claims.
As a result of this, FDA-approved products can show off the seal of approval which gives consumers the assurance that they do what they're meant to and the potential side effects are clearly labelled.
Unfortunately, Immunotec products are not FDA approved at the time of writing, therefore, you have to take their word that their products work.
Tired of Scams? Find how you can build a Full-Time 4-Figure Monthly Income with No Previous Experience.
How Do You Profit with Immunotec?
Earning money through Immunotec's business model can be done in the following ways-
Direct sales (Individual and Team sales).
Earning a bonus from recruiting other members and taking advantage of various promotions.
Signing Up with Immunotec?
Signing up will cost you $45 for a starter pack which will make you an Immunotec consultant. The pack comes with various products that cost between $265 – $1,130.
To break even and start earning a profit you will need to sell everything in the starter packs first.
You will be provided with your own version of the website for you to promote products online, however, you cannot take advantage of SEO techniques to leverage free traffic from search engines because your site will contain duplicate content of the original site.
How Does Immunotec Compensate You?
In the following sections I'll be covering the crucial factors of Immunotec's compensation plan and summarize everything that you need to know. You'll also find a short video at the end of this section explaining everything.
Earning Through Direct Sales
You are buying products at a reduced wholesale rate i.e. 30% off allowing you to potentially earn up to 30% in profits if you manage to sell at the full retail cost.
Quick Start Bonus- Immunotec Quick Start Bonus
Under this plan, you make a 20% bonus for each new consultant that you recruit to Immunotec and the person that signed you up (your sponsor) will earn a 10% bonus as well.
Immunotec Residual Commissions

Immunotec's residual commissions are structured the same as a Unilevel MLM plan which puts you directly above the members that you recruit as shown above.
Your immediate recruits are at the first level. Their recruits are at the second level and their recruits are at the third level and it goes on and on.
Therefore, you will make a percentage profit on each level whenever one of your recruits makes a sales. The percentage of each profit is higher if the level is further up.
Business Builder Bonus
You will be awarded a bonus for orders made in the 1st month from your Level 1 recruits (direct down-line).
Rank Advancement Bonus
This bonus is awarded to you if you maintain a rank consecutively for 2 months and is called the moving up bonus.
Recommended: Discover how you can build a Full-Time 4-Figure Monthly Income with No Previous Experience
Immunotec Exposed!
(1) The Earnings Are Low
The truth of the matter is that most people earn very little or no money through MLM structures. Unfortunately, Immunotec is no different.
Their income disclosure statement shows that members at the lower levels, which account for roughly 90% of their total memberships, make just five hundred bucks per annum before costs. Members higher up the chain are the ones that signed up at the early stages of this business, however, there won't be many of them.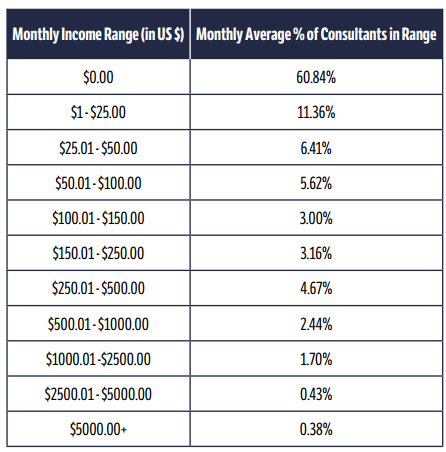 The above screenshot is Immunotec's 2016 Income Disclosure Statement.
If you're lucky enough to sell all of the products in the Starter pack, you'll always need to spend your own cash to earn a profit.
(2) Costly Products
The main complaint about Immunotec products is that their cost is steep. Customers can easily find cheaper alternatives on sites such as Amazon and as a result, it will be much harder for you to convince them to buy from the Immunotec range.
This is one of the biggest challenges within the health and wellness MLM sector because these companies don't have complete control of manufacturing expenses. They continue to create products without any regard of the cost, therefore, resulting in an expensive wholesale price.
In turn, the retail cost will be considerably higher because the consultants are trying to make as much profits as possible.
(3) Where Is The FDA Approval?
Earlier on we discovered that Immunotec's products do not have FDA-approval. The FDA (Food and Drug Administration) will not approve dietary or natural supplements that are administered into remedies, healing or preventing of recognised diseases or ailments.
There's nothing that shows whether Immunotec's products adhere to the required safety standards namely CGMP which complies to the Food and Drug Administration's Good Manufacturing Practice regulations.
Advantages of Immunotec
In a nutshell, Immunotec is simply an MLM company without any distinctive features or selling points. There are better opportunities out there and easier ways to make money online.
Recommended: Discover how you can build a Full-Time 4-Figure Monthly Income with No Previous Experience
Is Immunotec a Scam?
Immunotec is not a scam. It's a genuine multi-level marketing business that manufactures and promotes health products to improve the immune system.
The problem here is that their products are not FDA approved, therefore, the products are not proven to work and have not undergone the strict tests of the FDA to ensure that they meet the standards.
The biggest disadvantage is that there's hardly any profit to be made for new members. The earnings are very low according to their income disclosure statement and it doesn't appear that members will earn a decent income anytime soon.
Naturally, this leads me to my next question…
How Do I Use The Internet to Make a Full-Time Salary?
Like with anything else, making money online is a skill that can be learnt, it only requires a bit of dedication and consistency but it's totally worth it when you can one day walk into your boss's office and fire him/her.
I've personally learnt how to generate a monthly income stream, with no previous knowledge. I can work where I want and when I want. You can do the same too. Find out more here.