What Is Financial Freedom Forever?
We've reviewed countless online scams and seen it all. Some of them are sophisticated and others don't really bother to disguise themselves. Some even try to use well-known scam models.
Yes, I'm talking about the ones that come with false earnings claims and plenty of hype. You end up paying hundreds in the hope that you will earn a fortune from your original investment.
In today's review, we're looking at one such program named Financial Freedom Forever.
The fact that you've taken a moment to scrutinize this product before buying it should be applauded. You've done yourself a huge favour. Your due diligence will save you from wasting money and time.
A good bit of research always goes a long way in the fight against online scams. Creating a sustainable full-time online business is not difficult. You just need to know where to look.
Before we proceed I'd like to let you know that I'm not linked to Financial Freedom Forever in any sort of way and I'm not trying to sell you this product.
Instead, I'd like to show you what this program is hiding from you.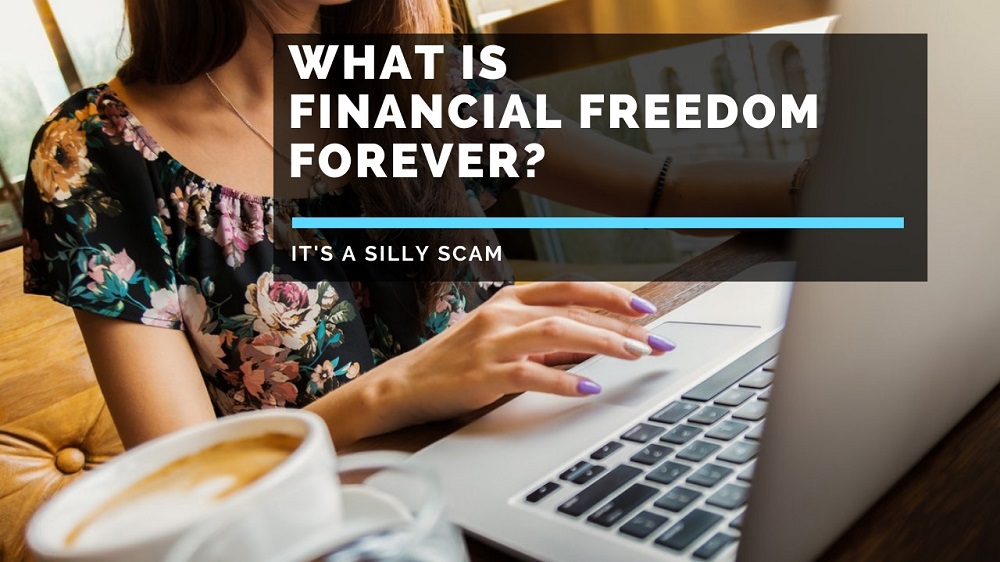 Financial Freedom Forever Review
Name of Product: Financial Freedom Forever
Owner: Not Known
Type of Product: Affiliate Marketing Scam
Cost of Product: $47 one-off fee + Upsells
Who Is This Product Best For? NOBODY
Financial Freedom Forever Summary
Financial Freedom Forever claims to be an affiliate marketing program, but it's actually the opposite of what it appears to be. Inside we found exaggerated earning claims and false customer testimonials. The people behind this program have gone to extra lengths to remain anonymous. Everything about this program doesn't feel right.
Product Rating: 1/100
Would I Recommend This Product? Definitely Not!
Financial Freedom Forever Background
Financial Freedom Forever claims that its members can earn at least $2,575 per week when they sign up to a private group inside the program.
According to them, your life will change from the moment you join their program.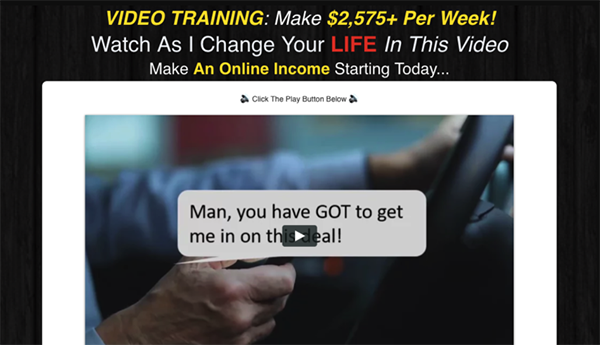 The idea behind the program is to earn cash as quick as possible as shown in their promotional video.
Instead of telling you exactly how the program works, you're simply told about the amount of money you can earn by simply pushing a button. Geez!
Obviously, this can't happen until you've paid the signup fee.
You are made to believe that your initial investment can be increased from $47 to $2,575 in just 1 week. The video gives some half baked story about earning lots of money quickly using a website, plugins and some buttons. Do you trust this program?
Exploring Financial Freedom Forever
Before we thoroughly analyse Financial Freedom Forever, I'd like to go through the program's business model.
First, let's get one thing straight. Affiliate marketing is actually an authentic way to make money online. They are a lot of marketers making money from this business model including me. But if you want it to work, it needs to be built on the right foundations and done the correct way. If you follow the right steps, you can generate a lifetime of constant earnings.
This business model appeals to a lot of people because it doesn't take much to get started. As long as you have internet and a laptop you can practically work from any part of the world.
The problem is that scammers have taken advantage of the above and have turned a genuine business model into something that they can use to exploit people.
Financial Freedom Forever will have you believing that you can earn a tonne of cash with very little work. I'll tell you right now that there's no internet business out there that can give you financial freedom with minimal effort.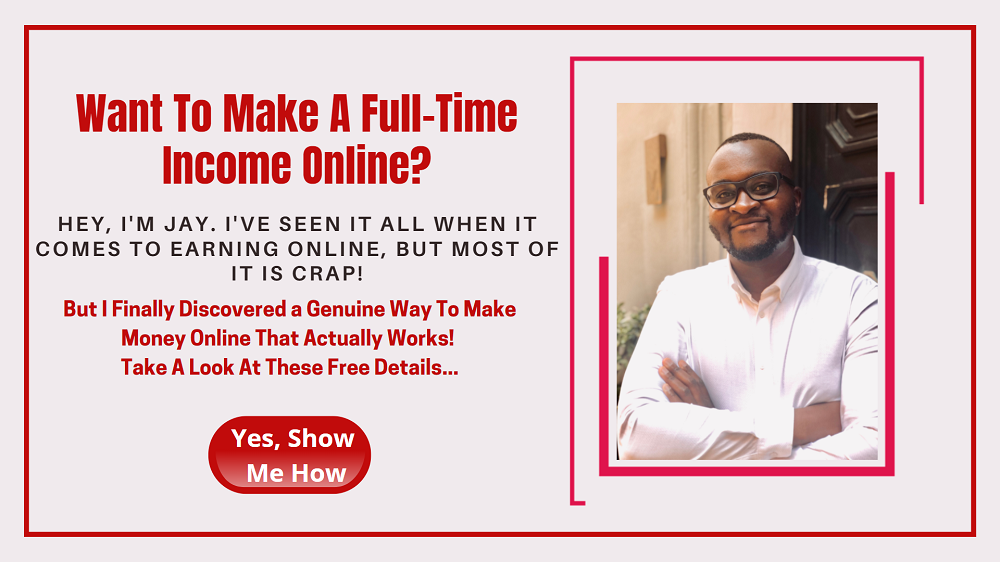 The Sales Video
The promotional video tells you about a hidden "Eff It Program" with just a few more spaces left. Apparently, you need to act quickly so that you don't miss the chance to get into the program.
During the video, a pop-up will appear at the bottom of the screen to notify you that new members are joining the program. Don't pay any attention to it as it's placed there to make you think that more people are purchasing the program whilst your viewing the video.
It places a sense of urgency as you get further into the video, and by the time you've watched half of the video, you'll feel the pressure to buy because of the sales you've seen from the pop-up message.
The person presenting the video will claim that it's not a multi-level marketing program or a pyramid scheme.
According to him, it's a private program that lets you generate lots of cash. It's supposedly part of a tiny network of marketers that can assist you and everyone else signed up to the system.
One thing I'd like to know is- how come they are charging just $47 for a program that can generate more than $2,500 per week?
That doesn't make sense and we are never really told how the program actually works. All we are told is that this automated system will make us plenty of money.
Financial Freedom Forever Sales Pitch
According to the sales pitch, you will earn $5,000 in the first day when you invest the $47 joining fee. Once you've earned your first $5,000 you will make $500 per day going forward.
The program calls this "Eff It Cash". The presenter goes on to make further wild claims like not needing a robust website to make the above earnings.
You simply need to "point and click" and "copy and paste" for the cash to start rolling in.
Tell me something, if this kind of business exists, how come more people aren't part of it? Surely by now, successful business moguls would have backed businesses like Financial Freedom Forever.
The truth is, Financial Freedom Forever and similar programs are a pile of trash.
The Truth About Financial Freedom Forever!
I'm sorry to be the bearer of bad news, but everything you've been told by Financial Freedom Forever about making lots of money with them is a lie.
After you've paid the signup fee of $47, you'll be redirected to your profile. From here, you'll be granted access to various affiliate marketing tools.
You will then be offered several plugins that come at an extra cost as shown below:
ClickFunnels will cost you $97 per month. It gives you access to a customised landing page. The problem here is that your site is hosted by Financial Freedom Forever, therefore, it's merely a generic page available to other people on the program. As such, there's nothing unique here to differentiate your site from the others.
You'll also need to pay an extra $15 per month for an autoresponder that lets you create and grow an email list. It emails your readers with promotions from Financial Freedom Forever, therefore, YOU are paying to promote this program. WTF!?
Is Financial Freedom Forever The Right Product For You?
Financial Freedom Forever is a waste of time because it doesn't offer any value. If you're looking for a genuine way to earn money online through affiliate marketing, you should click here.
Financial Freedom Forever Exposed!
1). Who Are The Owners?
These programs are usually run by the same culprits that are linked to a lot of the scams we've reviewed. To avoid detection, they pay actors to front the business and make it appear genuine.
Sadly, we couldn't find the details of the people behind this program. If they've taken so many precautions to stay hidden then they are obviously up to no good.
2). Customer Testimonials Are Fake
The program's website is full of customer testimonials from members that have supposedly earned a fortune through Financial Freedom Forever.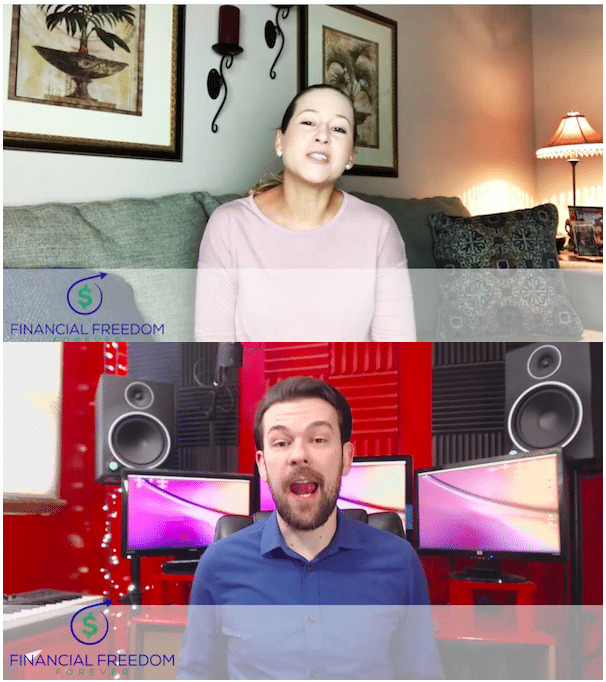 You will find video testimonials of members giving positive reviews about the program, but the truth is these are just actors hired from a freelancer marketplace named Fiverr.
If you take a look at the image below you will see the actor's Fiverr profiles advertising their services. It's easy to pay someone $25 to say whatever you want about your product!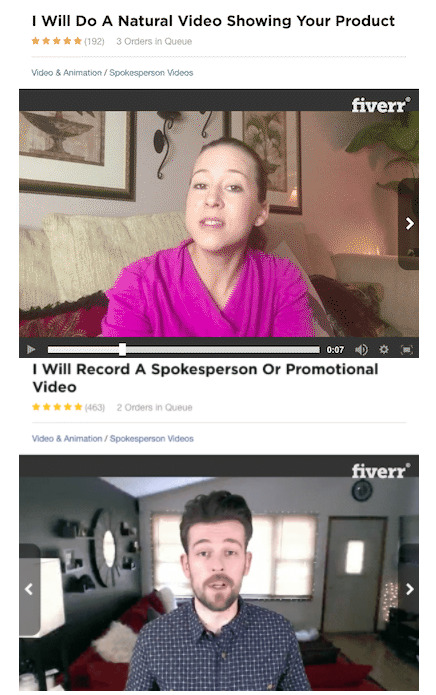 The actor's faces are familiar because they front many other scam programs with a similar business model as Financial Freedom Forever.
3). Overstated Earnings Claims
Obviously, the money claims made by Financial Freedom Forever are wildly hyped up. It's true that genuine successful affiliate marketers make thousands of dollars in daily profits, but to get to this stage, they would have put in a lot of work for many months and years.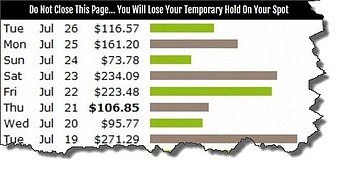 Affiliate marketing is a long term strategy. You need to dedicate a lot of time, but the rewards are worth it.
Anyone can fabricate false earnings like the one shown above. Therefore, it shouldn't be used to gauge your own success.
Financial Freedom Forever's income claims are probably just as fake as their customer testimonials.
Advantages of Financial Freedom Forever
Financial Freedom Forever comes with zero benefits whatsoever.
Is Financial Freedom Forever a Scam or Legit?
If you don't know by now, Financial Freedom Forever is a scam trying to disguise itself as an affiliate market program. Unfortunately, these type of programs give affiliate marketing a bad name.
This is merely a get rich quick scheme with the sole purpose of grabbing your signup fee. Furthermore, they are probably earning affiliate commissions from the plugins that you have to pay for.
We found fabricated customer testimonials and earning claims. Nothing about this program looks genuine. To make things worse, the owners are unknown so that they can make a quick exit once they've lifted enough cash from members.
I'd highly recommend staying away from Financial Freedom Forever.
How Do I Use The Internet to Make a Full-Time Salary?
I'm not a big fan of get-rich-quick schemes, let's just say that I've been caught short a few times.
Instead, Affiliate Marketing is my leading recommendation for people that want to build a thriving full-time online business working from home.
Here are my reasons why…
You can get started for Free.
There's no pressure to recruit family and friends, or anyone else for that matter.
You can create a business from virtually any product including the ones that you already buy. You are not limited to low-income programs or inferior products.
Affiliate marketing can help you to…
Generate a 4-Figure Monthly Salary and become financially free from the limitations of a traditional day job. You can do this in less than 12 months!
If you want to find out how I did it, Click Here!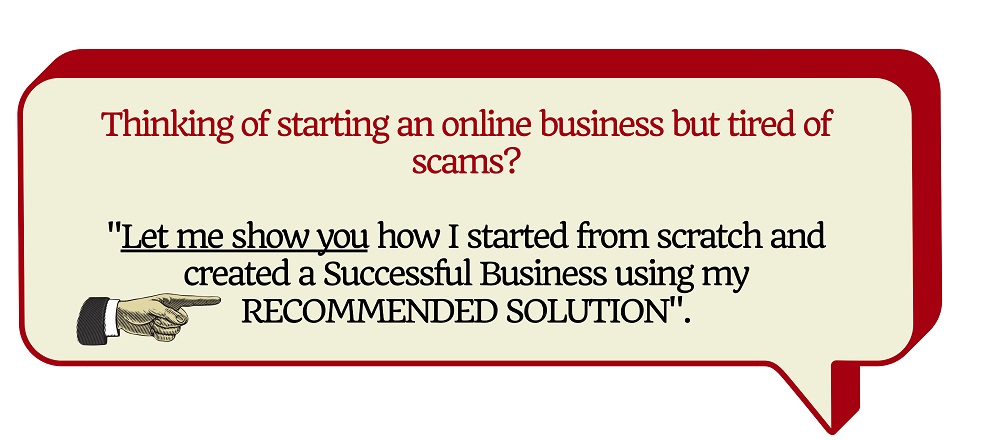 Similar Programs To Be Aware Of: