Is MyPoints a Scam?
Right off the bat, survey sites are incredibly popular, but most of them offer meagre rates of pay. They're are not designed to help you quit your day job. If a survey site suggests that it can make you a full-time salary then it's probably a scam.
Market research firms operate the majority of survey panels, but some of them are independent just like the one in this review.
Today we'll be checking out MyPoints to find out whether this paid survey site offers a decent amount of money for your time.
The fact that you've taken a moment to scrutinize this product before signing up should be applauded. You've done yourself a huge favour. Your due diligence will save you from potentially wasting your time and money.
A good bit of research always goes a long way in the fight against online scams. Creating a sustainable full-time online business is not difficult. You just need to know where to look.
Before we proceed, I'd like to let you know that I'm not linked to MyPoints in any sort of way and I'm not trying to sell you this product.
Instead, I'd like to show you whether this ordinary survey site can offer big financial rewards…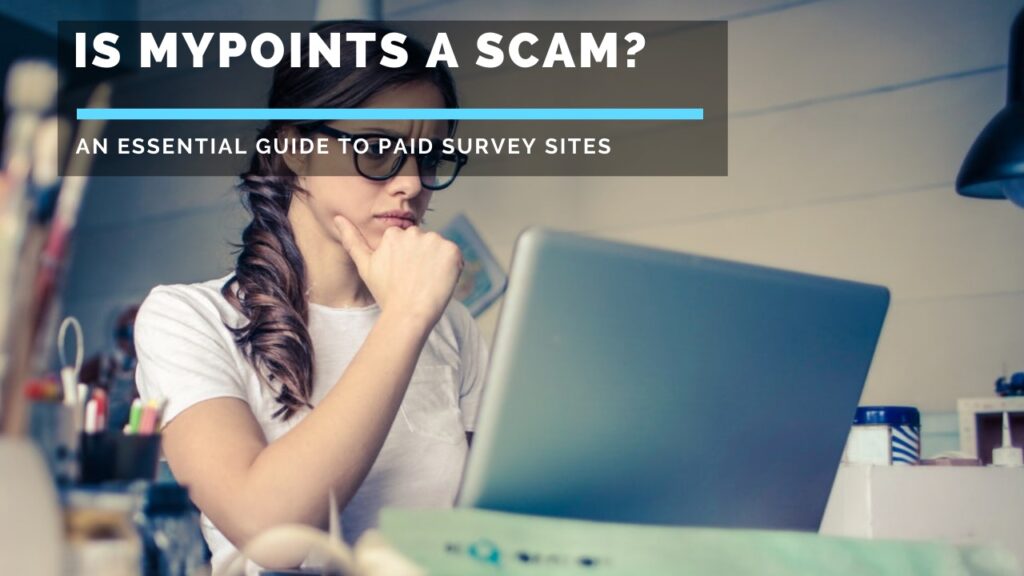 MyPoints Product Review
Name of Product:  MyPoints
Owner:  Prodege LLC
Type of Product:  Paid Survey
Cost of Product:  Free to Sign Up
Who Is This Product Best For?  NOBODY!
MyPoints Product Summary
MyPoints is a survey program created by the people behind the famous Swagbucks. However, it's nothing like its sister site. The program has various problems such as the random closing down of member accounts. Today, we'll tell you everything you need to know to decide whether this survey site is worth signing up to.
Product Rating: 50/100
Would I Recommend This Product? Definitely Not!
Recommended: Discover How You Can Build a Full-Time 4-Figure Monthly Income With The Help Of Leading Experts. Everything Needed Can Be Found Here
MyPoints Background
MyPoints is a paid survey program that was created back in 1996. The platform belongs to a company called Prodege LLC, the same people that own Swagbucks. If you've never heard of Swagbucks it's one of the largest survey sites and is on par with giants such as Survey Junkie.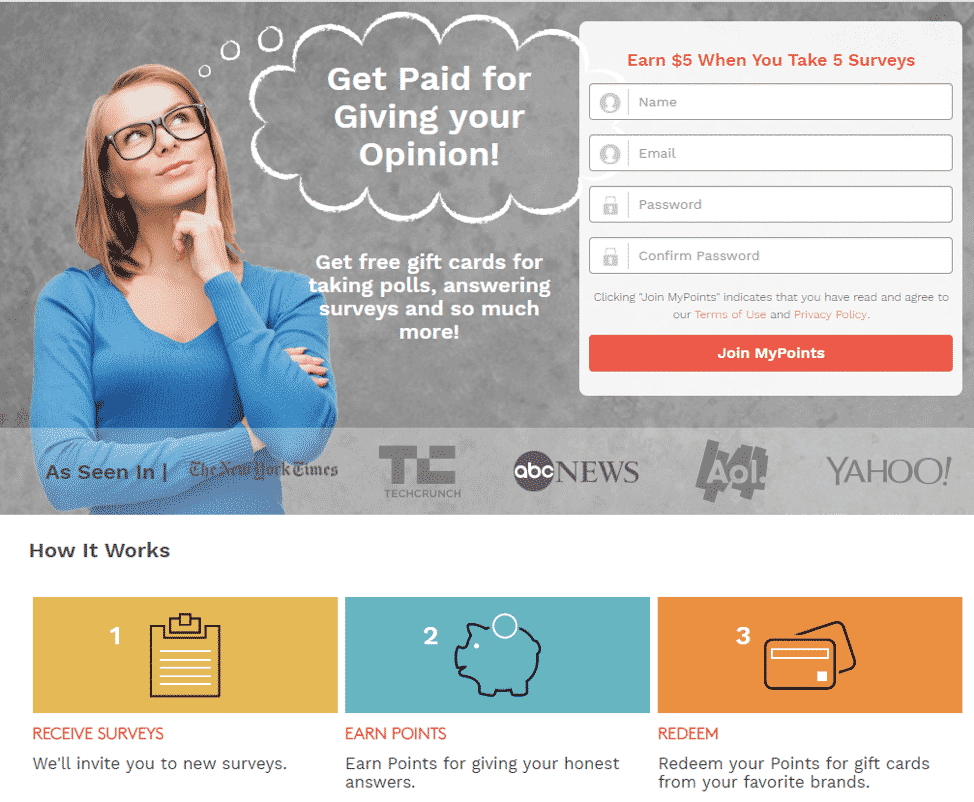 MyPoints is an intermediary between its client (companies that want consumer data) and its members (people willing to provide that data in exchange for payment). Your feedback is essential as it helps to enhance the client's services and products.
You can earn a bit of money with MyPoints, but before we get to that let's check out what the program can offer you.
Exploring MyPoints
It's free to sign up with MyPoints. The program is open to US or Canadian citizens who are a minimum of 18 years old. We're not told whether the program can be accessed by people outside of these countries.
Similar to the other survey sites that we've reviewed, MyPoints does not offer any unique features. What you get inside the program is what you will find with most of the other sites out there.
How Do You Profit With MyPoints?
Once you've joined the program, you can begin earning points. The platform uses a points system which lets you monitor the amount of money you're making and what you will be paid for each task.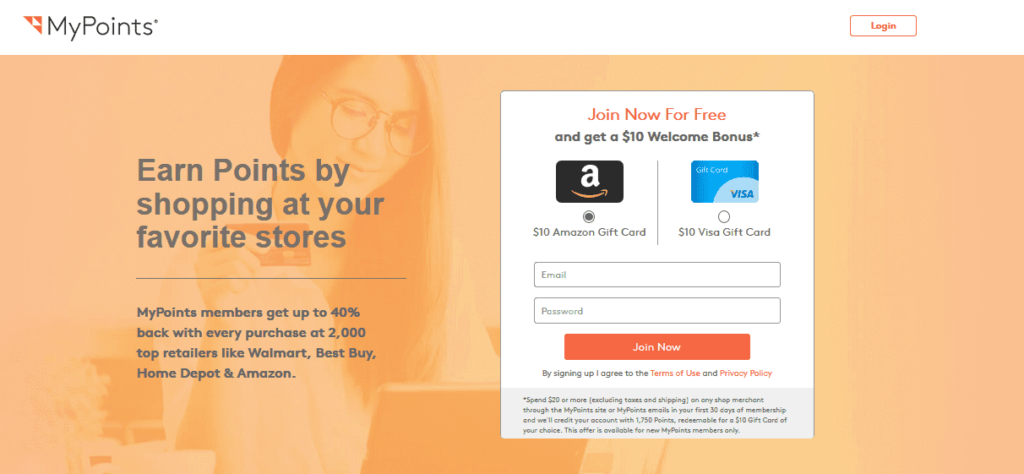 Your goal is to gather enough points to withdraw cash or swap them for miles or digital gift cards.
Surveys – the majority of tasks available on MyPoints are surveys. You can participate in surveys as long as you meet the demographic requirements for each one.
Online shopping– the platform is linked to over 2,000 retailers. You can enjoy various cashback benefits when you buy stuff online from these retailers.
Reading email– this task allows you to earn money when you read emails. Various emails will be sent to the email address that you signed up with. You will earn points when you open and read them.
Local deals– you'll occasionally get the opportunity to gather points from sites like LivingSocial Goods, Groupon and various voucher sites.
Watching videos- this is a common task found in many of the survey or Get-Paid-To sites we've come across. You can select a list of videos that appear on your dashboard and receive points for watching them. The videos are generally adverts that play for 30 seconds.
Surfing the web- yep, you can get paid to surf the net. The program comes with its own search engine powered by Yahoo! and gives you points when you use it.
Print coupons- you can collect points for printing and redeeming MyPoints coupons. The coupons will be based on your area, therefore, you will not have access to all of them.
Playing games- MyPoints gives you points for playing games. You will need to play until get to a certain level or reach a predefined score.
Refer your friends- thankfully, MyPoints comes with a referral system which means that you will earn points when a new member joins the program via your referral link. You will receive 10% of the member's qualifying points.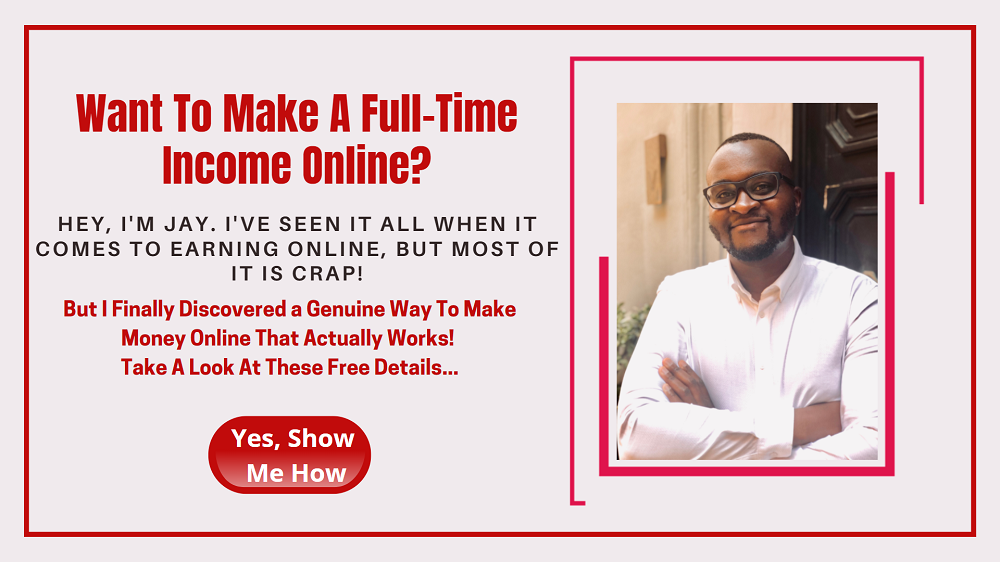 Does MyPoints Have a Mobile App?
Yes, it does! With the mobile app, you can complete tasks whilst you're out and about. The app can be found in the Apple store and Google Play.
However, the app is called Daily Scoop and it might not offer you similar tasks like the ones found on the program's site. It's unclear why there's a difference between the two.
How Much Do You Get Paid By MyPoints?
Each survey pays between 50 – 100 points which equates to about $0.35 – $0.75. You'll receive 25 points for referrals and you'll earn 75- points when you buy an eligible product costing over $20 from one of their partner sites.
Minimum Payout
You need at least 480 points which equates to an Amazon gift card worth $3. If you prefer to swap your points for money, you'll have to accrue points that equate to $25 or 4,200 points. Cash payments are paid via PayPal.
$25 might look like a high threshold but it's worth noting that this is the industry standard. In some instances, we've come across a few survey sites with a minimum cash withdrawal threshold of just $5.
Recommended: Everything Needed To Create Your Full-Time Online Business From Scratch Can Be Found Right Here
Is MyPoints The Right Product For You?
There are too many survey sites online and MyPoints is no different from any of them. Here are my reasons why…
MyPoints Exposed!
1). Prequalifying Surveys
MyPoints members have complained that the pre-qualifying surveys are very long. The worst thing is that you don't get compensated to complete these surveys, and they have to be done for every 10 surveys that you finish.
2). Spam Emails
Another problem with MyPoints is the sheer amount of email spam that you'll be inundated with from their clients. You can expect an increase of emails in your inbox.
Most of these emails will come from third parties that are not direct clients of MyPoints. Their terms and conditions even state that they can't control what happens to your information once it's given to clients.
3). Deactivated Accounts
They are problems with many members getting their accounts randomly shut down for no apparent reason. The customer support team isn't great at providing reasons for account closures. They just give you a generic response.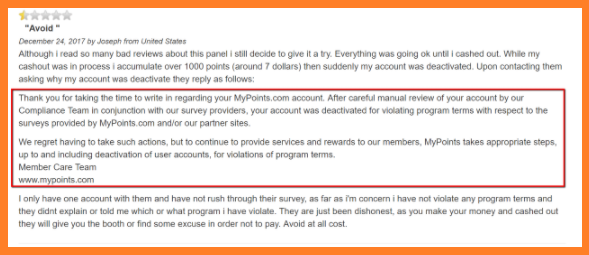 The customer service at MyPoints could do with some improvements especially when you take into account that they are handling your personal details.
Recommended: Tired Of Working In A Dead-End Job? Let's Get Your Passion Project Off The Ground
Advantages of MyPoints?
1). Several Ways To Make Money
The good thing about MyPoints is that they are several ways to profit with their program and as such, you don't need to purchase products from their online partner sites unless you actually need/want them. Cashback saves you money on your shopping, but it doesn't actually make you money.
Is MyPoints a Scam or a Legit Program?
MyPoints is a genuine paid survey program. It's owned by the same people that run one of the largest online survey sites but it's nowhere near as good as SwagBucks.
One of the major drawbacks of MyPoints is that member's accounts are closed down without any specific reason provided. The customer support team exacerbates the issue by giving generic responses to member closure complaints.
The earnings are minimal and at best, you'll be paid a few dollars for a month's worth of consistent work and a considerable amount of time.
How Do I Use The Internet to Make a Full-Time Salary?
I'm not a big fan of get-rich-quick schemes or paid survey sites, let's just say that I've been caught short a few times.
Instead, Affiliate Marketing is my leading recommendation for people that want to build a thriving full-time online business working from home.
Here are my reasons why…
You can get started for Free.
There's no pressure to recruit family and friends, or anyone else for that matter.
You can create a business from virtually any product including the ones that you already buy. You are not limited to low-income programs or inferior products.
Affiliate marketing can help you to…
Generate a 4-Figure Monthly Salary and become financially free from the limitations of a traditional day job. You can do this in less than 12 months!
If you want to find out how I did it, Click Here!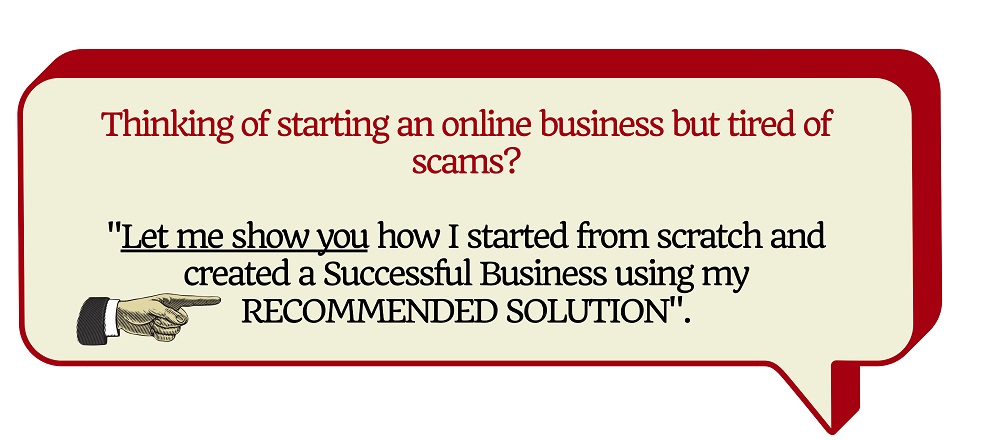 Similar Programs To Be Aware Of: