Is Earnhoney a Scam?
"Get Paid To" sites offer a decent way to make a bit of extra cash online. They can't provide you with a full-time income to replace your day job, but as a side hustle, to make a small additional income, they work well.
In today's review, we'll be looking at a site called EarnHoney to see if it offers a decent income or if it's a complete waste of time.
The fact that you've taken a moment to scrutinize this product before signing up should be applauded. You've done yourself a huge favour. Your due diligence will save you from potentially wasting your time and money.
A good bit of research always goes a long way in the fight against online scams. Creating a sustainable full-time online business is not difficult. You just need to know where to look.
Before we proceed, I'd like to let you know that I'm not linked to EarnHoney in any sort of way and I'm not trying to sell you this product.
Instead, I'd like to show you whether this paid survey site can make you a sufficient amount of money…
EarnHoney Product Review
Name of Product:  EarnHoney
Owner:  Michael Sheng
Type of Product:  Paid Survey Intermediary
Cost of Product:  Free to Sign Up
Who Is This Product Best For?  People who don't mind taking surveys
EarnHoney Product Summary
EarnHoney claims to be a paid survey platform that rewards members to complete various "Get Paid To" tasks. There's nothing that stands out about this program, therefore, I'm not recommending it at the moment.
Additionally, the income opportunity is minimal. At best, you will make a tiny amount of extra cash, but you will need to complete a lot of tasks to achieve this.
Product Rating: 50/100
Would I Recommend This Product? Definitely Not!
Recommended: Discover How You Can Build a Full-Time 4-Figure Monthly Income With The Help Of Leading Experts. Everything Needed Can Be Found Here
What is EarnHoney?
EarnHoney is a free GPT or "Get Paid To" rewards site that pays you to do various tasks, from doing surveys to watching videos.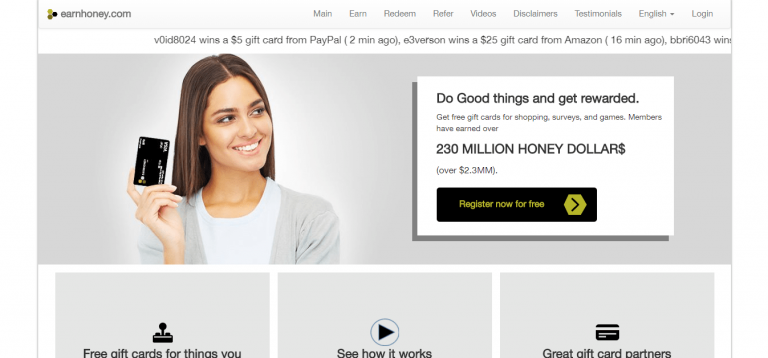 EarnHoney was established towards the end of 2014. Since then, the business has maintained a score of B- on Better Business Bureau. The company's Chief Executive Officer is Michael Sheng and their offices are based in Norwalk, Connecticut .
Exploring EarnHoney
Getting started with EarnHoney is straightforward. To kick things off you'll need to watch an introductory video, then you'll be rewarded with 30HD$ once you've watched it.
HD$ is the currency that's used inside the platform. It stands for Honey dollars and 1 HD$ is equivalent to $0.01.
You can earn money in different ways using EarnHoney:
1). Paid Surveys
Taking paid surveys is the prevailing method to earn through the platform. You can either take surveys directly from Earnhoney or surveys from their clients or both.
No two surveys are the same, they differ in length. You get paid more money for longer surveys.
2). Watching Videos
One of the most popular income streams from the program is through watching various videos. You have access to a variety of videos about different topics. Thankfully, your demographics do not affect the availability of videos.
But the process of watching videos is laborious.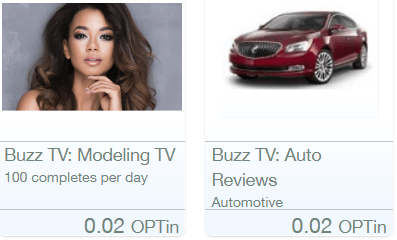 Firstly, you need to choose a topic of videos that you'd like to watch. From there, you'll be redirected to a page that details the terms and conditions of that specific topic.
Before you can proceed, you'll need to click the Facebook link which takes you to the page of partner hosting the video that you're about to watch.
From there, you'll eventually be taken to the website containing the video. It's a long process to actually get to the video, and you will need to do this for each video.
The payment is not great either. You'll be paid just a few cents to watch several videos.
You'll have to watch around 50 videos to earn 10 cents, based on the rates shown above.
This hardly seems like it's worth the effort, especially when you consider that you'll spent a lot of time being redirected to numerous pages. A large portion of their videos are hosted by their partners, therefore, the rewards will be paid through OPTins, which are then transferred into HD$.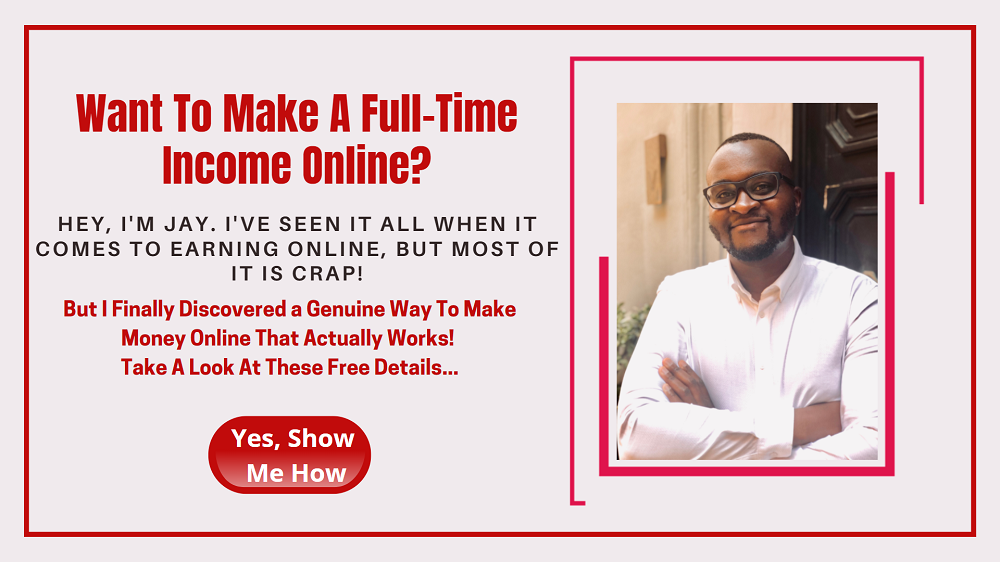 3). Participate in Various Offers
Participating in paid offers will also increase your earnings through GPT websites. However, this is on the proviso that you provide your credit card details.
You will take up offers, like complimentary trials or subscriptions and so on. You will earn a bit of extra cash for this, but don't forget to keep track of your subscriptions and cancel them once you receive your rewards, to avoid your charges on your credit card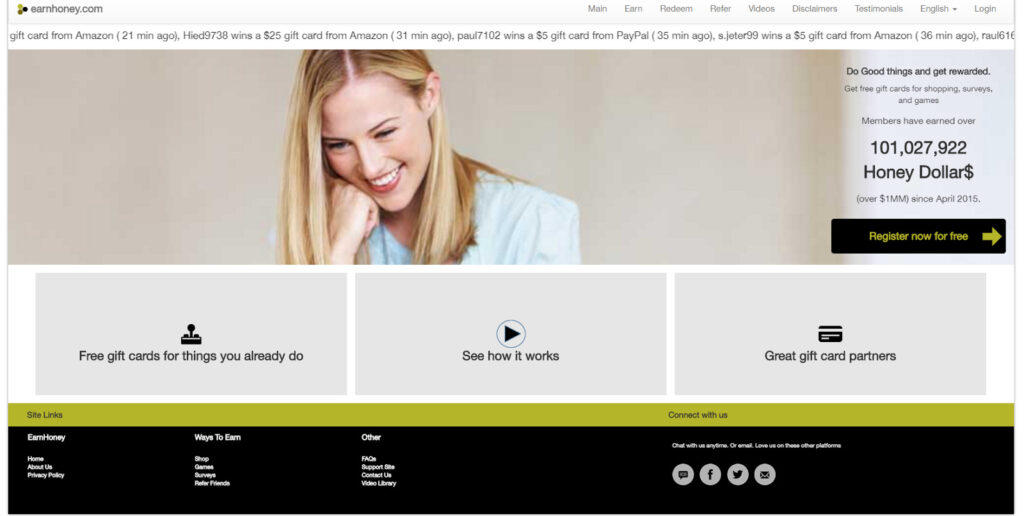 4). Playing Games
Additionally, you can make money by playing games. You'll earn a few cents every now and again, but it's not much.
Certain games will need to be downloaded to your mobile device, you'll then play several rounds before you're credited. You should also be aware that certain games are hosted by a different website on their network instead of EarnHoney.
Again, you will be rewarded via OPTins that are transferred to HD$.
5). EarnHoney Codes
Occasionally, you'll come across different codes that can be used to make a bit of money or OPTins.
These codes can be found on the company's social media accounts or their partner's websites. If you find a code on a partner site, you will be rewarded with OPTins which will be turned into HD$.
How Much Cash Can You Make With EarnHoney?
This is the question you've probably been waiting to be answered.
EarnHoney states that you can supposedly earn three times more than their competition if you use them.
Expect to be watching hundreds of videos, taking hundreds of surveys and signing up to lots of offers using your credit card to make just a few dollars. Don't expect to turn this into a full-time business, or to make even a few hundred dollars.
Who Can Access EarnHoney?
EarnHoney is only open to US residents. If you try to access the program from a different country you will only see a limited set of opportunities.
Recommended: Everything Needed To Create Your Full-Time Online Business From Scratch Can Be Found Right Here
Is EarnHoney The Right Product For You?
EarnHoney is designed for people that don't mind carrying out small tasks in their spare time, however, you will not make much money compared to opportunities such as Affiliate Marketing.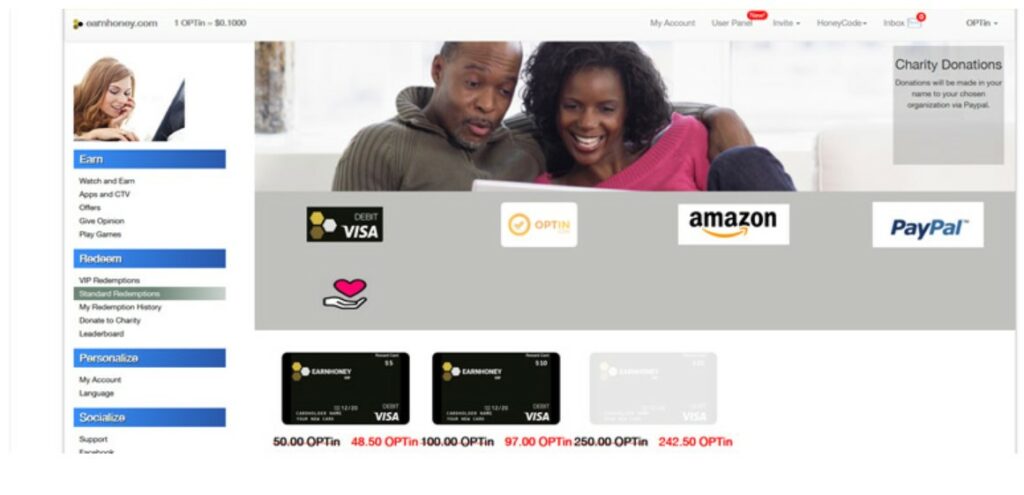 EarnHoney Exposed!
1). Unreliable Videos!
They've been complaints on BBB from members stating that some of the videos failed to play. A quick look on the review section of EarnHoney's BBB profile shows that this is an ongoing problem. If they make you jump through hoops to get to the content, the least they can do is ensure that the videos work.
This issue will also mean that you can't make the most of the earning opportunity.
2). Issues With Prize Redemptions
Some of the negative feedback revolves around an inconsistent prize redemption process. Members have experienced delays with the arrival of gift cards or payment.
Some members have even been rejected from claiming prizes but this could be because they've tried to use questionable tactics to get around some of the tasks.
3). Minimal Earnings
To work out just how low the earnings are with any potential program that's reviewed on this site I calculate the hourly rate for that platform and weigh it up against the national minimum wage. Therefore, any systems that I consider to be low earners are those that don't match up to the minimum wage.
With EarnHoney you'll be performing hundreds of small jobs but only making a few dollars. It will take you several hours to earn a tiny amount of money, therefore, this earning opportunity is lower than the majority of paid survey sites we've looked at.
Recommended: Tired Of Working In A Dead-End Job? Let's Get Your Passion Project Off The Ground
Advantages of EarnHoney
To be honest, there's nothing unique about EarnHoney, it's a typical "Get Paid To" site.
Nonetheless, the positive thing is that it does not use the underhanded tactics that we've found on other survey sites such as stealing your personal data or finding ways to not pay you.
It's free to join and you don't get nuisance calls or spam in your inbox.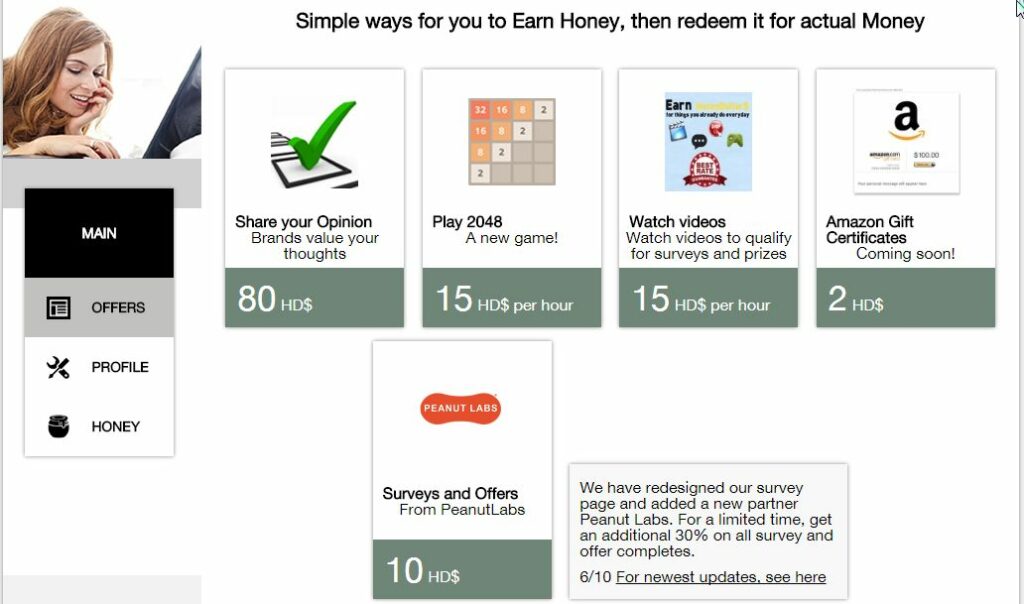 Is EarnHoney a Scam or a Legit Company?
EarnHoney is a genuine survey site. They've not shown any red flags of questionable practices and they're not trying to scam you.
However, if you're hoping that EarnHoney can make you enough money to replace your day job then you're better off looking elsewhere.
The earnings are minimal for the amount of work that you need to put in. You'll be making a few cents for each job, therefore, you need to do a lot to earn just $1.
The opportunity is also problematic because of several issues. Videos fail to play and redeeming prizes can be hit or miss.
Nonetheless, if you like the idea of earning some spare change in your spare time at your own pace, EarnHoney might just be the product for you.
How Do I Use The Internet to Make a Full-Time Salary?
I'm not a big fan of get-rich-quick schemes or paid survey sites, let's just say that I've been caught short a few times.
Instead, Affiliate Marketing is my leading recommendation for people that want to build a thriving full-time online business working from home.
Here are my reasons why…
You can get started for Free.
There's no pressure to recruit family and friends, or anyone else for that matter.
You can create a business from virtually any product including the ones that you already buy. You are not limited to low-income programs or inferior products.
Affiliate marketing can help you to…
Generate a 4-Figure Monthly Salary and become financially free from the limitations of a traditional day job. You can do this in less than 12 months!
If you want to find out how I did it, Click Here!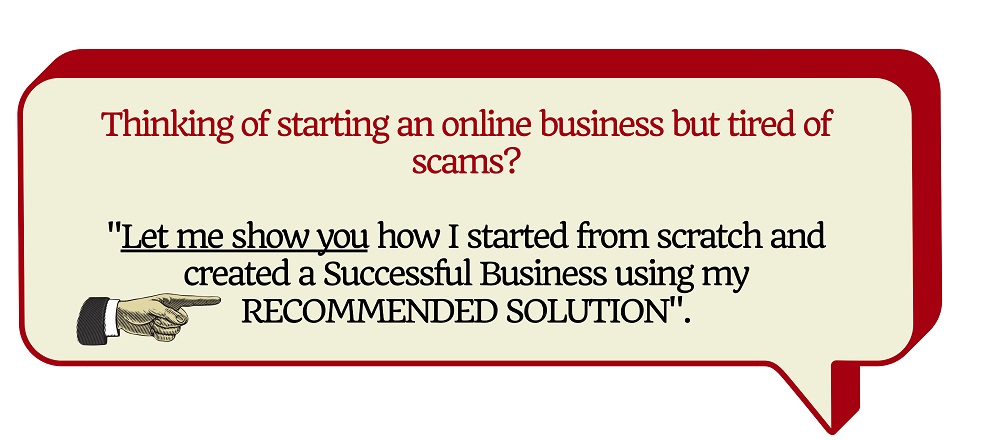 Similar Programs To Be Aware Of: