Is it really possible to earn up to $75 per survey? Click 4 Surveys claims that their members are making this type of money with their program. Can they be trusted or is are they just another scam circulating online?
I'm not going to beat around the bush, Click 4 Surveys is definitely a scam and I'm going to expose what's really happening behind this system and why you should avoid it.
Click 4 Surveys Review
Name of Product: Click 4 Surveys.
Owner: Daniel Cooper Anonymous.
Type of Product: Paid Survey Site.
Cost: $34 + Upsells.
Who is this Product Best For? The Owner.

Click 4 Surveys Summary
Click 4 Surveys is fee-paying membership that allows you complete surveys for money. The person/people behind this product are using immoral tactics to take hard-earned money from innocent people and keep it for themselves.
Product Rating: 5/100
Would I Recommend This Product? Not a Chance!
Highly Recommended: Discover how you can build a Full-Time 4-Figure Monthly Income with No Previous Experience.
How Does Click 4 Surveys Work?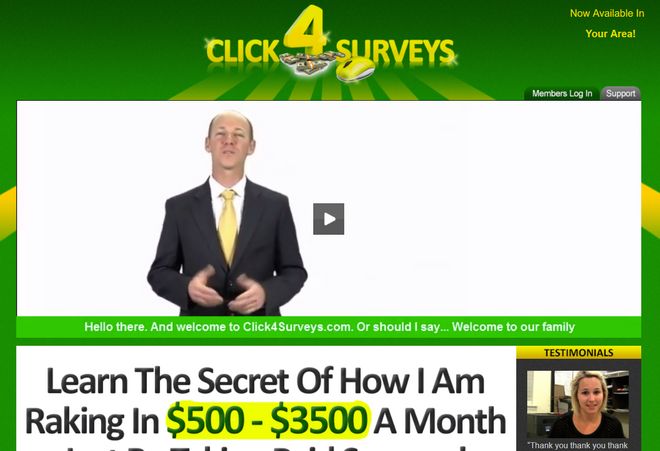 Click 4 Surveys acts as a middle man for various survey sites and supposedly helps you to earn cash by taking online surveys. Sounds simple enough right?
Big businesses all over the globe are throwing money at market research to better understand customer spending behaviors.
Therefore, these businesses will pay survey companies to seek out people like you and I to complete various surveys in exchange for money.
That is a general overview of how online paid surveys industry. So now let's take a moment to find out how Click 4 Surveys is claiming that they can benefit you.
Irrational Claims Made by Click 4 Surveys
Click 4 Survey's homepage is littered with unbelievable claims that verge on irrational in a bid to attract unknowing victims to their worthless program.
These are some of the guarantees made to you:
Earn between $50 to $150 per hour.
Make profits of $500 to $3500 per month by simply completing surveys.
Make $5 to $75 per survey.
Transform your fortunes with Click 4 Surveys.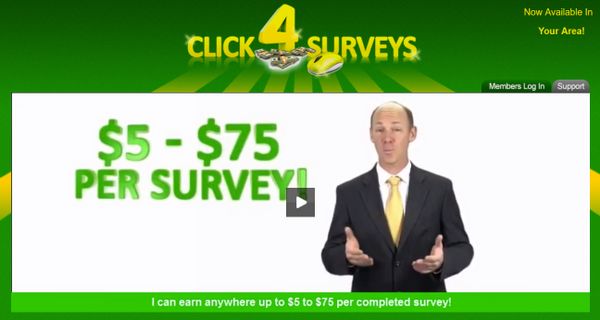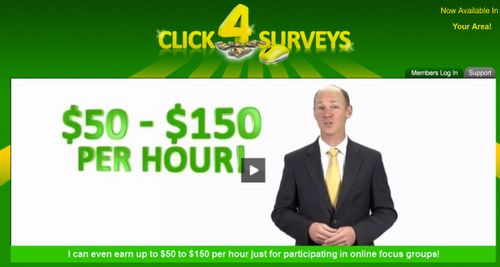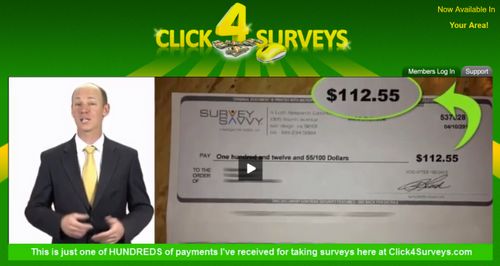 Essentially, Click 4 Surveys uses common marketing techniques to create the illusion of a profitable product that can change your life. It's total BS!
A guy called Daniel Cooper claims that the program saved him from financial ruin as a result of completing surveys through Click 4 Surveys.
Before that, Daniel was in debt, however, he was able to get himself out of the red by generating thousands of dollars each month. What a compelling story! (can you see my sarcastic face?)
The reality is that it's practically impossible to earn thousands with online surveys. If you're lucky you can earn a few bucks to pay off small bills, however, you will need to spend a huge amount of time just for that.
Click 4 Surveys makes bold claims that are totally unfounded. In fact, it's the only survey site making such brazen promises.
There is hardly any money to be made by taking these long-winded surveys which take up a lot of time to get through.
The next few sections will reveal the pitfalls of Click 4 Surveys and show you why it's not worth your money or time.
My Top Recommendation: Access Market Leading Affiliate Marketing Training to Create a Full-Time Income.
Click 4 Surveys Exposed!
(1) False Testimonials
I'm not surprised to see that Click 4 Surveys is riddled with false testimonials.
The testimonials are either fabricated by the owner or a "spokesperson" has been paid to provide a fake video testimonial pretending to vouch for the product's authenticity.
Sadly, it's easy to get a bogus testimonial through sites such as Fiverr.com. Click 4 Surveys has taken advantage of this service and loaded their sales video with actors staging as "successful" members.
Here's the proof below: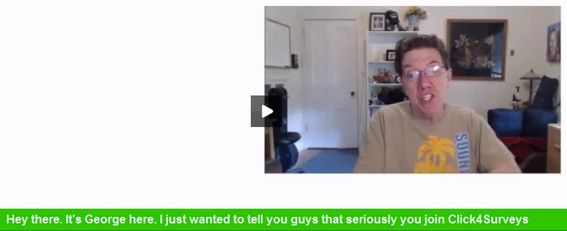 This is clearly a false testimonial provided by "George".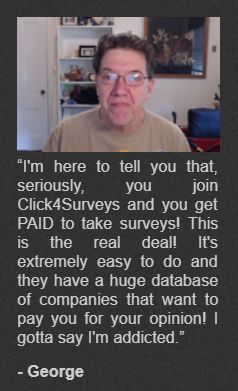 This person offers spokesperson services on Fiverr for as little as $5. In other words, a false testimonial can be obtained for very little money.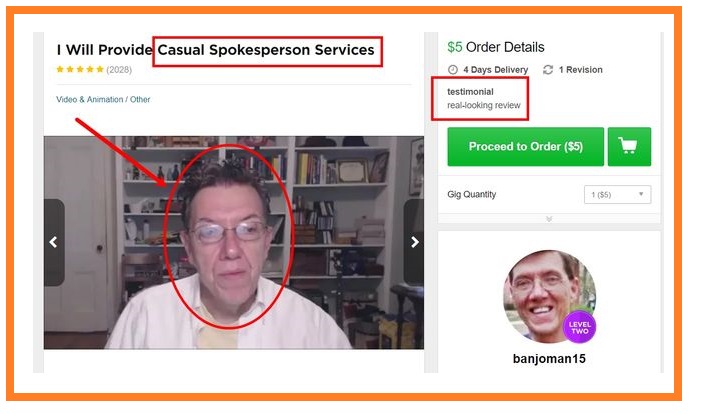 Don't be surprised to see this guy's face featured on multiple scam products. He's trying to cash in on the growing number of online scams try to boost their credibility with customer testimonials. The problem is that they're all fake! You can find the actor's profile page here.
It just goes to prove that Click 4 Surveys is a low-quality product if it needs to rely on dishonest tactics as a sales gimmick.
In addition to this, the owners have also used stock images to increase the appeal of other testimonials.
Can you honestly trust Click 4 Surveys to deliver on their promises? Absolutely not!
(2) False Sample Survey
Their homepage showcases a sample survey which you can complete: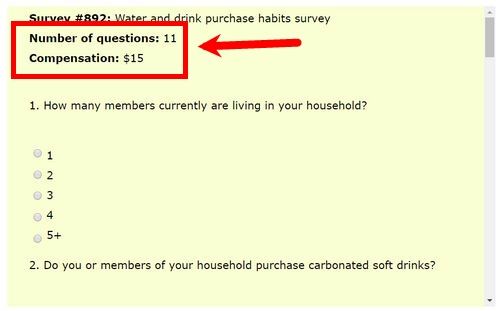 The survey contains 11 questions which can be completed in less than 2 minutes. Apparently you can earn $15 for these types of surveys.
For this example, you are asked easy questions such as "How often do you buy bottled water?" , "How many people reside in your household?" and so on.
If this is how easy it was to make $15 from a survey in under 2 minutes then we'd all be stinking rich!
This couldn't be any further from the truth.
(3) What is Pay-to-Play?
Pay-to-Play requires you to make a payment before you can complete a survey.
However, WikiHow states the following:
A legitimate survey site won't ask you to pay them to take a survey-so they can pay you. That's just passing money back and forth, and it's not a legitimate business model.
Click 4 Surveys is a survey site that asks for money to use survey services, therefore, you should steer clear from them.
(4) False Paid Survey Site
My biggest issue with Click 4 Surveys is that it is NOT actually a survey panel. It doesn't even work with market research businesses as originally suggested. It's all a big smokescreen! But I'm not surprised.
The truth is that Click 4 Surveys is a shady affiliate system which persuades its members to sign up to a variety of other survey sites.
Once you've paid for Click 4 Surveys, you are provided with training on how to use their system, however, before you can start completing surveys, you are asked to join multiple survey companies.
The reality is that the people behind Click 4 Surveys are making bigger profits as you continue to sign up to more survey sites. They are making a commission every time you join one of their recommendations.
Do you want to know something about these surveys? They can all be found online free of charge. There's no need to give Click 4 Surveys any of your money to take surveys.
The sad part of all this is that you'll never earn the type of money that you're originally promised. Click 4 Surveys doesn't even administer any of your profits once you've paid for their product.
The profits that you earn from taking surveys is down to the survey site which you join. These companies will be responsible for paying you, therefore, Click 4 Surveys has nothing to do with it. So, why are we paying them?
Are You Tired of Scams? Join My Top Recommended Product Here!
(5) Affiliate Promotion!
If you didn't already know, Click 4 Surveys is an affiliate site cleverly disguised as a survey company. They go to the extent of asking you to join their affiliate program so that you can promote their worthless product. How cheeky is that?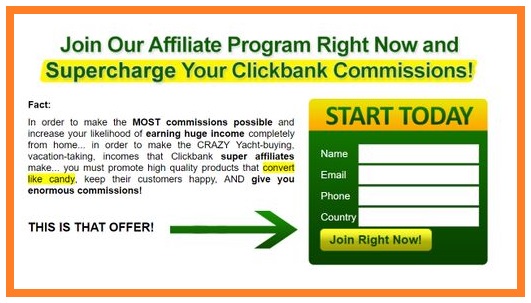 The above screenshot shows you the Click 4 Surveys affiliate program promotional page. If you decide to join their affiliate program and market their system, you'll essentially be an affiliate's affiliate!
(6) Anonymous Owner
The name Daniel Cooper crops up throughout the sales video but we're never really sure if he is the real owner or if that name is genuine or not.
My guess is that Daniel Cooper is a fictional character fronting this product. An online search doesn't come up with any results and just goes to prove that the people behind this product want to remain elusive.
After all, why would they want to be easily contactable when they know that their product is worthless and unethical?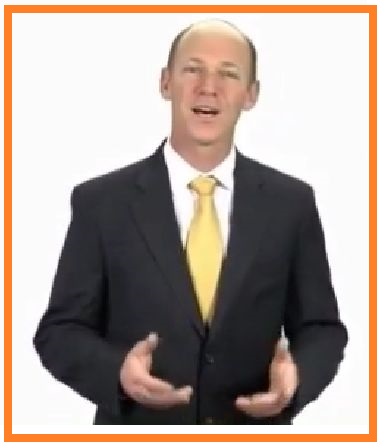 Daniel Cooper is mostly likely a made-up name.
(7) Watch out for the Downsell
Let's take a look at the price of the product.
The sales page doesn't show the cost of the product. Instead, you are initially asked to provide your first name and email details.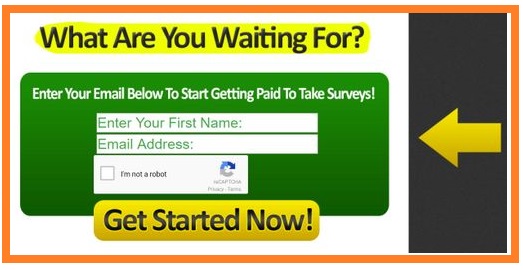 This is a clever tactic because the company first obtains your contact details prior to revealing the sign-up fee. This allows them to send you a series of emails later on if you decide not to buy the product immediately.
Once you've entered your name and email address, you'll be taken to the product's pricing page: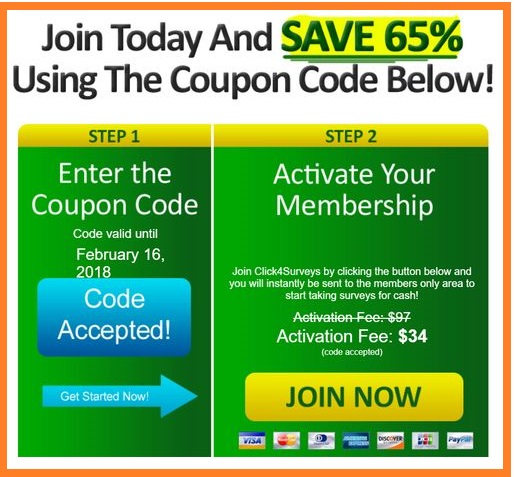 Apparently, the original price is meant to be $97 (What?!). However, there's a discount code that you can use to get a 65% reduction.
Once you've used the discount code, the cost is slashed down to $34. Guess what happens if you decide that you don't want to buy Click 4 Surveys and you try to leave the page? A notification pops up offering you another big discount.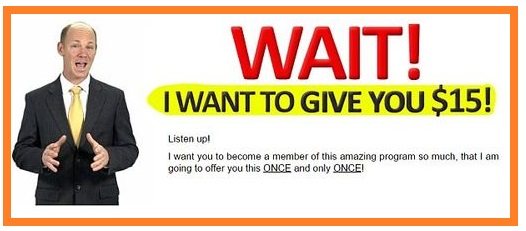 The cost of Click 4 Surveys drops all the way down to $19. This type of downselling shows how far the group is willing to go to grab your money in exchange for a useless program.
(8) Dishonest Upsell
Once you've purchased Click 4 Surveys you'll be directed to the membership area below: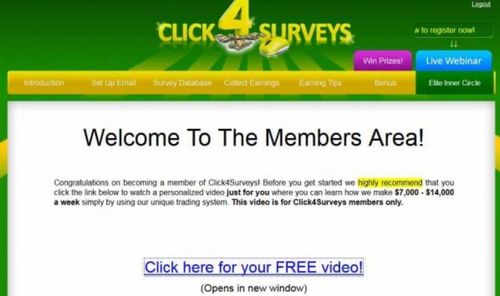 ​You'll be encouraged to watch the free video using the link provided. As soon as you click the link you are redirected to another unscrupulous page with numerous Upsells.
The products are nothing more than unrelated scams that Click 4 Surveys is profiting off of. Think about it, Forex trading software is completely unrelated to surveys, so, why is it there?
Clicking the link multiple times will send you to many different sites all trying to sell you their products which Click 4 Surveys earns a commission if you buy.
This is an immoral way to run a business. Click 4 Surveys is essentially charging you a membership fee to merely click on worthless links.
(9) Empty Promises
The final straw is one that I wrote about earlier. Click 4 Surveys reassures you that they are an online survey company that will turn your life around and essentially speed up your journey to financial freedom.
I can assure you that it's virtually impossible to make lots of money from online surveys. Anyone that tells you otherwise is either trying to make a quick buck off of you or has been lied to themselves.
Taking surveys will NOT change your life. If you're trying to figure out ways to work online and build a successful business from home then you should take a look at My Top Recommended Program here!
Click 4 Surveys Advantages
​(1) 60-Day Refund Policy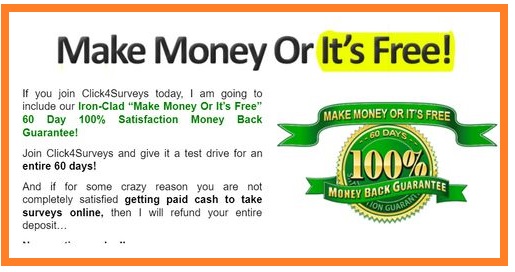 The only advantage about Click 4 Surveys is that it provides a 60-Day refund policy.
The product is sold through ClickBank, therefore, it's covered by their money back guarantee. If you're not happy with the product you can request a refund, however, you should be aware of ClickBank's refund terms.
Over the years, ClickBank has tightened up their refund policy making it harder for customers to claim their money back without a compelling reason.
​​​​​Is Click 4 Surveys a Scam?
The person or people behind Click 4 Surveys are using very shady techniques to sell this product under false pretenses and as a result, I would wholeheartedly state that Click 4 Surveys is a scam.
Unfortunately, this program is part of a long list of questionable products currently available on ClickBank. Click 4 Surveys is NOT an actual survey site, instead, it's unethical affiliate system trying to make as much money from you as possible.
If you do come across a genuine survey site just remember that there is very little profit to be made from taking surveys and in addition to this, it's very time-consuming.
If you're looking for opportunities to make a full-time or part-time salary online then you should follow the link below:
My Top Recommendation: Access Market Leading Affiliate Marketing Training to Make a Full-Time Income.

How Do I Use The Internet to Make a Full-Time Salary?
Like with anything else, making money online is a skill that can be learnt, it only requires a bit of dedication and consistency but it's totally worth it when you can one day walk into your boss's office and fire him/her.
I've personally learnt how to generate a monthly income stream, with no previous knowledge. I can work where I want and when I want. You can do the same too. Find out more here.