Can You Make Money With Grubhub?
Most people are working from home due to the pandemic and as a result, food delivery businesses like UberEats, FoodPanda, DoorDash, Grab have thrived. People have enjoyed comfort food being delivered straight to their door.
To survive, restaurants have turned to take-out options and started using food delivery services to fulfil these orders.
As such, there has been an increase in delivery driver jobs to meet this demand.
In today's review, we'll be looking at a popular food delivery business called Grubhub to see if it offers a decent salary.
The fact that you've taken a moment to scrutinize this product before buying it should be applauded. You've done yourself a huge favour. Your due diligence will save you from wasting money and time.
A good bit of research always goes a long way in the fight against online scams. Creating a sustainable full-time online business is not difficult. You just need to know where to look.
Before we proceed I'd like to let you know that I'm not linked to Grubhub in any sort of way and I'm not trying to sell you this product.
Instead, I'd like to show you whether you can benefit from this food delivery gig…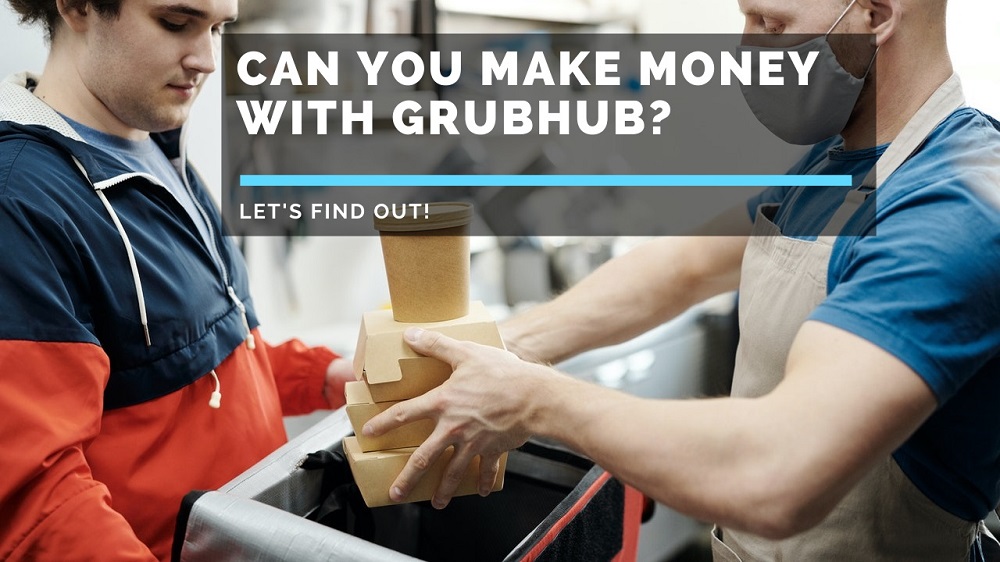 Grubhub Product Review
Name of Product Name: Grubhub
Owner: Grubhub and Seamless
Type of Product: Food Delivery Service
Cost of Product: Free To Sign Up
Who Is This Product Best For? If You've Got a Car or Bike
Grubhub Product Summary
Grubhub is an app that does food deliveries and is similar to UberEats or Grab. Unfortunately, the app has a few issues. There's lots of negative feedback from customers, therefore, it might be a challenge to secure deliveries if you drive for them. On the upside, drivers seem to enjoy the Grubhub gig, which is reassuring.
Product Rating: 50/100
Would I Recommend This Product? Yes and no!
Recommended: Discover How You Can Build a Full-Time 4-Figure Monthly Income With The Help Of Leading Experts. Everything Needed Can Be Found Here
Grubhub Background
Grubhub is a food delivery service that was created in 2004. It's one of the most established businesses in this sector with many years under its belt. In 2013, it merged with Seamless, another food delivery service. This merger opened up its service to all states.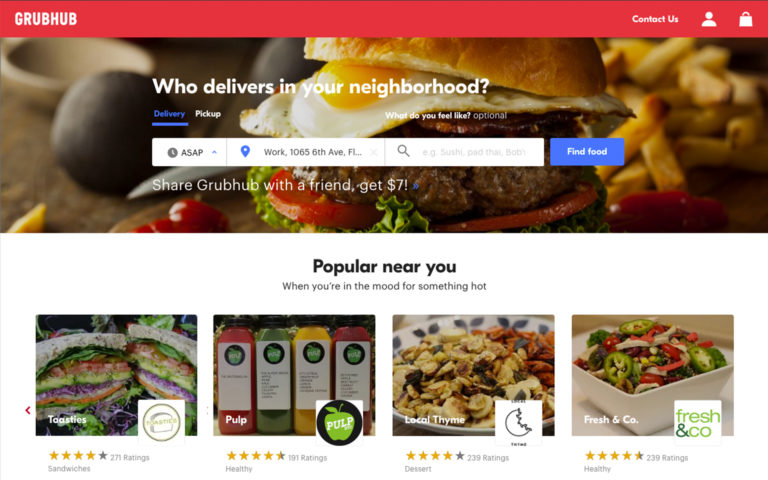 Grubhub uses drivers from more than 4,000 cities in the US and works with local restaurants as well as large food chains, giving them access to a huge network of food and restaurant establishments.
It's easy to see why the app is popular with customers which means more delivery opportunities for drivers.
Exploring Grubhub
Below is a summary of requirements if you want to be a Grubhub driver-
Minimum age of 19 years old (if you're from Chicago or Las Vegas, the minimum age is 21 years old)
Own a car (or bike in some states)
Car drivers need to have a valid driver's license and car insurance
Bike riders need to have a valid driver's license or state I.D.
Own a smartphone with iOS 11 or higher or Android 5.0 or higher
A valid checking account for payments by direct deposit
You can apply to be a Grubhub delivery driver if you have all of the above. Once you've completed your application, it should take between 3-5 days.
You'll also need to consent to a background check via the app. Grubhub uses a separate company called Chekr to perform these checks. They look at your driving history and check for any criminal convictions for the last 7 years.
After the background check, you'll be asked to complete some paperwork with your driver details and provide your direct deposit details for your payments. From there, you will be taken through an onboarding procedure, which is completed online and takes several minutes. Here you'll be shown how the app works, scheduling a driving slot and the delivery procedure.
Grubhub will provide you with an insulated bag that keeps the food hot or cold while it's in transit. You'll be given a Driver card that can pay for orders which still need to be paid for by the customer.
How Does Grubhub Work for Drivers?
Grubhub drivers need to do 4 things to start delivering:
1). Scheduling a time slot
Grubhub doesn't just let you deliver whenever you decide. You will need to use the app to book a time slot which then needs to be accepted. This allows you to book the best hours where there's an increased demand for deliveries to give you the best use of time.
The slots are secured in the order in which they were received. This will also depend on your program level (more on this later).
Below is an example of how Grubhub's booking system works: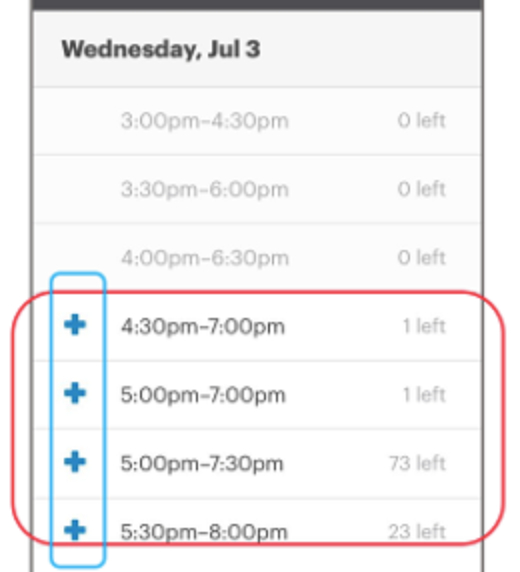 2). Accepting Orders
When you've secured your slot, you'll have to drive within a predefined delivery parameter to begin accepting orders. The delivery parameter is shown in the "View Region Boundaries" part of the app.
Once you're all set up, you can change your status inside the app to 'Taking Offers'. You will receive a ping when you receive an order. You have 1 min 30 seconds to either take the offer or decline it. If you decline the order it will be passed to a different driver. They give you 1 min 30 seconds to see the restaurant location, customer and amount of cash you can make before taking the job.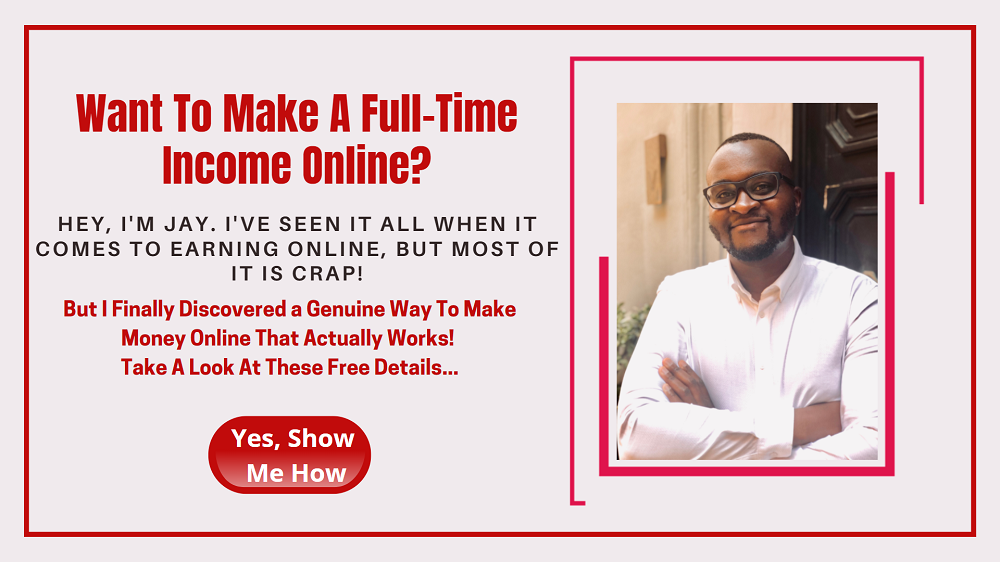 3). Paying For Orders
Customer pay for the majority of orders via the app. All you need to do is pick up the order from the restaurant and be on your way. But, "Place and Pay" orders relate to food chains that don't have a payment arrangement with Grubhub. In cases like this, you will need to use your Grubhub Driver Card. The card is loaded with money to pay for orders that customers place on the app.
You might need to place the order when you arrive at the restaurant and pay for it with the Driver Card. Grubhub will take into account the additional time for this and reflect it in your pay.
I wouldn't recommend paying for the order with your own credit or debit card as this will not be reimbursed by Grubhub.
4). Delivering Orders
Grubhub will provide directions to the customer's address, and you'll have to press 'Arrive' when you get there. You'll have to view the app for delivery instructions such as contact-free delivery, texting the customer and so on.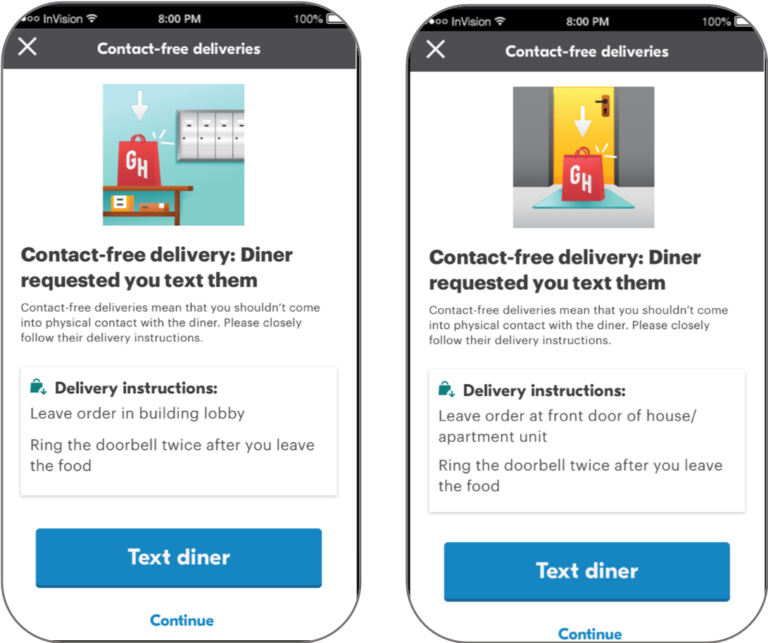 Another thing to keep a note of is that customers are very specific about drivers adhering to their instructions. You could end up getting bad feedback if you don't pay attention to these instructions.
How Much Money Can You Earn Working For Grubhub?
The average salary for a Grubhub driver is around $15 -$20 per hour with tips included. Drivers don't get an hourly wage. Instead, they get a payment for each order delivered and as a result, the salary will fluctuate.
Holidays and dinner rush are busier and will see a spike in orders during these periods over normal days. Therefore, they'll be fewer downtimes between orders. Naturally, downtimes will directly impact your pay rate. Similar to other delivery apps, fewer downtimes result in larger pay.
Grubhub has also updated the way it pays drivers for each order. Drivers were not happy about the previous system, which failed to account for how long it took to fulfil orders and didn't calculate mileage properly.
The updated system now calculates mileage from the pick up to the drop off location, it factors in waiting times and tips. Below is an illustration of the old system versus the new one: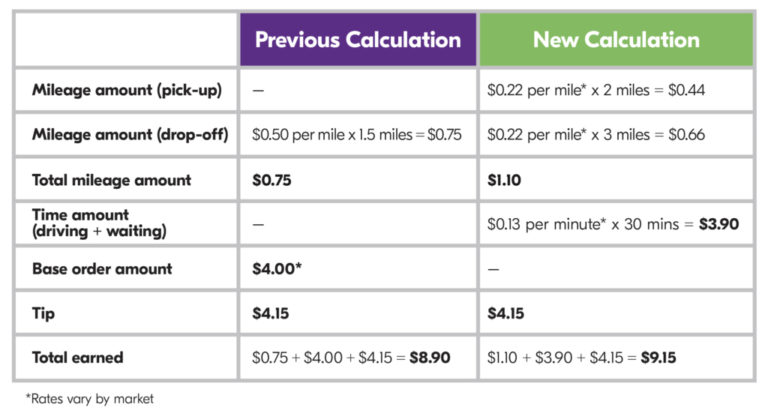 In certain areas, Grubhub provides a minimum hourly wage which guarantees that drivers will make money regardless of the number of orders they fulfil.
Recommended: Everything Needed To Create Your Full-Time Online Business From Scratch Can Be Found Right Here
How Does Grubhub Pay Drivers?
Payments are made through direct deposit each week on Thursday. Payment will be processed by the bank in 3-5 working days. Most Grubhub drivers receive their payments on Tuesday the next week.
If you don't mind paying a transaction fee of $0.50 you can choose to receive your money instantly. However, this fee is removed if drivers use a Chase bank account to set up their direct deposit.
What Is The Grubhub Recognition Program?
Drivers are ranked from Partner to Pro through the Grubhub Recognition Program. Each rank comes with its own perks.
Drivers start at the Partner rank and can work their way up to Premier. The highest rank is Pro and it provides the most generous perks.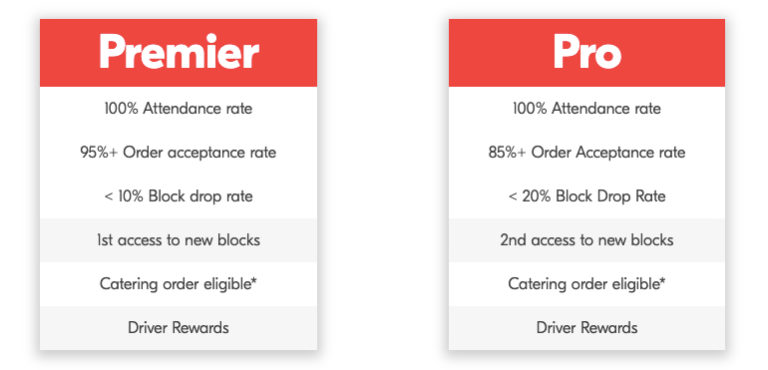 Premier and Pro ranks give drivers priority for scheduling time slots and access to catering orders which pay more money.
Below is a summary of the Recognition Program's requirements:
Attendance rate– this is the percentage of scheduled blocks that you attend.
Acceptance rate– this is the percentage of orders that you accept.
Block drop rate– this is the number of time blocks that you schedule but drop.
The above statistics are based on the previous 30 days of activity and are updated every week. If you're a new driver, your statistics will start showing after you've delivered your 20th order.
Is Grubhub The Right Company For You?
To work for Grubhub you will need your own car or bike. It's designed for people that want to supplement their current income and make some extra money in their spare time.
Grubhub is only available for US residents that have a valid driver's license.
Grubhub Exposed!
1). Bad Customer Feedback
I was expecting to see lots of positive reviews about Grubhub from customers, but this was a totally different story.
Grubhub's Trustpilot profile leaves a lot to be desired. Their rating is 1.8 out of 5 stars from customers that have complained about multiple issues such as the wrong food being delivered, drivers not sticking to the delivery instructions, and so on.
This negative feedback will make it difficult for drivers to get orders in locations where the company has a bad reputation.
2). Plenty of Driving
You will be doing a lot of driving as a Grubhub driver. Expect to be on the road for at least 2 hours per session. As a result of this, the maintenance bills for your car will increase. You will need to factor this into the money you make with Grubhub, as some of it will need to be used for car repairs and servicing.
You will also need to put some money aside for fuel as Grubhub does not pay for this.
Advantages of Grubhub
1). Decent Earnings For Drivers
The earnings are good for a few hours of driving. If you achieve an average salary of $20 per hour, you'll be making slightly more than minimum wage. But this is not a job that I'd recommend doing full-time because you're not guaranteed a certain number of orders each day.
Nonetheless, you're earning good money while you're out fulfilling orders.
2). Drivers Enjoy Working For Grubhub
Unlike the negative feedback from customers, Grubhub drivers do enjoy working for the company. Their drivers like the company's flexibility and the perks that come with the job.
Recommended: Tired Of Working In A Dead-End Job? Let's Get Your Passion Project Off The Ground
Is Grubhub a Scam or a Legit Company?
Grubhub is a genuine company that offers a decent opportunity to make money.
The main problem is the negative feedback from customers which could have a direct impact on the availability of work if you're based in the affected states.
However, if your area has a limited number of food delivery services and Grubhub is one of them then you could earn a decent amount of cash. But, I wouldn't rely on this to be a full-time job as there are no guarantees that you will get a certain amount of work every day.
Nonetheless, if you want to make some extra money and are curious about working for Grubhub then you should give them a try.
How Do I Use The Internet to Make a Full-Time Salary?
I'm not a big fan of get-rich-quick schemes, let's just say that I've been caught short a few times.
Instead, an Amazon FBA Business is my leading recommendation for people that want to build a thriving full-time online business working from home.
Here are my reasons why…
There's no pressure to recruit family and friends, or anyone else for that matter.
Learn a unique method to source incredible, high profit, low-competition products that are virtually hidden from your competitors.
You don't need to sell hundreds of different products to create lucrative profits with this fresh, exciting business model.
An Amazon FBA business can help you to…
Generate a 5-7 Figure Salary and become financially free from the limitations of a traditional day job. You can do this in less than 12 months!
If you want to find out how I did it, Click Here!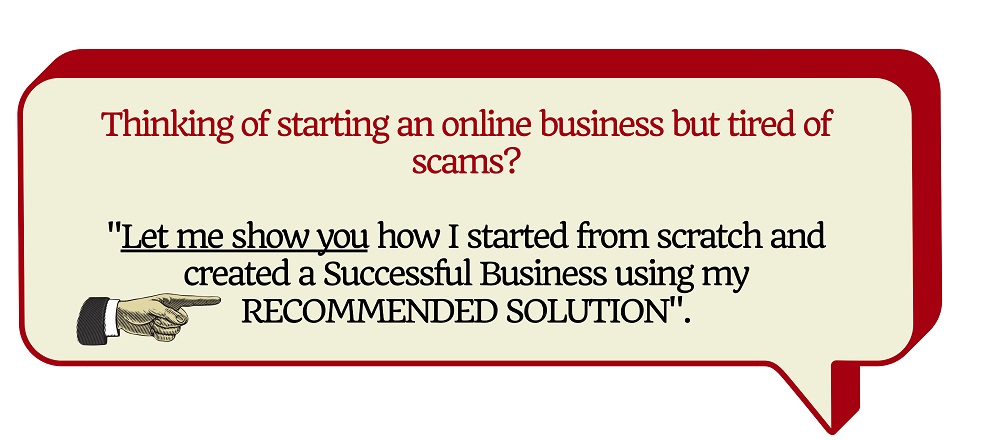 Other Programs That We've Reviewed: