What Is Xifra?
By comparison, the CBD MLM niche is still quite a new addition to the health and wellness industry. CBD businesses are popping up everywhere due to changes in laws that have legalized CBD oils to be infused into various health products.
Unfortunately, this has also created another industry of CBD MLM programs that exploit people by luring them into pyramid schemes.
In today's review, we'll be looking at one such company named Xifra.
The fact that you've taken a moment to scrutinize this product before buying it should be applauded. You've done yourself a huge favour. Your due diligence will save you from wasting money and time.
A good bit of research always goes a long way in the fight against online scams. Creating a sustainable full-time online business is not difficult. You just need to know where to look.
Before we proceed I'd like to let you know that I'm not linked to Xifra in any sort of way and I'm not trying to sell you this product.
Instead, I'd like to show you why you should avoid this MLM program…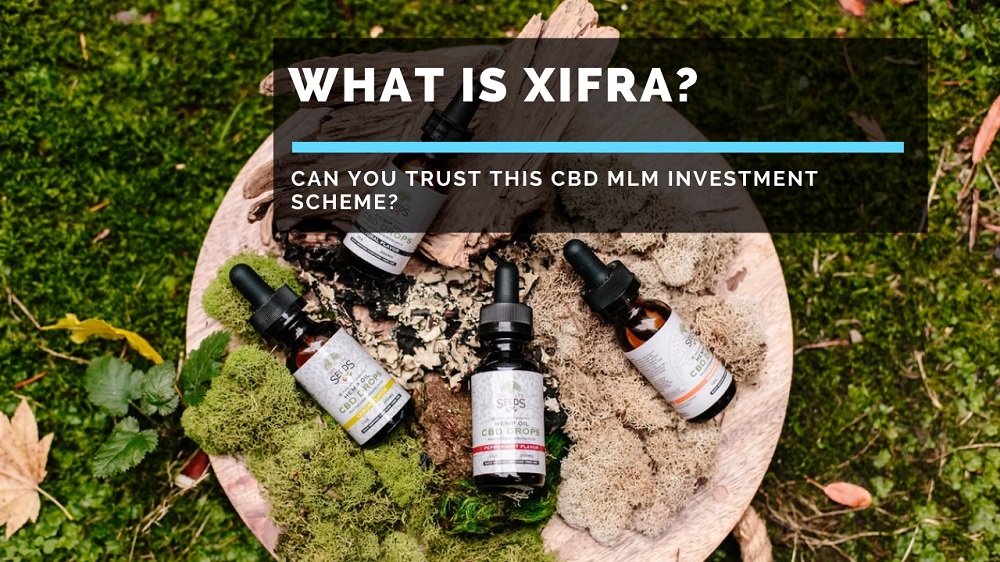 Xifra Product Review
Name of Product: Xifra Lifestyle
Owner: George Goodman (Probably fake)
Type of Product: CBD MLM
Cost of Product: Invest At Least $300
Who Is This Product Best For? NOBODY!
Xifra Product Summary
Xifra is a multi-level marketing company that specializes in CBD products, but you should reconsider if you're trying to take advantage of their income opportunity. This program is a pyramid scheme! We found a lot of warning signals such as incentives that are purely centred around recruitment and the absence of retail products.
Product Rating: 1/100
Would I Recommend This Program? Definitely Not!
Xifra Background
Xifra is a multi-level marketing program within the health and wellness industry. In addition to this, it offers members an investment opportunity. How exactly does it work? We'll be revealing everything in the next few sections.
The company provides products that are infused with CBD oil to cleanse the body, increase libido and help with managing weight. However, this is not the focal point of Xifra.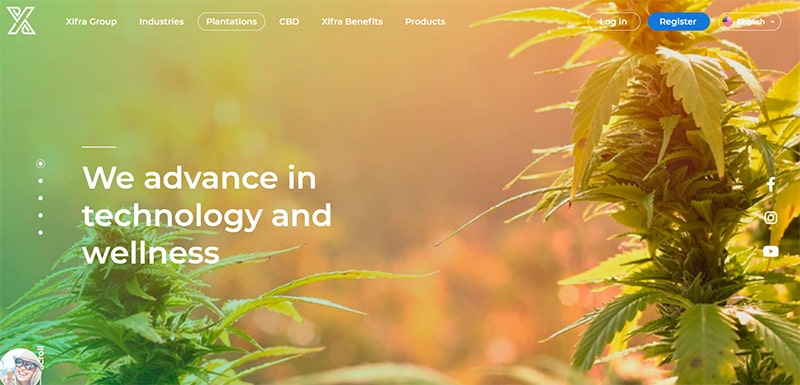 The primary focus of this program is the opportunity to invest in their Cannabis plantations based in California and Colorado. We're not sure what's so special about the 2 locations from a CBD industry perspective, but we'll just leave it at that.
Xifra went live in October 2019. The website registration was also done around that same period. We noticed that the domain was registered privately and as such, we don't have any details about the owners or the location of the company.
The website does not provide any details about the company's owner, but we managed to find a promotional video that features a guy named George Goodman. According to the video, George is the CEO of Xifra. He speaks Spanish for the entire video.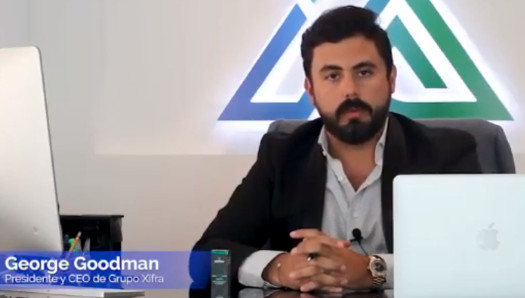 We couldn't find any other details about George Goodman beyond Xifra. What does that mean? The guy in the video could be an actor hired to promote the company.
We found a Mexican address for the company and some marketing content focused on people living in Costa Rica and various South American countries.
With a bit more investigation, we were able to reveal that CBD is permitted in South America, although it's not regulated. The only countries that have permitted CBD to be sold over the counter are Uruguay and Colombia. Countries that allow medicinal Cannabis are Peru, Chile, Colombia and Argentina.
If you want to know more about the regulations you can find them right here.
Xifra Product Range
Xifra does not offer any retail products or services, which is something that's not allowed from an MLM perspective. Instead, you will need to join their program and make money when you invest in the company's plantations.
The membership comes with various CBD infused products for losing weight, enhancing sexual performance, and detoxing.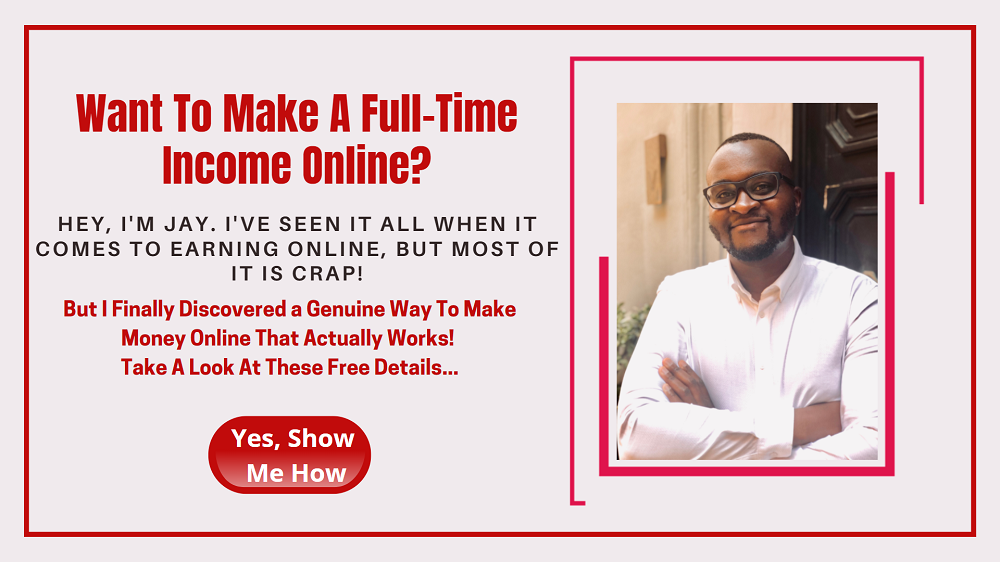 Does Xifra Work?
Unfortunately, their opportunity to make money has nothing to do with promoting or selling CBD products. Their CBD range is merely a complementary addition to your investment and membership.
According to Xifra, your return on investment is from the cannabis plantations based in California and Colorado as well as trading.
There's zero proof that the company is generating revenue from any of the above.
Xifra is offering its members an opportunity to make a return on investment which would be regarded as securities. The company would have to be authorised by the SEC or an equivalent governing body, depending on the country, to handle investments or trade on behalf of members.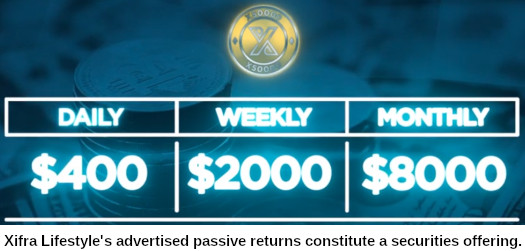 There's no evidence that Xifra is authorized to offer passive returns. Therefore, the company will be liable for securities fraud once the regulators catch up with them.
It's most likely that Xifra's sole income stream is from the money invested by new members which would make it an unsustainable business.
Xifra's income opportunity does not have a retail offering either. As such, you will not receive any incentives for selling the products that come with the membership.
Similar to the other pyramid schemes that we've reviewed, the program's income stream will stop as soon as the recruitment grinds to a halt. The company will inevitably collapse and the owners will simple make a quick exit.
The owners will pocket any profits made and their members (you) will be left high and dry.
How To Profit with Xifra
The only way to profit from the program is by recruiting more members. You'll create and grow a team, combine your investments and receive commissions.
Getting Started with Xifra
To subscribe you will need to pay at least $115. To get full access you will need to invest at least $300. The maximum investment is $50,000.
Xifra Compensation Plan
ROI Commissions
The program provides various packages that you can invest in using Bitcoin.
Xifra claims that your return on investment is between 0.5% and 2% per day. Your ROI is limited to 200%, but if you invest in Xifra's plantations, this is increased to 240%.
It also looks like your investments will be paid in Bitcoin.
Ranks And Qualifications
You can use the program's ranking system to make the most of your income. The platform offers 12 different ranks. To move up the ranks you will have to recruit more members.
A higher rank will increase potential profits.
Referral Commissions
Xifra offers 2 levels for their referral incentives as listed below-
You will receive a referral commission of 8% on investments as well as 2% for the second level if you invest in the Regular plan.
You will receive a referral commission of 10% for direct recruits and 3% for the second level if you invest in the Plantation plan. You will receive 2% for any extra levels.
Residual Commissions
You get commissions for creating and growing a team. Xifra's residual commissions are based on a binary compensation system which positions your direct recruits on your left and right legs. These will be your first level and you will be rewarded with a commission for them.
If your first level members manage to recruit more members, a new leg will be created for them which will become their first level and your second level.
As far as we know, the program has not placed a cap on the number of levels you can make money from.
Xifra Exposed!
1). A Confusing Business Model
The program's business model is confusing, to say the least. For starters, why are we being asked to invest in their plantations? There should be more than enough money from plant sales to sustain the business. I've never heard of a plantation requiring investments from external sources to make money. It doesn't make sense.
2). Pyramid Scheme
Is it a coincidence that all their incentives are based on recruiting more members? The program does not incentivize members to sell their products even though they have readily-available products. The products are provided as a bonus for signing up to the program and serve no other purpose.
If a multi-level marketing company's focal point is recruitment it will be flagged by the FTC or the equivalent regulator for the country it's based in.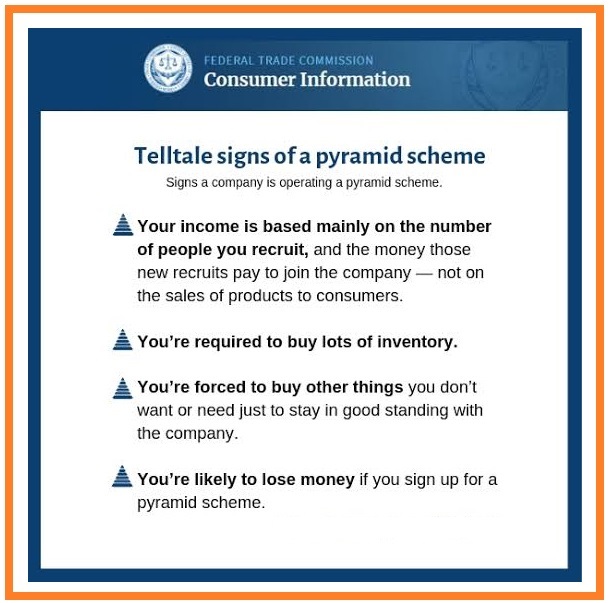 3). Securities Fraud
We mentioned securities fraud earlier on, and it's serious stuff! You could get into trouble for promoting this program and profiting from recruiting other members. You'd be promoting a pyramid scheme and the authorities would see you as part of the problem.
The company is not authorised by any financial regulators to perform these transactions on behalf of its members.
Advantages of Xifra
Xifra is a worthless program which will not get you closer to your goals of financial freedom.
Is Xifra a Scam or a Legit Program?
Xifra is definitely a pyramid scheme with all the classics tricks that we're used to seeing.
The program rewards you for recruitment and nothing else. You don't receive incentives for selling products and there's no retail offering.
The company is not authorised to carry out any financial transactions and as such, they are committing securities fraud whenever they offer passive earnings.
I would recommend staying away from Xifra.
How Do I Use The Internet to Make a Full-Time Salary?
I'm not a big fan of get-rich-quick schemes or CBD Multi-Level Marketing programs, let's just say that I've been caught short a few times.
Instead, Affiliate Marketing is my leading recommendation for people that want to build a thriving full-time online business working from home.
Here are my reasons why…
You can get started for Free.
There's no pressure to recruit family and friends, or anyone else for that matter.
You can create a business from virtually any product including the ones that you already buy. You are not limited to low-income programs or inferior products.
Affiliate marketing can help you to…
Generate a 4-Figure Monthly Salary and become financially free from the limitations of a traditional day job. You can do this in less than 12 months!
If you want to find out how I did it, Click Here!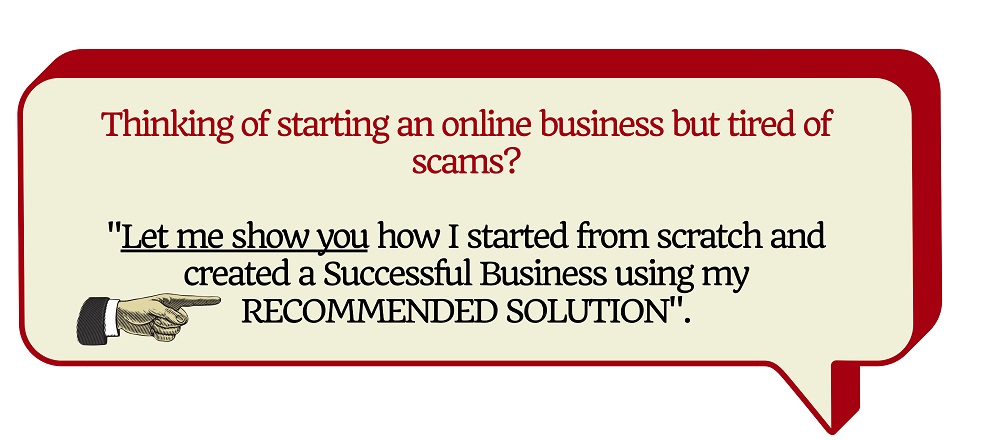 Similar Programs To Be Aware Of: