What is CommPower About?
I recently stumbled on a cryptocurrency investment program offering a seemingly straightforward opportunity. All I needed to do was invest my hard-earned cash into cryptocurrency, receive the advertised ROI, and repeat the process. Sounds good right?
To the untrained eye, this can seem like an attractive proposition and an easy way to generate passive earnings. But it should be avoided.
If an investment scheme promises you a daily passive return on investment that sounds too good to be true, then it probably is.
In today's review, we're looking at a company named CommPower making such promises.
The fact that you've taken a moment to scrutinize this product before signing up should be applauded. You've done yourself a huge favour. Your due diligence will save you from potentially wasting your time and money.
A good bit of research always goes a long way in the fight against online scams. Creating a sustainable full-time online business is not difficult. You just need to know where to look.
Before we proceed I'd like to let you know that I'm not linked to CommPower in any sort of way and I'm not trying to sell you this product.
Instead, I'd like to unravel the truth behind this investment scheme…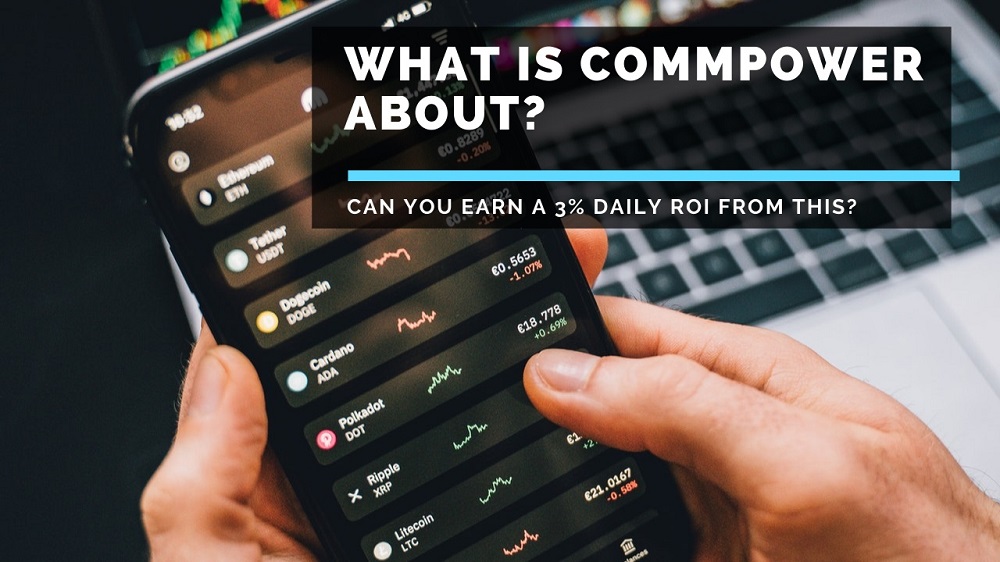 CommPower Product Review
Name of Product: CommPower
Owner: Not known
Type of Product: Cryptocurrency Investment Ponzi Scheme
Cost of Product: Invest at least $10
Who Is This Product Best For? Nobody
CommPower Product Summary
CommPower claims to be a cryptocurrency investment scheme, but it doesn't really bother to make itself look like a genuine business.
During our review, we found false addresses, company information that was deliberately hidden and zero proof to demonstrate that the company was generating enough revenue to sustain the program.
Product Rating: 1/100
Would I Recommend This Product? Definitely Not!
CommPower Background
CommPower is supposedly a multi-level marketing business that specializes in cryptocurrency investments. The website does not provide much information other than how much profit you can earn from it.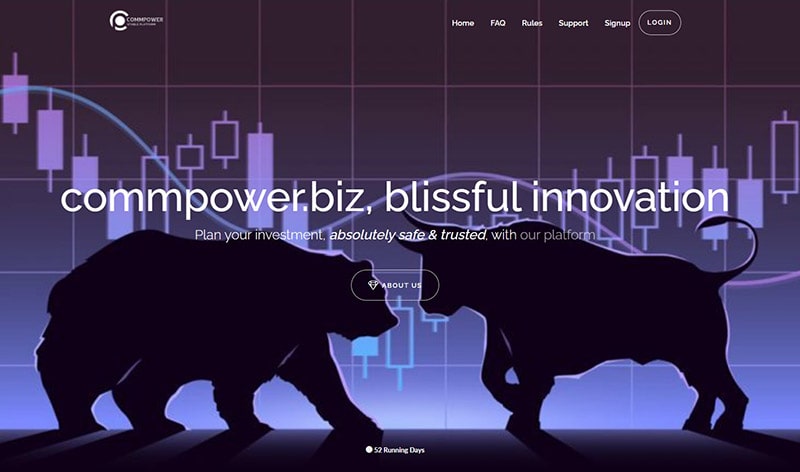 We are not told about the owners of the company or who's running it. The domain registration details have also been kept private to stop us from finding out about the people behind this program.
As such, we could not find details about the company's location or the owners of the domain name. All we know is that the domain was registered in April 2020.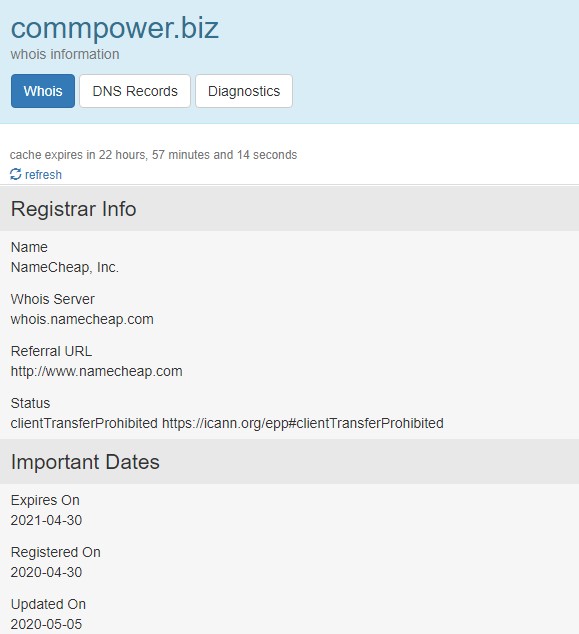 In an attempt to appear authentic, the company was incorporated in the UK, but this dates back to April 2007. The company's corporate address is shown on the incorporation details found on companies house.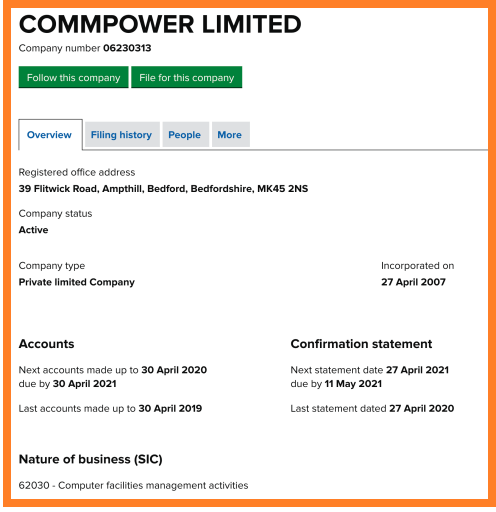 But there's something strange about this whole setup.
CommPower has been active since 2007, however, their website was only registered 13 years later! Why is there such a big gap? They claim to be an investment company, and we'd expect them to be online shortly after launching their business. The fact that the website was only registered in 2020 doesn't sit well with me.
CommPower Product Range
I'm not shocked to see that CommPower does not provide any retail products or services. They are a multi-level marketing company and as such, they are legally required to offer this. Unfortunately, they don't have either, and this is a big warning signal.
Your only option to make money with CommPower is to participate in their income opportunity, which has many holes in it. Everything you need to know will be revealed in the next few sections.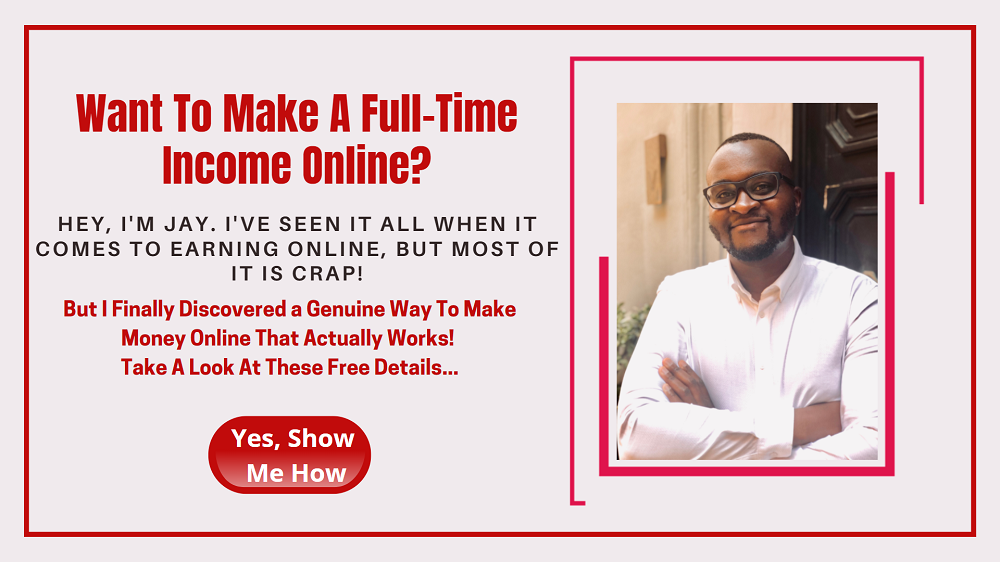 Does CommPower Work?
Let's dive into CommPower's program to discover if it's a Ponzi scheme or a life-changing income stream.
For starters, we've already found out that CommPower does not offer any products or services. You can't count the actual investment opportunity as a product or service.
If the investment is regarded to be a service, then this means that the company is handling financial transactions to produce the advertised ROI for its members.
We've not been shown any proof that CommPower is authorized to handle such activities on behalf of its members.
The fact that the company is promising members a passive income means that they are offering securities. The problem is they are not authorized to do this, which means CommPower could be subject to securities fraud.
The next thing I'd like to highlight is how the company is setup.
CommPower is incorporated in the UK. This is not enough proof that they are a legitimate business. UK incorporations are inexpensive, easy to do and most importantly, are not regulated. This is why so many scammers use them.
The final thing I'd like to look at is the daily 2.1% return on investment promised to members.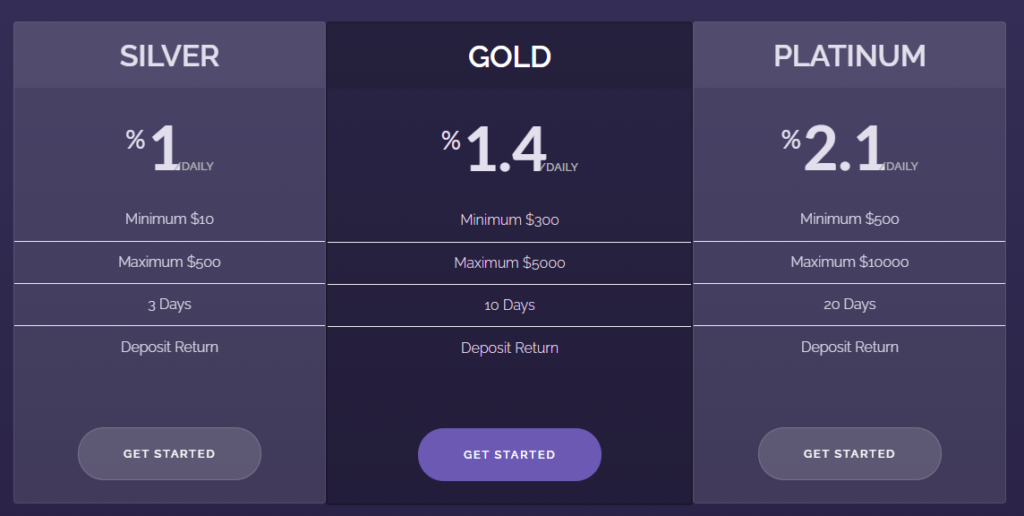 If CommPower has found a way to produce a lucrative ROI, why does it need investors? Surely, it would make more sense for the company to charge members to use their system instead of asking for investments. Something doesn't add up here.
If their system was actually generating the above ROIs and it was legit, they would get members to pay for it, then charge a percentage, which would be used to build profits for the company and its clients.
Unfortunately, there's no evidence that any of the above is happening. The only provable funds coming into the company are those from new members. What do you think will happen when this money stops? Kiss goodbye to CommPower.
How To Profit with CommPower?
Apparently, CommPower offers 2 ways to profit with them-
ROI's from your original investments and reinvestments
Referral commissions from members that you recruit
Getting Started with CommPower
You will need to pay at least $10 to join CommPower. The investment is capped at $10,000, but investing so much money is a huge risk.
CommPower Compensation Plan
The focal point of CommPower's compensation plan is the advertised ROI's, as shown below-
CommPower ROI Plans
Silver: Receive a daily 1% ROI for 3 days when you invest between $10 – $500
Gold: Receive a daily 1.4% ROI for 10 days when you invest between $300 – $5,000
Platinum: Receive a daily 2.1% ROI for 20 days when you invest between $500 – $10,000
CommPower Referral Commissions
The program has a single multi-level marketing system found in their one-tier compensation structure.
What this means is that you will earn a referral commission of 1% based on your member's investments.
You need to build a team and the number of members you recruit on your level 1 is unlimited.
CommPower Exposed!
1). False Address Details
We talked about CommPower's corporate address that we found on their UK incorporation. A quick search on Google Maps revealed the details shown below-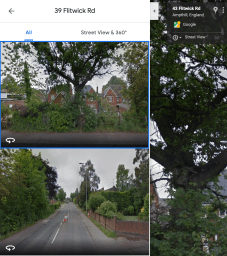 The address turned out to be a bunch of residential properties. It looks like they've falsified the incorporation documents and copied the details of a genuine company.
2). No Evidence Of Income
As mentioned before, the only revenue that we could verify was the money invested by new members. Therefore, you will be caught in a cycle of recruiting more members to keep the cash flowing and paying members that are higher up the food chain.
As a result, the only winners are the people sitting at the top of the structure i.e. the owners.
The company has not demonstrated that it's making money through other means except investments from new members.
3). Who Are The Owners?
The fact that we don't know who the owners are is a cause for concern. Put that together with the false address and you have yourself a shady company.
The reason why fake addresses are used and identities are hidden is so that they can make a quick exit when things go wrong. They don't want to be held accountable by the authorities for their wrongdoings.
Advantages of CommPower
CommPower is a lousy program with absolutely no advantages.
Is CommPower a Scam or a Legit Business?
CommPower is definitely a Ponzi scheme trying to attract new members with an attractive ROI that's unsustainable. You could end up losing all of your money depending on the timing of your entrance into the pyramid.
The UK incorporation is nonsense and even if it were real, it wouldn't mean anything because of how easy it is to obtain one. I have reason to believe that the incorporation was copied over from another company.
The only way to profit with CommPower is if you recruit more members. Recruitment is the name of the game here. There's zero evidence that the company is trading or investing member's monies to produce the advertised ROIs.
I'd recommend steering clear of CommPower.
How Do I Use The Internet to Make a Full-Time Salary?
I'm not a big fan of get-rich-quick schemes or Cryptocurrency MLM programs, let's just say that I've been caught short a few times.
Instead, Affiliate Marketing is my leading recommendation for people that want to build a thriving full-time online business working from home.
Here are my reasons why…
You can get started for Free.
There's no pressure to recruit family and friends, or anyone else for that matter.
You can create a business from virtually any product including the ones that you already buy. You are not limited to low-income or inferior products.
Affiliate marketing can help you to…
Generate a 4-Figure Monthly Salary and become financially free from the limitations of a traditional day job. You can do this in less than 12 months!
If you want to find out how I did it, Click Here!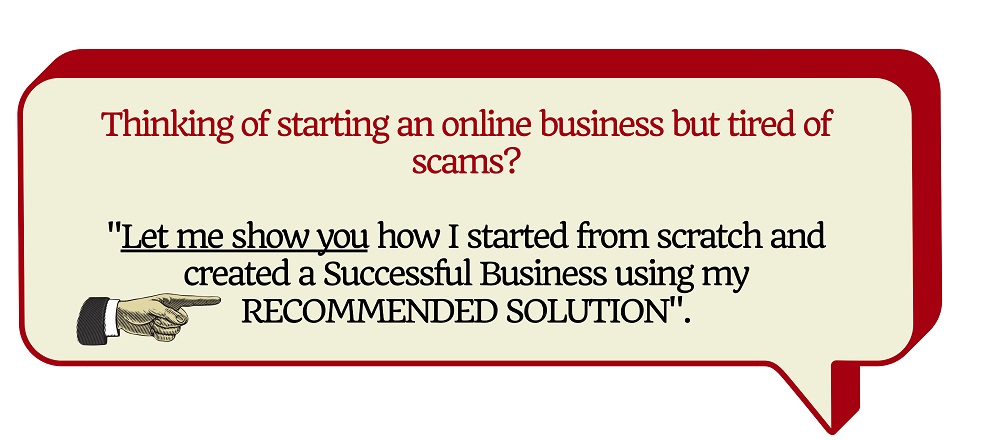 Similar Programs To Be Aware Of: