When Pyramid schemes fail they seem to have a talent for resurrecting and rebranding into another product. Today, we'll be checking out a company called Tonoit, a rebooted program of a pyramid scheme that was previously exposed.
This new program is brazen enough to not bother disguising or disassociating themselves from the previous pyramid scheme!
The fact that you've taken a moment to scrutinize this product before signing up should be applauded. You've done yourself a huge favour. Your due diligence will save you from potentially wasting your time and money.
A good bit of research always goes a long way in the fight against online scams. Creating a sustainable full-time online business is not difficult. You just need to know where to look.
Before we proceed I'd like to let you know that I'm not linked to Tonoit in any sort of way and I'm not trying to sell you this product.
Instead, I'd like to show you why you shouldn't bother with this lousy program…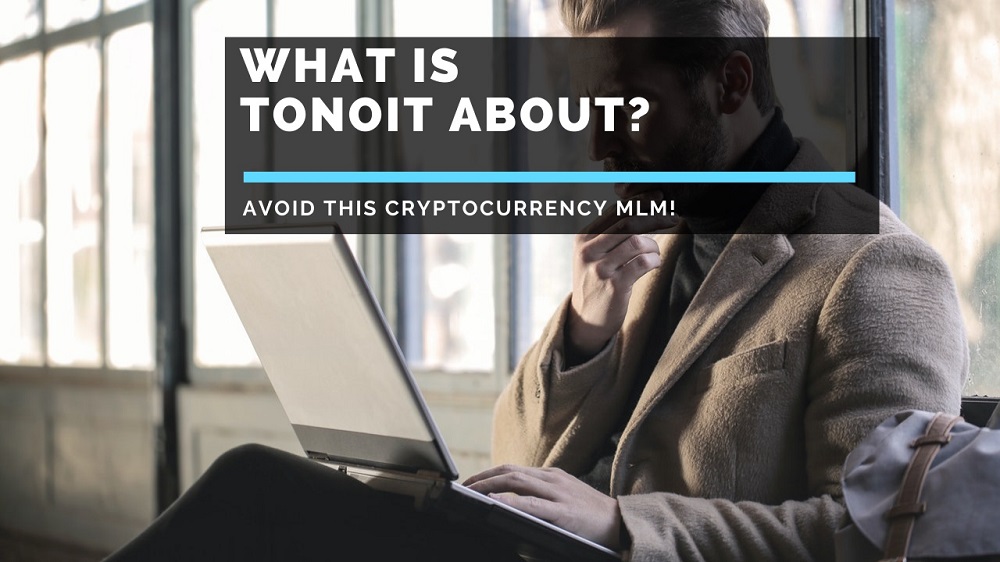 Tonoit Product Review
Name of Product:  Tonoit
Owner:  Gavin Victor, Marius Landman and Enakirehi Ejovwoke
Type of Product:  Cryptocurrency MLM Income Opportunity
Cost of Product:  $150 to $2,000 subscription per month
Who Is This Product Best For?  NOBODY!
Tonoit Product Summary
Tonoit claims to be a cryptocurrency income opportunity but in fact, it's a relaunch of a notorious pyramid scheme called Python Signals. It doesn't even bother to disguise as something else and comes with many of the same features of the previous program.
Product Rating: 1/100
Would I Recommend This Product? Definitely Not!
Recommended: Discover How You Can Build a Full-Time 4-Figure Monthly Income With The Help Of Leading Experts. Everything Needed Can Be Found Here
Tonoit Background
The company was launched in January 2020 by owners Gavin Victor, Enakirerhi Ejovwoke and Marius Landman.
These 3 individuals were also responsible for running an infamous pyramid scheme named Python Signal. What else do we know about them?
Just like it's predecessor, Tonoit doesn't have a verifiable business address. The site shows 2 addresses, one in Australia and the other in Mauritius. Any businesses under these addresses, that are associated with Tonoit, are likely to be shell corporations or companies trying to make them look genuine.

Here's a quick summary of the company's owners and their history:
Marius Landman is an actual person but he's elusive. We've not been able to find any of his other work related to MLM businesses or cryptocurrencies. He's merely a self-proclaimed specialist in cryptocurrency. Over the past few years, he's been using his Twitter account to post price forecasts.
We only discovered that Gavin Victor was one of the owners from a Python Signals Webinar dating back to 2019. He's linked to several Ponzi schemes including BitConnect, Davor Coin and USI Tech. He states that he worked on these businesses together with Enakirerhi Ejovwoke.
Enakirerhi Ejovwoke is the chief executive officer of RealSearch and Partners, a blockchain company. Enakirerhi was also heavily involved with another company called Agrostorm, a Nigerian investment scheme which failed.
Tonoit Product Range
Unsurprisingly, Tonoit does not provide any retails products or services. If you decide to join, you'll get access to the membership program, which opens up the program's cryptocurrency trading signals.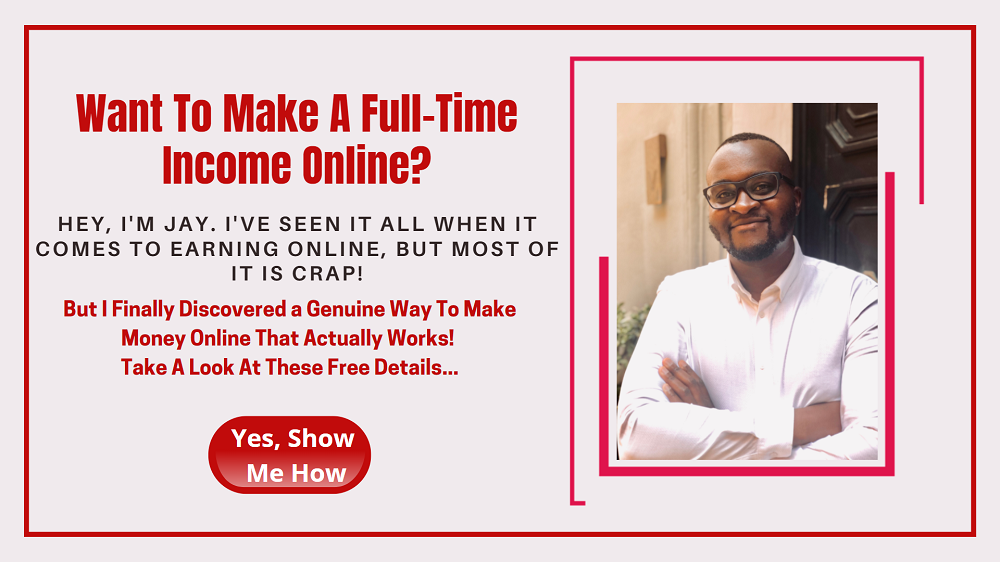 Does Tonoit Work?
I mentioned earlier that Tonoit is a relaunch of Python Signals. In this case, the system has been copied and pasted from its predecessor with no attempt to conceal the older site. They've even left the old logo for Python Signals on their site.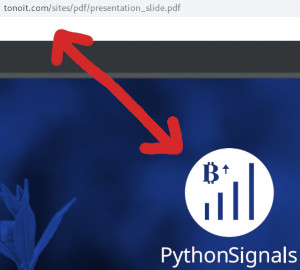 The only reason they've changed the name to something different is to try to attract new members to inject more money into the scheme whilst distracting them from Python Signal's bad press.
Tonoit is running a pyramid scheme which means that members join, pay for membership, recruit more members, and are incentivized to recruit.
Just like the program's trading signals, there's zero evidence that member's monies are being traded or invested to generate profit.
How To Profit with Tonoit
There's just one way to profit with this program and that's through recruitment.
I'll give you a quick walkthrough of Tonoit's compensation plan in the following sections.
Getting Started with Tonoit
Tonoit's membership is part of a rolling subscription. I'm not shocked to see that the program has a similar pricing structure as its predecessor-
Gold – Costs $150 for 3 months
Platinum – Costs $250 for 6 months
Galaxy – Costs $500 for 12 months
Diamond – Costs $950 for 24 months
Lifetime Galaxy – Costs $2,000 for lifetime access
Apparently, your profits will be higher if you pay more towards your membership.
Recommended: Everything Needed To Create Your Full-Time Online Business From Scratch Can Be Found Right Here
Tonoit Compensation Plan
You can buy 2×18 matrix subscriptions depending on your membership level-
Gold – 90 day subscription costs $150
Platinum – 180 day subscription costs $250
Galaxy – 12 months subscription costs $500
Diamond – 24 months subscription costs $950
Lifetime Galaxy – one-time subscription costs $2,000
Recruitment Commissions
You're rewarded for recruiting more people onto the program, who will also need to pay for the subscriptions.
Your bonus will depend on your current membership level. You'll earn 10% commission for Gold to Diamond memberships. You'll earn 15% for Lifetime Galaxy membership.
Commissions will be calculated according to the subscription fees paid out by your recruits. Similar to other pyramid schemes, you will not be awarded a larger commission if your recruit pays for a membership that's above yours.
Residual Commissions
Residual commissions are based on a 2×18 matrix structure, which positions you right at the top and 2 new members beneath you to create the 1st level. Your recruit's recruits are positioned beneath them to create the 2nd level and the structure grows out from there.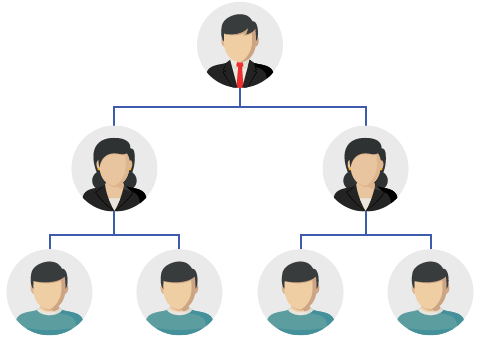 Positions will be filled up by recruiting members directly and indirectly. A direct recruit is one that you sign up personally. An indirect recruit is one that's recruited by someone in your team.
Commissions are awarded for the positions that are filled up using the percentages summarized below:
You'll be paid 5% for levels 1, 4, 7, 10 and 13 of the matrix
You'll be paid 4% for levels 2, 5, 8, 11 and 14 of the matrix
You'll be paid 3% for levels 3, 6, 9, 12 and 15 of the matrix
You'll be paid 2% for levels 16 and 17 of the matrix
You'll be paid 1.5% for level 18 of the matrix
Rising Star Bonus
This bonus requires you to buy the Gold subscription and sign up 2 gold members as well.
If you meet the requirements of this bonus, you'll be awarded $5 or $20 each time your members achieve the Rising Star Bonus. You receive $20 if the member qualifies for the Rising Star within their initial 1 month, or $5 if the member qualifies after 1 month.
Tonoit Ugly Exposed!
1). Potentially a Pyramid Scheme
Tonoit does not offer any retail products or services. The company claims to offer trading signals, however, they'd need to be authorised by the financial regulators to offer these kinds of services.
Take a look at the guidelines below from the FTC regarding MLM programs. You'll see that Tonoit ticks some of the boxes.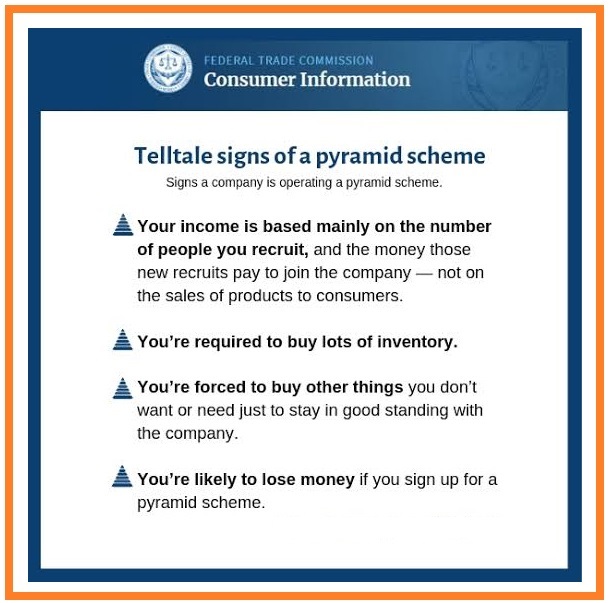 2). Owners' Association With Other Pyramid Schemes
The owners have been known to operate or be associated with several Ponzi schemes and/or pyramid schemes such as Python Signals, the program Tonoit is based around. I'm not surprised that the 2 programs are practically identical!
3). Relaunch Of A Previous Pyramid Scheme
Tonoit has left lots of proof that it's a direct copy of Python Signals. Their website even has Python's old branding.
The compensation plan is virtually the same as Python Signals. They've done nothing more than changing the name. I guess it was too much hassle for the owners to redesign the website and at least try offering something better.
Recommended: Tired Of Working In A Dead-End Job? Let's Get Your Passion Project Off The Ground
Advantages of Tonoit
Tonoit is a worthless pyramid scheme with no advantages whatsoever!
Is Tonoit a Scam or a Legit Business?
Tonoit has not given any evidence that it's a genuine program. It's a relaunch of an older Pyramid scheme but it doesn't bother to change anything.
The founders have no intention of offering a better program and they've been linked to several Pyramid schemes.
The compensation plan is purely based on recruitment which is one of the biggest warning signals about this program. They don't offer any retail products or services which is another warning that the regulators tell you to look out for.
Tonoit will probably collapse once the recruitment dries out, and will rebrand into something else!
How Do I Use The Internet to Make a Full-Time Salary?
I'm not a big fan of get-rich-quick schemes or Cryptocurrency MLM programs, let's just say that I've been caught short a few times.
Instead, Affiliate Marketing is my leading recommendation for people that want to build a thriving full-time online business working from home.
Here are my reasons why…
You can get started for Free.
There's no pressure to recruit family and friends, or anyone else for that matter.
You can create a business from virtually any product including the ones that you already buy. You are not limited to low-income or inferior products.
Affiliate marketing can help you to…
Generate a 4-Figure Monthly Salary and become financially free from the limitations of a traditional day job. You can do this in less than 12 months!
If you want to find out how I did it, Click Here!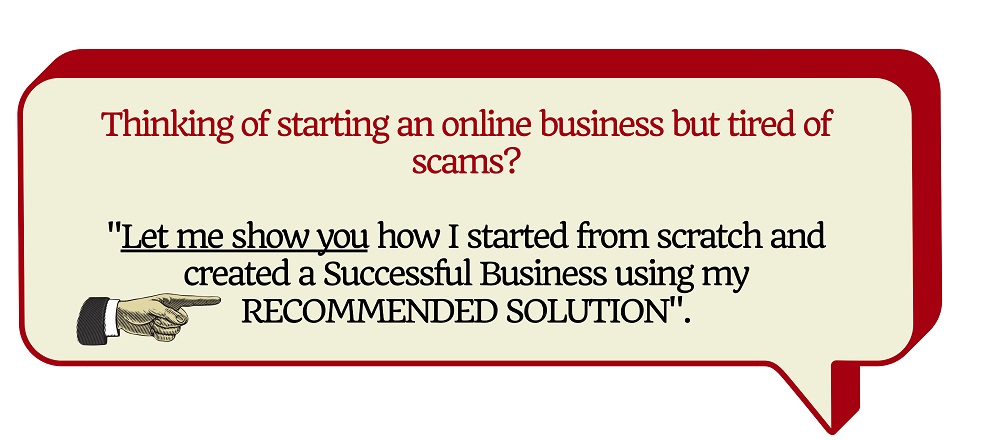 Similar Programs To Be Aware Of: