What Is BitConnect About?
Today you're going to get a front-row seat to the mother of all cryptocurrency Ponzi schemes! This program died a while back so why are we reviewing it? Although the original program collapsed, there are still hundreds of duplicates circulating online right now. Can you believe that?
It just goes to show the scale of the problem posed by these unethical Ponzi schemes and today, we'll be looking at BitConnect, the program that started it all.
The fact that you've taken a moment to scrutinize this product before signing up should be applauded. You've done yourself a huge favour. Your due diligence will save you from potentially wasting your time and money.
A good bit of research always goes a long way in the fight against online scams. Creating a sustainable full-time online business is not difficult. You just need to know where to look.
Before we proceed I'd like to let you know that I'm not linked to BitConnect in any sort of way and I'm not trying to sell you this product.
Instead, I'd like to show you why you should stay away from this program…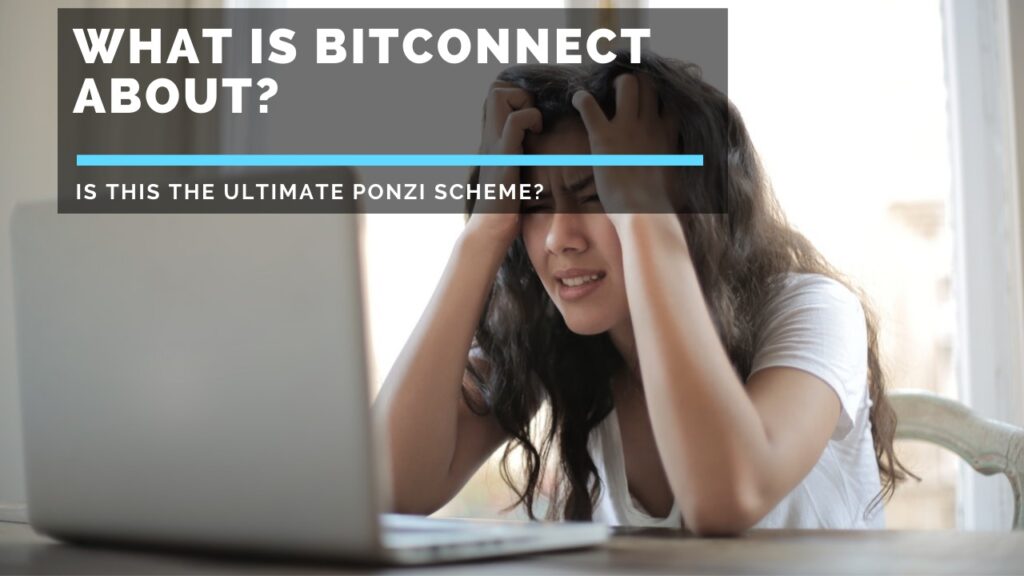 BitConnect Product Review
Name of Product:  BitConnect
Owner:  Not Known
Type of Product:  Investment and Lending MLM
Cost of Product:  Invest $100 – $100,000
Who Is This Product Best For?  NOBODY!
BitConnect Product Summary
BitConnect is where it all began as far as cryptocurrency Ponzi schemes go. It is one of the first companies that started producing its own cryptocurrency. The company was closed down in 2018 and many of the people running the program were sent to prison, however, there are copycat versions of BitConnect still circulating online.
Product Rating: 1/100
Would I Recommend This Product? Definitely Not!
Recommended: Discover How You Can Build a Full-Time 4-Figure Monthly Income With The Help Of Leading Experts. Everything Needed Can Be Found Here
BitConnect Background
BitConnect is (was) an investment scheme that focused on Bitcoin. It used a multi-level marketing system and was very popular back in 2016. The program marketed a supposedly unique investment strategy that was powered by proprietary investment software to generate a return on investment for members.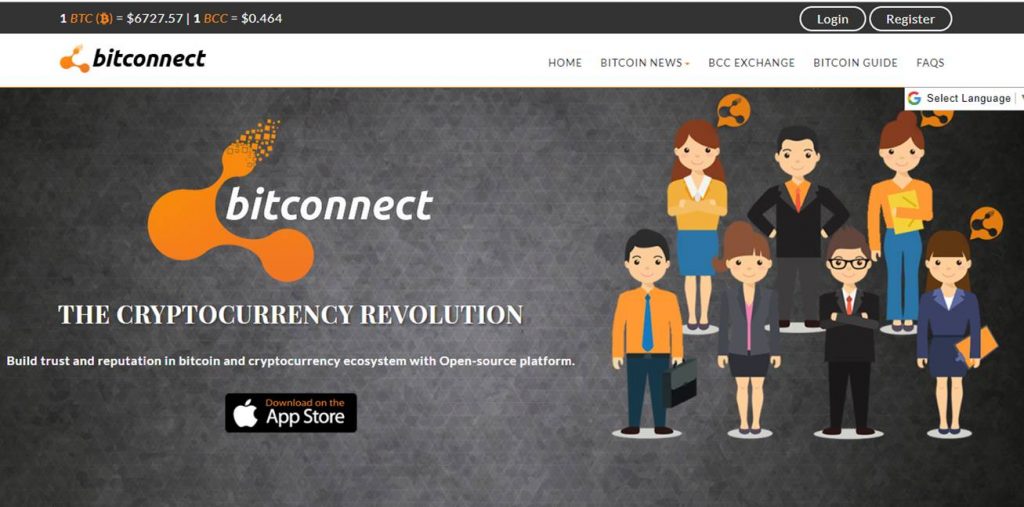 Shortly after it was launched, the program created it's own cryptocurrency through an initial coin offering ICO. The currency was designed to be used inside the program for investments.
Members were purchasing and making investments using the program's currency instead of Bitcoin. After a few months, BitConnect became a controversial platform. People that vouched for it spoke about the large ROIs while critics branded it an elaborate scam and stated that it was not being transparent about what was really going on in the background.
When BitConnect initially launched nobody really knew anything about the owners of the company or the people that were running it. But after a while, they begin hosting lavish investors parties and events attended by key senior managers of the company.
The head promoters of the Indian and UK sectors of BitConnect were Divyesh Darji and John Bigatton who were both apprehended by the law and sentenced for their wrongdoings.
In November 2020, John was charged by the ASIC (Australian Securities & Investment Commission) for operating a pyramid scheme. What we're not sure about is whether this charge includes his association with BitConnect or if he was part of a different pyramid scheme. Either way, he's a shady character.
Divyesh was apprehended by the Gujarat Criminal Investigation Department shortly after arriving in Dubai. The charges were probably regarding his links with BitConnect and the fact that he was the key promoter of the program.
BitConnect Product Range
Because they are an MLM company, BitConnect are meant to offer retail products or services to their members. I'm not surprised to see that they don't have anything to offer, which means that you're investing in their income opportunity and nothing else.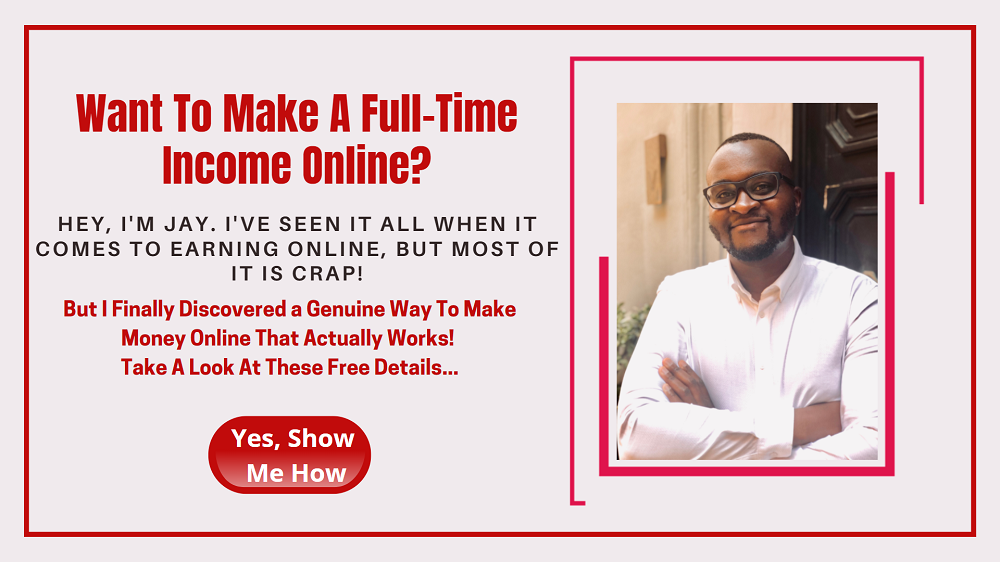 Does BitConnect Work?
BitConnect is a flawed system which tries to piggyback on the success of Bitcoin. It originally funnelled members into the program by getting them to invest in Bitcoin.
They attracted members by advertising "up to 40%" ROI which was debunked by cryptocurrency specialists like Satoshi and Vitalik Buterin who branded the program a Ponzi scheme. If an expert has taken the time out from his busy schedule to call out a program then you know that there's definitely something wrong with it.
Vitalik is the mastermind who created Ethereum. Satoshi is the person behind Litecoin. Ethereum and Litecoin are genuine cryptocurrencies that are traded on the open market.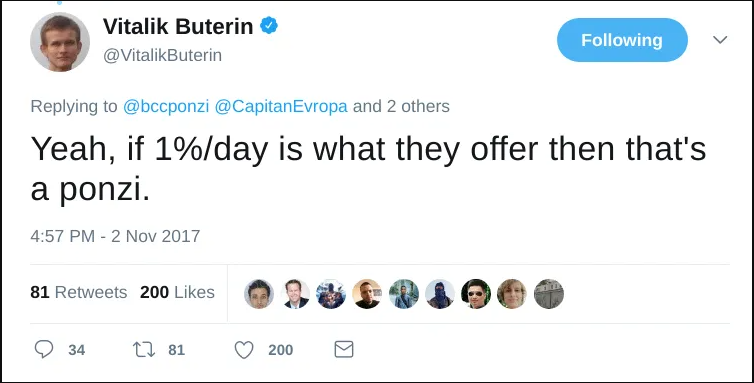 As you can see, both experts are confident that BitConnect is a big fat Ponzi scheme.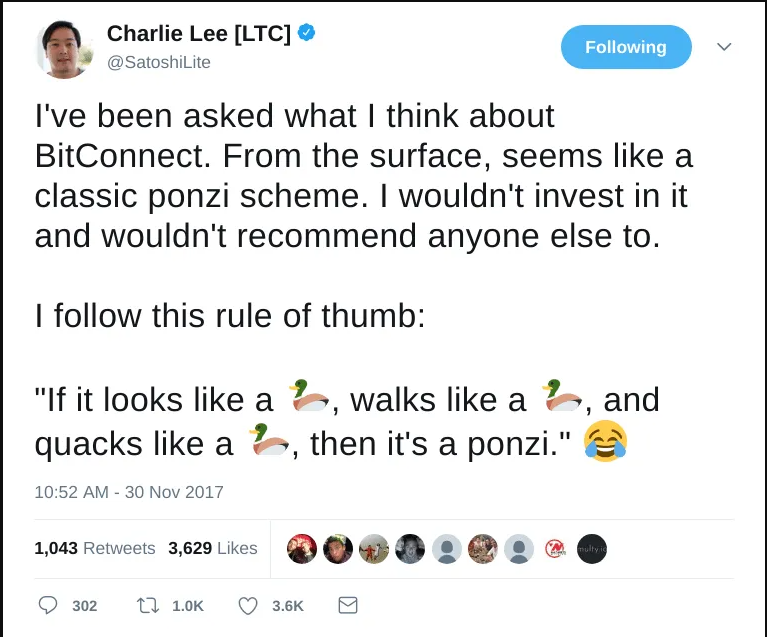 BitConnect creates its own cryptocurrency which is called Bitconnect Coins. The people running the company can create more coins whenever they want. Therefore, the supply is unlimited and can be bought by members to make "investments".
However, the company can't create a monthly ROI to compensate members and as such, the return on investment, that's supposedly being paid to members, is paid using the Bitconnect coins.
The referral commissions are simply another part of the pyramid scheme because the additional investments are used to pay the older ROIs while farmed coins are used to pay newer ROIs.
You will never earn any money from the program if you remain at the lowest levels of the pyramid.
How To Profit with BitConnect
The only source of income for members was (is) if they recruited more people to sign up. The promoted ROIs were paid using the money pumped into the program by new members.
Getting Started with BitConnect
Signing up to the program is free, but if you want to access the compensation plan you need to invest between $100 and $100,000.
Recommended: Everything Needed To Create Your Full-Time Online Business From Scratch Can Be Found Right Here
BitConnect Compensation Plan
Daily Advertised ROI
BitConnect claims that members can earn a daily ROI of up to 40% per month over 299 days. Members can take advantage of the various percentages which will depend on the investment amount-
Earn up to 40% a month for 299 days when you invest $100 to $1,000
Earn up to 40% a month for 239 days and an extra bonus of 23.9% ROI when you invest $1,010 to $5,000
Earn up to 40% a month for 179 days and an extra bonus of 35.9% ROI when you invest $5,010 to $10,000
Earn up to 40% a month for 179 days and an extra bonus of 35.9% ROI when you invest $5,010 to $10,000
Earn up to 40% a month for 120 days and an extra bonus of 30% ROI when you invest $10,010 to $100,000
Referral Commissions
BitConnect uses a uni-level compensation system for referral commissions. When building a team, you'll be positioned at the top of the structure and your direct recruits are positioned beneath you on the first level.
When your first level members recruit more people this becomes your second level and the structure keeps building out in this way.
Residual commissions are awarded according to the percentage of money invested throughout your team as follows:
1st level : (your direct recruits) – 7%
2nd level : 3%
3rd & 4th levels : 1%
5th level : 0.5%
6th level : 0.3%
7th level : 0.2%
8th level : 0.1%
9th level : 0.05%
10th level : 0.03%
11th level onward: 0.01%
BitConnect Exposed!
1). Blatant Ponzi Scheme
BitConnect and all its copycat websites are Ponzi schemes. It advertises unrealistic returns and has been called out by industry experts.
Furthermore, the compensation plan goes against the regulatory guidelines that MLM companies are meant to stick to.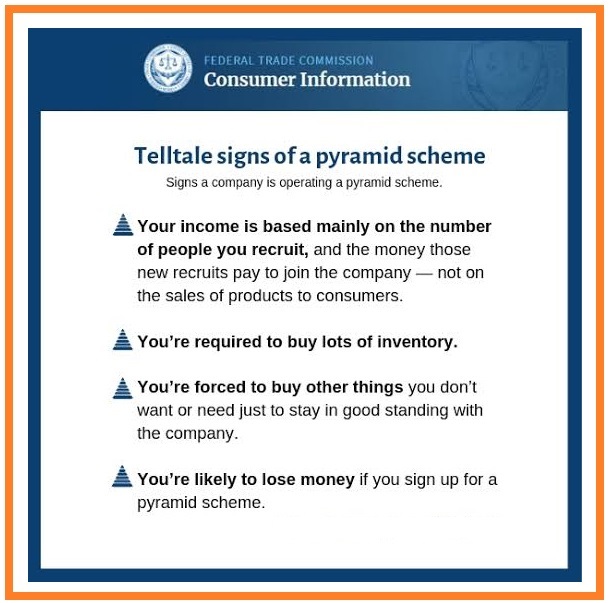 2). Pump & Dump for Their Cryptocurrency
BitConnect takes advantage of its own cryptocurrency so it can perform what is referred to as a pump and dump. The program pumps out the coins when needed and then dumps them which then lowers the value. Yikes!
The program's pump and dump system was the main factor that caused the company to be taken down. Below is a summary of what happened…
3). The Truth Behind BitConnect's Shut Down
BitConnect was forced to shut down its exchange platform and lending operation in 2018. They were issued multiple cease and desist letters from many financial agencies including the North Carolina Securities Division and the Texas Securities Board.
The company then issued a press release claiming that the letters tarnished their genuine operations and resulted in many of their investors jumping ship.
In addition to this, their websites were plagued with several DDoS attacks which resulted in long periods of server downtime.
After the company announced that it was closing down, many of its investors went online to express their anger and disappointment. People lost hundreds of thousands of dollars but BitConnect reassured them that its operations would be revived.
The pump and dump system didn't help. It ultimately resulted in their coin getting devalued from $430 all the way down to $30.
Recommended: Tired Of Working In A Dead-End Job? Let's Get Your Passion Project Off The Ground
Advantages of BitConnect
BitConnect is a scam! There are no benefits to this program and the owners have been sent to prison or are about to be.
Is BitConnect a Scam or a Legit Program?
BitConnect is the original cryptocurrency Ponzi scheme which used (and continues to use) a pump and dump system to dupe its members. There is nothing to gain from this platform, and the only thing it has left is a bunch of copycat websites.
The program ran an investment scheme which gave members the opportunity to invest in their BitConnect coins, but it turned out that the coins were worthless outside of the program.
The referral commissions were just another part of the pyramid scheme that incentivized members to recruit more people.
At least the original company was taken down along with its owners. But there are plenty of copycat sites to watch out for that are still selling the same program.
How Do I Use The Internet to Make a Full-Time Salary?
I'm not a big fan of get-rich-quick schemes or Cryptocurrency MLM programs, let's just say that I've been caught short a few times.
Instead, Affiliate Marketing is my leading recommendation for people that want to build a thriving full-time online business working from home.
Here are my reasons why…
You can get started for Free.
There's no pressure to recruit family and friends, or anyone else for that matter.
You can create a business from virtually any product including the ones that you already buy. You are not limited to low-income or inferior products.
Affiliate marketing can help you to…
Generate a 4-Figure Monthly Salary and become financially free from the limitations of a traditional day job. You can do this in less than 12 months!
If you want to find out how I did it, Click Here!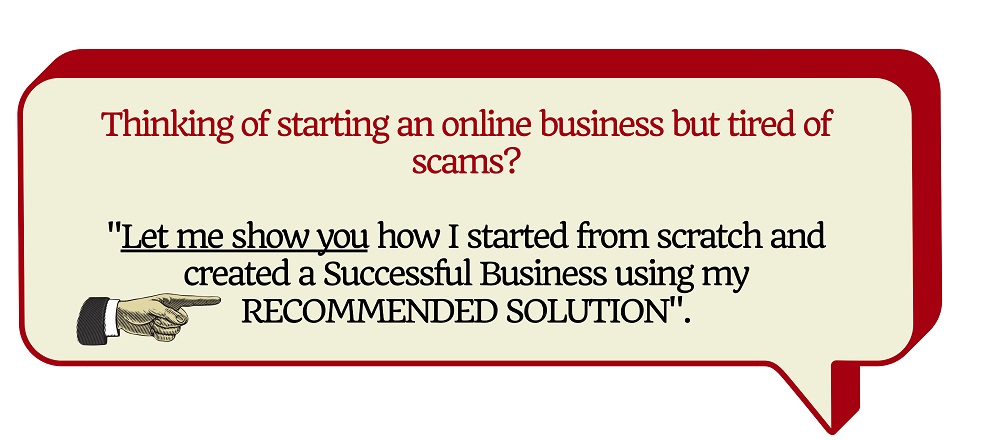 Similar Programs To Be Aware Of: