What Is Zmartbit?
Multi-Level Marketing comes with its own set of challenges, the biggest ones are pyramid schemes and Ponzi schemes. Why are these scams still prevailing? Because a lot of people are still enticed by the promises of easy money and big profits.
Each new version of this type of program is more sophisticated than the last one and all of them appear to provide genuine ways to make money online.
However, if you look at these unscrupulous programs for long enough, it's easy to spot the red flags that they try so hard to hide. But for newbies this might not be so easy which is why today we are reviewing a product named ZmartBit to show you whether this program is worth your time, effort and investment.
The fact that you've taken a moment to scrutinize this product before signing up should be applauded. You've done yourself a huge favour. Your due diligence will save you from potentially wasting your time and money.
A good bit of research always goes a long way in the fight against online scams. Creating a sustainable full-time online business is not difficult. You just need to know where to look.
Before we proceed I'd like to let you know that I'm not linked to ZmartBit in any sort of way and I'm not trying to sell you this product.
Instead, I'd like to reveal what this program is hiding…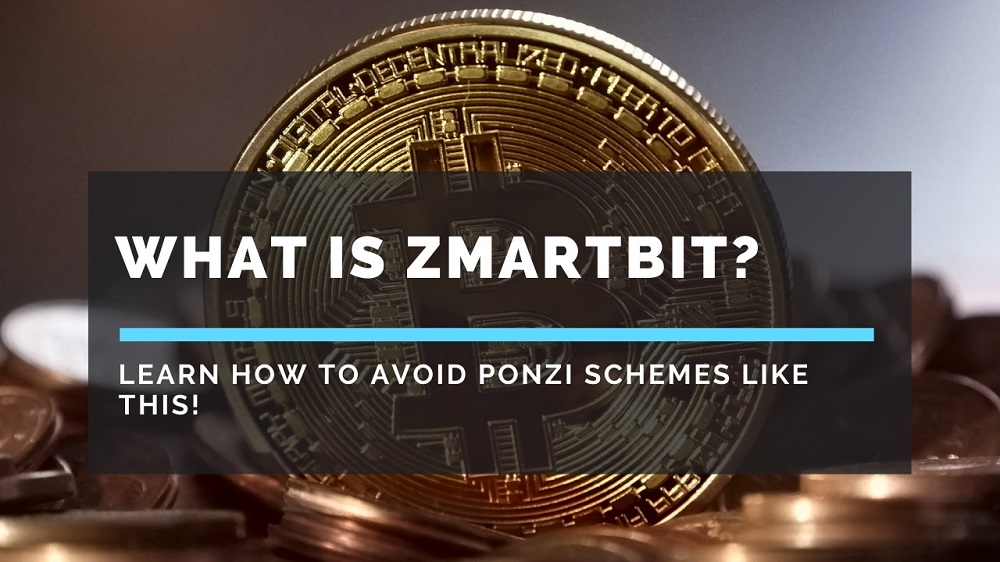 ZmartBit Product Review
Name of Product: ZmartBit
Owner: Not known
Type of Product: Cryptocurrency Investment (Ponzi Scheme)
Cost of Product: Investment of at least $260
Who Is This Product Best For? NOBODY!
ZmartBit Product Summary
ZmartBit appears to be pyramid scheme but unlike other unscrupulous programs, the company is not really trying to hide this. There are several warning signs that can easily be spotted.
Firstly, members are heavily incentivized to concentrate on recruiting more people. Then there's no hard evidence to prove that profits can be made from other parts of the system beyond solely signing up new members.
Product Rating: 1/100
Would I Recommend This Product: Absolutely Not!
Recommended: Discover How You Can Build a Full-Time 4-Figure Monthly Income With The Help Of Leading Experts. Everything Needed Can Be Found Here
ZmartBit Explained
ZmartBit is a company that specializes in cryptocurrency investments within the multi-level marketing (MLM) industry. They also offer members access to educational resources.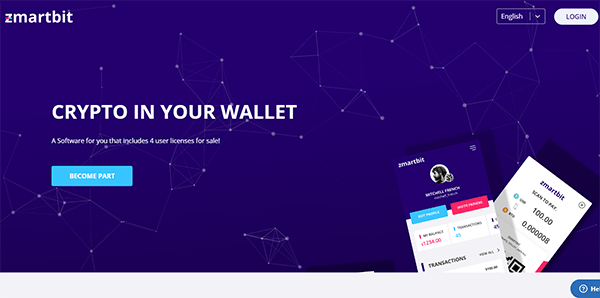 The truth is that the company uses a matrix-based structure to generate revenues through the recruitment of additional members i.e. it's a Ponzi scheme. Therefore, profits coming into the business are first distributed to the top-level members then work their way down the pyramid.
Do we know who runs ZmartBit?
It doesn't come as a surprise that the owner has decided to remain anonymous. There's no background or contact information for the founders or the CEO. Why? Because the people behind this program don't want to be held to account for any wrongdoings.
A WhoIs search reveals that the website domain was privately registered in September 2019. A private registration means that we cannot access the owner's name or details.
ZmartBit Product Range
The company doesn't offer any sort of products or services, except for the membership to access their compensation plan. ZmartBit does provide a training program for trading named Cryptocurrency University, however, it doesn't really provide anything useful.
Unfortunately, the training has very little value to offer newbies that join the program.
Recommended: Everything Needed To Create Your Full-Time Online Business From Scratch Can Be Found Right Here
Does ZmartBit Work?
I'm not going to beat around the bush. This program is a pyramid scheme. Why? Because the entire business model is based on members joining, paying for the membership, then making profits from signing up more members to the system.
Besides that, there's no actual product/s creating revenue for the business beyond receiving money from the membership costs.
What about the Cryptocurrency University? It's merely a worthless product placed there to show the regulators that the company offers a product. They want to avoid being discovered by the FTC and SEC who monitor and shut down MLM businesses that don't provide actual products or services.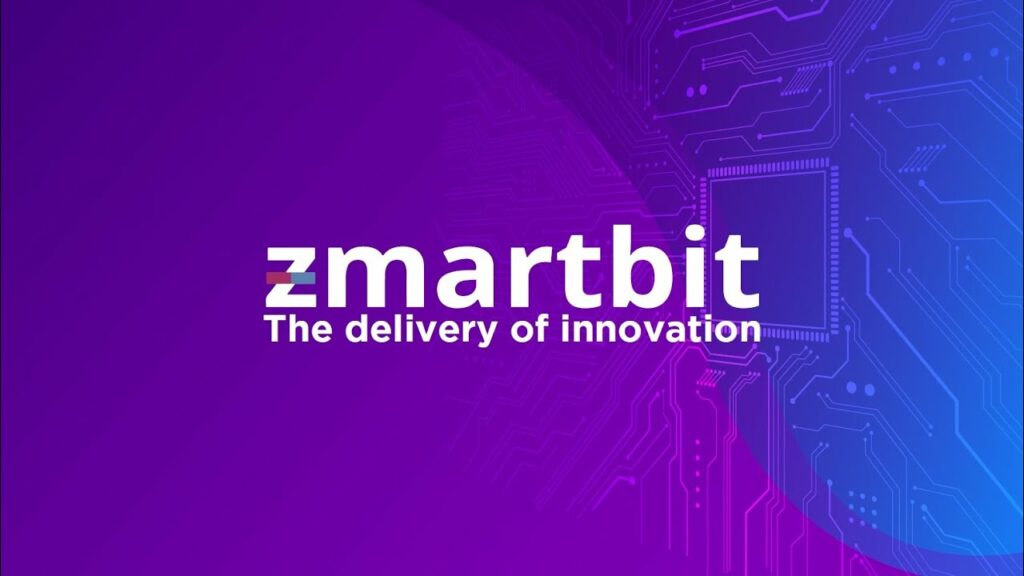 Profiting with ZmartBit
The only method to profit with this product is via recruitment of more members. You can't earn money any other way.
Signing Up with ZmartBit
To join ZmartBit you will need to pay $260 for the membership and to take part in the compensation plan i.e. purchasing positions, you will have to pay $42,210 to make the maximum profits.
All payments have to be made using Bitcoin. You will also receive earnings in Bitcoin.
ZmartBit Compensation Plan
The program's compensation plan is based on a 4×10 matrix structure. Members that you recruit are positioned beneath you.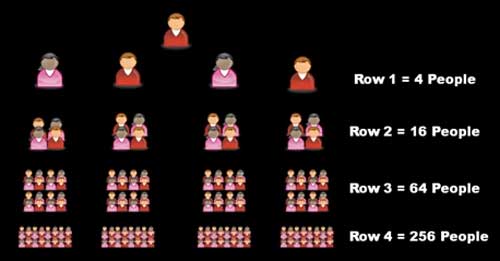 If your members recruit more members, they are placed below them and become your second levels. The structure keeps building in this manner.
Commissions are paid as you recruit and fill up more matrices. The amount of money you receive depends on which position on the matrix is filled. Below are the profits that you can supposedly earn:
White: Pay $260 to sign up and make profits of $125 for each position that gets filled on level 1, up to a maximum of 4 positions.
Green: Pay an additional $260, sign up 2 affiliates who each sign up 2 affiliates, and make profits of $156 for each position that gets filled on level 2, up to a maximum of 16 positions.
Yellow: Pay an additional $530 and make profits of $156 for each position that gets filled on level 3, up to a maximum of 32 positions.
Orange: Pay an additional $1,060 and make profits of $156 for each position that gets filled on level 4, up to a maximum of 64 positions.
Blue: Pay an additional $2,100 and make profits of $156 for each position that gets filled on level 5, up to a maximum of 128 positions.
Pink: Pay an additional $4,200 and make profits of $78 for each position that gets filled on level 6 up to a maximum of 256 positions.
Bronze: Pay an additional $8,300 and make profits of $46 for each position that gets filled on level 7, up to a maximum of 512 positions.
Silver: Pay an additional $8,400 and make profits of $23 for each position that gets filled on level 8, up to a maximum of 1,024 positions.
Gold: Pay an additional $8,500 and make profits of $11 for each position that gets filled on level 9, up to a maximum of 2,048 positions.
Platinum: Pay an additional $8,600 and make profits of $6 for each position that gets filled on level 10, up to a maximum of 4,096 positions.
ZmartBit Exposed!
1). It's a Pyramid Scheme
We've unveiled that the sole purpose of ZmartBit is to recruit as many members as possible. They want members to sign up, pay a fee, recruit more people so that they can follow the same process and repeat the cycle.
By doing this, you earn commissions if you get more people to sign up and if they sign up additional recruits. This is not sustainable and the business will eventually cave in on itself.
There's no evidence that the company is actively investing or trading money from members, therefore, this is a pyramid scheme.
2). The Training Program is Worthless
The FTC and SEC regulate MLM businesses and require them to provide a product or service instead of solely focusing on recruitment. ZmartBit gets around this by providing an educational program that offers very little value.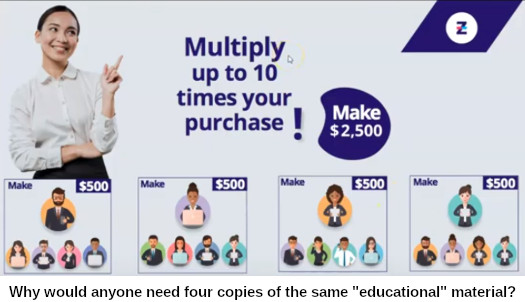 The tutorials don't offer anything unique or educational for that matter. They're designed to make you think that this program will generate passive earnings.
3). Belongs To a Network of Old Scams
According to customer reviews, ZmartBit is a rebranded version of older scams and was previously called CloudToken and Bitconnect. This is a common trait used by scammers to disguise older programs that have been exposed.
Mack Mills and Greg Perdiel were the people running the older programs, therefore, it's most likely that they are behind ZmartBit.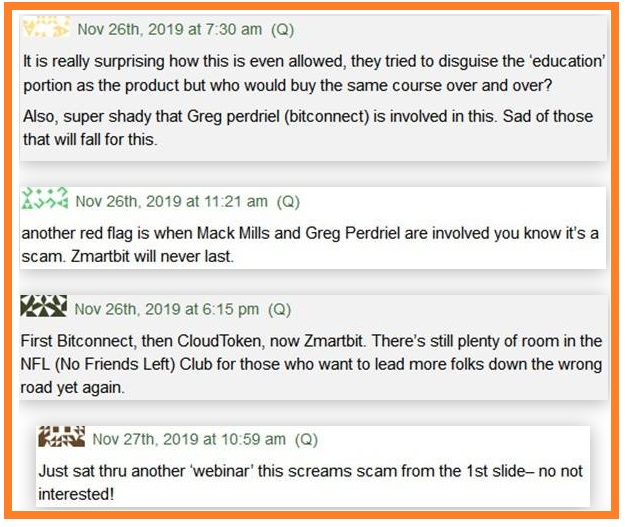 Although we can't verify these allegations that doesn't mean there's no truth behind them. If members have left this feedback based on their experiences then they're likely to be valid.
Recommended: Tired Of Working In A Dead-End Job? Let's Get Your Passion Project Off The Ground
Advantages of ZmartBit?
ZmartBit is a pyramid scheme and as such, it's not a sustainable way to make money online. It's designed to profit members right at the top.
Is ZmartBit a Scam or a Genuine Business?
This Ponzi scheme will not help you to build a viable online business working from home. The warning signs are plastered everywhere.
The only way to make money is to sign up more people to their platform. That alone is enough to tell you that you are dealing with a pyramid scheme.
The company doesn't generate any other revenue except for the memberships. There's zero evidence that ZmartBit is making profitable investments or trades.
It's highly likely that ZmartBit is part of a larger network of unethical programs using the same business model to scam innocent people.
My advice is to steer clear of ZmartBit at all costs!
How Do I Use The Internet to Make a Full-Time Salary?
I'm not a big fan of get-rich-quick schemes or MLM programs, let's just say that I've been caught short a few times.
Instead, Affiliate Marketing is my leading recommendation for people that want to build a thriving full-time online business working from home.
Here are my reasons why…
You can get started for Free.
There's no pressure to recruit family and friends, or anyone else for that matter.
You can create a business from virtually any product including the ones that you already buy. You are not limited to low-income or inferior products.
Affiliate marketing can help you to…
Generate a 4-Figure Monthly Salary and become financially free from the limitations of a traditional day job. You can do this in less than 12 months!
If you want to find out how I did it, Click Here!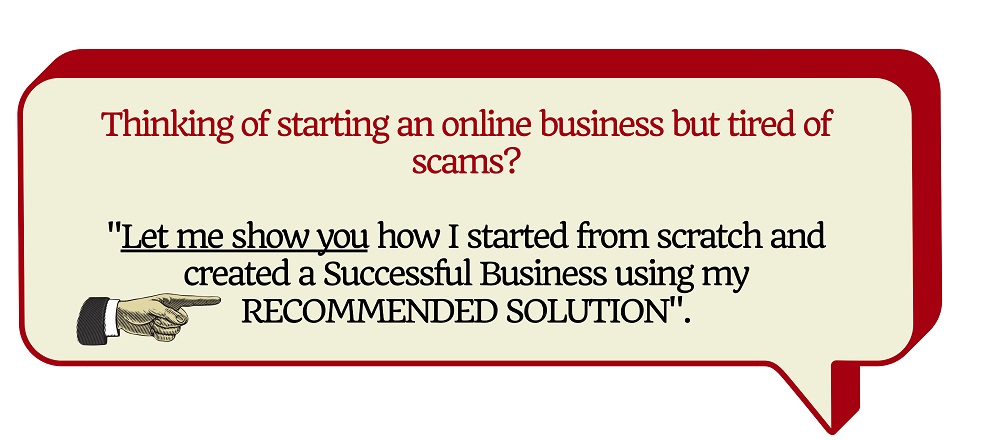 Similar Programs To Be Aware Of: