Is Rev.Com a Scam?
Transcribing audio files is one of the most sort-after online opportunities for people working from home. It's been around for a very long time. Technology has evolved to the point where companies can offer transcription jobs to workers in many different countries.
In short, a transcriptionist listens to video or audio files and converts them into text. Essentially, you would be typing out what you hear in a recording. Transcribing is highly sort after in various industries such as finance, law, entertainment and the medical sector.
In today's review, we'll be checking out a business named Rev.com and revealing whether you earn a sustainable salary from their transcribing opportunities.
The fact that you've taken a moment to scrutinize this product before buying it should be applauded. You've done yourself a huge favour. Your due diligence will save you from wasting money and time.
A good bit of research always goes a long way in the fight against online scams. Creating a sustainable full-time online business is not difficult. You just need to know where to look.
Before we proceed I'd like to let you know that I'm not linked to Rev.Com in any sort of way and I'm not trying to sell you this product.
Instead, I'd like to show you whether this company is the right Work From Home opportunity for you…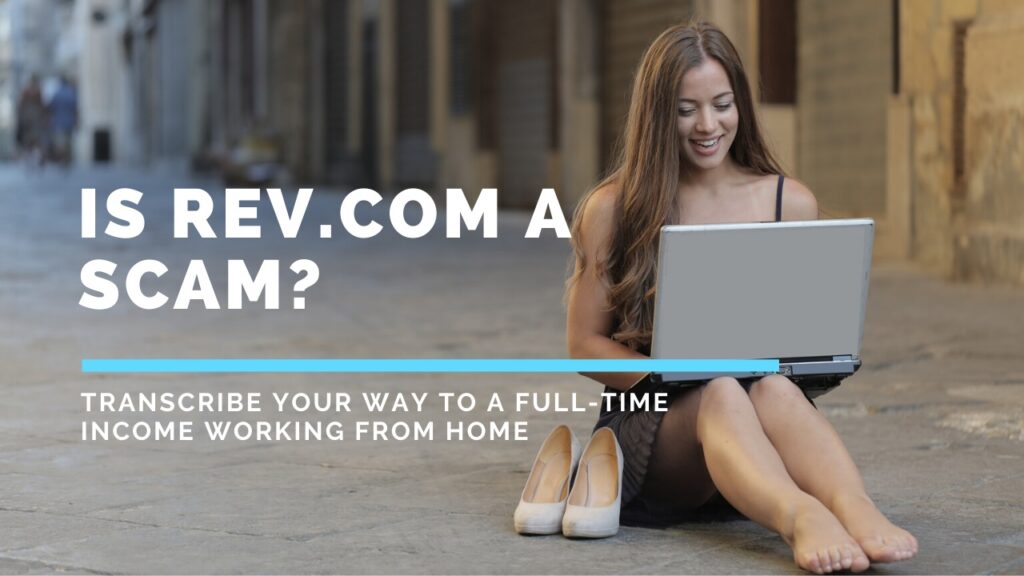 Rev.com Product Review
Name of Product: Rev.com
Owner: Josh Breinlinger & Jason Chicola
Type of Product: Work From Home Transcription Opportunity
Cost: Free to sign up
Who Is This Product Best For? Expert transcriptionists
Rev.com Product Summary
Rev.com provides transcription services and are an established company in this industry. They've worked with various high-profile clients and website like The Wall Street Journal.
If you're searching for transcription work, this just might be the place, however, there's no guarantee that you'll earn a decent amount of money, let alone a full-time salary. I'll go through the numbers a bit later and demonstrate why the earning potential is minimal.
Product Rating: 50/100
Would I Recommend This Product? Not really
Recommended: Discover How You Can Build a Full-Time 4-Figure Monthly Income With The Help Of Leading Experts. Everything Needed Can Be Found Here
Rev.Com Explained
Rev.Com offers transcription, captioning and translation services to high-profile clients such as PBS, TCM, Viacom, etc. The company employs a mixture of permanent and self-employed transcriptionists to meet demand.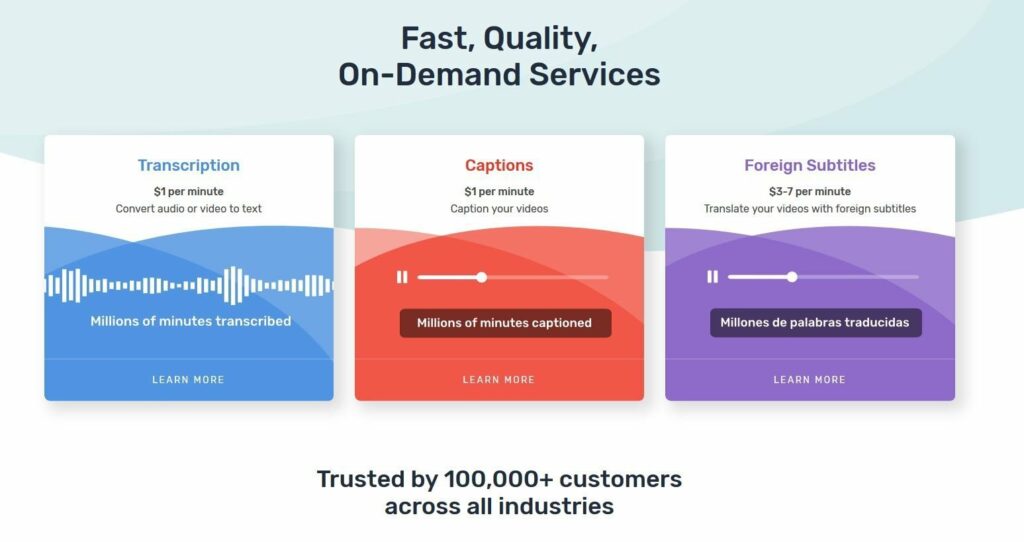 Rev.com was established by Josh Breinlinger and Jason Chicola in 2010. Initially, the company was named FoxTranscribe, then FoxTranslate. They diversified their service offerings in 2012 and re-branded to Rev.com.
The company has received several awards as a result of their streamlined transcription platform including the Editor's Choice Award from PC Mag. They've been showcased on popular websites i.e. Tech Crunch and The Wall Street Journal.
They've earned a good reputation and are a prominent transcription service provider. It's safe to say the Rev.Com knows what they're doing when it comes to transcription work.
Exploring Rev.Com
Rev.Com does not ask applicants for any specific qualifications or experience.
To be successful with the application and the job itself you need the following:
A high-speed broadband connection to download or stream large audio files.
A PC or laptop.
Good written and verbal English skills.
A decent pair of earphones or headphones.
A typing of speed of at least 50 words per minute.
A foot pedal to play/pause/stop audio files.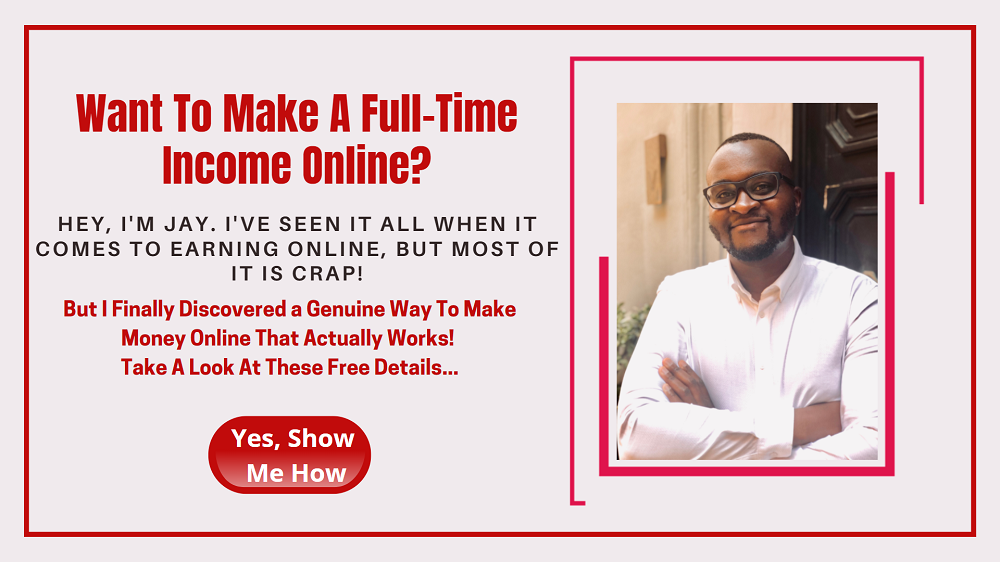 Getting Started With Rev.Com
To get started you will need to join through their homepage as a freelancer instead of a client. Rev.Com receives audio files (that need transcribing) from clients.
Signing up is effortless and the process lasts around 1 hour. Once you've completed your personal details, you'll be required to sit a test that will gauge the level of your grammar, punctuation and capitalization.
From there, you'll be asked to take another test that measures the speed of your typing. You'll be asked to type as many words as you can in 1 minute.
The final test involves transcribing. You'll be asked to download an audio file, work out the number of people talking in the recording, then transcribe the file.
When Will You Be Informed If You're Successful?
After completing the tests, you'll receive an acknowledgement email thanking you for your application. You'll be informed if your application is successful or not in 2 working days.
If you get the job, you can begin working on the available jobs. If you're application is unsuccessful you can resubmit it and re-do the tests after 45 days.
If you're successful, the company will ask you to finalize your registration. You'll be redirected to a section with the company's guidelines that you should adhere to to deliver a high standard of work.
Rev.Com Work from Home Opportunities
If you're successful, you can choose from 4 different available jobs:
Translator: translation of other languages into English.
Captioner: converting spoken English and inputting captions to videos.
Transcriptionist: converting English audio files into text documents.
Subtitler: converting spoken English words and inputting subtitles to videos.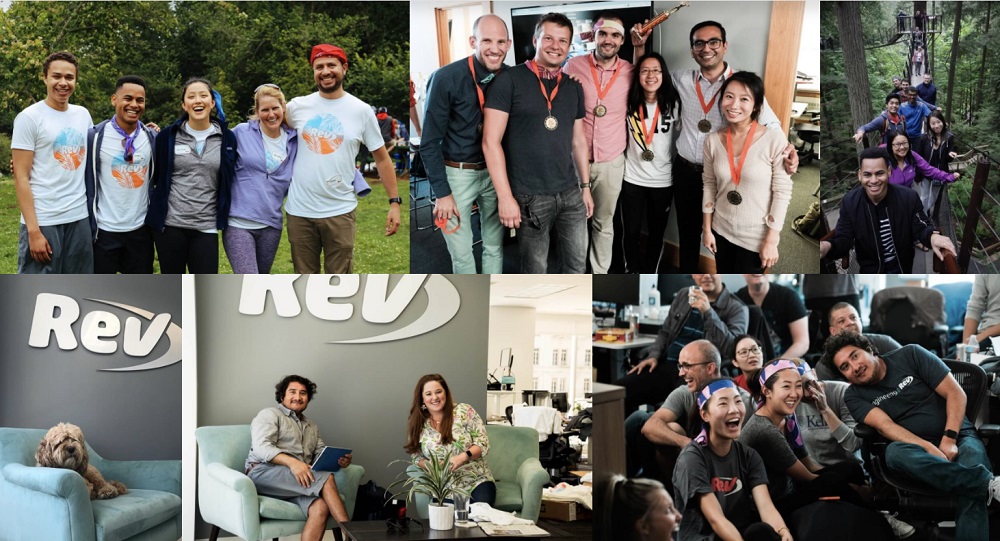 Rev.Com's 3Rs
You'll also need to be aware of the 3R's at Rev.Com to work out the amount of money you'll be making.
The 3R's are the company's way of their staff, which is implemented to ensure the delivery of high quality work as well as commitment. Additionally, the ranking will influence the type of jobs available to you.
Rookie
At this level, you are considered to be a beginner and will have access to video and audio recordings that last for a maximum of half an hour. After submitting your completed task, you are provided with feedback on the standard of your work, which is assessed before you are upgraded to a higher ranking.
Revver
To achieve this ranking, you'll need to consistently deliver a high level of formatting and accuracy. If you reach this ranking, you'll have access to video and audio recordings lasting up to a maximum of 120 minutes. Your work is then scored randomly and mistakes are assessed. At this level, you're allowed to send transcribed documents straight to the client.
Revver+
To reach this level, you'll need to sustain a specific level of formatting and accuracy at Revver level before you are upgraded to this ranking. You are given priority access to available jobs, that last up to a maximum of 1 hour 30 minutes, before the lower rankings can pick them.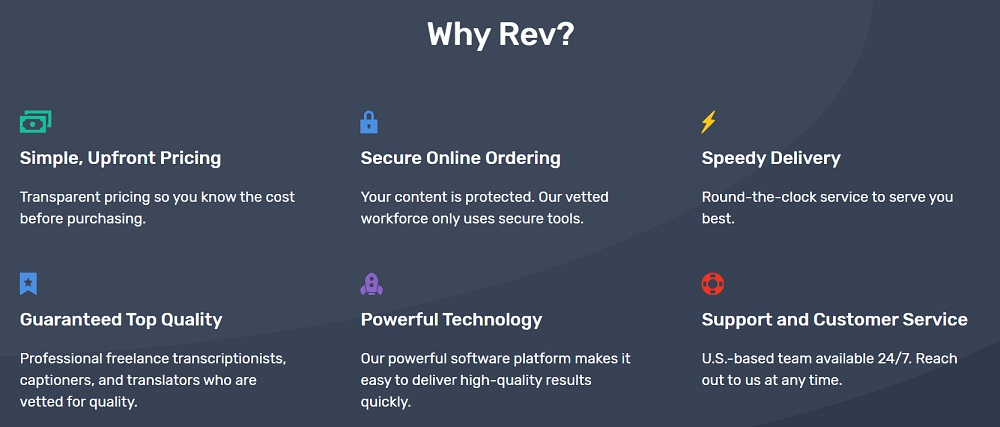 Earning An Income with Rev.Com
The earnings at Rev.Com fluctuate between different projects. Unfortunately the income is not as high as we would like to see, and your salary with defer from month to month depending on the type of work available to you.
A standard captioning or transcription job will pay roughly between $8 to $15 per hour, which equates to about a minimum of 20 minutes of video or audio depending on your typing speed.
Similar to other transcription services, translators are paid more money. The rate for a translator is between $5 to $8 per video minute.
Payments are made via PayPal, which is the only method of payment currently available. You are paid weekly on Mondays and there's no minimum threshold to withdraw your earnings.
Recommended: Everything Needed To Create Your Full-Time Online Business From Scratch Can Be Found Right Here
Is Rev.Com The Right Product For You?
Rev.Com is designed for seasoned transcribers and/or people that want to devote a huge chunk of time to this type of work. I would not recommend it for anybody just starting out or people that can only give a small amount of time to this gig.
Rev.Com Exposed!
1). Minimum Earning Potential
Although this company is highly acclaimed in the transcription industry, you are not guaranteed to receive as much money as you would like to see from this kind of work.
Transcribing is very time-consuming especially if you're not a fast typist and as such, you would expect to get paid a decent salary, however, some members have complained about jobs with low pay or periods where job availability was scarce.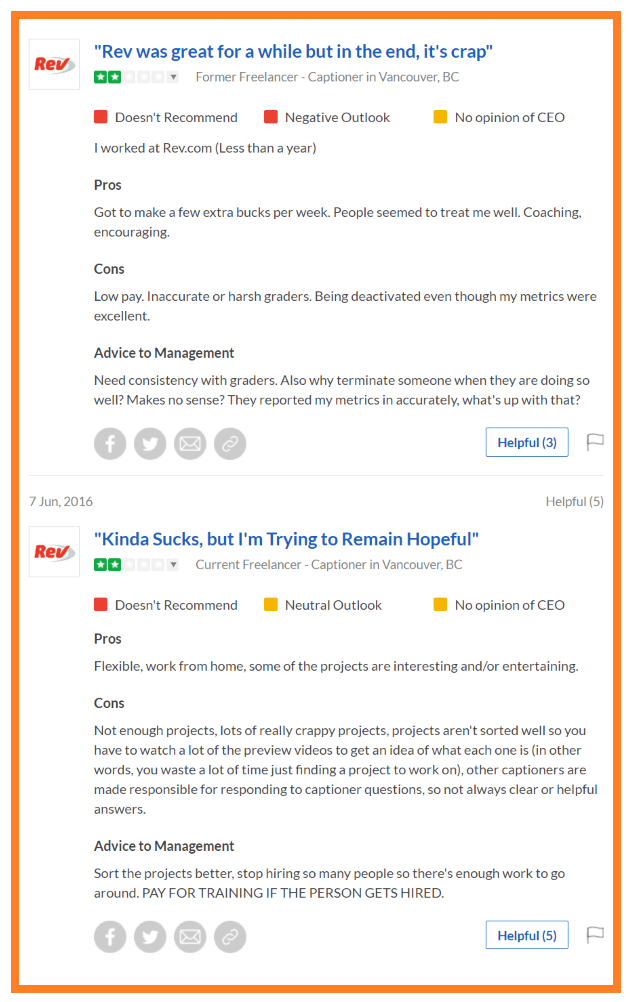 The hourly pay is more than the national minimum wage, however, you are not guaranteed to get a full day of work on any given day.
2). Strict Testing Criteria
Rev.Com works with various high-profile clients and as such, they expect their workers to deliver work quality that is virtually perfect. If you make constant mistakes or if you don't reach their minimum requirement, your profile will be terminated.
The company scores applicants and employs them based on their test result rather than qualifications.
Recommended: Tired Of Working In A Dead-End Job? Let's Get Your Passion Project Off The Ground
Advantages of Rev.Com?
1). File Preview Is Available
Rev.Com gives you the chance to sample part of the recording for several minutes before committing to the work. This is a very handy tool that is not available with rival transcription services, it gives you the opportunity to determine the level of difficulty before accepting the job.
The company simplifies the process of identifying easier tasks, therefore, it's a friendlier platform for newbies to use compared to alternative services.
Is Rev.Com a Scam or a Legitimate Business?
Rev.Com is a genuine company with genuine opportunities. Some disgruntled members have outed it as a scam, but the company is far from this. The service also has several high-profile clients under its belt.
The problem with Rev.Com is that the earning potential is low.
The availability of jobs is limited and you have to be quick at picking them up or else you might be left with the rubbish jobs that nobody really wants. Your monthly salary will fluctuate as a result of this.
They have strict requirements when vetting the quality of your work. If you're performance is not as good as other members or if you don't maintain a certain grade, your profile will be shut down.
How Do I Use The Internet to Make a Full-Time Salary?
I'm not a big fan of get-rich-quick schemes or Transcription service providers, let's just say that I've been caught short a few times.
Instead, an Amazon FBA Business is my leading recommendation for people that want to build a thriving full-time online business working from home.
Here are my reasons why…
There's no pressure to recruit family and friends, or anyone else for that matter.
Learn a unique method to source incredible, high profit, low-competition products that are virtually hidden from your competitors.
You don't need to sell hundreds of different products to create lucrative profits with this fresh, exciting business model.
An Amazon FBA business can help you to…
Generate a 5-7 Figure Salary and become financially free from the limitations of a traditional day job. You can do this in less than 12 months!
If you want to find out how I did it, Click Here!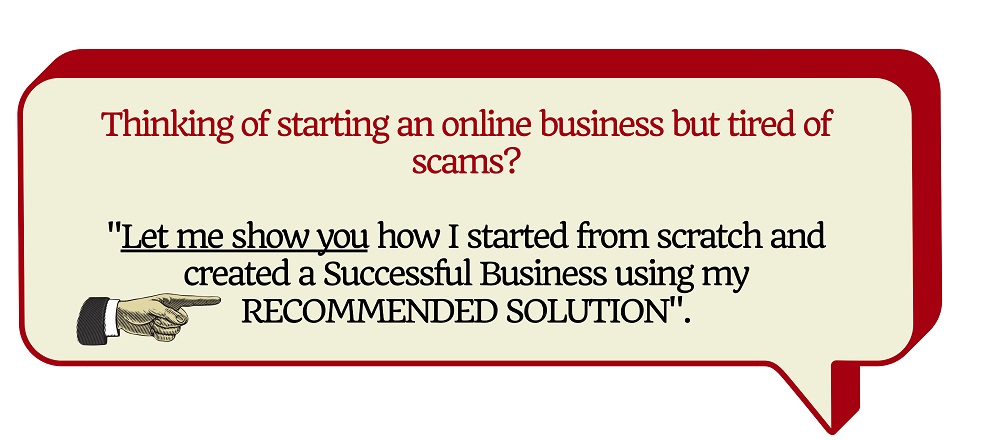 Similar Programs To Be Aware Of: