What Is PTC Bank About?
I recently discovered a system named PTC (Paid To Click) Bank which offers a way to make money online. The premise behind this system is that you are paid to click links to adverts or websites. That's all there is to it.
PTC systems are not new or unique, PTC Bank is roughly 5 years old. What worries me is that there are similar systems online which turned out to be scams.
Given that the site has been around for some time and it doesn't exaggerate its earnings claims, I'm hopeful that PTC Bank might be better than the scams I've reviewed previously like Four Dollar Click.
We are told that the earnings you can make through PTC Bank are $0.10 for each click with a selection of $0.02 adverts plus there is a choice to make more money through referrals. You need to achieve a minimum balance of $100 before making a withdrawal. Is PTC Bank trustworthy?
Issues with PTC Bank by James Anderson
The ethos behind PTC Bank sounds like it could be a decent system to make some side cash but appearances can be deceiving. I delved deeper into the system to see what it was all about and came across various issues that dismissed PTC Bank as a viable online business.
---
What Income Does PTC Bank Pay
For starters the income that you apparently earn through PTC Bank is trivial. If you were to watch 25 adverts each day, at a rate of 10 cents per advert, you would earn a staggering $2.50 which hardly seems worth it.
It means that, at this rate, it would take you 40 days to achieve the minimum withdrawal amount of $100. If you choose the $0.02 adverts it would take much longer than 40 days.
PTC Bank earnings are extremely low even if you chose to supplement the cash by referring people. You would be better off looking elsewhere to earn money faster.
See how I make real money online with my #1 top recommendation
---
Proof of Earnings That Can't Be Verified
Pay To Click systems or any other systems that claim they can make you an online income should back this up with proof. PTC Bank shows us various screenshots as evidence of Paypal payments made to its members.
Sadly, there is no way of proving that the earnings are genuine. This is because the earnings can be faked easily using a simple snipping tool or even Microsoft Paint.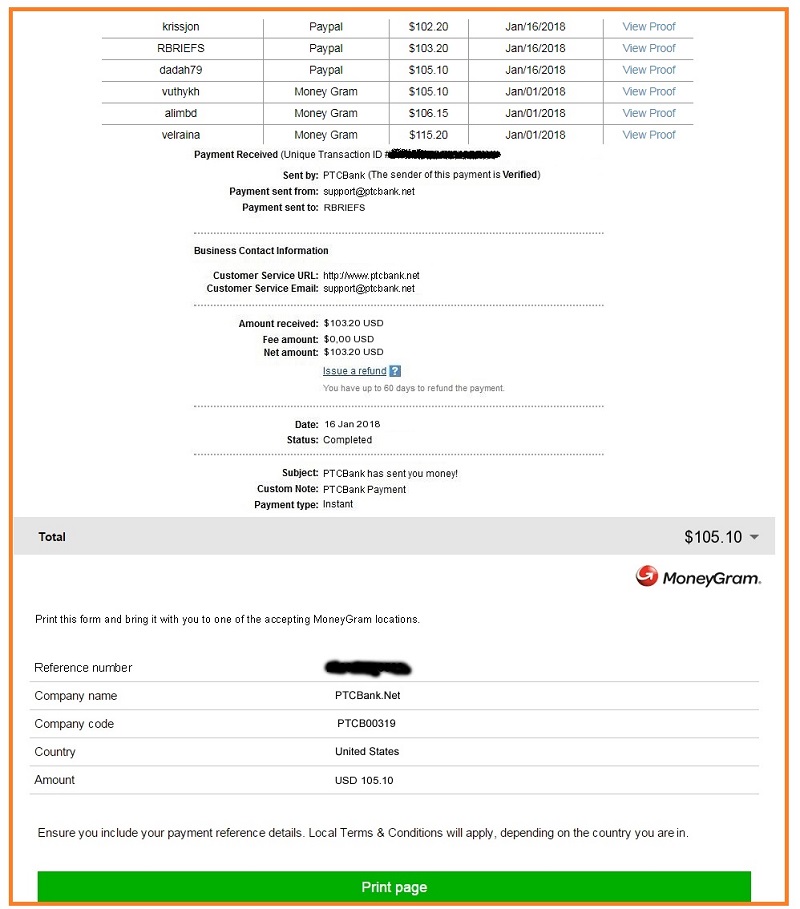 The PayPal payments illustrated above appear to be fake. The font is in different sizes and it generally looks suspicious.
See how I make real money online with my #1 top recommendation
---
Customer Complaints
Complaints are a normal element of business especially for companies that have been operating for several years. PTC Bank has various complaints but what worries me is that the complaints are very specific to a single area. Can you guess what that is?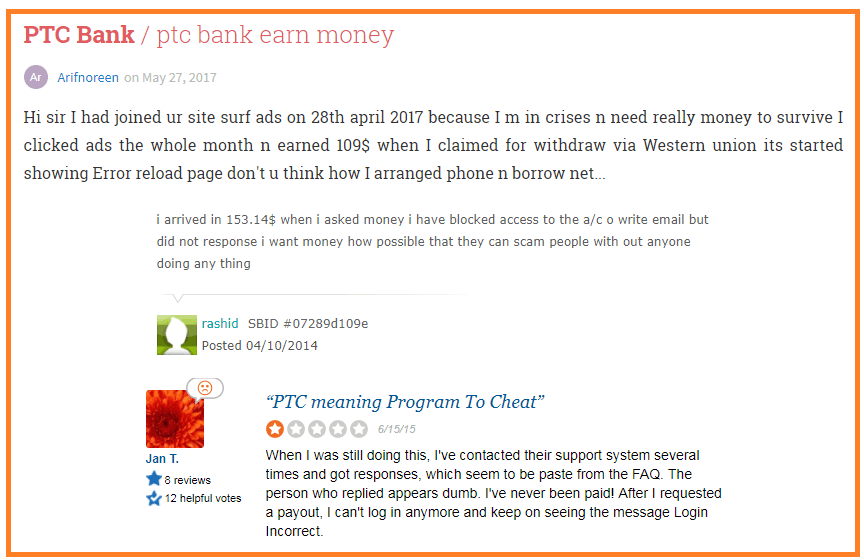 There is an abundance of members complaining that they can't withdraw their earnings once reaching the minimum payout amount. In addition to this, when members attempt to make another withdrawal they soon discover that they've been locked out of their account.
This practice is unethical and is akin to previous scams that we've reviewed.
---
PTC Bank's Terms are a Concern
The complaints described above reveal an appalling way of doing business. The problem is that most members won't bother reading the fine print in the terms and don't realise what they've signed up to…
The terms contain a caveat that essentially gives PTC Bank the freedom to terminate or suspend your account and revoke any payment due to you whenever they decide to do so. Your account can be cancelled for any reason, even if you don't do anything wrong.

And if they decide to terminate your account, they are not obliged to give you prior warning or notification. PTC Bank has deliberately made their terms unclear to give them a loophole not to make payments to its members. They could suddenly make up a rule and then inform you that you are in breach of it.
---
PTC Bank is doubling up
When taking into account the unfair terms describe earlier, PTC Bank has a business strategy that works purely in their favour and aggressively against its members.

The company doubles their profitability by charging for advertising space on their websites and then refusing to make payments to their members. This means that they make money from both sides i.e. payments received from advertisers and a money saving from workers that they don't pay. PTC Bank is laughing all the way to the bank.
See how I make real money online with my #1 top recommendation
---
Dubious Background
I also looked at the payment company featured on the site to test whether it links to the correct area. When I clicked the logo I found a strange referral link to a site named dfehwert dot com.
Is it a coincidence that some of the adverts also redirect to this same strange website?
I browsed the dfehwert site and it turned out to be a repository for numerous pirated games, films and counterfeit software licences.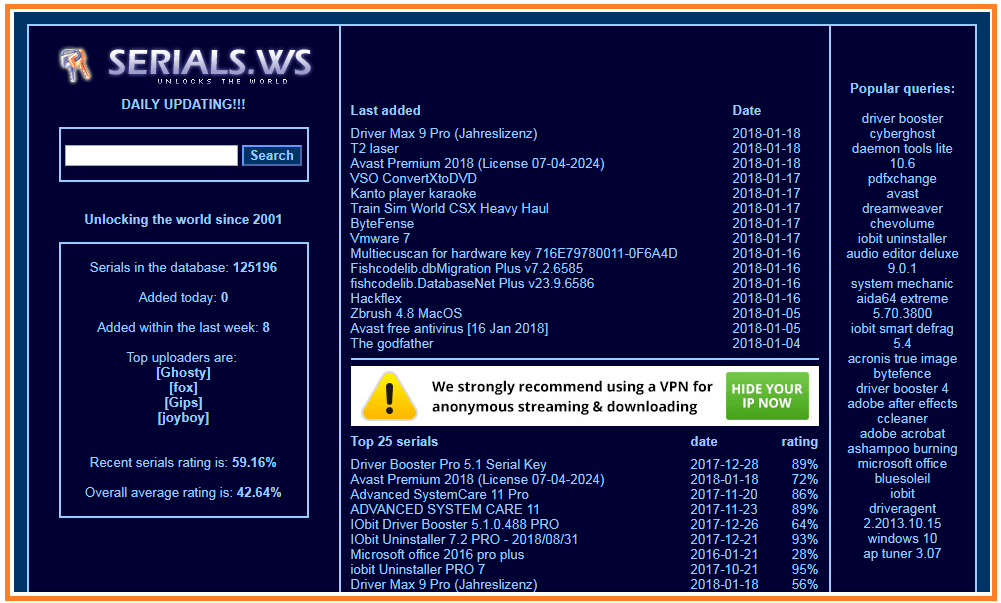 If there is one thing that should put you off from using PTC Bank is the fact that they are entangled with an illegal website. Further investigation reveals that both sites share the same address and customer service email address.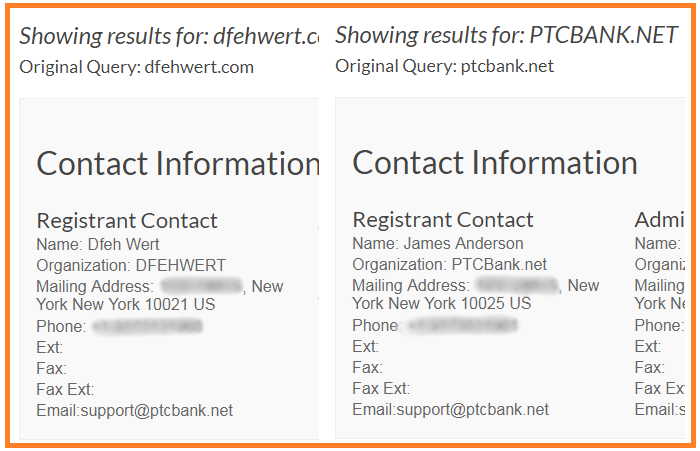 The contact information for both companies is shown above and has been obtained from ICANN WHOIS  which tells you who is responsible for the domain name.
---
Pros:
Unlike other scams, PTC Bank doesn't charge a membership fee, but they make up for this by refusing to pay members. It's a waste of time.
Cons:
The member earnings are pathetically low.
The low earnings don't matter because it's likely that you will NOT get paid.
You are redirected to a suspicious site that distributes pirated material.
See how I make real money online with my #1 top recommendation
---
My Final Say
Not only is PTC Bank making money from advertisers but they are also using you as free labour to carry out their dirty work. They double up on their profits by doing this, and you will never see the little money that you've worked for.
I have a lot of concerns about PTC Bank and their affiliation to an illegal website. I don't want to know how they're linked but if both sites share the same contact details it's more than likely that they are both owned by the same people.
If you're still wondering what is PTC bank all about, it's basically a scam but instead of squeezing money out of you the site is using you as free/ cheap labour.
PTC bank makes the earnings appear to be a bit more reasonable and achievable to disguise the scam, but all the while you will never get paid whilst the person behind the system makes profits off of your efforts.
My advice is to not waste your time with PTC Bank, it is NOT a reliable source of online income. There are better ways to make money online and I'd recommend that you click here to see how I build my very own successful online business from scratch.