Four Dollar Click Review: Is it another Scam?
I get surprised by the number of people that think making money online can be achieved with minimum effort. Working on the internet is similar to working in the real world, you need to put the work in to get results. The difference is, you could potentially earn a lot more money online.
Nonetheless, this has seen an increase in the number of websites that claim they can help you make a lot of money for doing easy jobs.
I recently discovered a website that makes these exact claims. You might know them as Four Dollar Click or a variation of this- Three Dollar Click and Seven Dollar Click.
The website claims that it will earn you $4 per click to simply click on advert links. That sounds like a remarkable amount of profit but can this company be trusted?
See how I make real money online with my #1 top recommendation
---
How Does Four Dollar Click Work?
The idea is that you sign up as a member, start clicking links that will direct you to various websites and in the process, you generate $4 for each click. The catch is that you have to pay a membership fee, which has to remain active for a specific period before you can withdraw funds. The warning signs are already starting to show.

---
Exaggerated Earnings Claims
Four Dollar Click's ploy is to make you believe that their system can generate profits of $4 for every click. I'm struggling to see how this is possible? Why would anyone pay you that much money to simply click an advert? The payout sounds too high, even if the advert is in a competitive market that type of money is rare.
If you did find a company that actually paid you to click links, the earnings would be significantly lower. Most pay just $0.01 (or less) per click.
A trained marketer would look at Four Dollar Click's business model and quickly realise that it is not a sustainable business because the company are paying people to click adverts but those people are only clicking to get a payment. Eventually, the advertisers will realise that they're wasting money because nobody is actually looking at their adverts.
See how I make real money online with my top recommendation
---
You Need to Pay To Withdraw Profits
Scammers are full of neat tricks. I've reviewed countless sites that charge people ridiculous fees to work or to withdraw their own profits. Four Dollar Click is no different.
Be wary of these type of sites, most of them are scams. You shouldn't be made to jump through hoops to access money that you've worked for!
With Four Dollar Click, the cost of accessing your own money is steep. The cheapest membership is $59.99 per month or a one-time payment of $799 for unlimited access- there are more expensive memberships.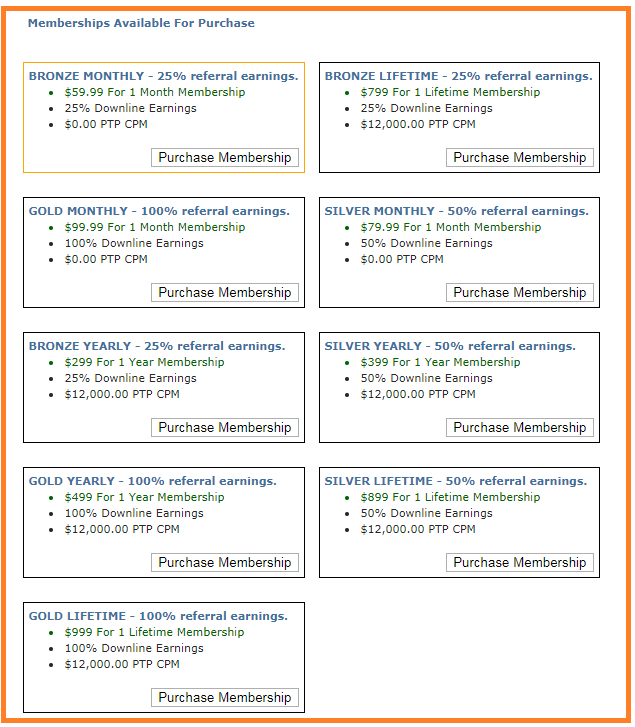 They are various price structures, as detailed above, which suggest that if you choose a pricier option you'll be given access to receive a percentage of the earnings for anyone that you refer to Four Dollar Click. The referral commission ranges from 25% to 100%.
The profits look handsome but where is this money coming from?
Advertisers normally purchase advert bundles that are equivalent to $0.01 per advert. So how are you meant to earn $4 per click if the advert is only $0.01? Where is the extra money coming from? The numbers simply don't add up.
See how I make real money online with my top recommendation
---
The Terms are Working Against You!
Let's suppose you pay the membership cost and manage to meet the payout criteria, which is quite difficult, it's highly unlikely that you will get a payment.
The Four Dollar Click terms and conditions are deliberately made to be unclear and are fiercely against its members.

Basically, Four Dollar Click terms are structured in such a way that they can change the rules, membership fees, earning criteria and benefits at any time without informing you. They can keep changing the goal posts and make it increasingly difficult, than it already is, for you to get your hands on money that you've earned.
Wait there's more. In addition to the above, there is a condition relating to account inactivity. If you don't log in to your account every 6 days and click, you will lose all your earnings. They basically take away your earned money.

When the terms are read in their entirety, they are structured to give Four Dollar Click every reason to avoid paying out money to their members. They could change their terms at any moment without informing you, then tell you that you've broken them so that they don't need to pay you.
You should be careful if you decide to look past the unfair terms and sign up because the site showed you evidence of member payments. The evidence is not credible because it can be faked easily.
The usernames and payment amounts shown below can be churned out using simple coding. If you gave a novice coder a list of names it would take them less than half an hour to generate "proof of payment" like the one shown below. I wouldn't trust their evidence!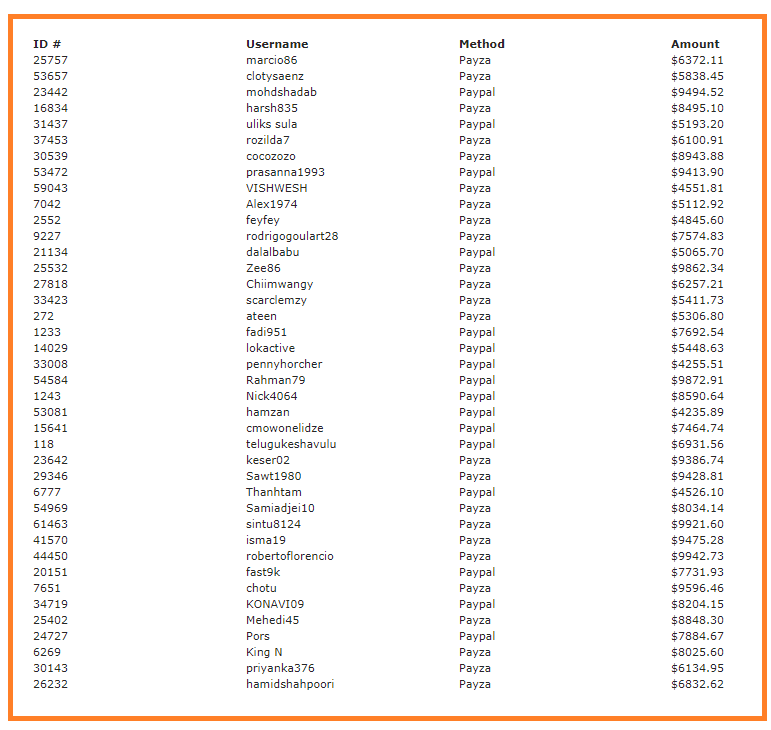 ---
Four Dollar Click Complaints
A search on google exposes a lot of customer complaints about Four Dollar Click and the company's refusal to make payouts. These customers are often told that they broke the terms.
There's a handful of positive reviews but I've got a strong suspicion that those are false, they appear to have been written by the same person.
It doesn't come as a surprise that Four Dollar Click is reluctant to make payouts. Their business blueprint is not sustainable because there's barely any money to pay members.

---
Who Are The Owners of Four Dollar Click?
We don't know who is running this show because the people behind Four Dollar Click have purposely remained anonymous.
Upon closer inspection, there a no contact details, business information or telephone numbers. There is a simple contact form but that doesn't mean you are dealing with a genuine business.
The website domain is concealed behind Who Is Guard to prevent you from knowing who owns the site.  
Can you trust a company that deliberately tries to remain hidden and is difficult to contact?
See how I make real money online with my top recommendation
---
Pros:
Absolutely no benefits of paying the Four Dollar Click membership.
Cons:
The company has made a big effort to conceal their contact details.
The terms and conditions are designed to avoid paying you.
The proposed earnings are not realistic.
The business is not sustainable, there is not enough money to make the payouts that they claim.
A quick google search exposes plenty of unhappy customers.
---
Final Thoughts
Four Dollar Click is structured to make it easy for their members to break the terms. Their terms can be changed at any time without your knowledge, making it virtually impossible to get paid, even if you've paid the membership.
Learn how to make money online with an honest system, market-leading training and the help of successful marketers.
Is Four Dollar Click and its other sites (Three Dollar Click and Seven Dollar Click) a scam? Yes, it is.
How can a business pay you $4 per click for clicking links when their income from advertisers is a mere $0.01 (or less) per advert?
The people behind the system are profiting from your clicks then impose unfair terms to avoid paying you. You would be constantly chasing your tail with Four Dollar Click. In addition to this, you should be wary of giving out your personal details and credit card information to an unknown party. Your information could be sold on!
Four Dollar Click is a scam, you should stay away from this system.
If creating a successful online business is something you've given some thought I would recommend following this link to access a program that helped me create a thriving business from scratch. Join a trusted system that will guide you through the process of making money online.