Is The Acorns Investment App a Scam?
The Acorns App is a clever tool that lets you profit with any spare change that you might have. Does this appeal to you? Of course, it does! In this review, I'll reveal everything that you need to know to get started with the Acorns app.
The fact that you've taken a moment to scrutinize this product before signing up should be applauded. You've done yourself a huge favour. Your due diligence will save you from potentially wasting your time and money.
A good bit of research always goes a long way in the fight against online scams. Creating a sustainable full-time online business is not difficult. You just need to know where to look.
Before we proceed I'd like to let you know that I'm not linked to the Acorns app in any sort of way and I'm not trying to sell you this product.
Instead, I'm here to show you how this micro-investment platform can help you build a considerably amount of money with your spare change!
Acorns App Review
Name of Product:  Acorns
Creator:  Walter and Jeff Cruttenden
Type of Product:  Micro-investment Platform
Cost:  Monthly fees – $1 to $3 a month
Who Is This Product Best For:  People looking for innovative ways to begin with investments but don't have tons of money to invest.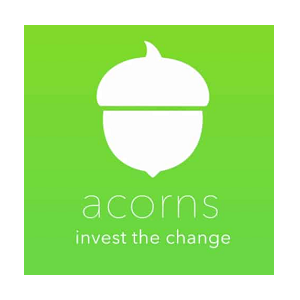 Acorns App Summary 
The Acorns app focuses on tiny investments and helps you to convert any leftover money into micro-investments. The app is completely automated, therefore, all you need to do is sign up for a new account, sync it to our bank account and leave the app to sort out your investments.
Because the app is completely automated, the daunting process of managing investments is a thing of the past which means that anyone can use it even if they're not good with numbers.
The good thing is that there is no minimum requirement for an investment amount, therefore, you don't need to be concerned about saving a large sum of money to begin investing.
Product Rating: 90/100
Would I Recommend This Product:  Yes!
Recommended: Discover how you can build a Full-Time 4-Figure Monthly Income with No Previous Experience
Acorns App Explained
As mentioned earlier, Acorns is an investment app which assists you to grow your saving through micro-investing.
Acorns was established in 2014 and build by Jeff and Walter Cruttenden. Their aim has always been to make investing more accessible.
The app has the support of leading investors, financial advisors, and large companies.
Acorns consistently strive to be unique from the competition by offering a platform that is totally automated.
Sadly, Acorns can only be accessed by USA residents, however, if you reside in the UK, you can invest with the MoneyBox app, which offers virtually the same features as Acorns.
Exploring The Acorns App
Acorns offer 2 ways to invest your money.
You can choose between Acorns Core and Acorns Later.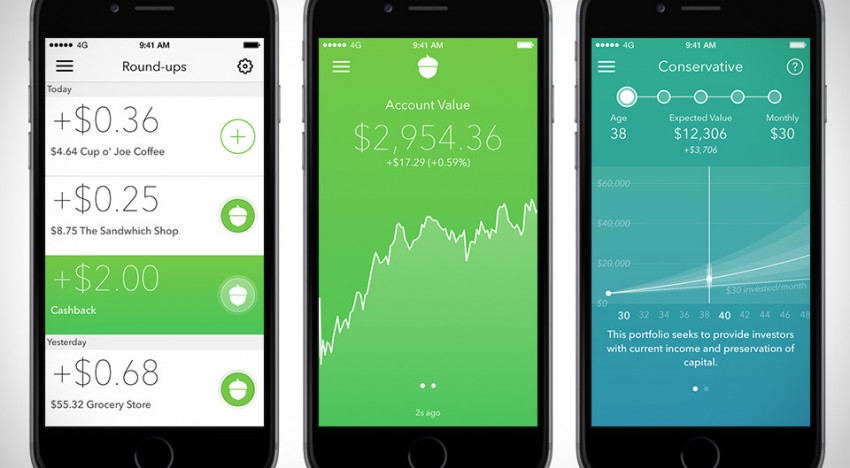 Acorns Core
With Acorns Core you can start micro-investing with any surplus cash that you might have leftover.
Setting up an account is incredibly quick, you can be ready to start investing in under five minutes. Acorns will create a customized portfolio for you.
An interesting fact is that more than $1 billion has been invested via Acorns Core.
Acorns Later
Acorns Later is an investment which takes a different approach by letting you put money away for your future.
You will have the ability to create an IRA or Individual Retirement Account via Acorns. With Acorns Later, the system continuously brings your IRA up to date to meet your investment objectives.
Similar to Acorns Core, setting your account won't take you longer than 5 minutes and your investments can begin straightaway.
At the moment, Acorns Later has over 250,000 investors and that number is constantly growing.
Recommended: Discover how you can build a Full-Time 4-Figure Monthly Income with No Previous Experience
Acorns Spend
Acorns Spend is essentially a checking account with additional features that are distinct to the system. It's a new addition that bolsters the product range provided by Acorns.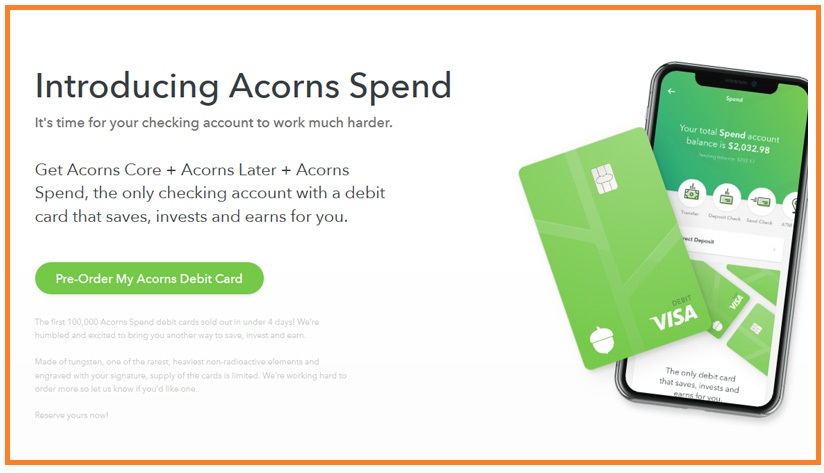 When Acorns Spend first went live the 1st 100,000 cards sold out. To add to the appeal, the cards are designed from tungsten, a rare and weighty non-radioactive material.
The card comes imprinted with your signature and there's a limited number of cards.
Acorns Spend intuitively helps you save money by rounding up your spending and it adapts to your spending habits and guides you by leveraging smart investment strategies.
It's a user-friendly product and comes with free unlimited use of ATMs and other banking services throughout the country, if you are charged for usage, the fee will be refunded. Services include bank transfers, direct deposits, sending and depositing of checks.
Acorns Found Money
Acorns Found Money is a feature recently introduced to the Acorns product range in addition to the Core and Later products.
It's a distinct feature that gives brands access to invest in you. That sounds good right?
Every time you spend with a partner of Acorns Found Money, that partner will in turn invest into your Acorns Core account.
This is similar to receiving cash back for your spending and as a result of this, it will growth your investments quicker.
Below is an example of the brands partnered with Acorns Found Money: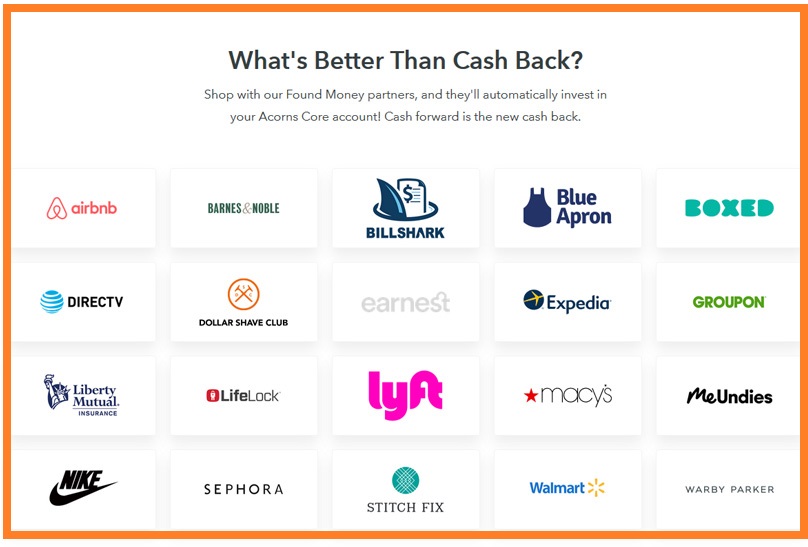 The list shown above is constantly growing and will continue to do so because of the popularity of this product.
If you'd like to use Acorns Found Money, you will need to add a card to your Core product and the best part is that the card doesn't exclusively need to be an Acorns spend card.
The product will seamlessly start running in the background once your card is linked to your account. Your investments will show in your account within 2 to 4 months from the purchase date.
The app also allows you to view the status of your Acorns Found Money purchase history to keep track of things.
Portfolios Offered By Acorns
Okay, let's get down to the nitty gritty and look at the portfolios that you can invest into at Acorns.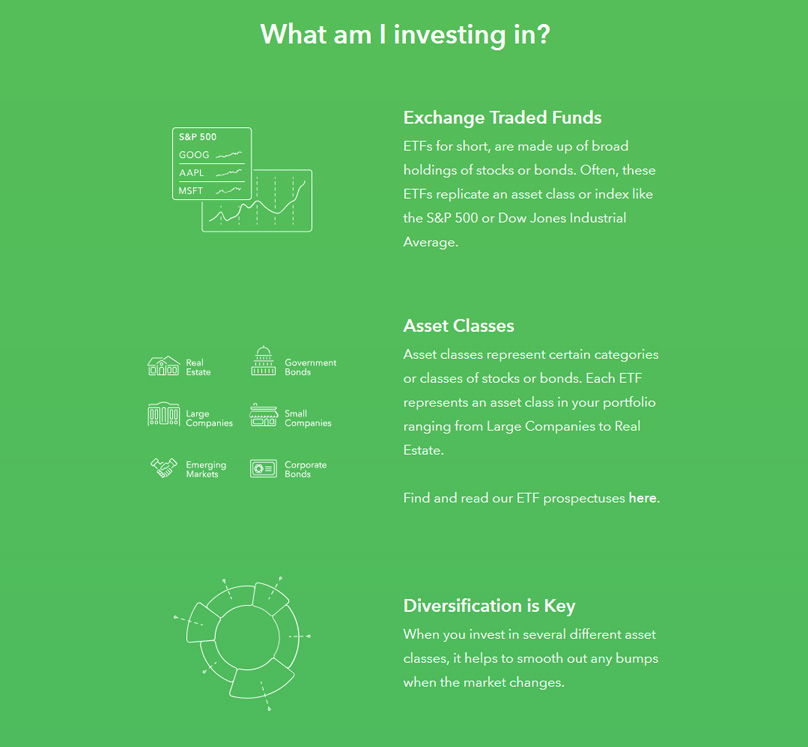 As an investor it's important to be aware of what you are investing in and the level of risk that comes with each investment.
Recommended: Discover how you can build a Full-Time 4-Figure Monthly Income with No Previous Experience
Conservative Portfolio
2% real estate stocks.
2% small company stocks.
4% international large company stocks.
12% large company stocks.
40% government bonds.
40% corporate bonds.
Moderately Conservative Portfolio
4% small company stocks.
4% real estate stocks.
8% international large company stocks.
24% large company stocks.
30% government bonds.
30% corporate bonds.
Moderate Portfolio
3% emerging market stocks.
6% real estate stocks.
10% small company stocks.
20% government bonds.
12% international large company stocks.
20% corporate bonds.
29% large company stocks.
Moderately Aggressive Portfolio
4% emerging market stocks.
8% real estate stocks.
10% government bonds.
10% corporate bonds.
14% small company stocks.
16% international large company stocks.
38% large company stocks.
Aggressive Portfolio
10% emerging market stocks.
10% real estate stocks.
20% international large company stocks.
20% small company stocks.
40% large company stocks.
The portfolios were created by Dr Harry Markowitz, he is a renowned economist and has been awarded a Noble Prize.
The ETF's or Exchange Traded Funds operated by Acorns are developed by leading investment management businesses like Vanguard and Black Rock.
Recommended: Discover how you can build a Full-Time 4-Figure Monthly Income with No Previous Experience
How Expensive Is It To Join Acorns?
There are 3 different accounts to choose from if you're thinking of joining Acorns. They all provide good value and are easy to understand.
Acorns Core
Acorns Core will cost you just $1 per month and comes with Acorns Core (the investment application).
Acorns Core + Acorns Later costs $2 per month and comes with the above plus Acorns Later and the app.
Acorns Core + Acorns Later + Acorns Spend costs $3 per month and comes with Acorns Core, the App, Acorns Later and Acorns Spend (a checking account with more banking features).
It's good to know that the $3 per month option is completely protected by the FDIC or Federal Deposit Insurance Corporation for a maximum sum of $250,000. The security features include fraud protection, 256-bit encryption and a card-locking feature.
Taking Out Money from Acorns Investment Accounts
There is a degree of flexibility with the money that you invest with Acorns and you are allowed to withdraw some of it whenever you wish.
You can withdraw your money into the same bank account that you made the investment from.
It's the exact same process that you would follow when transferring money into or out of your standard bank account.
You will need to wait between 5-7 working days before the money shows up in your account.
It's a long time to wait for your money, however, this is caused by the banking system and is not Acorn's fault.
Thankfully, Acorns does not charge you to withdraw your money or impose any withdrawal limits or penalties.
Is Acorns App The Right Product For You?
Acorns App was created for investment novices, or anyone that is thinking of starting an investment portfolio but are not sure where to begin.
Because the app comes with complete automation, all you need to do is add your bank account to the app, change your preferences and you're ready!
With Acorns, the portfolios are already set up for you, however, expert investors might go for a different product that gives them the choice of where to invest their money.
Acorns App Advantages
(1) No Minimum Investment To Start An Account
One of the biggest hurdles with investments is the minimum amount of money required to begin.
Some investment products require at least $250-$1,000 to begin with which is quite a bit of money to entrust with a platform for an extended period of time.
What I like about Acorns is that the amount required to start investing is quite small. You can begin investing with just $5 in leftover disposable income. Easy!
If you're new to investing then this will give you the opportunity to determine how well you can do prior to committing to bigger investments.
(2) Complete Automation Eliminates The Difficulty Of Investing
The biggest selling point about Acorns is that it's totally automated, therefore, you don't need to deal with the complexities of investments.
The smart tools that come with the app allows you to sit back and let the platform do the hard work for you even if you're not experienced with bonds, stocks or ETFs.
Recommended: Discover how you can build a Full-Time 4-Figure Monthly Income with No Previous Experience
(3) Automated Savings Enhance Your Investments
Saving is not easy because there's often something else that you'd rather be doing with your money instead of investing it.
Acorns is designed to remove the difficulty of making a conscious effort to save money, it's seamlessly done for you.
The app gets to work as soon as money reaches your account. It will invest money based on your preferences and the percentage of money that you would be happy to invest.
Therefore, the money is already out of your line of sight and invested as soon as you've received your monthly wage and as a result, the remaining funds can be used as normal with the knowledge that some of it has been put away.
You can continuously set up ongoing investments and this is made easy by the Acorns app. You can opt for monthly or weekly investments to amplify your savings.
Acorns App Disadvantages
(1) Keep An Eye On The Fees Versus Small Investments
A total annual fee of just $12 isn't much, however, it will make a difference when you compare it as a percentage of the money that you're investing.
For example, if you decide to keep to the lowest investment of $5 per month, Acorns will cost 20% of your annual investment to use.
Alternative platforms such as WealthFront charge just 0.25% of the assets that they manage for you. In light of this, Acorns would be a costly product and as such, this is expense that comes with complete automation.
(2) No Tax Benefits
Unfortunately, Acorns does not come with any type of tax benefits except the 1099 that is sent to you in the post during tax time if applicable to your account.
Tired of Scams? Find Out How To Build a Full-Time 4-Figure Monthly Income with No Previous Experience
Is Acorns App a Scam?
Absolutely NOT.
Acorns is an authentic micro-investing app that allows you invest your leftover change.
It will not make you a lot of money in the short term, however, it's a great tool to assist you with saving small sums of money that can mount up to a sizable amount over a prolonged period of time.
The app is recommended for newbie investors that are not sure how to kick start their investment journey.
It's also good to know that the minimum amount required to get started is very low, thus, reducing the worry of committing a big sum of money.
The automated app takes away the difficulty of investment procedures and makes it suitable for virtually anyone to become a savvy investor.
With time, you can build your knowledge of stocks, ETFs, bonds and other investment strategies but during your early stages you can be reassured that Acorns will help you along your investment journey.
How Do I Use The Internet to Make a Full-Time Salary?
I'm not a big fan of get-rich-quick schemes or MLM programs, let's just say that I've been caught short a few times.
Instead, an Amazon FBA Business is my leading recommendation for people that want to build a thriving full-time online business working from home.
Here are my reasons why…
There's no pressure to recruit family and friends, or anyone else for that matter.
Learn a unique method to source incredible, high profit, low-competition products that are virtually hidden from your competitors. 
You don't need to sell hundreds of different products to create lucrative profits with this fresh, exciting business model.
An Amazon FBA business can help you to…
Generate a 5-7 Figure Salary and become financially free from the limitations of a traditional day job. You can do this in less than 12 months!
If you want to find out how I did it, Click Here!