In this review, I'll walk you through Auto Chat Profits and reveal whether you can actually make profits of $423 per day. Is this system your fast track to early retirement or just another scam doing the rounds?
The fact that you've taken a moment to scrutinize this product before buying it should be applauded. You've done yourself a massive favour. Your due diligence will save you from wasting money and time.
A good bit of research always goes a long way in the fight against online scams. The good thing to know is that creating a sustainable full-time online business is not difficult. You just need to know where to look.
The premise behind Auto Chat Profits is that it automatically sends promotional messages to your website's audience about various affiliate marketing products linked to your campaigns.
This sounds like a dream come true because of the sheer fact that your income generation would be completely automated. Do you like the sound of that? Hell yeah!
But before you take out your credit card to buy Auto Chat Profits there are a few things you should know.
For starters, I'm not linked to Auto Chat Profits in any sort of way. I'm not trying to sell you this product. Instead, I'd like to give you an honest review of this system and reveal whether you can actually profit from it.
Auto Chat Profits Review
Name of Product: Auto Chat Profits.
Owner: Unknown.
Type of Product: Affiliate Marketing Auto Bot.
Cost: $37 + Upsells.
Who Is This Product Best For? The Owner and Affiliates Promoting this System.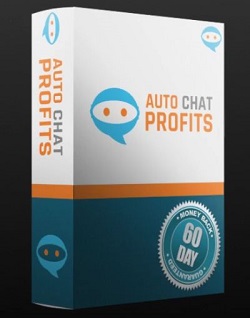 Auto Chat Profits Summary
Auto Chat Profits is a chatbot that supposedly touts various Clickbank products focused on affiliate marketing. Whenever someone visits your website, the bot will interact with them and promote products. On the face of it, this sounds like a great tool, however, I've got some reservations about Auto Chat Profits.
One of my biggest gripes is that the management of this system is very restricted. You can't choose your domain name or the products that you want to promote. On top of that, when your chatbot goes live it can't be controlled.
Rating: 5/100
Would I Recommend This Product? No
Highly Recommended: Discover how you can build a Full-Time 4-Figure Monthly Income with No Previous Experience
Auto Chat Profits Explained
Auto Chat Profits is a product available through Clickbank. According to its owner, the program gives you the opportunity to tap into a hidden system that automates profits. Apparently, you can start making money in just 6 minutes. The system takes away all of the hard work and all that's required from you is 14 clicks.
I've reviewed countless get-rich-quick scams over the years. If you've read my previous articles you'll know that Auto Chat Profits sounds similar to Profit With Alex.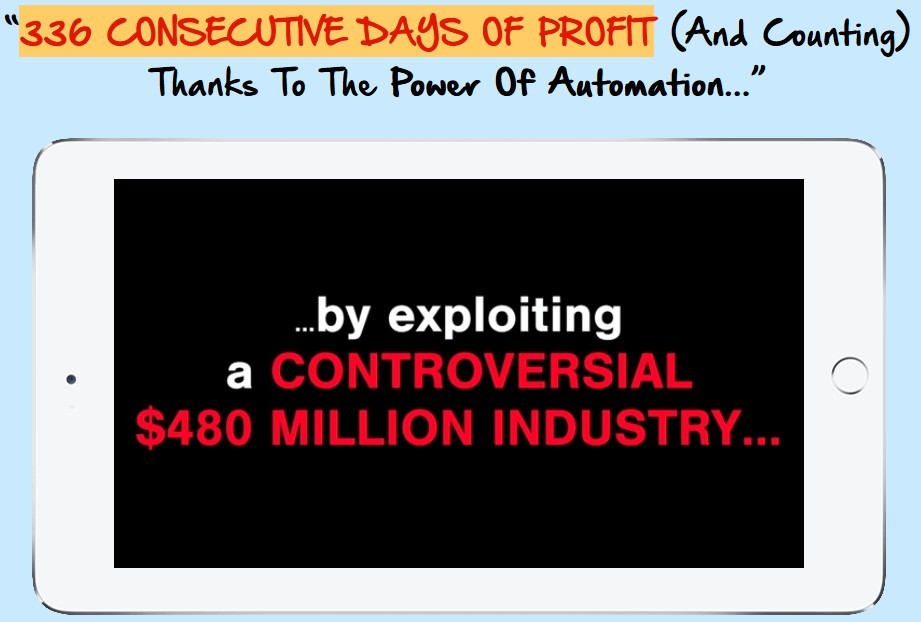 Let's talk about the owners for a second.
To begin with, there are no contact details for the owners or the company itself. The only name that we're given is Samantha Smith, the narrator from the sales video.
Samantha doesn't exist outside of the sales video. I couldn't find any other information about her online which leads me to believe that she's a fictional character.
You'll be shown several screenshots by Samantha during the sales presentation and she illustrates how much money you can make with Auto Chat Profits.
To the untrained eye, this program sounds like the holy grail of making money online, however, they are numerous red flags which I'll expose throughout this review.
Exploring Auto Chat Profits
Here's how the program is setup:
Firstly, if you don't already have a Clickbank account you will need to sign up for one or you could go ahead and use your existing account.
You then need to register your website domain (it's a subdomain rather than an independent website).
Setup your emails.
You are given 2 brief videos that walk through the second and third steps.
Without further warning, the software then proceeds to create your account and a couple of webpages in the background.
An autoresponder service is also created to help with upcoming email campaigns to increase traffic on your website page.
I'll reiterate that you're not getting a fully-fledged website, instead, it's a single page with limited control. This wouldn't be a problem if the page actually generated a profit.
Your campaigns sit within a primary website that you do not own. What you're paying for is a subdomain (these are free for the owner) and a service for emails.
The sales video continues while the setup is working in the background. There are endless promises of huge profits as much as $400 per day. Apparently, the level of automation that Auto Chat Profits is offering can change your life forever!
How Does Auto Chat Profits Turn Customers Into Buyers?
When a visitor finds your page, the Auto Chatbot will start to interact with them in a chat session that encourages the visitor to view potential Clickbank products they might want to buy.
If your visitor buys a product, you are awarded a 75% commission of the sale.
Job done.
Do You Need To Pay For Auto Chat Profits?
During the sales pitch, Samantha explains that Auto Chat Profits won't cost anything to use. But it does.
The system is supposedly free, however, there is a $37 fee to cover the domain purchase and email service costs.
To be fair, $37 is a small cost for a product that purportedly brings in $400 per day. There are pricier scams out there but that doesn't mean you need to throw away $37.
Once you've paid the small fee, there are more expenses on the way…
Auto Chat Profits Comes With Several Upsells?
The initial cost of $37 is only the start. Auto Chat Profits will keep trying to sell you various Upsells to supposedly "to increase your profits".

Auto Chat Profits claims that if you buy the above Upsells they'll be added to your chat system and when your visitors click and purchase them you'll be given 75% of the commission. Does this look tempting?
Is Auto Chat Profits a Profitable Online Business?
At this stage, I'm not convinced that Auto Chat Profits is a viable solution for anyone that's looking to start an online business.
In the next few sections, I'll explain why I think this product is a waste of time.
Auto Chat Profits Exposed!
(1) Your Website Is a Subdomain
The pre-packaged website offered by Auto Chat Profits is low-quality due to its restricted use.
The fact that the website is not yours means that it doesn't come with the same protection or functionality as buying your own website. For example, if the main website closes down then your subdomain disappears along with it too.
This also applies to the domain name. It's hooked up to the main website and will always depend on it, therefore, if it shutdowns so does your domain name. Yikes!
Please don't waste your time with these pre-packaged subdomains. There are better ways to build a thriving business online.
My Top Recommendation: Access Market-Leading Training to Create a Sustainable & Profitable Internet Business.
(2) Clickbank Doesn't Always Offer Good Products
The products that your promoting are all provided by Clickbank, which is a platform for different products from various niches.
The problem with Clickbank is that it's a mixed bag, therefore, some of the products are decent and others are a total waste of money and time.
Do you want to guess what type of products Auto Chat Profits will be trying to sell to your visitors?
Yep, a bunch of worthless products.
Don't get me wrong, these products might not be outright scams but they offer very little value to your readers.
Further to that, you can't control what products the chatbot sells to your customers.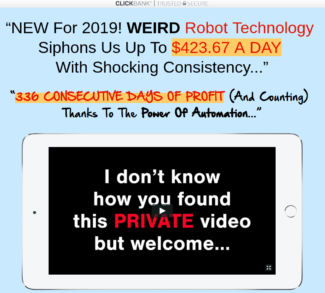 (3) The Traffic Driving System Can Easily Swallow Your Money
Auto Chat Profits does train you how to set up solo ads to build traffic for your subdomain.
What are solo ads? This involves paying to promote your products on someone's mailing list.
It's similar to paid advertising such as Google Adwords or Facebook Ads, however, you can't guarantee the quality of traffic that you're paying for.
Let's say you've paid $150 for 200 clicks. You might receive a small number of sales or none at all if the clickers are not interested in the product (the chances of this are very high).
The reasons why people might not engage with the Clickbank promotion circles back to (2) "Clickbank Doesn't Always Offer Good Products"
My Top Recommendation: Access Market Leading Affiliate Marketing Training to Make a Full-Time Income.
(4) Their Chatbot Isn't Great
Auto Chat Profits is essentially a cold-calling salesperson on autopilot. You can already see how annoying this will be for your visitors.
If someone finds your subdomain, within a short time the chatbot activates and starts to flash Clickback products in your visitor's face.
They are two ways this could go. They'll either purchase the product or turn it down.
In most cases, people will choose NOT to buy as they aren't sure how to use the product or they feel that the product won't provide what it's promising.
A major flaw with Auto Chat Profits is that it doesn't show potential customers how to use the products or provide a comprehensive explanation about how the products work before trying to sell them.
And for this reason, the conversation rate will be very low.
Auto Chat Profits Advantages?
If you've read any of my previous reviews you'll already know that I like to be as fair as possible with all of the products that I write about, even if there's only a small chance of a profit.
Sadly, there's absolutely nothing to gain from Auto Chat Profits.
Is Auto Chat Profits a Scam?
Auto Chat Profits is not a scam, however, don't expect to make a single dollar from this system let alone the $400 per day that is promised to you.
It's not a sustainable business as they are numerous variables that could go wrong. You can't control the Chatbot or what it sells to the traffic that you pay for. This is not the way to run a winning online business.
Let's say by some miracle Auto Chat Profits starts to make you a lot of money, there are no assurances about how long that income stream will last as the owners can pull the plug on the system at any time and swallow up your subdomain along with it.
There are much better systems out there to build an online business from home. Which leads me to my next question…
How Do I Use The Internet to Make a Full-Time Salary?
Like with anything else, making money online is a skill that can be learnt, it only requires a bit of dedication and consistency but it's totally worth it when you can one day walk into your boss's office and fire him/her.
I've personally learn't how to generate a monthly income stream, with no previous knowledge. I can work where I want and when I want. You can do the same too. Find out more here.