In this review, I'll walk you through eCom Profit Sniper and reveal whether you can actually make profits of $10,000 per week. Maybe, just maybe, this might be your ticket to finally quit your day job and work for yourself.
The fact that you've taken a moment to scrutinize this product before buying it should be applauded. You've done yourself a massive favour. Your due diligence will save you from wasting money and time.
A good bit of research always goes a long way in the fight against online scams. The good thing to know is that creating a sustainable full-time online business is not difficult. You just need to know where to look.
Is eCom Profit Sniper a scam or can you rely on this system to bring in a sustainable income? During this review, I'll reveal everything that you need to know so that you can make an informed decision about whether this system is worth purchasing.
This product claims that it can generate profits by taking advantage of e-commerce strategy known as dropshipping.
Let's see if eCom Profit Sniper does what it says on the tin.
eCom Profit Sniper Review
Name of Product- eCom Profit Sniper
Owner- Initial Tom Parker Anonymous
Type of Product- Shopify Tutorial
Cost- $37
Who Does This Product Work For? The owner and affiliates promoting this product

eCom Profit Sniper Summary
In a nutshell, eCom Profit Sniper is an inferior course focused on dropshipping. The product is riddled with exaggerated earning claims and misinformation. Sadly, you will not make a single dollar using the training provided.
Product Rating: 5/100
Would I Recommend It? Never!
Highly Recommended: Discover how you can build a Full-Time 4-Figure Monthly Income with No Previous Experience
How Does eCom Profit Sniper Work?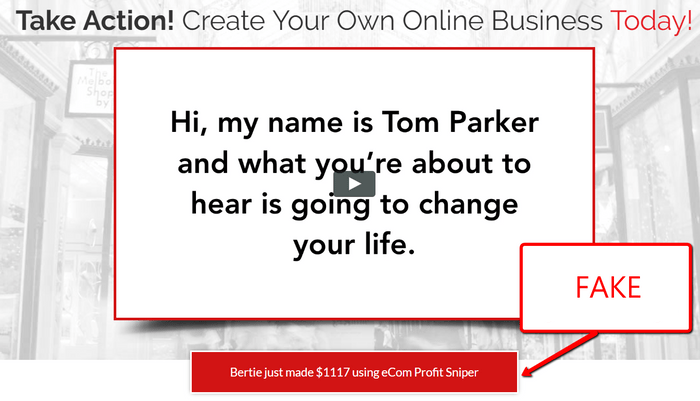 eCom Profit Sniper claims that it can change your life. Tom Parker, the voice-over, makes several bold claims such as-
His hidden program can give you a salary of $40,000 per month.
You can begin making this type of money from day one.
You only have to dedicate 20 minutes per day to make this type of money.
Tom promises to give you wealth beyond your wildest dreams with very little effort. My question is do you believe him?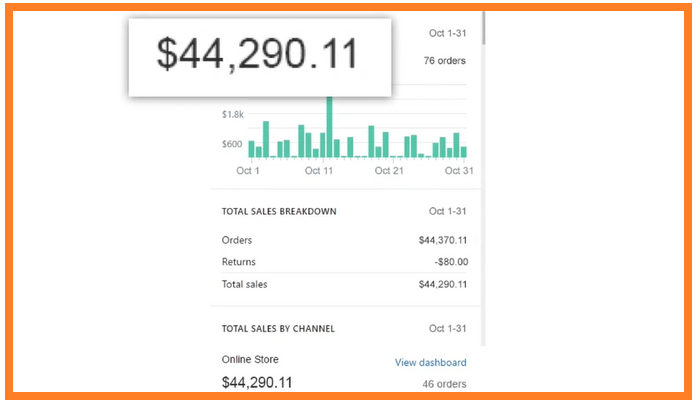 The above image shows Tom's monthly sales. According to the example, he earned $44,290 in just one month.
Straight away this is a warning sign!
The sales pitch plays on your emotions. Scammers know that people want to make a lot of money quickly and easily. They will flash exaggerated profits in your face and promise you that you can tap into this pot of cash through their products.
The reality is, eCom Profit Sniper is a sketchy course that introduces you to the idea of using Shopify to profit online via dropshipping. The setback is that the course is too basic to make the wild profit claims.
Dropshipping (Shopify) Explained
This part of the review will give you a breakdown of the dropshipping process, however, you can scroll to the next section of you already know how Shopify and dropshipping works.
Dropshipping is an e-commerce management system where the retailer (you) does not hold the actual products in stock, therefore, the customer's order and shipping information is either passed to the wholesaler or manufacturer, who then fulfills the order and ships the product directly to the customer.
Essentially, as a dropshipper, you're running the front-end internet store for a given product, however, you do not own or keep the product in stock.
Your job is to market/promote the products in your online Shopify store to your target audience and the wholesaler will handle the order fulfillment and send the products directly to your customers.
To profit from this process, you will assign a higher price to the products on your store compared to the price your wholesaler sells to you.
The steps described above are a high-level overview of how dropshipping works.
If you're genuinely interested in dropshipping I will show you 3 systems that will help get your business off the ground. After that, I will explain the advantages (if any) and drawbacks of eCom Profit Sniper.
(1) Shopify
Shopify is an intuitive system designed to give you the resources required to set up an e-commerce store. It allows you to promote products that you intend to dropship.
It's similar to a hypermarket which buys its goods from a wholesaler at a very low price. It will then sell the products at a higher cost to make profits.
A Shopify store adopts the same principles as a hypermarket. It will sell goods at a higher price compared to the price of the wholesaler.
(2) AliExpress
AliExpress is a system that caters for wholesale suppliers. AliExpress is different from other platforms, it's designed for wholesale suppliers whereas platforms such as Amazon cater to thousands of retailers.

The advantage of AliExpress is that you can source goods at rock bottom prices, for dropshipping, compared to anywhere else.
(3) Oberlo
Oberlo is a resource that assists you with the following:
It helps you to source goods that can be marketed on your Shopify store.
It automates the process of importing goods.
It simplifies the fulfillment of orders, therefore, it allows you to ship goods straight to your customer from AliExpress.
You can grow your dropshipping business with intuitive resources within the platform.

eCom Profit Sniper is focused on teaching you how to leverage the above platforms and the general ideas of profiting via dropshipping.
So, we'll explore whether the lessons covered within eCom Profit Sniper will provide you with any further value above what you can already learn from the above resources.
Exploring eCom Profit Sniper
Once you've bought eCom Profit Sniper for $37, you are taken to the membership section shown below-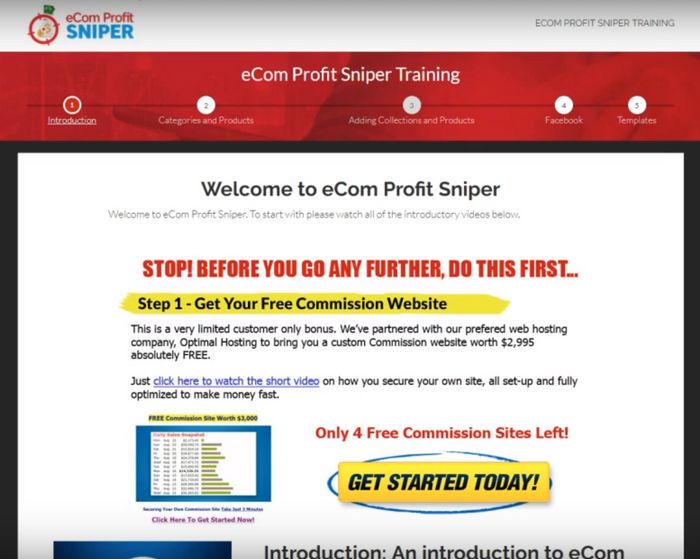 The eCom Profit Sniper training comprises of four modules found on just one page. There is nothing else beyond that. You aren't given support or additional resources.
First Module- The Intro
This part of the training focuses on the foundation of dropshipping and how to create a Shopify profile and store.
1st Lesson- Setting up Shopify
2nd Lesson- Searching for Images
3rd Lesson- Settings Note Slides
4th Lesson- Using Shopify Settings
5th Lesson- Theme Note Slides
6th Lesson- Using Theme Settings
2nd Module- Products & Categories
Once setup is complete, you will be taught how to find a niche and a distinctive product to market on your store.
1st Lesson- Choosing a Category Selection Slide
2nd Lesson- Sourcing a Product
The most vital element to creating a thriving dropshipping business is selecting the right product. The majority of the time, you will need to test a range of products before finding a successful one and earning profits.
The lessons provided by eCom Profit Sniper are far too rudimentary to give you the competitive edge. In fact, everything that you're taught can be learnt elsewhere free of charge.
3rd Module- Adding Collections & Products
When you've finally selected your product, you will need to transfer it to your online store. By this stage, you should already have a good understanding of Oberlo and AliExpress.
eCom Profit Sniper teaches you how to configure both platforms.
1st Lesson- Setting up the Oberlo Extension
2nd Lesson- Oberlo and AliPay
3rd Lesson- Creating a Collection
4th Lesson- Adding Products to your Store
4th Module- Facebook
This tutorial is all about sending traffic to your online store. eCom Profit Sniper suggests using social media to do this, namely Facebook.
1st Lesson- Facebook Pages
2nd Lesson- Facebook Posts
3rd Lesson- Facebook Pixel
The lesson shows you how to create a dropshipping Facebook page. You are then taught to leverage Facebook posts and Facebook Pixel to direct free traffic to your store.
There's a problem!
eCom Profit Sniper skips a very important element about Facebook traffic. If you want to earn any profit at all, let alone the type of money promised by this system, you will not achieve this by relying on free traffic from your Facebook page and posts. You will need to invest in Facebook Ads.
Paid traffic can be a lucrative investment if it's optimised properly, however, eCom Profit Sniper doesn't provide training for this.
Templates
The templates section contains 4 different resources. Sadly, none of the templates are particularly useful. I would have preferred if they provided some helpful templates to use with Facebook Ads but this is not the case.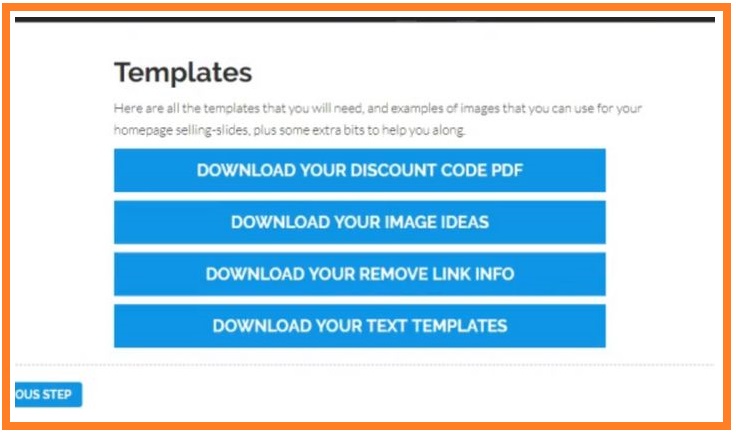 My Top Recommendation: Access Market Leading Affiliate Marketing Training to Make a Full-Time Income.
Advantages & Disadvantages of eCom Profit Sniper
Pros
(1) A Decent Start for Newbies
The benefits of purchasing eCom Profit Sniper are few and far between. The lessons provide a decent introduction to setting up a Shopify store.
This would be useful for the complete novice to get started with dropshipping, but you'd inevitably reach a ceiling as the lessons are extremely basic.
I'm struggling to see how I could make so much money from their training.
(2) Money-Back Guarantee
At least the product comes with a 60-Day money-back guarantee. eCom Profit Sniper is a ClickBank product, therefore, it is covered with the same refund policy that comes with all their products.
The refund process is not easy though. You will need to give the team at ClickBank a good reason why they should refund you.
Cons
(1) Anonymous Creator
Throughout the sales video, we are led to believe that the owner of eCom Profit Sniper is Tom Parker.
The problem is that most of the names associated with these sort of products are simply made up. The real people or person running this system choose to remain elusive. Beyond the sales video, there is no other contact information or a picture of Tom Parker.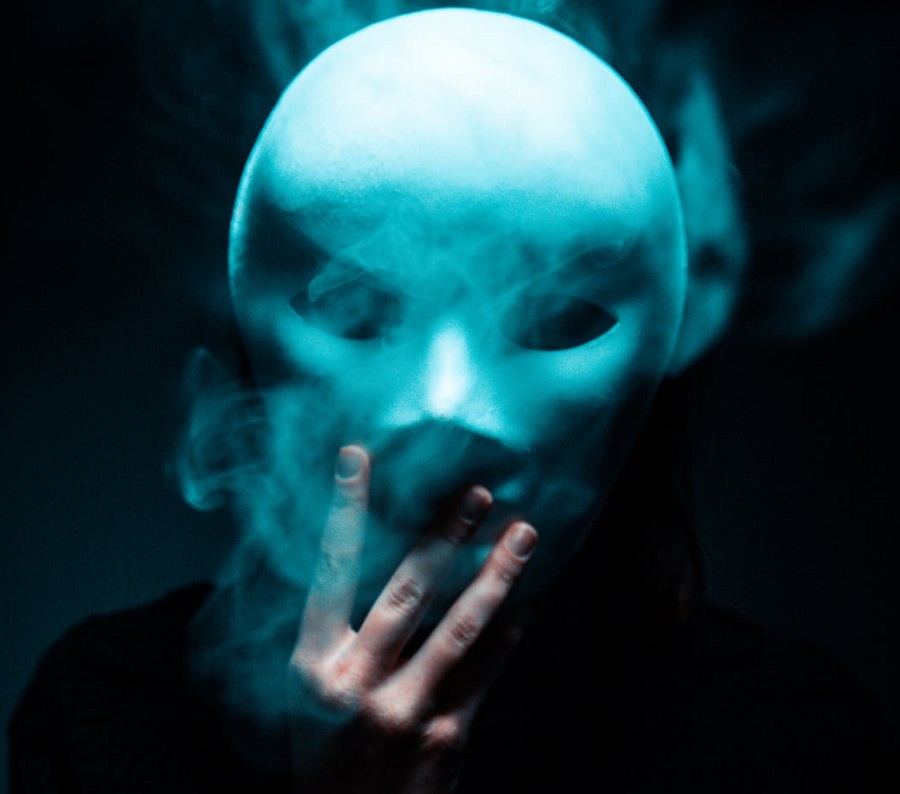 Systems such as Point 2 Click Profits will even go to the extent of using stock images to pose as the creator. A very shady tactic!
Tom Parker never reveals himself during the sales video and as a result, I highly doubt that he even exists.
(2) False Profits
Below is an example of an income statement presented in the sales video-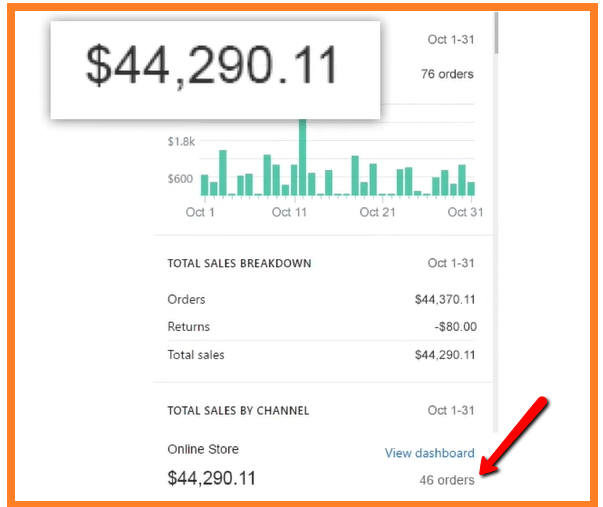 I'm confident that the above income statement is misleading.
Here are my issues with the above screenshot:
For starters, Tom states that he earned $44,290 in a single month according to the above example, however, this is completely untrue. For those of you that have dropshipped before you'll spot that this is not profit but revenue. What's the difference?
Once you've completed an order and sent the goods to your customer, you still need to pay your supplier the price of the product.
After that, you then need to remove your marketing costs i.e. paid advertisements.
A successful campaign will need to achieve somewhere in the region of 30% profit from the overall revenue.
Therefore, $44,290 should not be considered as a complete profit.
My other issue with the above screenshot is its authenticity.
According to the figures, Tom made a total of $44,290 from 46 orders, therefore, each order has an average value of $1,000. This is unrealistic in the world of dropshipping.
My Top Recommendation: Access Market Leading Affiliate Marketing Training to Make a Full-Time Income.
(3) Your Business Needs Traffic
Unfortunately, eCom Profit Sniper doesn't educate us about driving traffic to our online store. We've established that we're only taught how to create basic Facebook posts, pages and Facebook Pixel.
Facebook Pixel can be utilized to target relevant audiences with Facebook Ads, however, we are not shown how to use paid Ads within Facebook.
In addition to this, they are several alternative traffic building strategies such as Pinterest Ads but none of these are explored during the eCom Profit Sniper training.
Whether it's paid or organic traffic, you need traffic to make profits from your online business.
(4) Managing Your Costs
There are additional expenses that you need to consider in addition to the $37 fee to buy eCom Profit Sniper.
Shopify is free for the first 2 weeks and if you want to continue with it there's a monthly membership fee to pay. Don't overlook other costs such as domain fees, paid advertisements, product costs and other resources that you might need further down the line.
During your early days, the biggest expense will be spent on optimizing your paid Ads until you find the winning formula i.e. the lowest cost for the biggest return.
(5) eCom Profit Sniper's Resources Can Be Sourced Elsewhere for Free.
Finally, I'd like to reiterate that the tutorials provided by eCom Profit Sniper are far too simplistic to make a decent profit let alone $44,000 per month. All of the lessons inside this system are available online for free.
A quick search on YouTube will bring up dozens of successful dropshippers freely sharing their expertise. Their lessons exceed what eCom Profit Sniper is offering. And guess what? It's all free.
Is eCom Profit Sniper a Scam?
Although eCom Profit Sniper offers very little value for money, I wouldn't call it a scam. The lesson plan provides the basics of dropshipping for newbies, however, the knowledge offered here is extremely limited.
The program gives the impression that you can earn a six-figure annual salary based on the training provided but this couldn't be any further from the truth.
It's extremely difficult to profit purely from the tutorials given by eCom Profit Sniper. At best, you'll get familiar with the standard Shopify settings and creating Facebook posts and pages.
How Do I Use The Internet to Make a Full-Time Salary?
Like with anything else, making money online is a skill that can be learnt, it only requires a bit of dedication and consistency but it's totally worth it when you can one day walk into your boss's office and fire him/her.
I've personally learn't how to generate a monthly income stream, with no previous knowledge. I can work where I want and when I want. You can do the same too. Find out more here.