Covert Store Builder claims that they can transform your online business and fast track you to financial freedom with their revolutionary WordPress Theme.
Their marketing is bold and it's easy to see why an unsuspecting customer would be easily lured to this product. The question is, can Convert Store Builder be trusted or is it just another scam?
The fact that you've taken a moment to scrutinize this product before buying it should be applauded. You've done yourself a massive favour. Your due diligence will save you from wasting money and time.
A good bit of research always goes a long way in the fight against online scams. The good thing to know is that creating a sustainable full-time online business is not difficult. You just need to know where to look.
Throughout this review, I'll show you what to expect if you decide to buy Convert Store Builder and reveal if they're keeping any secrets from you! So without further ado, let's jump straight in.
Covert Store Builder Review
Name of Product: Covert Store Builder.
Owner: Founded by Gary Martino in 2013.
Type of Product: WordPress Theme for Affiliate Store.
Cost: $47 (one-time) & Plenty of Upsells!
Who Is This Product Best For? The Creator of this product.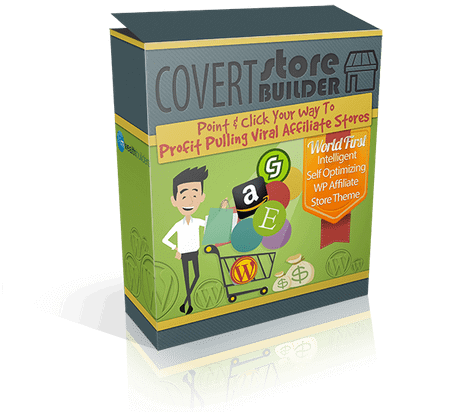 Covert Store Builder Summary
What is Convert Store Builder (CSB)? It's an exclusive WordPress Theme that focuses on creating affiliate sites. The theme itself, along with the store builder, are not too bad, however, the support provided is terrible.
In addition to this, the product is inundated with Upsells (the most I've ever seen on a single product), unrealistic claims and other issues. The truth is that you won't make a single dollar if you relied solely on CSB to build an affiliate site.
Product Rating: 10/100
Would I Recommend This Product? Absolutely Not!
Highly Recommended: Discover how you can build a Full-Time 4-Figure Monthly Income with No Previous Experience
How Does Covert Store Builder Work?
Before we look at how it works, let's see what this product is promising you!
These are some of the extravagant claims made by Convert Store Builder: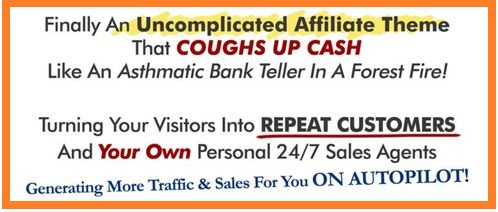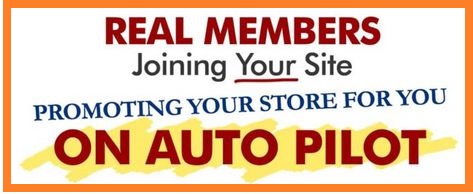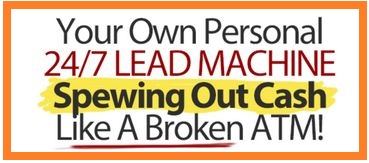 What the heck? This is way too much hype and it goes on forever!
Right from the start, this product has lost my trust but hopefully they can prove me wrong.
Most of you will have reservations by this stage and if you're an expert online marketer, you'd have already concluded that CSB is a useless program and most likely a scam.
So, we've established that CSB is a Premium WordPress Theme which lets you create an affiliate marketing website in just a few minutes. This is what we're told.
The only requirement for your website is a domain name and an internet hosting service.
Below is a video walk through about Covert Store Builder. Watch it to get an overview of CSB before reading the rest of this review:
What Do You Get When You Buy Covert Store Builder:
Import Product Info Automatically: You can seamlessly transfer product details such as images, product name, specs, pricing, description from Commission Junction, eBay, Amazon.
Installation in One Click: You can install the CSB theme with just 1 click, however, this is not really a selling point as all WordPress themes can be installed with just 1 click. The real effort begins once the theme is loaded onto your site.
Customized Tracking For Your Store: The theme comes with a tracking feature that collects your website's data and tracks things like clicks, impressions, click-through rates and so on. It will then automatically sort your product listings based on your stats and features popular items at the top of the list.
Wish List Feature: Even though your website is not an E-commerce store, customers have the ability to place their favourite products into a wish list. The customer can distributed the wish list to their network of family and friends using a special link to increase your sales. It also doubles up as a list builder because your customers will need to register their email address before they can add items to their list.
Generate Leads: Once your customers are registered, they can start adding items to their wish list. You can then follow up on this with emails and customized autoresponders to boost conversion rates. You can transfer your list to an email service provider.
Pre-built Widgets: The CSB theme comes with ready-made widgets for your footer and sidebars. The widgets add a touch of professionalism and also help to boost sales.
Integrated Comments: Covert Store Builder imports customer comments from Amazon and Facebook for every product. It creates the illusion of an active and authoritative website, however, this is just a gimmick.
Lessons: To get the most out of Covert Store Builder you are provided with a series of tutorials for you learn how to navigate the theme and make full use of it so that you can get your business off the ground.
The features described above might look attractive, however, the reality is somewhat a bit different. There are several red flags that I'd like to highlight to help you make an informed decision whether this is the right product for your online business.
Here's My Top Recommendation: Access The Best Training & Resources to Create Your Own Full-Time Online Business From Home.
Covert Store Builder Comes with Numerous Upsells
Covert Store Builder charges a one-off fee of just $47 which seems like a good deal for everything that's provided with this WordPress theme, however, if you go ahead and buy Covert Store Builder you will be inundated with a ton of Upsells!
The first offer that's pushed in your face is a plugin named Covert Store Content Plugin and it costs $37.
Below is a sales pitch that is shown to you after you've bought Covert Store Builder:
If you don't already know this, the One-Time offer might appear to be a limited offer but I can assure you that it will be there tomorrow and the day after that.
The scarcity tactic is a clever marketing gimmick to make you feel like you might miss out on a product that is in "short supply" when it really isn't.
The plugin automatically builds contents for you. In other words, it takes the content from websites such as Amazon and pastes it onto your website.
Yes, if you're wondering whether this would be considered to be duplicate content by Google then you're absolutely right. I'll discuss this in the advantages and disadvantages section further down.
What other Upsells are flashed in your face?
Covert Action Bar. This product costs $17
Cover Social Buzz. This product costs $17
Covert Content. This product costs $21.35
Covert Social Press. This product costs $47
Covert Viral Wizard. This product costs $47
Covert Mobile Bar. This product costs $9.71
Covert Video Press. This product costs $27
Covert Copy Traffic. This product costs $17
Covert PinPress. This product costs $47
Covert Messenger. This product costs $17
Covert Geo Targete. This product costs $17
Covert Store Builder pushes the most amount of Upsells that I've come across from a single product and all of those Upsells are linked to the same company.
They are Upselling 11 different products to you, which is way too much.
Advantages & Disadvantages of CSB
Pros
45-Day Refund Policy.
Free software updates forever.
The theme is easy to install and setup, even with limited knowledge.
Lessons are provided to teach you how to use the theme.
Difficult processes are automated for you.
The software license gives you free-reign to use the theme on unlimited websites including websites for your clients.
Cons
(1) Penalties for Duplicate Content
Covert Store Builder states that they can automate the content for you, therefore, you don't need to write any of your content. As mentioned already, the theme takes the content from sites such as Amazon and places it onto you site.
This is a big red flag!
Search engines are stringent about duplicate content. If Google detects that your website is copying content from another website, it will blacklist your websites and drop your rankings.
Your site will be deemed untrustworthy, therefore, you will not receive free traffic organically through search results. Whilst were on this topic let's talk about website traffic…
(2) Traffic
CSB apparently concentrates on traffic attained from social media, thus, they can drive traffic to your site from Pinterest, FaceBook, Twitter to increase conversions.
Free social media traffic is hard to obtain and Covert Store Builder does NOT really help with this.
All they do is just share your product lists on social media and nothing more! This is NOT the way to get traffic.
Traffic can be broken down into different types, therefore, it's either Paid traffic or Free traffic. Covert Store Builder doesn't assist or teach you how to get Free traffic or optimize Paid traffic.
Are You Tired of Scams? Join My Top Recommended Product Here!
(3) Virtually No Support
A premium theme, requiring payment, should come with a reliable support team to speedily resolve any technical glitches.
Covert Store Builder provides the following-
A sparse support page with a few Frequently Asked Questions.
Free software updates for life but I'm unsure if CSB will survive for the long term.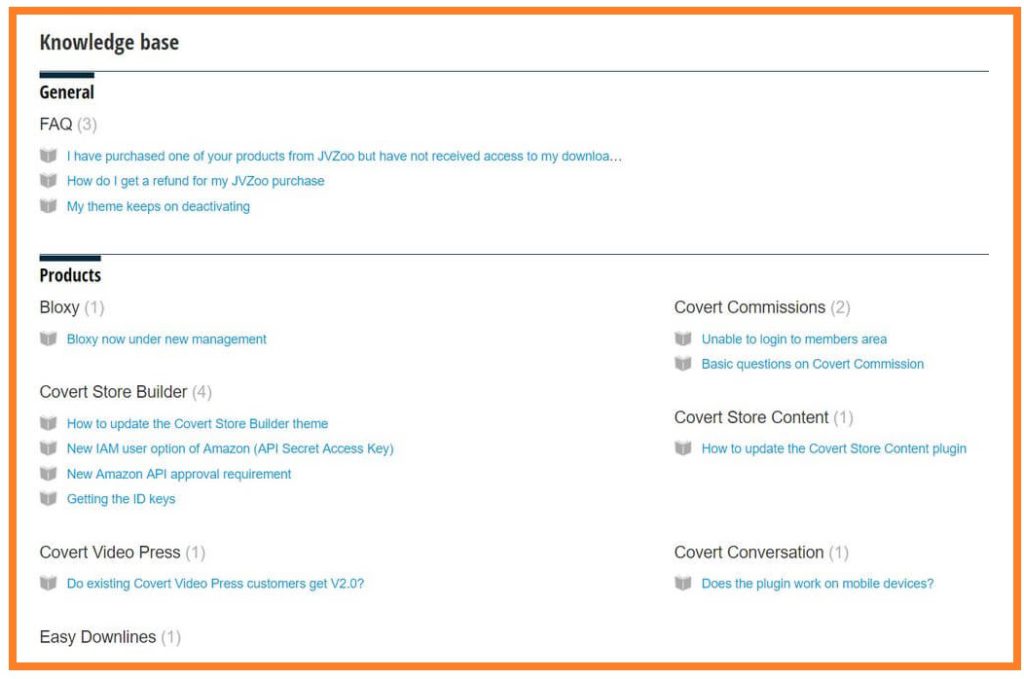 (4) Incorrect Product Pricing
The system which CSB uses to price the product listings on your site is flawed.
CSB imports the product pricing from Amazon or eBay during the initial transfer, but if Amazon or eBay update their prices CSB won't reflected these changes on your site, which negatively affects your visitor's experience.
For example, if a customer see's a product, priced at $35, on your website and clicks through to eBay / Amazon only to find that the product actually costs $49, that customer won't be happy and probably won't buy the product or return to your website.
(5) What's All The Hype About?
Right from the start, you are swamped with a ton of hype promising you irrational earnings and a lifestyle that is unbelievable.
The theme itself is user-friendly, however, I beg to differ that it can help you to drive organic traffic and make heaps of money.
A WordPress Theme on its own will NOT increase conversions. You'll need to learn how to market your content, add value and simplify the decision-making process with your recommendations.
For example, you can write a high-quality targeted article focusing on "7 Of The Best Fitness Watches For Long Distance Runners".
Covert Store Builder is so focused on Automation that they completely miss out the important elements of online marketing.
Is Covert Store Builder Worth Buying?
Covert Store Builder is overwhelmed with issues and it's not even remotely close to the all-in-one online business solution that it claims to be. It will NOT spew out cash like a broken ATM machine.
I would recommend steering clear of Covert Store Builder. The truth is that if you want to build a thriving affiliate marketing business, it's a bad idea to try this with an affiliate store.
Naturally, this leads me to my next question…
How Do I Use The Internet to Make a Full-Time Salary?
Like with anything else, making money online is a skill that can be learnt, it only requires a bit of dedication and consistency but it's totally worth it when you can one day walk into your boss's office and fire him/her.
I've personally learn't how to generate a monthly income stream, with no previous knowledge. I can work where I want and when I want. You can do the same too. Find out more here.