We'll review whether Copy Paste Income can really earn you $3,000 in just one weekend.
The fact that you've taken a moment to scrutinize this product before buying it should be applauded. You've done yourself a massive favour.
A good bit of research always goes a long way in the fight against online scams. The good thing to know is that creating a sustainable full-time online business is not difficult. You just need to know where to look.
The Copy Paste income system was created by Ewen Chia and it purportedly throws vast sums of cash into your bank account shortly after setting it up.
In fact, the owner is so confident in his system that he claims you can earn just over $3,000 in a single weekend by simply copying and pasting a bunch of material.
What are you copying and pasting specifically?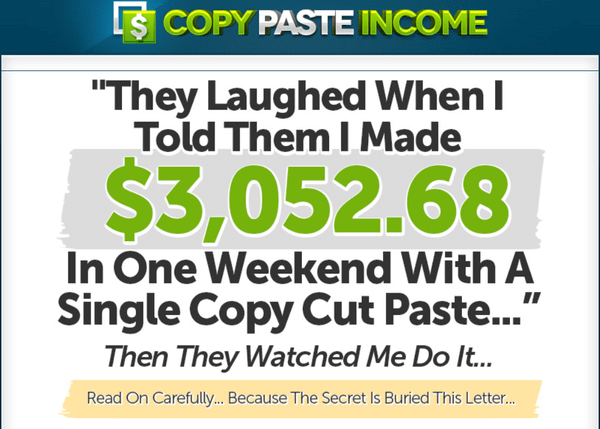 This program is slightly different from my previous reviews in that the guy promoting this product is actually real. Ewen is an acclaimed speaker and is using his fame to add credibility to his program.
Making $3,052.68 in one weekend definitely grabbed my attention, however, is this actually possible?
Throughout this Copy Paste Income review, I'll reveal the drawbacks of this program and highlight why it's not worth your money or time.
Copy Paste Income Review
Name of Program: Copy Paste Income.
Product Owner: Ewen Chia.
How Does It Make Money? Generic Affiliate Marketing Training & Tools.
Product Cost: $37 + Various Upsells & Downsells.
Suited For: The owner, Ewen Chia and affiliates that are marketing the program.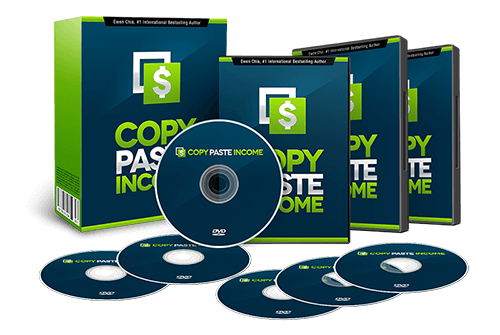 Copy Paste Income Summary
Copy Paste Income is nothing more than a second-rate product created by Ewen Chia to fatten his bank balance. I will give you lots of proof to show that his methods provide little value and as a result, no profits for its members.
Product Rating: 10/100
Would I Recommend This? Not a chance.
My Top Recommendation: Access Market Leading Affiliate Marketing Training to Make a Full-Time Income
Copy Paste Income Overview
Copy Paste Income is a ClickBank product with extravagant claims. It promises a weekly income that ranges within the thousands with little effort on your part.
The name says it all, Ewen claims that all you need to do to earn money is simply 'copy and paste'. Wow. Maybe you can finally retire?
Ewen also suggests the following-
He claims that Copy Paste Income is the quickest and most lucrative method to create an online business and start earning thousands of dollars hands-free.
Setting up the program takes no longer than 10 minutes.
Once set up is complete, your life will change forever and you will make more money than you could ever imagine.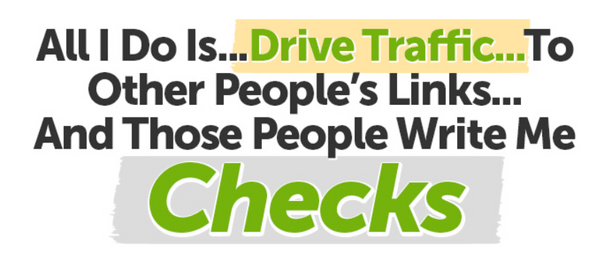 It's easy to see why a beginner would jump at the opportunity to earn so much money based on the above claims. But an expert marketer would see right through these hyped-up claims.
The temptation is placed there to entice you into purchasing Copy Paste Income without giving it a second thought.
The daily sales snapshots shown below give the illusion that earning an online income can be done with little work.
Would your boss pay you to rest on your laurels? Definitely not. Working online is no different, your results depend on the effort that you put in.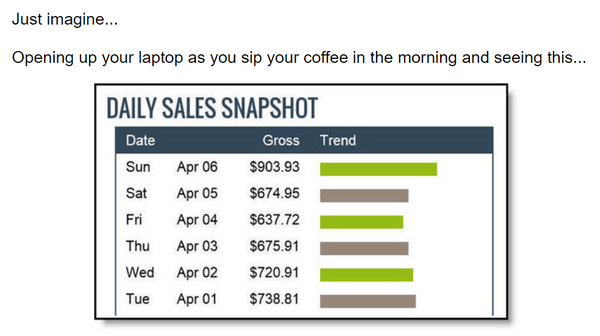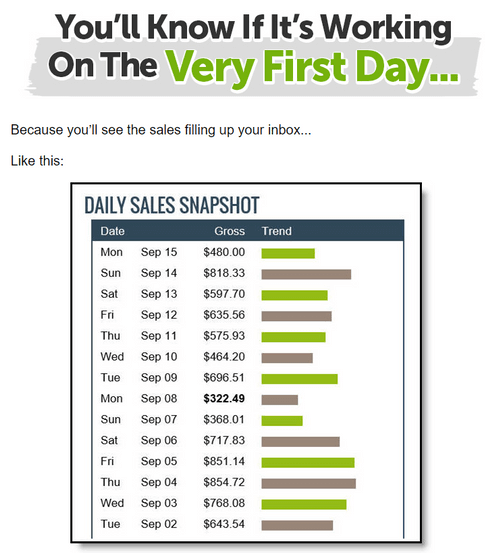 The above income snapshots are a load of BS.
Money won't just start rolling in from day one. Don't get me wrong, earning daily sums of hundreds or thousands is achievable, however, you need to put the work in beforehand.
Successful marketers don't become a success overnight. What you don't see is the hard work they've put in to build a thriving business.
I'm highly critical of the Copy Paste Income program because I personally know the commitment required before you see your first paycheck. I've also included several bits of proof to show that there's very little value from this program.
Let's talk about Ewen Chia. Who is he?
Surprisingly, Ewen Chia is no stranger to the world of internet marketing. Unlike other scams that we've seen, Ewen is a real person. Ewen is an internet marketer from Singapore who created his online company way back in 1997.
He's already rich and has been showcased on various media globally. He wrote a best-seller entitled "How I made my first million on the Internet".
He has featured at high-profile events and spoken alongside some of the best speakers.
Ewen is obviously a very accomplished person and an inspiration to a large audience. Therefore, his success will add a lot of credibility to his product offerings.
It's a shame to see such an influential individual exploiting people this way. He is marketing inferior products with fake income claims and misleading people.
Don't believe me? Stay tuned for the proof…
My Top Recommendation: Access Market Leading Affiliate Marketing Training to Make a Full-Time Income
Navigating Copy Paste Income
If you've ever undertaken a legitimate internet marketing course or had a go at it then you'll know that Ewen is selling a pipe dream. Is his Copy Paste Income system the real deal?
Here's what I can tell you…
Copy Paste Income is a product that claims to provide you with resources to make a living through affiliate marketing.
The problem is that this system is teaching old techniques that are redundant in today's online environment.
Ewen heavily promotes the "copy and paste" technique because his secret sauce is merely copying material from eBooks that are already available online for free.
In a nutshell, Ewen gives you Ebooks with PLR content which is basically generic rehashed content.
From here, you will need to source affiliate products online and include them with your affiliate links inside the eBooks that you distribute.
If someone buys one of the products in the eBook through your link you will be given a percentage of the sale as commission.
How Do You Market Your Ebooks?
So what exactly does Ewen teach in relation to marketing your customised eBooks? He shows you how to post them on Facebook groups, forums and websites such as Slide Share and that's as far as it goes.
A seasoned internet marketer will tell you that these methods are outdated and simply will not work in our modern online landscape.
Let's think about this for a second, even if you're a newbie, when did you last take time out of your day to sit down and read an eBook?
It's highly likely that you've never done this and if you have then it was probably a long time ago, right?
So logically, why would other people read a second-rate eBook that you wouldn't be willing to read yourself? In addition to that, people would also need to buy products from your affiliate links inside the content.
It's also difficult, if not impossible, to post low-value content on forums or social media and hope for the type of engagement that will make you thousands of dollars.
By this stage, it's quite clear to see why Copy Paste Income is a worthless product.
What Do You Get From Copy Paste Income?
Within the Copy Paste Income system, they are 3 primary sections in the membership section.
The remaining sections are useless and I'll soon show you why…
(1) Ewen's Coaching Videos
Ewen provides 6 videos done by him to coach you how to give away eBooks for free to earn cash through the affiliate links contained within the content.
In total, the training runs for 2 hours 30 minutes of learning old marketing methods that can't be applied to today's internet environment.
The list of training videos is included below-
1st Video- Choosing a Profitable Niche [36:53]
2nd Video- How to Find Relevant Affiliate Products to Promote [16:43]
3rd Video- How To Research Relevant & Targeted Keywords [10:06]
4th Video- Creating a Mini Ebook [39:18]
5th Video- How To Promote Ebooks with Your Own Affiliate Links [46:22]
6th Video- Advanced Strategy (Email Marketing) [06:43]
The last video contains a supposedly advanced technique that teaches you email marketing, however, the truth behind it is another one of Ewen's worthless products that he is promoting.
(2) Copy Paste Income Ebooks
You get access to 10 pre-written and renamed eBooks. You will need to change the links and ID so that you can market it as yours.

You are given details about creating your own eBooks although the instructions are very general. Again, better information is already available online free of charge.
The issue with the eBooks is that they are unremarkable. There is nothing that sets them apart from each other.
Think about it, if hundreds or even thousands of us purchase the Copy Paste Income system and use identical eBooks to try to create online businesses, do you think that is a reliable and sustainable way to make money online?
(3) Is there Support?
Ewen provides two ways for his members to receive support and this is either email support or a helpdesk that enables you to issue a support ticket and look at frequently asked questions.
It's not surprising that it takes quite a while before you get a reply to your issue.
Highly Recommended: Discover how you can build a Full-Time 4-Figure Monthly Income with no Previous Experience
Copy Paste Income Exposed!
Here's the proof that you've been waiting for me to expose about Copy Paste Income. We'll start with customer testimonials.
(1) FALSE Testimonials
The sale pitch contains a testimonial from a customer named Brittany that supposedly trialed the program and started generating daily profits within the hundreds of dollars.
Brittany's picture is actually a stock photo sourced from a site called Free Images, therefore, Brittany and her testimonial are not real. Why would Ewen need to create a false review if his program is so profitable?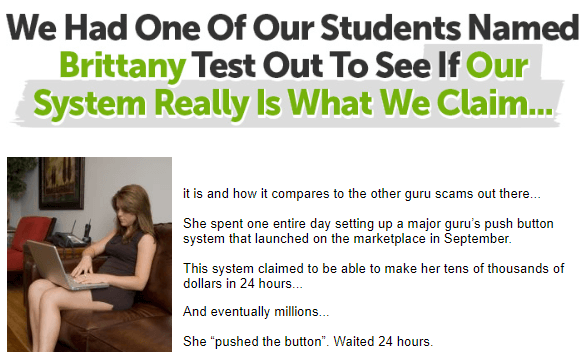 The truth is, this method of deception is commonly used by scammers to create the illusion of a lucrative product. Fake testimonials are a red flag and a good indication to stay away from a shady product.
I've reviewed countless products such as Bulletproof profits, Insider's Cash Club, 22 Minutes to Profit and they all use false customer testimonials.
(2) Extravagant Earning Claims
This one is self-explanatory. We are misled into thinking that Copy Paste Income makes thousands of dollars with no hard work involved.
If it sounds too good to be true then it usually is. I would recommend looking past the hype and taking a rational approach.
(3) Tons of Upsells
Upselling is the main purpose of Ewen's program. He wants you to buy all of his low-quality products.
You will also notice that if you buy the 'Upsell's you are then referred back to the original product in this case you would bounce back to Copy Paste Income.
Ewen is simply cross-promoting all of his products in an endless loop and at the end of the day there's virtually no value provided. Additionally, he's also marketing other affiliate programs. What a guy.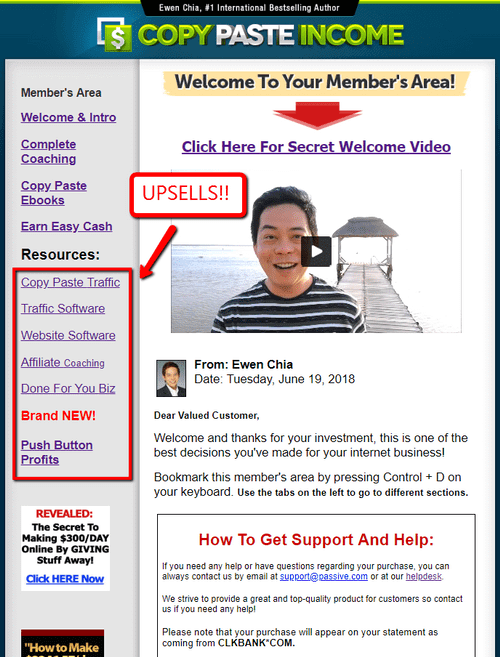 Inside the Copy Paste Income program you are inundated with Upsells. The actually training lessons only take up a tiny section of the whole membership page.
The rest of the resources are all worthless products that you need to pay extra to access.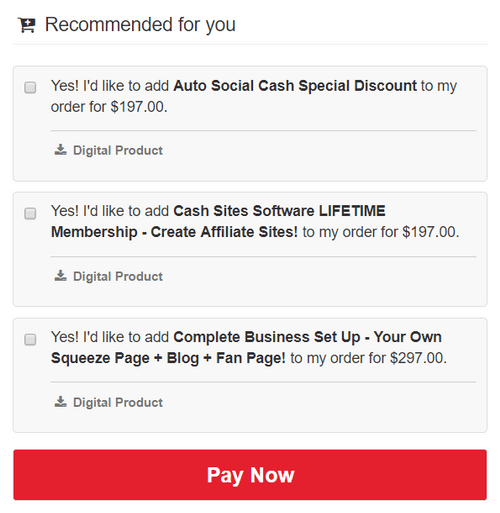 As you can see in the above image, the checkout screen for Copy Paste Income page contains numerous Upsells. Ewen is a brazen marketer that rides off his past success to include so many Upsells on the front-end product.
(4) Old Techniques
We touched on this topic earlier but I'll reiterate.
Promoting free eBooks and marketing them on Facebook groups or forums is an old strategy that no longer works.
Nowadays, if you want to succeed, you need to create your own site and sales funnels that provide high quality content to its audience before you even consider profiting.
A genuine program will train you the skills required to create a thriving online business that can make a full-time income, whereas, scams will sell you a lie and an easy path to success that turns out to be a facade.
(5) You Can Access the Membership Area Without Paying
Either Ewen wasn't paying close attention or he deliberately left his own membership area open for all.
Access to Copy Paste Income costs $37 or $27(downsell), however, anyone can visit the membership section through this link.
(6) Why are they Banner Adverts in the Paid Membership Section?
The membership section contains a couple of adverts whether you pay to access it or not: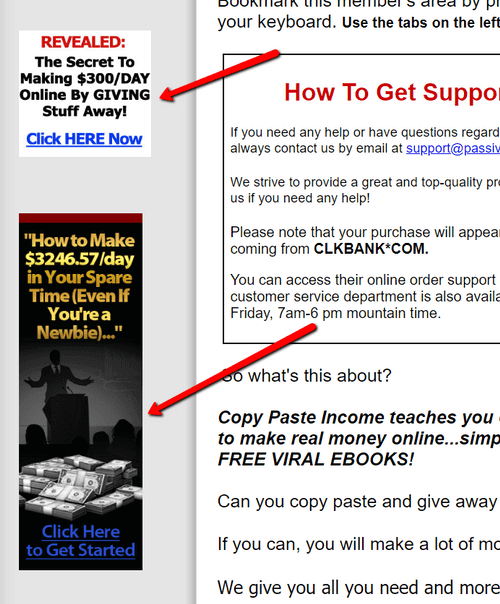 The type of adverts displayed here should only appear on systems that don't charge for their services, however, Copy Paste Income insists on including adverts even for paying members.
The adverts all redirect you to the same page which is a product named 7 Figure Franchise, another unethical program.
Yet again, greedy Ewen is trying to snatch more of your money by placing his affiliate links in the membership section. This is an unscrupulous and underhanded way of profiting from innocent people.
Highly Recommended: Discover how you can build a Full-Time 4-Figure Monthly Income with No Previous Experience
Are they any Advantages of using Copy Paste Income?
(1) 60-Days Guarantee
The benefits of using Copy Paste Income are minimal. The fact that it's a ClickBank product means it's covered with a 60-day money-back guarantee.
When people discover that the product doesn't make money they can request for their money back, however, you should be careful of Upsells that are not sold through ClickBank as they might not come with the same protection.
(2) Genuine Business Model
Although Ewen is promoting a worthless program at least it focuses on a genuine business model which is affiliate marketing. It's the same model that helped me create my own online business and I'd highly recommend it but not through the Copy Paste Income system.
Besides that, there are no true benefits of using Copy Paste Income.
Is Copy Paste Income a Scam?
Copy Paste Income might not be complete scam as it comes with training created by a successful marketer, however, it's highly unlikely that you'll make the type of money that the product claims.
The details are misleading, the testimonials are false, the lesson plan is outdated and as a result, it is not a sustainable business model.
Therefore, whether you decide that it's a scam or not, I would recommend steering clear of Copy Paste Income.
Don't give up your day job just yet!
Who is Gaining from Copy Paste Income?
Although Ewen is clearly making lots of money from Copy Paste Income there's another group that are also earning commissions…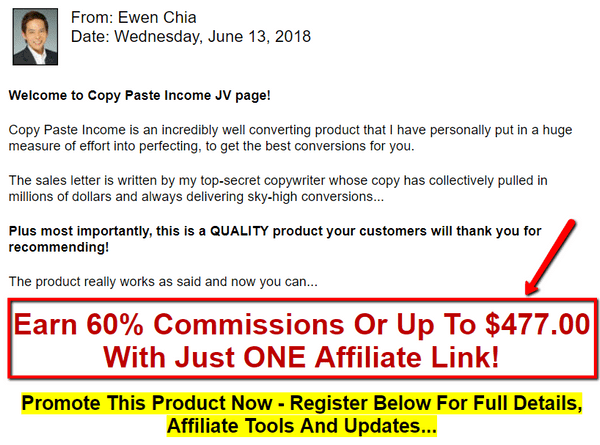 The affiliates that are marketing Copy Paste Income in exchange for a commission are the ones earning the cash. The innocent members that buy the product don't stand a chance at making any profit at all.
These type of marketers are totally unethical. It's completely possible to make a living running an online affiliate marketing business.
You can promote products that you're passionate about and earn money while providing your readers with content that adds value. That is the kind of environment you want to create so that you can build an authoritative site. It's a win-win scenario for both you and your audience.
Which naturally leads to my next question?
How Do I Use The Internet to Make a Full-Time Salary?
Like with anything else, making money online is a skill that can be learnt, however, it only requires a bit of dedication and consistency but it's totally worth it when you can one day walk into your boss's office and fire him/her.
I've personally learn't how to generate a monthly income stream, with no previous knowledge. I can work where I want and when I want. You can do the same too. Find out more here.