Is 30 Minute Money Methods A Scam? Can You Make $1,000 An Hour?
How great would be to make a thousand dollars an hour? All that extra spare time you would gain from not working a 9-5 job, whilst still making killer profits. It's the life that we all aspire to. In fact, you would only need to work a total of 14 days to earn a salary for the whole year.
Even better, you could work gung-ho for an entire year, earn an excess of $2,000,000 and never need to work again for the rest of your life. Amazing right? Imagine all the things you could do with $2,000,000 and all the places you could travel to.
Okay, let's snap back to the real world.
I bet your adrenaline started pumping just thinking about the life you could live with $2,000,000 sat in your bank. All of your financial worries could be dissolved instantaneously. The best thing is that you would hardly need to work for that $2,000,000.
This is the scenario that 30 Minute Money Methods wants you to believe. They claim that huge profits can be had through their system i.e. an incredible salary of $500 every 30 minutes.
How is that possible? Because all logic is skewed as soon as you get onboard this system.
---
30 Minute Money Methods Review
Product Name: 30 Minute Money Methods
Cost: $37 + Up-sells
Owner/s: Shelly West
Rating: 1/10 ★☆☆☆☆☆☆☆☆☆
---
30 Minute Money Methods by Shelly West
I'll begin with the sales video.
The person behind the system is supposedly someone named Shelly West but I couldn't verify if she was a real person.
As I was taken through the video I couldn't help but notice some alarming signs that suggested 30 Minute Money Methods could be a scam.
---
I Don't Trust Their Proof of Earnings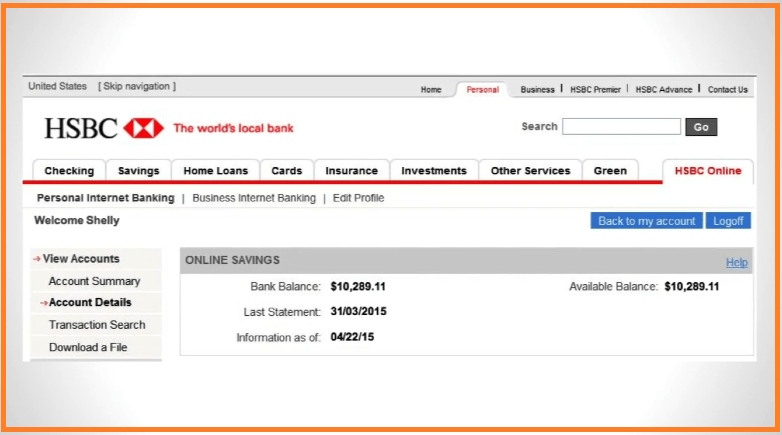 As with other similar scams, we are shown screenshots of a bank statement. Can we trust the figures that are illustrated on the bank statement? Put it this way, even my 13-year-old nephew could easily doctor a screenshot to show whatever he wanted it to. In other words, the statement could be faked very easily.
I'm not confident that the bank statement screenshot is genuine, and even if it was, how do we know that the money was made through 30 Minute Money Methods?
See how I make real money online with my top recommendation
---
30 Minute Money Methods employs Fake Actors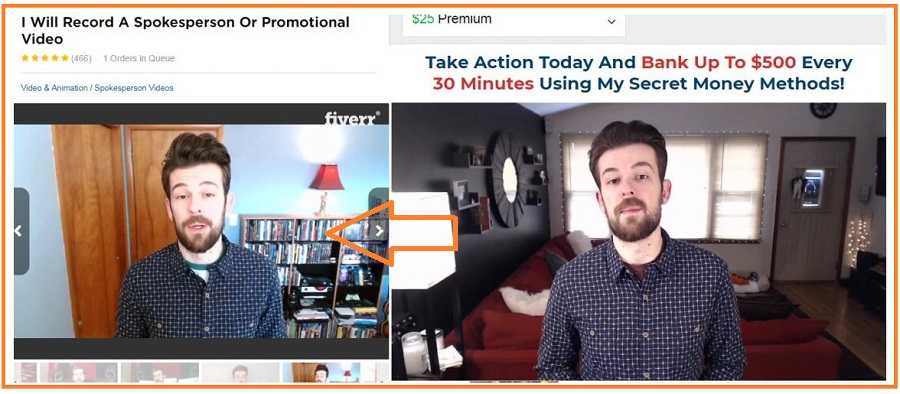 Customers aren't always willing to provide video testimonials, so companies can often hire actors to stand in their place. 30 Minute Money Methods has used actors to pose as customers but the website doesn't explain this anywhere in their Terms & Conditions or disclaimer.
This is misleading and makes me suspect that the testimonials themselves are false.
---
A Heartfelt Story
Let's face it, stories sell products. A story that relates to your situation can have a profound influence on your purchasing decision. Shelly talks through her life struggles and her story is one that resonates with most of us in a certain way. I'm sceptical about Shelly's story and whether it's true.
Word has it that she discovered two secret sites that gave her access to a highly lucrative method of making money. The profitable techniques are never revealed to us and it's impossible to verify if her story is genuine and if 30 Minute Money Methods actually works.
See how I make real money online with my top recommendation
---
Suspicious Earnings Claims
The most suspicious warning sign about 30 Minute Money Methods is the alleged earnings. It is possible to make a healthy salary working online either as a service provider or running your own online business, but the profits claimed by this system are absurd.
Don't expect to earn $1000 per hour with little work or experience. To make anywhere near this sum of money you need a combination of training, consistent work and an audience.

Working online or running an online business is similar to a brick and mortar business i.e. you need to put the time and effort into your venture for it to be profitable.
30 Minute Money Methods promises to make you a serious amount of cash whilst bypassing the practical elements of working online. I'm struggling to believe that this system can deliver on its promises.
---
The "Money Methods" explained
Once you've purchased the system you are given access to various PDF files that supposedly contain the "Holy Grail" method of earning thousands of dollars a day.
Here is the 30 Minute Money Methods secret:
You can attempt to sell stock photography.
You can get paid to play games online.
You can become a freelancer
I can tell you for free that you will not make $1000 in the next hour using the above methods. You would need to work incredibly hard to earn any money at all doing the above.
See how I make real money online with my top recommendation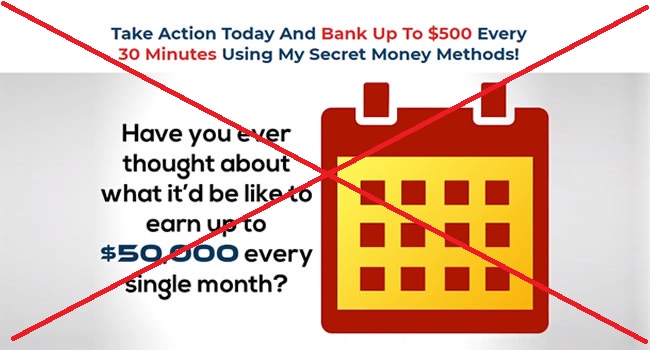 The information provided on the PDFs is rudimentary and can be found online for free. I couldn't find anything unique about the "money methods" explained here. None of them will give you an extravagant salary of $1,000 per hour.
If you want to earn that sort of money you can bet your bottom dollar that you will need to be highly skilled and highly regarded, for people to pay that sort of money for your skills.
You won't get wealthy from playing video games or selling photographs. It's not a realistic way to make money online unless there is something truly unique that people are willing to pay for.
---
Strange Comments??
The customer comments illustrated on the website sound strange. It seems as though the comments were written by the same person, the narrative is very similar.
The main reason I don't trust the comments is because of the comment form itself. Guess what happens when you attempt to submit a comment? You are taken to the product payment page, once you provide your contact details.
Additionally, you are automatically added to the website's mailing list without your consent. You can expect to receive plenty of spam harassing you to buy 30 Minute Money Methods! I would also suspect that your details are sold to third parties.

See how I make real money online with my top recommendation
---
The Cost Exceeds $37
It will cost you $37 to purchase 30 Minute Money Methods. The product is discounted to $27 if you attempt to leave the website.
$27 or $37 is not a lot of money, but that is just the beginning of your costs. There are various Upsells, that you apparently need, to maximise the system's earning potential.

Anybody promoting 30 Minute Money Methods has the opportunity to earn up to $139 per sale which means that it will cost the buyer (you) a lot more once you've purchased their numerous Upsells. At the very minimum, you can expect to pay $200.
Upsells are not a negative thing, but it hugely depends on the product. There is no point buying an upsell if the core product itself is inferior.
See how I make real money online with my top recommendation
---
30 Minute Money Methods Refunds
The only positive thing about 30 Minute Money Methods is that it uses Clickbank to process customer payments. Clickbank is very customer focused.  
If you are unhappy about a product, purchased through Clickbank, and would like a refund just go over to their support page and submit a refund request. Don't bother with the support email provided by Shelly West.
---
Pros:
Clickbank will refund you if you are not happy with the product. Phew!
Cons:
You won't earn $500 in the next 30 minutes using 30 Minute Money Methods.
The information provided in the training is rudimentary and can be accessed online for free.
You will not become a millionaire playing video games or selling stock photos.
See how I make real money online with my top recommendation
---
Final Thoughts
Is 30 Minute Money Methods A Scam? Can You Make $1,000 An Hour? Yes, it is a scam and no you can't make that sort of money with this system. They are hoping that you'll be seduced by the hyped up profit claims and ignore the warnings that you are about to be scammed. 
I agree that it's possible to earn a few bucks using the techniques described by 30 Minute Money Methods but it wouldn't be remotely close to the earnings they are purporting. You simply cannot earn hundreds of dollars in 30 minutes just by playing a video game or selling photos. If you are searching for a way to make a consistent income working online, why not use a system that actually works.
30 Minute Money Methods is an inferior product bundled up to appear as if it's the real deal. They want you to ignore all logic and rush to the payment page in the hopes that you too can make $500 every 30 minutes. This simply isn't true! 
I would recommend steering clear of 30 Minute Money Methods. It's a waste of time to even entertain their exaggerated earning claims. 
If you've always dreamt of creating a successful online business I would recommend following this link to read about the leading program that helped me create a thriving business from scratch. Join a trusted system that will guide you through the process of making money online.