AltCoin Trends: Is it another Cryptocurrency Scam?
The speed at which Cryptocurrencies are growing is rapid. It seems like a new token or currency is coming onto the market daily.
With this alarming rate of growth, it's hard to keep up; and more importantly, decide which currency is the best one to invest in.
Traditionally, before making an investment you would take a trip down to your local broker, discuss your options and get help deciding on the best choice.
Fast forward to the present and most people now search the internet for investment opportunities, and this is where the risk increases. Cryptocurrencies are growing by the day and so are the scams associated with them.
AltCoin Trends is one such system that pitches itself as an innovative and safe method to trade Cryptocurrencies and help you ride the "profit wave" all the way to the bank. Before you take out your wallet/purse I'd like to show you why investing in AltCoin Trends is a bad move.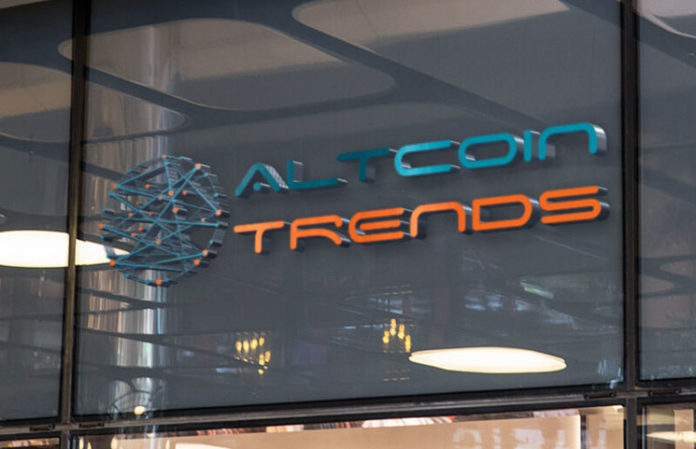 ---
AltCoin Trends System Review
Product Name: AltCoin Trends
Cost: $250 Minimum deposit
Owner/s: Andrew Frost
Rating: 1/10 ★☆☆☆☆☆☆☆☆☆
---
AltCoin Trends by Andrew Frost
Let's start with the sales page which I must say looks very professional and almost indistinguishable from a legitimate business, but it didn't take long for me to spot the red flags linked with this type of scam.
AltCoin Trends Sales Video
It starts off by stating that you are about to use the most advanced trading software on earth. It's a bold statement that gets my guard up immediately.
Clearly, there's not much truth in the above statement because the software that you are given is merely basic software provided by the broker.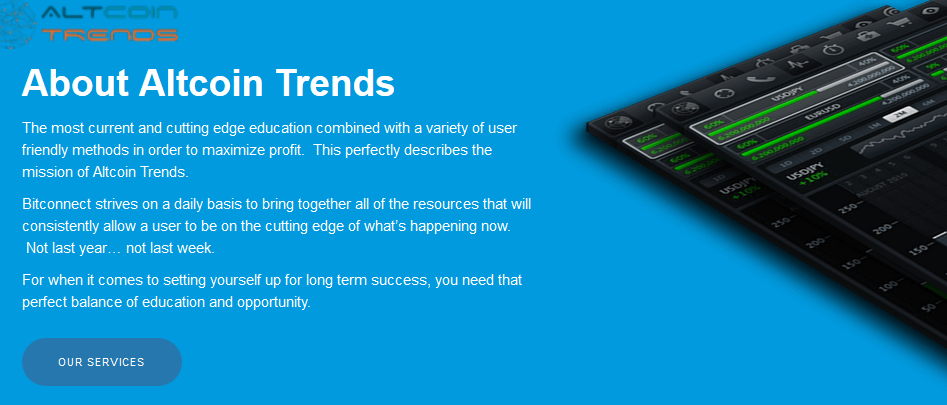 The video promptly gets into the expected profits, claiming that you can earn a daily profit of more than $3,000.
You are then told various stories about a recently discovered hidden method that brings in a high amount of profits trading cryptocurrencies. This hidden method and how it works is never explained.
The story is flaky and it carries on for quite some time but doesn't actually give any concrete details about how the system places winning trades.
The video's main objective is to get you intrigued to register your interest and provide your contact details. At this point, you are earmarked as someone likely to take the bait and eventually deposit $250 with the broker. You'll also receive tonnes of spam.
The video claims that Altcoin Trends has a success rate of 93%. That type of success would be extraordinary even for regular trading, but keep in mind that cryptocurrency trading is volatile, inconsistent and extremely risky. The average loss rate in cryptocurrency trading is thirty percent.
It's hard to believe that a piece of automated software could navigate this erratic market with zero risks. Yes! Altcoin Trends actually states that it's risk-free.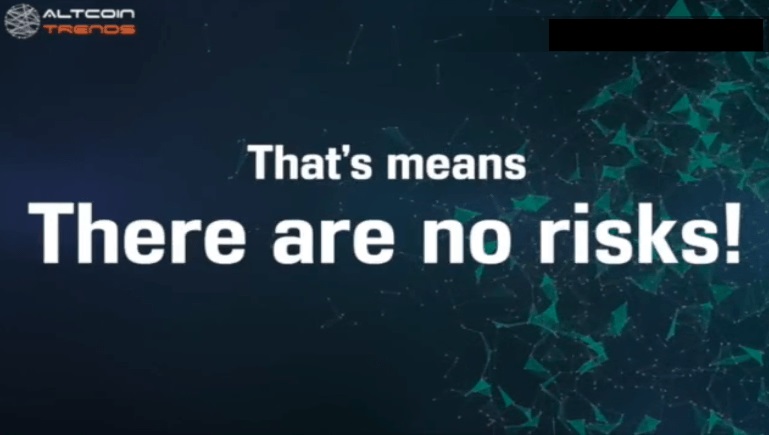 See how I make real money online with my top recommendation
AltCoin Trends Earnings Claims
As you are taken through the sales video, AltCoin Trends makes quite a few extravagant claims about the profits it can make you, which all likely to be false.
There's one such claim that states $3,025 was made in a single day. There is no proof to demonstrate the legitimacy of this claim. It's placed there to get your hopes up, feed your greed and to stop you from thinking logically.

The same greedy technique is used below. We are shown examples of "successful members", that have apparently provided their bank statements to AltCoin Trends. Why would a customer give their bank statement to a company and permit them to show it online?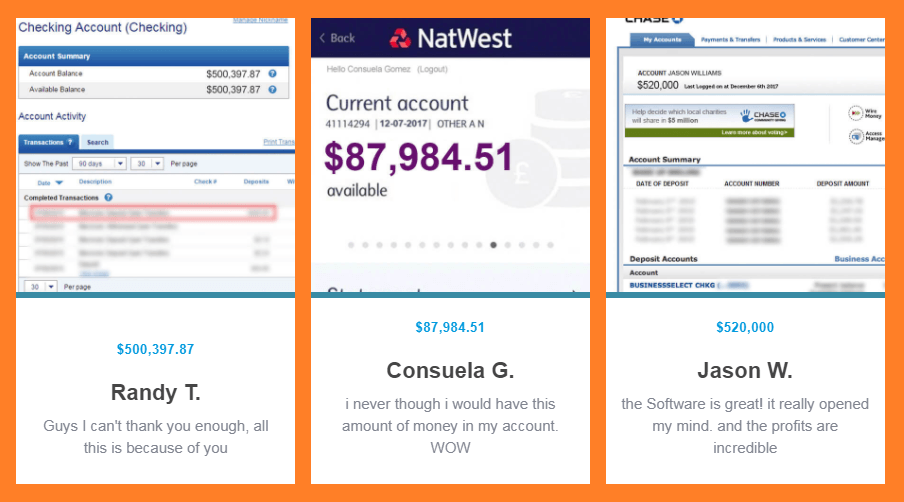 The figures on the above bank statements are most likely altered to appear genuine. It's very simple to change the appearance of a website briefly, including available funds, then take a print screen of it. The altered page will look similar to the original page and will stay like that until the page is refreshed.
You're slowly starting to see how easy it is for a scammer to make a fake their profits. There's no proof to show that this cash was actually generated, let alone with AltCoin Trends.
AltCoin Trends Fake Customer Testimonials
Customer testimonials are a powerful way of demonstrating an effective product. After all, if existing customers are singing a product's praises then it provides assurance to potential customers that it works.
The only thing is AltCoin Trends are using stock photos and fake testimonials to appear as genuine customers. This is a big warning flag and you should try not to let it influence whether this is the right system for you!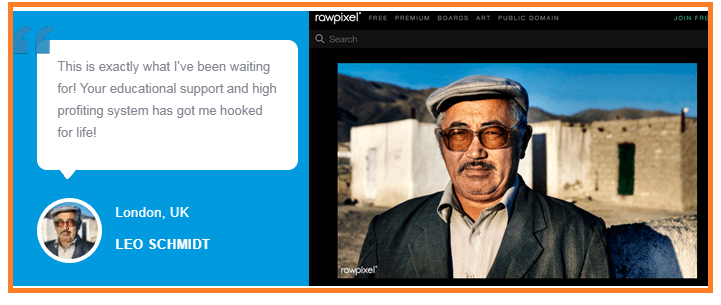 There is no proof that these are real customers or if the positive testimonials were written by successful AltCoin Trends members. The testimonials hold no weight and are placed there to try gain your trust.
See how I make real money online with my top recommendation
Dishonest Broker
As you move further along the sales funnel, AltCoin Trends will attempt to persuade you to sign up with their broker named Greenfields Capital. This broker will pay them a commission if you sign up and deposit the minimum amount of $250.
This unregulated broker claims to be based in London but further investigation reveals that the owner of the company is from Bulgaria and the company actually operates from Bulgaria.
Furthermore, the broker is a subsidiary of a company named Premium Peak Ltd which started up in August 2017 and their activities are classified as marketing and press.
In a short period of time, Greenfield Capital has built up numerous negative customer reviews. A quick Google search reveals various customer complaints which imply that the broker is dishonest and unreliable. Why would you give your hard-earned money to this company?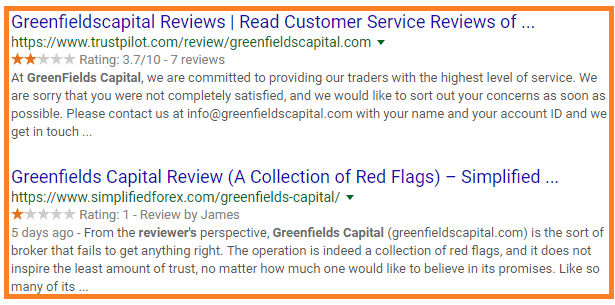 The warning flags highlighted above will give you an idea of the type of company you would be entrusting your money with. Your due diligence has led you to this article and well done for doing your research. Now the choice is yours whether to trust AltCoin Trends and invest with them. I'm sure you'll make a wise choice and stay away from this system.
Wait! There's more…
Let's suppose you are still considering using AltCoin Trends and still believe that they not a scam and can make you profits.
If you type in the HTTP (none secure) site address for AltCoin Trends guess where it takes you to? An illegal file sharing movie site. Does that sound like a legitimate business to you?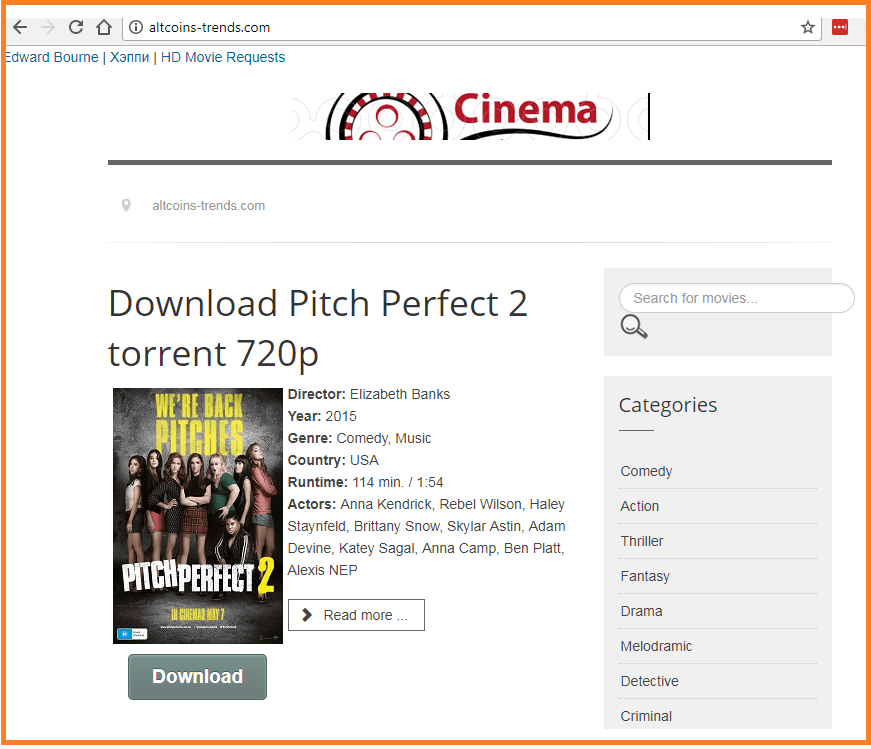 I don't know what a cryptocurrency system and an illegal file sharing movie site have in common but it all sounds suspicious and I'd be wary before proceeding.
See how I make real money online with my top recommendation
Pros:
There's absolutely no benefit of investing in AltCoin Trends. You'll lose money.
Cons:
AltCoin Trends is not upfront about the risks involved with trading cryptocurrencies.
Overstated profit claims. In reality, you will lose money rather than make a profit.
The main purpose of this site is to pull the wool over your eyes, then direct you to an unethical broker and invest money that you'll never get back.
The AltCoin Trends site is linked to an illegal file-sharing movie site.
---
Final Thoughts
Whilst cryptocurrencies are a growing market, trading them with automated systems is an entirely different story. It is a risky strategy that puts you on the front line to lose your investment. I wouldn't recommend taking this approach to build a reliable online business.
Learn how to make money online with an honest system, market-leading training and the help of successful marketers.
AltCoin Trends is a cryptocurrency scam intended to coax you into signing up with the broker and deposit at least $250. If this happens, the person running AltCoin Trends earns a commission from the broker and couldn't care less what happens to your money. At this point, the broker will try to extort more money from you until you are high and dry.
There is no such thing as automated trading software that makes millions, it's an illusion. When I started this site some years ago, Binary Options scams were rampant.
Scammers have copied the same Binary Options template and are now using it with cryptocurrencies. They are simply taking advantage of the growth of cryptocurrencies and waiting to take your money.
I would steer clear of AltCoin Trends. It offers nothing more than empty promises. Their profits claims cannot be backed up with proof and the whole thing is an elaborate story to sweet-talk you into investing in a fake system.
If creating a successful online business is something you've given some thought I would recommend following this link to access a program that helped me create a thriving business from scratch. Join a trusted system that will guide you through the process of making money online.