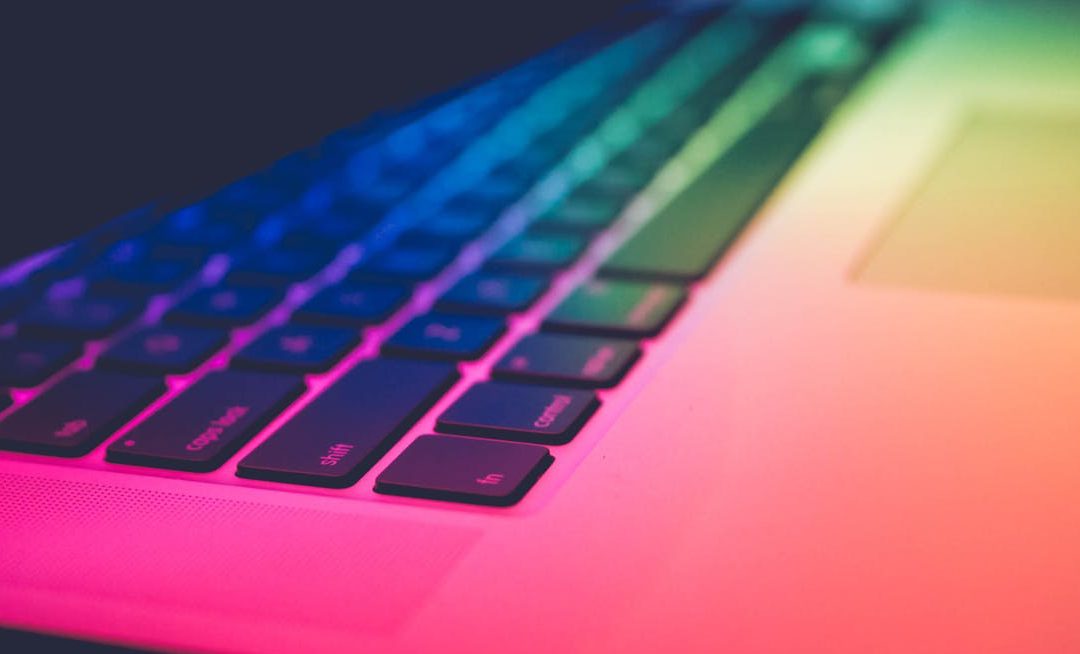 Is Constant Content a Scam? Earn $90,000 per year?
Our Constant Content review will expose whether constant content is a scam. Let's take a look and find out if you can make a tonne of $$$ to sell articles.
Most online work-from-home systems claim that they can provide you with a comfortable revenue stream to fund your lifestyle, however, this is not guaranteed.
If the system is the real deal then you can expect to start earning hundreds a month, with consistent hard work, and eventually thousands in the long term. Can Constant Content deliver such results? Keep reading…  
That fact that you are doing your due diligence before committing to this supposedly "amazing" product should be applauded.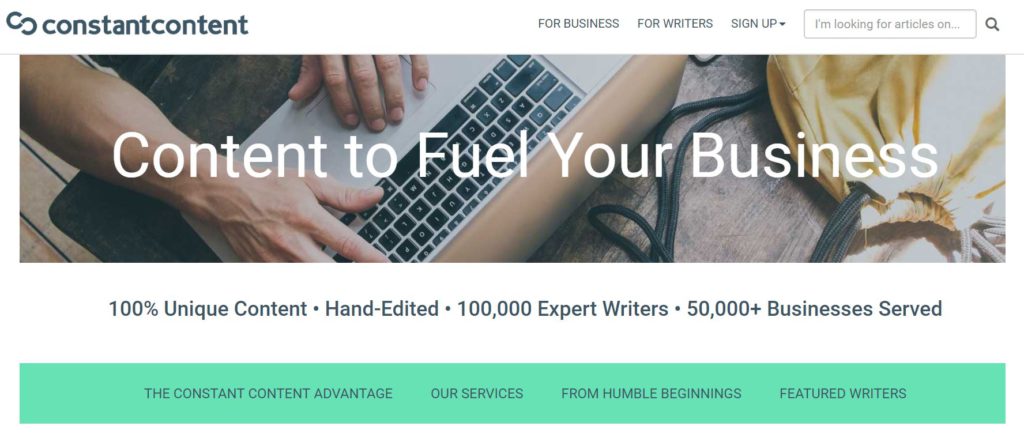 Doing your own independent investigation is the best way to steer clear of online scams and to discover genuine methods of achieving financial success online.  
Don't worry, this is a fair and balanced review. I'm not endorsed or linked to the Constant Content system in any way. I'm not trying to sell you this product.
My job here is to unravel the inner workings of the Constant Content ecosystem to reveal whether it actually provides a sustainable online income.
Constant Content Product Summary
Product Name:  Constant Content
Owner:  Unnamed
Type of Product:  Content Marketplace
Product Cost:  No cost to join
Works Well For:  Skilled writers looking to charge for their content online.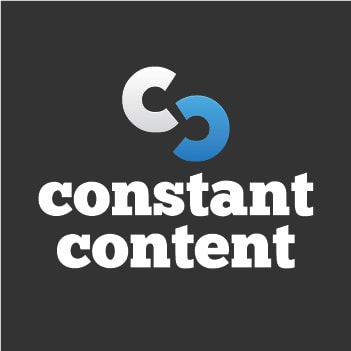 Constant Content Round-up
The Constant Content system is an online marketplace geared for freelance writers to showcase their material to potential buyers. According to the system, content can be sold at a premium. 
There's potential to earn lots of money, however, it's not a sure thing, if I were you I wouldn't fire my boss yet! The biggest drawback with this system is the large chunk of commission that is taken from your paycheck.
This could make it a fruitless task if you're selling low volumes of content. Yikes! If you're just looking to make a bit of occasional side cash then it's worth looking into the system.    
Product Rating: 50/100
Would I Recommend This?  I'm on the fence with this product!
Here's My Top Recommendation For A Sustainable Online Business That Earns $6,000+ Per Month
How Does Constant Content Work?
Constant Content a.k.a CC provides its customers with premium pre-written content produced by the thousands of writers that it employs. The company boasts over 100,000 writers that work for a clientele of over 50,000.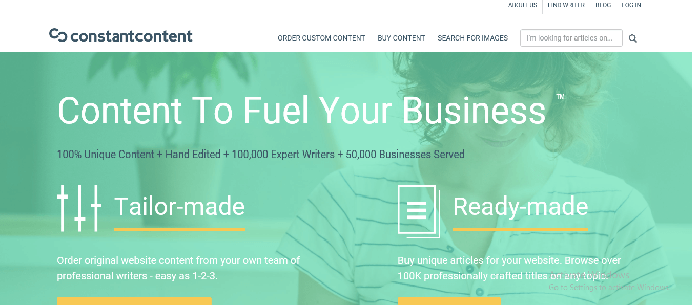 The company was formed in 2006 and is based in Victoria BC, Canada. Constant Content is renowned for its attractive pay-outs and is one of the content mills that pays the highest rates, however, this comes at a cost.  
Getting hired by Constant Content is not a walk in the park due to their stringent requirements, however, if you manage to get your foot in the door, you'll most likely be working on the following assignments-   
Content that is SEO-ready (optimized for search engines).
Tutorial and technical reports.
Content for product descriptions.
One important aspect to consider before applying is that Constant Content requires their writers to detract from writing in first-person.
They don't like subjective narratives, opinions, or clichés. In other words, they don't want personal viewpoints.    
This might be a problem for certain writers that are used to writing about their own knowledge of a given subject. If first-person POV is your style of writing, this hustle probably isn't for you.  
Constant Content Deep Dive
Constant Content is a mixed bag when it's likened to sites like Upwork or Fiver.
Similar to other markets, you have the capability to look for clients and specific subjects, people can also look for you, however, your work is scrutinized under a magnifying glass by the editors at Constant Content before it's handed over to clients.     
Constant Content occasionally organises group assignments for bigger projects, which isn't something you regularly see with other content marketplaces.
The Registration Process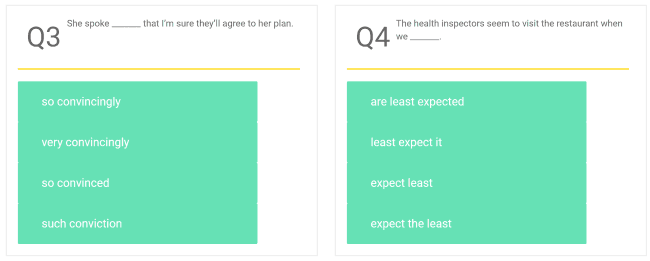 There are 3 stages to the registration process-
Firstly, you need to go through the profile questionnaire.
Then you have to undertake a brief quiz of roughly 6-7 questions to assess your grammar and other competencies.  
Finally, you will be asked to write a short article of 250 words on a topic of their choosing and stick to their criteria.
Constant Content Requirements
There is no joining fee or any other specific requirements except that you need to be at least 18 years of age, have a computer and internet at your disposal.
The company recruits its writers from countries across the globe, therefore, if they are any exclusions it's not for the above. 
How Do You Sell Your Content?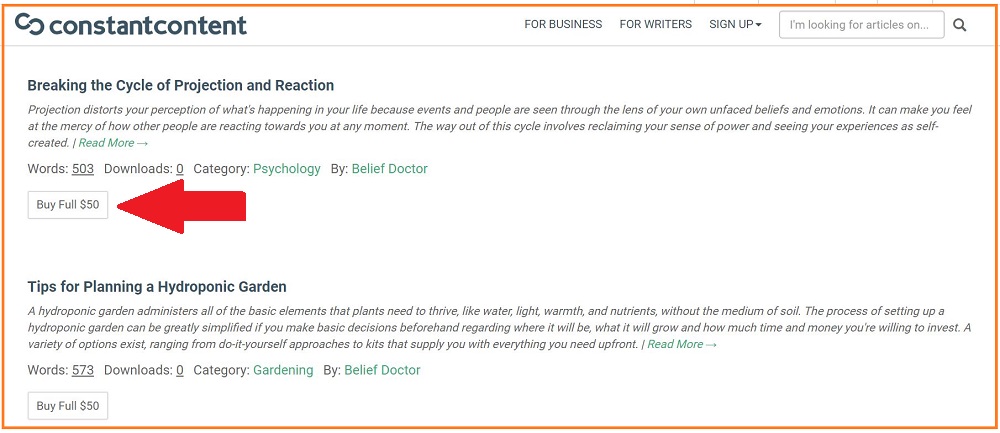 Once (and if) your registration is approved, you can immediately begin to sell your content. You can do this using one of the 3 methods described below-
Submitting Content to Catalogs: You'll most likely begin with this method. You can look for great subjects to write about, hand over a completed article for approval, and if it's approved, it will become part of the company's catalogue. The speed at which your article sells depends on the demand for the topic. Some pieces of content sell immediately whereas others could take several months.
Requested Content: Content can be created based on the needs of the clients and if you form a good rapport with a client, they could even seek you out and prefer to work with you.
Large Projects: Constant Content might select you to be a part of a large team of writers for specific projects, for example, drafting up product descriptions for online inventories or tasks that might need several experts in a chosen topic.
How Much Can You Expect To Get Paid For Working with Constant Content?
According to the company, their top writers make anything up to Ninety Thousand dollars per year, though, I'm sceptical that this type of money can be earned working for a content mill.
The writing criteria at Constant Content is strict and their clients are household brands, however, they've earned a reputation of paying more than a mere $3 per article, so it might be possible to earn the figures that are claimed.
The majority of writers will be paid an average of 10 cents for each word or approximately 50 bucks for a 500-word article. In comparison to alternative content mills, this is a considerably higher pay rate, which is reassuring.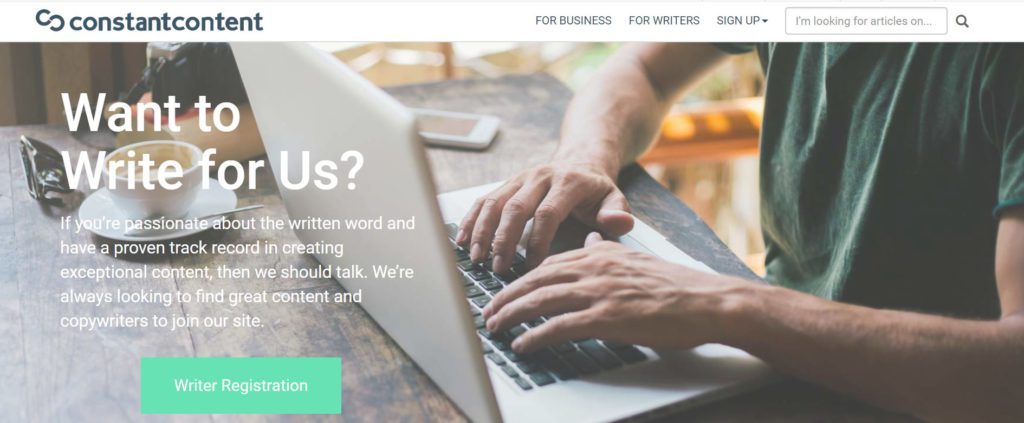 The downside is that Constant Content will take a hefty 35% fee from your paycheck which would mean that a payment of $100 would be reduced to $65- and there lies the rub.
Payments are conveniently sent to you, through PayPal, within the first week of the month.
In a nutshell, you're giving your time for money which would make it no different to a day job instead of an online business that generates a passive income.
Is Constant Content the Right Fit For You?
Constant Content is not a one-size-fits-all system. It is designed for seasoned writers that already know the ins and outs of a content marketplace and the process involved with working in this type of environment.
If you'd rather build your own online business that offers unlimited earning potential and a truly passive income then you're better off investing your time into affiliate marketing.
Find out the marketing secrets that enabled me to create a full-time income with no previous experience.
The Pitfalls of Constant Content
(1) Your Income Isn't Guaranteed
The money that you make from your articles relies on supply and demand, therefore, whether your article is $40 or $100, it's not a given that you'll make that type of money within a day.
You will have to wait until an interested party decides to buy your work, it's similar to listing a product on Etsy, eBay or Amazon then waiting until it gets sold.
You will also be directly in competition with plenty of rival writers, that might or might not be as skilled as you, therefore, this adds to the difficulty of earning a consistent income if you're waiting too long before your work gets sold.

(2) Problems with Payments
It's not clearly specified how much the minimum cash amount needs to be before you can withdraw your funds. This isn't clarified on the website.
After doing a bit of my own investigation it appears that you need to earn at least $500 for a bank transfer (that's too high in my opinion), and a minimum of $100 for PayPal transfers.
Then the real kicker is the 35% fee that Constant Content takes from your earnings for the pleasure of working for them. That is quite steep given that it's your work for sale.
(3) Did You Know about Usage Rights?
There is a big flaw with usage rights. We all know that Google does not like duplicated material. You can't just copy content from someone else's website and paste it onto your own- there's a strong chance that your site could get penalized for this.
Therefore, if you buy content with usage rights you could expose yourself to getting blacklisted by Google. Why is this? Because the content might already be on several other sites.
This isn't necessarily a problem for the writers, however, if you purchase articles from Constant Content for your website, there's a possibility that you are not the only person with that material.
The last thing you want is for multiple people to buy the same content, post it online and get penalized by Google further down the line.
Highly Recommended: Discover how you can build a Full-Time 4-Figure Monthly Income with no Previous Experience.
The Advantages of Constant Content
(1) It Stands Out from the Crowd
Despite its shortcomings, there are still some distinct advantages of using Constant Content over other content mills. For starters, you aren't required to put in a set number of hours, therefore, you can work as much or as little as you want.
It's possible to make more money through Constant Content compared to equivalent products, however, this might not sum up to a full-time salary. It's reassuring to see that the company pays more than other online systems such as survey sites etc.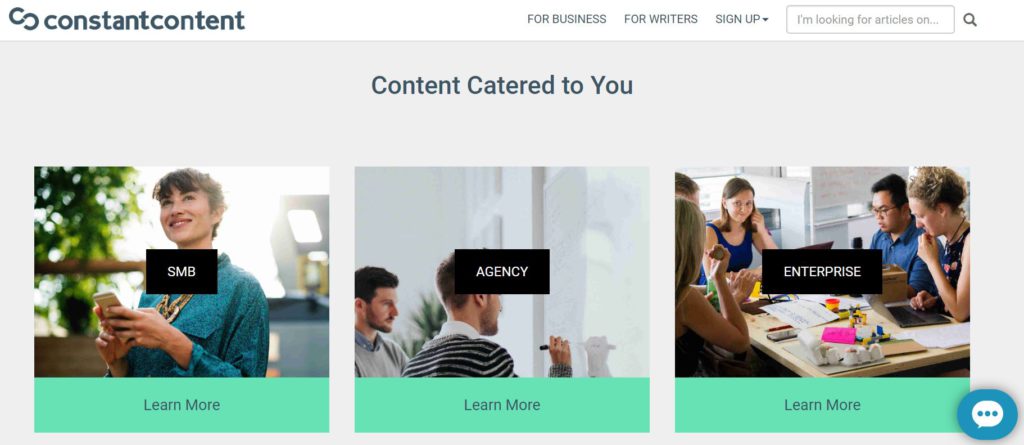 Constant Content Review- Is it a Scam?
As we wrap up this review, here are my final thoughts about Constant Content. It is not a scam. In fact, it's one of the very few genuine programs I've come across. The company provides a content marketplace with the potential for expert writers to earn lots of money.
I can't wholeheartedly recommend Constant Content as a means to make a full-time salary, working from home. Why? It's not a given that your content will sell quickly.
Even if you churn out 8 articles, in one day, priced at $95 each, it's not guaranteed that they'll get snapped up within 24 hours. You could be waiting for months before they sell.
It's ideal for someone looking for a side gig that doesn't require a set number of hours to commit to. If you're trying to find a way to make a bit of extra money online then it's worth looking into.
How Do I Use The Internet to Make a Full-Time Salary?
Like with anything else, making money online is a skill that can be learnt, however, it only requires a bit of dedication and consistency but it's totally worth it when you can one day walk into your boss's office and fire him/her.
I've personally learn't how to generate a monthly income stream, with no previous knowledge. I can work where I want and when I want. You can do the same too. Find out more here.